An RESP is a government program that helps parents to save for their child's post-secondary education. The savings plan is particularly attractive since the government chips in 20 cents for every dollar you contribute up to a maximum of $500 in grants per year.
This grant, referred to as the Canada Education Savings Grant (CESG) is essentially 20% in returns on your investment and should be taken seriously.
A while back, I published an article on how to open a TD e-Series account and showcased a sample RESP investment account using e-Series funds. In this current write-up, I use my youngest kid's RESP account as an example and provide an update on investment strategies for a TD e-Series RESP portfolio.
Note that if you are opening a new account, you can now purchase the e-Series only through a TD Direct Investment Account.
Asset Allocation and Strategy for an e-Series RESP Portfolio
My RESP strategy and asset allocation are designed to vary depending on the age of my kids and how close they are to needing the funds for their education.
It starts out with an aggressive asset allocation (Growth), i.e. using a majority of equity (80% or greater when they are still very young. Between ages 1 and 10, there's still lots of time left on the investment horizon, and I want to take maximum advantage of the growth that equities/stocks offer.
From 10 years and older, I plan to start reducing the proportion of stocks by 10 percentage points every year until they are 18 years old. Between ages 12-14, the portfolio becomes balanced (50% equities: 50% bonds), give or take, and from 15 years and older, it becomes decidedly conservative (Safety).
At 18 years of age, the entire portfolio is invested in the money market, i.e. short-term loans, GICs, cash, etc.
Table 1: Asset Allocation
| | | |
| --- | --- | --- |
| Child's Age | Maximum % Equities | Minimum % Fixed Income |
| 9 years or younger | 90 | 10 |
| 10 | 80 | 20 |
| 11 | 70 | 30 |
| 12 | 60 | 40 |
| 13 | 50 | 50 |
| 14 | 40 | 60 |
| 15 | 30 | 70 |
| 16 | 20 | 80 |
| 17 | 10 | 90 |
| 18 | 0 | 100 |
Table 2: This is a snapshot of the RESP account as of February 2022 (at approx. 5 years and 10 months old). I will be using the money market funds to rebalance and increase the international equities component.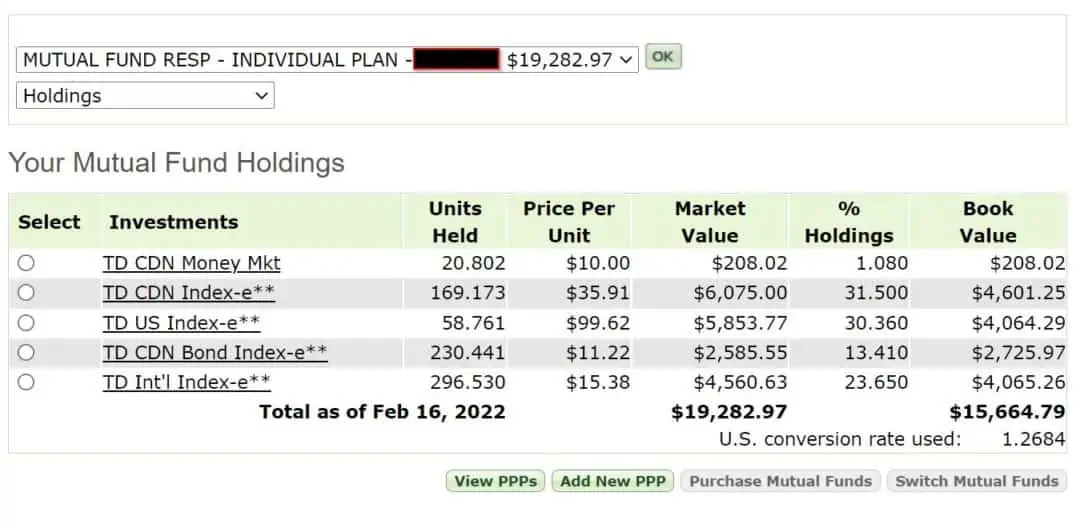 Table 3: Below is a snapshot of the account as of the end of January 2021 (at approx. 4 years and 8 months old). The bond component has gone up, and I will be adding funds to the international equities fund by moving funds from the money market fund to it for the next little while.
While we had set up pre-authorized contributions of $2,300 for the year per child, we were able to make extra contributions in 2020 when the kids were forced to stay home during the pandemic. At the time, we funnelled their daycare fees to the RESP account.
Investment return in 2020 was 12.22%.
Table 4: Snapshot of asset mix in sample RESP account on December 20, 2019 (about 3 years and 7 months after opening). The market value is now at $8,805.88. As you can see, the bond component is currently over 15%, so I will be redirecting CESG money to the CAD/USD index in the coming months to keep the fixed income at 10% or so.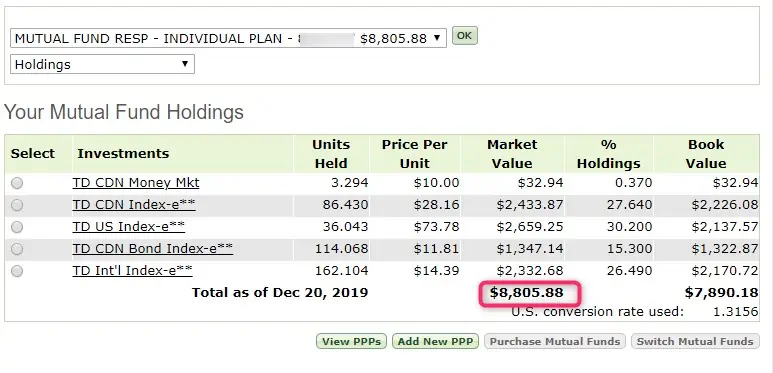 Table 5: Snapshot of asset mix in sample RESP account on December 28, 2018 (2 years and 7 months after opening).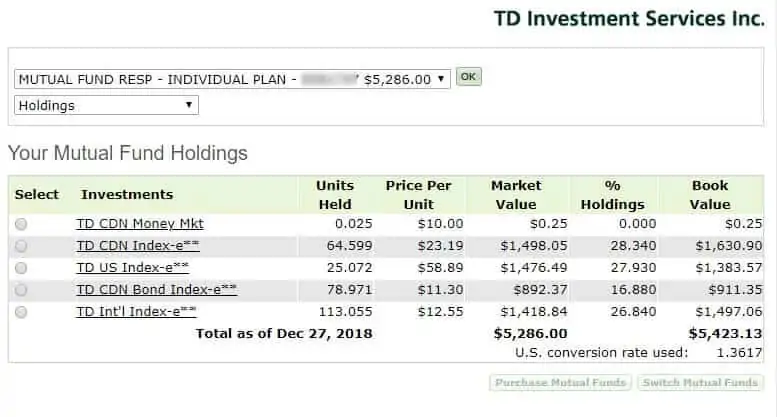 Table 6: Snapshot of asset mix in sample RESP account on December 30, 2017 (19 months after opening).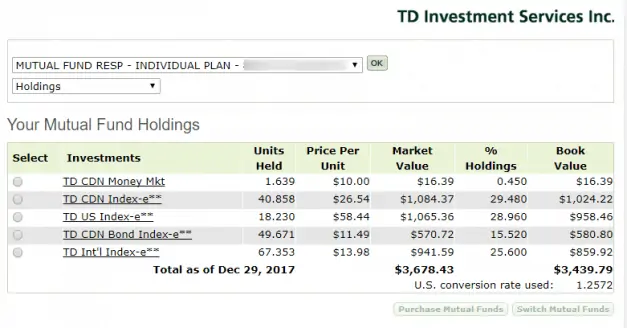 We are currently contributing approximately $1,920/year to this particular account (2017), a bit less than the $2,500 that is eligible for grants per annum.
This is what my target (desired) asset allocation looks like for RESP account #2 (ideally):
TD CDN Bond Index: 10%
TD Canadian Index: 30%
TD U.S. Index: 30%
TD International Index:30%
TD CDN Money Mkt: 0%
Since the recipient is less than 2 years of age, my asset allocation is very aggressive and growth-oriented.
As you can see above, the current allocation at year's end has strayed a bit from my preferred mix. As such any new funds deposited in the Money Market Fund will go to buying TD International Index. This is known as re-balancing and I show an example of how it's done later in this article.
This is what the same RESP portfolio looked like in December 2016:
| | | | | | | |
| --- | --- | --- | --- | --- | --- | --- |
| Description | Quantity | Price ($) | Book cost ($) | Market value ($) | Unrealized gain or loss ($) | % of your holdings |
| CDN Money Mkt-I | 0.409 | 10.00 | 4.09 | 4.09 | 0 | 0.26% |
| CDN Bond Index-E | 21.817 | 11.55 | 258.40 | 251.99 | -6.41 | 16.27% |
| CDN Index-E | 19.221 | 24.95 | 466.11 | 479.56 | 13.45 | 30.97% |
| TD US Index-E | 8.92 | 52.22 | 439.39 | 465.80 | 26.41 | 30.08% |
| INTL Index-E | 28.208 | 12.30 | 336.93 | 346.96 | 10.03 | 22.41% |
| Total in CDN $ | | | $1,504.92 | $1,548.40 | $43.48 | 100.00% |
Related: The TFSA Contribution Limit
TD e-Series RESP Portfolio Rebalancing
A portfolio designed using index funds or ETFs will need to be reviewed and rebalanced at least once every year. This is because over time, the different funds will perform differently, and your portfolio's asset allocation may start to differ significantly from your target allocation.
There are several ways you can re-balance your TD RESP e-Series portfolio.
My Strategy – Use Grant Money to Rebalance
The TD CDN Money Market Fund is where all the government grant is deposited, and every 4-6 months or so, I use the funds that have accumulated here to re-balance the portfolio – by buying more of whichever fund is out of sync, i.e. falling behind the target asset allocation.
Note: Sometimes, your grant money may get deposited in a different fund (such as one of the TD Comfort Portfolios). What you want is the Money Market Fund because they are not subject to short-term trading fees/penalty and as such can easily be moved into other funds when you are re-balancing your portfolio. Also, the MER is lower. You can always call TD and ask them to make any changes required.
This is how this works:
Step A: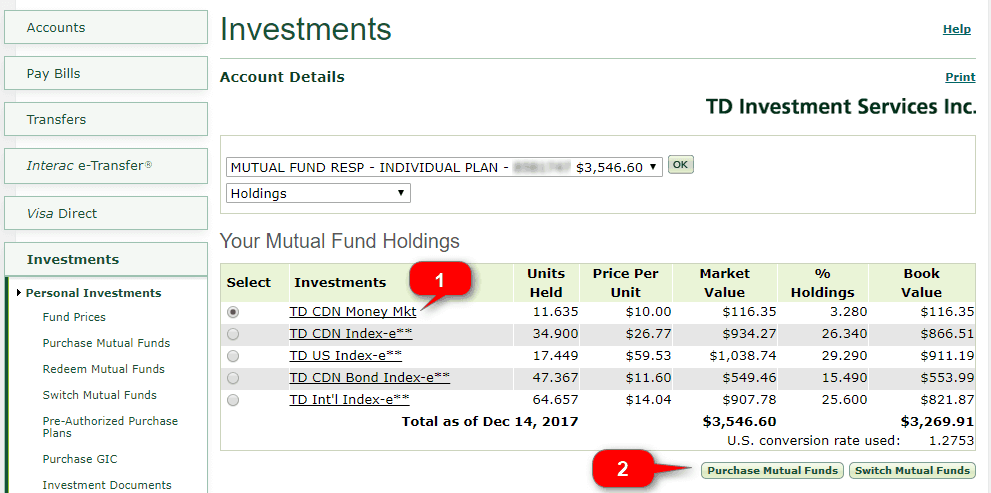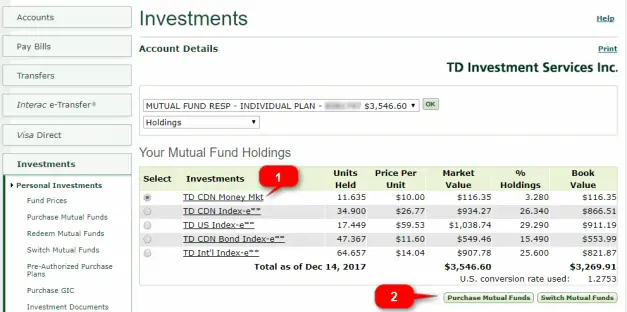 1. Log into your TD account to see if you have money accumulated in the Money Market Fund.
2. Click on the "Switch Mutual Funds" button. This will take you to Step B, where you choose which fund you want to switch over.
Step B: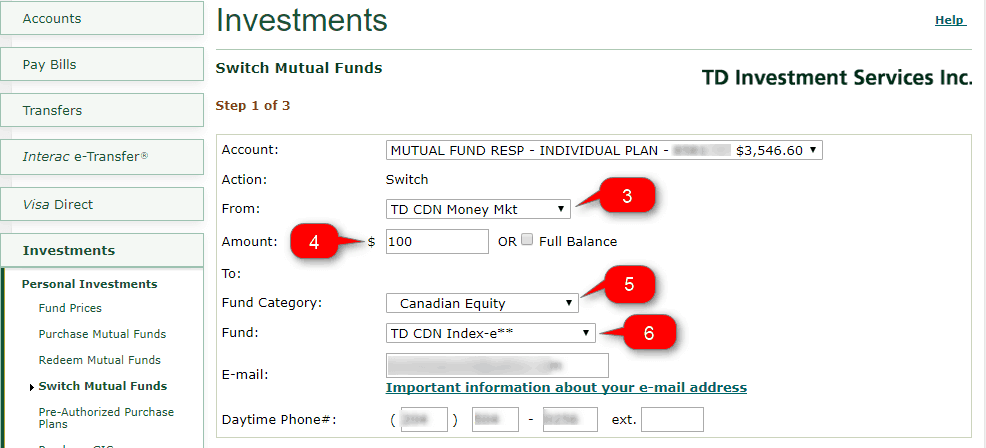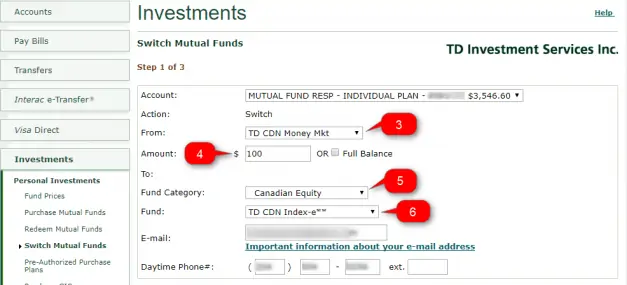 3. Choose the fund you are switching "from" – in this case, it is the TD CDN Money Market.
4. Enter the amount you would like to transfer or "switch" from the fund chosen in #3, or tick "full balance" if you want to switch over all the money you have in the fund.
5. Choose the general fund category you are switching into, e.g. U.S. Equity, Canadian Equity, etc.
6. Choose the specific fund within the fund category chosen in #5 that you want the funds being switched to go into. For this example, I chose TD Canadian Index-e as its allocation had fallen well below my preferred level (30%). Ensure that whatever fund you are choosing has the "index-e" that denotes an e-Series fund attached to its name.
Step C: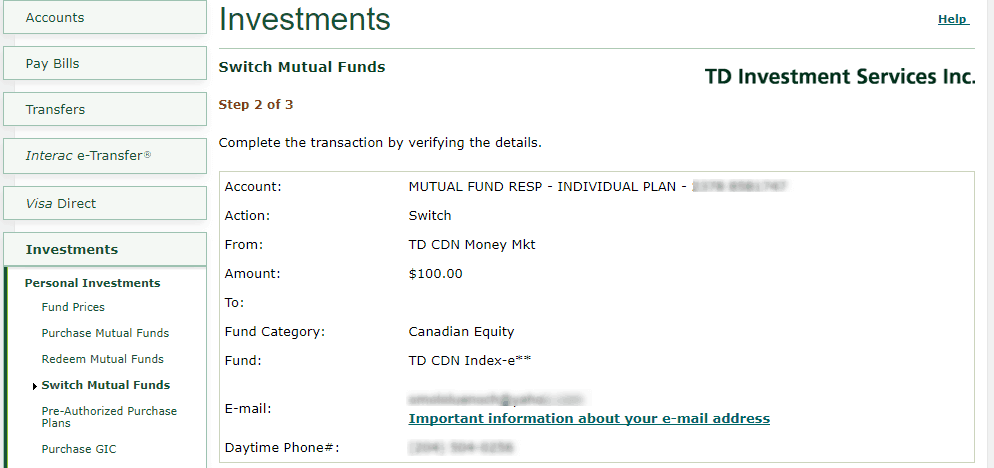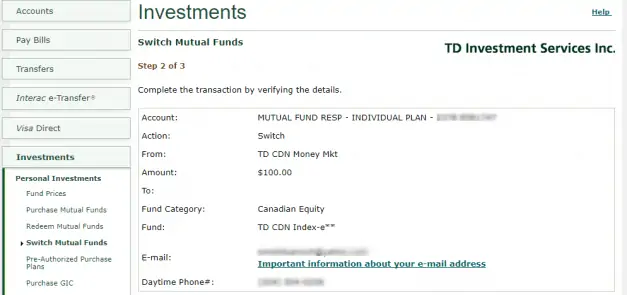 The next window asks you to verify your transaction, which is that you want to move money from one fund (in this example: TD CDN Money Mkt) to buy more of another fund (in this example: TD Canadian Index-e). You will be asked to consent to receive the Funds Facts electronically, after which you can click on the "I accept" button at the bottom of the page.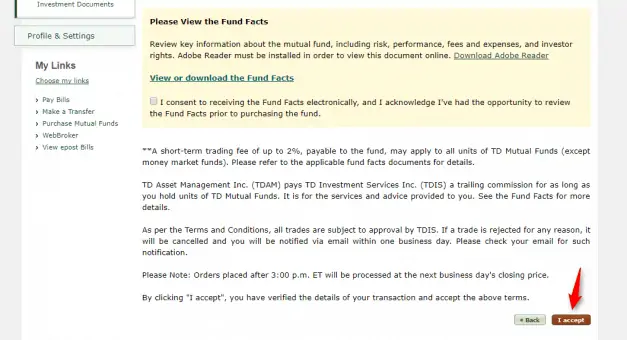 And the final window confirms your transaction.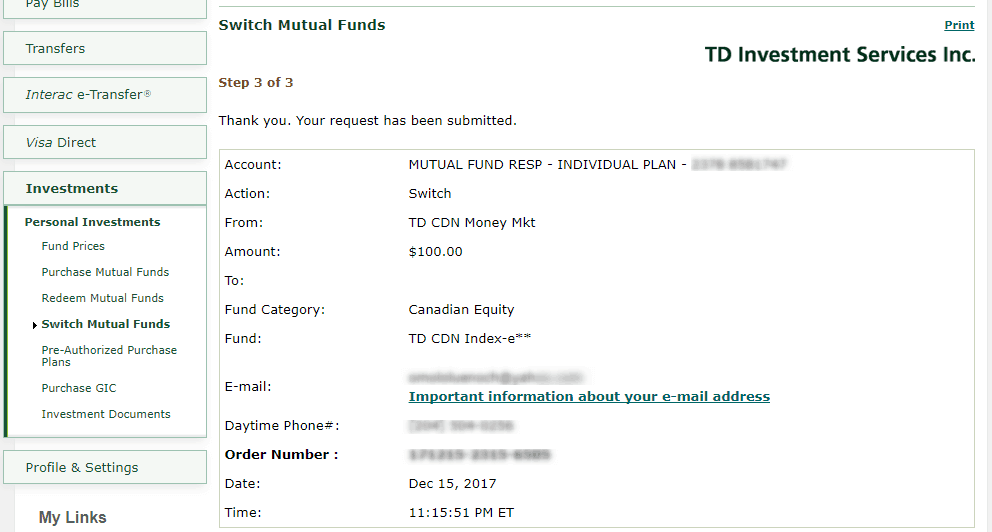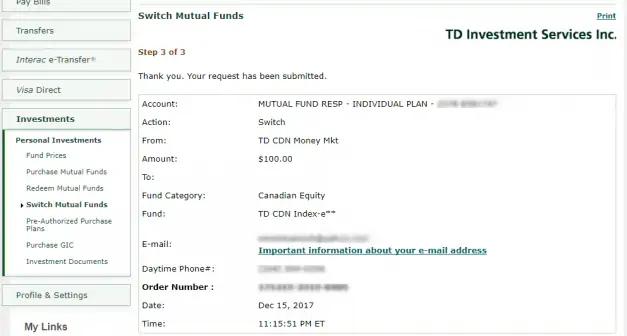 In addition to the method detailed above, i.e. buying more of the lagging fund (a fund with less percentage than desired) with grant money accumulated in the Money Market fund, other strategies include:
You can redirect new investment funds to buy the lagging fund and balance your portfolio back to the desired asset allocation. Or,
You can switch a portion of a better-performing fund (the fund with more percentage than desired) and use it to buy more of the lagging fund.
There's no cost to purchasing new funds or switching over funds on the TD platform.
You may also be interested in:
Want to invest your RESP at low-cost and without the hassle? Check out Canada's most popular robo-advisor, Wealthsimple, and get a bonus when you open an account.