Gold is an asset that people have invested in for centuries, and there are multiple ways to invest in the precious metal. We will cover them in this article.
Why do people invest in gold? Gold is seen as a safe haven and a store of value. Investors often utilize it in times of market volatility and widespread negative sentiment.
The price and value of gold rarely experience wild swings and are relatively stable when compared to the equities market.
It is also seen as a hedge against economic factors like inflation and the devaluation of fiat currency.
This article will discuss six ways Canadians can invest in gold in 2023, where to buy it, and the advantages and disadvantages of holding gold in your portfolio.
How To Invest in Gold as a Beginner
It might feel like a daunting task for new investors to start investing in gold. Below are six ways Canadian investors can begin investing in gold in 2023.
Buying Gold Bullion
Newer investors might not realize that you can still buy real gold bullion as a way to invest in the asset.
Buying physical gold is the purest form of investing in the precious metal. You can buy gold in many forms, including gold bars which generally come as 100-gram bars, or gold coins or medallions.
To buy gold, you can contact any major financial institution with a precious metals department where you can directly purchase physical gold.
You can purchase precious metals directly from any major Canadian bank like RBC or TD, as well as from the Royal Canadian Mint.
Banks will hold your physical gold in safe storage, separate from other assets, with a clear and documented chain of custody.
While holding your gold, most banks will allow you to take a loan or margin against your gold position.
Invest in Gold Stocks
Investing in gold stocks is probably the most common way that Canadian investors will look to gain exposure to gold.
You can buy shares of companies directly related to the gold industry. This includes gold miners, gold processors, and gold royalty companies.
Many gold-related companies will pay out a healthy dividend, although, like physical gold itself, they do not have significant long-term capital growth.
Here are some examples of Canadian gold stocks to invest in:
| | |
| --- | --- |
| Ticker Symbol | Stock Company Name |
| TSE: ABX | Barrick Gold Corp |
| TSE:FNV | Franco Nevada Corp |
| TSE:BTO | B2Gold Corp |
| TSE:AR | Argonaut Gold Inc |
| TSE:KRR | Karora Resources Inc |
| TSE:YRI | Yamana Gold Inc |
| TSE:AEM | Agnico Eagle Mines Ltd |
| TSE:K | Kinross Gold Corporation |
| TSE:CG | Centerra Gold Inc |
| TSE:AGI | Alamos Gold Inc |
Buy Gold ETFs
If you are having trouble choosing which gold stocks to buy, then there are also gold industry ETFs or Exchange Traded Funds you can invest in.
ETFs provide a cost-effective way to gain exposure to a basket of stocks or even an entire sector or index.
With ETFs, investors will pay a management fee that is lower than traditional mutual funds. Shares of ETFs trade on the stock market like regular stocks.
Many gold ETFs are available for Canadian investors. These can be gold mining ETFs, gold futures, or even just an ETF for gold bullion.
Here are some examples of gold ETFs in Canada:
| | | |
| --- | --- | --- |
| Ticker Symbol | Stock Name | MER |
| XGD | iShares S&P/TSX Global Gold Index ETF | 0.61% |
| ZJG | BMO Junior Gold Index ETF | 0.61% |
| CGL | iShares Gold Bullion ETF | 0.55% |
| HEP | Horizons Enhanced Income Gold Producers ETF | 0.79% |
| HGY | Horizons Gold Yield ETF | 0.98% |
Invest in Gold Futures
When it comes to trading commodities like gold, the largest market for trading is via futures contracts.
These contracts are exchange-traded assets that provide the contract buyer with the ability to invest in a specific amount of gold at a specified price for a predetermined future date.
Investing in gold futures can be done through a brokerage account with most major banks and some discount brokerages as well.
Buy Gold Exchange Traded Receipts
An Exchange Traded Receipt (ETR) is an asset that holds the value of gold bullion held by the Royal Canadian Mint.
Each ETR represents an undivided beneficial interest in gold bullion. The amount of gold owned is equal to the proceeds of the offering divided by the average price of gold per ounce paid to sellers at the time the offering is closed.
ETRs are listed on the Toronto Stock Exchange and can be traded like any other exchange-traded asset. They are listed under the ticker symbol MNT.TO.
This benefits Canadian investors as it is another way to invest in physical gold without having to take custody of the asset.
Buy Gold Mutual Funds
Gold mutual funds are similar to ETFs, except that mutual funds are not exchange-traded assets and generally have higher management fees.
While mutual funds carry higher upfront costs, they are easier to invest in because you can purchase full or even partial units. Most brokerages require you to buy full shares of ETFs, rather than adding a set amount of money on a regular basis.
Mutual funds often carry a higher MER because they are actively managed funds than ETFs, which are primarily passively managed.
Below are some examples of gold mutual funds for Canadian investors:
| | | |
| --- | --- | --- |
| Ticker Symbol | Mutual Fund Name | MER |
| TDB295 | TD Precious Metals Fund – F | 1.09% |
| CIB249 | CIBC Precious Metals Fund – F | 1.32% |
| RBF468 | RBC Global Precious Metals Fund | 2.09% |
| BMO147 | BMO Precious Metals Fund | 2.40% |
| BNS362 | Scotia Resource Fund Series A | 2.05% |
How and Where To Buy Physical Gold in Canada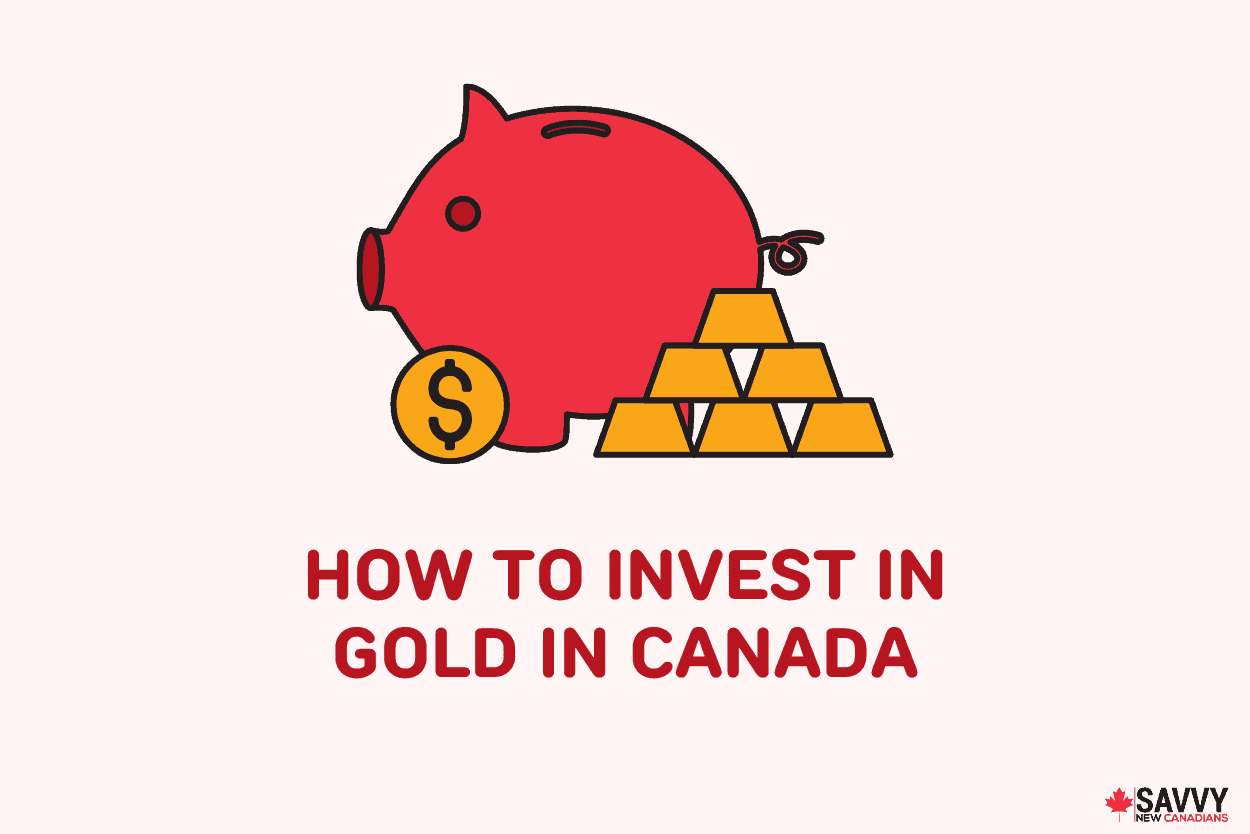 For Canadian investors who wish to invest directly in physical gold, you can do this in several ways.
The first is to buy it through any major bank that has a precious metals division. These days, banks like RBC and TD will allow you to buy gold and other precious metals from an online catalogue.
The gold you purchase can be stored directly with the bank or delivered to your home. Both options will usually carry a small fee.
You can also pick your gold up at a local branch location if specified. Keep in mind if you choose to store gold at home, you should do so in a secure safe.
Aside from the major banks, you can also directly buy gold from the Royal Canadian Mint (RCM). While you can buy some gold from the RCM, only businesses can utilize their precious metal storage services.
Finally, you can also purchase physical gold from gold dealers or retail outlets that specialize in coins and precious metals. Keep in mind these private retailers will have their own pricing and fees and generally do not provide storage services.
How To Buy Gold Stocks and Gold ETFs in Canada
Investing in gold stocks and ETFs in Canada is an excellent, low-cost way to gain exposure.
In the age of internet investing, you can easily save on costs by investing in these assets through a discount brokerage.
Here are some of the best discount brokerages for Canadian investors:
Questrade
Questrade is one of Canada's largest discount brokerages. Established in 1999, it has over 250,000 new users signing up each year.
Questrade offers free purchases for Canadian gold ETFs and charges a low $4.95 minimum fee when you sell your ETF holdings.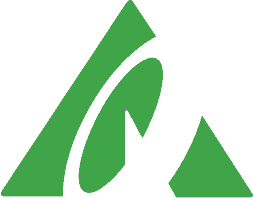 Trade stocks, ETFs, options, etc.
Low and competitive trading fees
Top platform for advanced traders
Get $50 trade credit with $1,000 funding
Wealthsimple Trade
Wealthsimple Trade is the investing arm of the Wealthsimple personal finance platform. The company was established in 2014 and is majority-owned by the Power Corporation of Canada.
Wealthsimple Trade offers zero-commission trading for gold stocks and ETFs for Canadian investors.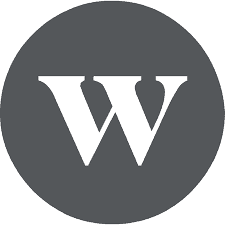 Trade stocks and ETFs for free
Great trading platform for beginners
$25 cash bonus when you deposit $200+
Transfer fees waived up to $150
CIBC Investor's Edge
CIBC Investor's Edge is the investing subsidiary of CIBC, one of Canada's largest banks.
It offers the cheapest trading fees among the big banks and offers lower rates to young investors and students.
Canadian investors can buy gold stocks and ETFs through CIBC Investor's Edge for a set fee of $6.95 per trade.
Is it Safe to Invest in Gold Now?
Gold has historically performed well when other investment assets are showing volatility. When the stock market is down, gold typically sees a surge.
On the flip side, when the stock markets are up, investors usually exit their gold positions to re-invest in equities.
The goal of most gold investors is not for long-term capital gains. It is to be defensive and protect their capital during a downturn.
So far this year, the equities markets have been volatile, to say the least, so it should come as no surprise that gold has been trading near its all-time high prices.
Advantages of Investing in Gold
Investing in gold can be an excellent way to hedge against market volatility and negative sentiment in the stock market.
Gold offers a stable asset to invest your capital in. Most gold stocks and ETFs will pay out dividends as well, which can add to the value of your investment.
Gold can also be a hedge against economic factors like inflation and the devaluation of fiat currencies.
Finally, gold is an excellent way to add diversification to your portfolio, whether it is through physical gold or gold-based equities.
Disadvantages of Investing in Gold
Most gold investments are tied to the price of physical gold, which generally acts inversely to the equities markets.
Gold stocks and ETFs have limited upside in terms of long-term capital growth.
If you invest in physical gold, you might end up paying quite a bit in storage or delivery fees. It can also be inconvenient if you choose to store your gold at your home.
Is Gold a Good Investment?
The safety and stability of gold investments make it an excellent way to protect yourself against things like economic inflation or stock market volatility.
The strength of a gold investment is usually measured against the current economic environment. Generally, in times of negative sentiment, gold investments are strong assets.
Gold is packaged in several investment vehicles, and you can choose to hold the physical gold bullion or invest in gold futures, ETRs, stocks, ETFs, and mutual funds.
If you want to add a 'safer' method of portfolio diversification, then gold is one way to do this.
The bottom line with gold is that it is one of the world's oldest investment assets, and its value has held up for centuries.
How To Invest in Gold FAQs
What is the best way to invest in gold?
The simplest, low-cost way to invest in gold is by buying gold ETFs through a Canadian discount brokerage. This is the best way to avoid higher management fees and trading fees that come with trading at a big bank.
Can I buy gold at a bank in Canada?
Yes! Most of the big banks in Canada will allow you to purchase gold and other precious metals online or by telephone. They also offer delivery and storage services depending on how you want to store your gold bullion or gold coins.
Can I use a TFSA to buy gold?
Yes, you can get exposure to gold in your portfolio through gold stocks and ETFs in your Tax-Free Savings Account. Any gains you make on gold in your TFSA will, of course, be tax-free.
Is it legal to own gold in Canada?
Yes, it is completely legal to own physical gold in Canada, whether in your home or at a secure storage facility.
Can I sell my gold to TD Bank?
Yes. TD Canada Trust customers can sell their gold and other precious metals directly at a TD Branch. TD offers competitive pricing based on the live market rates for that day.
How do I buy gold from RBC?
RBC offers gold bullion and certificates investing through its RBC Wealth Management division. You can buy directly from RBC through your RBC Dominion Securities investment account, and RBC will hold your gold and allow you to borrow against it via a loan or margin.
Do you pay tax on gold in Canada?
As with any financial instrument or investment asset, the sale of gold will trigger a capital gain or loss, which is taxable unless it was done through your TFSA. Most precious metals, such as bullion, coins, ingots, or wafers, do not require GST to be paid when purchased in Canada.
Related: