Looking to buy Tesla stock in Canada? Below, we cover everything you need to know about how to buy Tesla (TSLA) using online brokerage accounts and the steps to follow to add the stock to your investment portfolio.
Tesla is a car company and a leader in the electric vehicle (EV) space. Its stock recently became more accessible to retail investors after a 3-for-1 split.
How To Buy Tesla Stock
These are the steps for buying Tesla stock:
Open an online brokerage account
Fund your brokerage account
Research your stock pick, i.e. Tesla's performance
Confirm your investment amount
Search for TSLA
Place an order for Tesla stock
Review your Tesla stock investment
Here's how to buy TSLA stock in more detail.
Step 1: Open an Online Brokerage Account
You will need a brokerage account to buy Tesla stock; choosing the right one is essential to success.
A good starting point is to compare the popular stock trading apps based on these factors:
Trading fees: Commission-free brokerages allow you to trade investment products like stocks and Exchange Traded Funds (ETFs) without trading fees. These fee savings mean you have more money you can put towards investing.
Trading tools: Look for brokers that offer the trading tools you need to pick and assess stocks before buying them. This includes access to technical analysis, charts, real-time data, and more.
Administrative fees: Extra fees can weigh down a small investment account. Watch out for inactivity fees, account maintenance fees, and the like.
Customer service: Email, chat, and phone support should be available. The last thing you want is to be left hanging if you need immediate assistance with a trading issue.
User-friendly platform: If you are new to self-directed investing, an easy-to-use platform is essential.
Account minimum: Many brokers have no minimum account requirements. Some require you to deposit at least $1,000 before you can place a trade.
Your budget could determine which broker you register with.
Investment accounts offered: Canadians can invest using registered or non-registered accounts. Registered investment accounts like the Tax-Tree Savings Account (TFSA) or Registered Retirement Savings Plan (RRSP) offer tax advantages. You don't pay taxes on gains in a TFSA; for the RRSP, gains are only taxable when you withdraw.
Non-registered accounts also have their pros and cons.
Ideally, a broker should offer both types so you can be flexible with your investing.
Investment products: The trading platform should offer the asset you want to buy, such as stocks like TSLA, options, ETFs, mutual funds, bonds, etc.
Questrade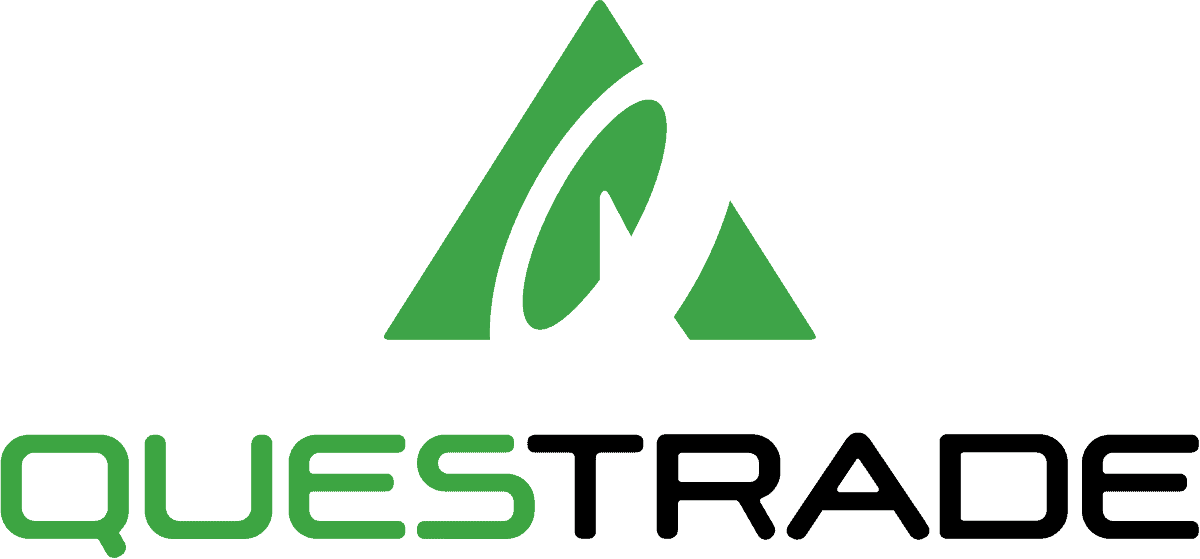 On Questrade's Website
Fees: Buy ETFs commission-free and stocks at $0.01 per share
Account minimum: $1,000 to start trading
Promotions: Get $50 in free trades
You can learn more about how to buy TSLA stock on Wealthsimple and Questrade.
Step 2: Fund Your Brokerage Account
After choosing a brokerage and opening an account, you will need to add funds.
This step is necessary to activate your account, so you can start trading stocks.
Funding options typically include:
Interac Online
Electronic Funds Transfer
Wire transfer
A certified cheque or bank draft
Pre-authorized deposit
You can also fund your account by transferring existing investments from another financial institution.
Step 3: Research Tesla Stock Performance
Before buying Tesla stock, do your research to determine whether it is a good buy.
For fundamentals, you should look at the company's financials, price-to-earnings (P/E) ratio, price/earnings-to-growth ratio (PEG), dividend yield (where applicable), company news, and more.
Here's a primer on how to evaluate a stock.
Your brokerage account may offer this information when you check the stock's ticker. You can also check analyst ratings and read stock research from investment firms.
Step 4: Confirm Your Investment Amount
This is where you decide how much money you want to spend on TSLA shares.
In general, you should diversify your portfolio, which means you don't want to use all your savings to buy one stock.
Look at Tesla's current price. If the price says $310, you will need to spend at least $310 US to own 1 TSLA stock.
Alternatively, you can spend even less and own portions of Tesla through fractional shares.
Brokerage platforms like Wealthsimple allow you to buy less than one share of Tesla.
For example, you can buy ½ a share of Tesla and only need $155 (i.e. $310 divided by 2). If you want two shares of TSLA at $310 per share, you will need at least $620 ($310 x 2), and so on.
Step 5: Search For Tesla
Find Tesla in your brokerage account.
To do this, type the Tesla ticker symbol (TSLA) in the search box on your trading dashboard.
This should bring up Tesla's company profile, where you can see its current price, previous closing price, open, low, and high price for the day, P/E and earnings per share information, market capitalization, etc.
This is what the TSLA page looks like on Wealthsimple Trade: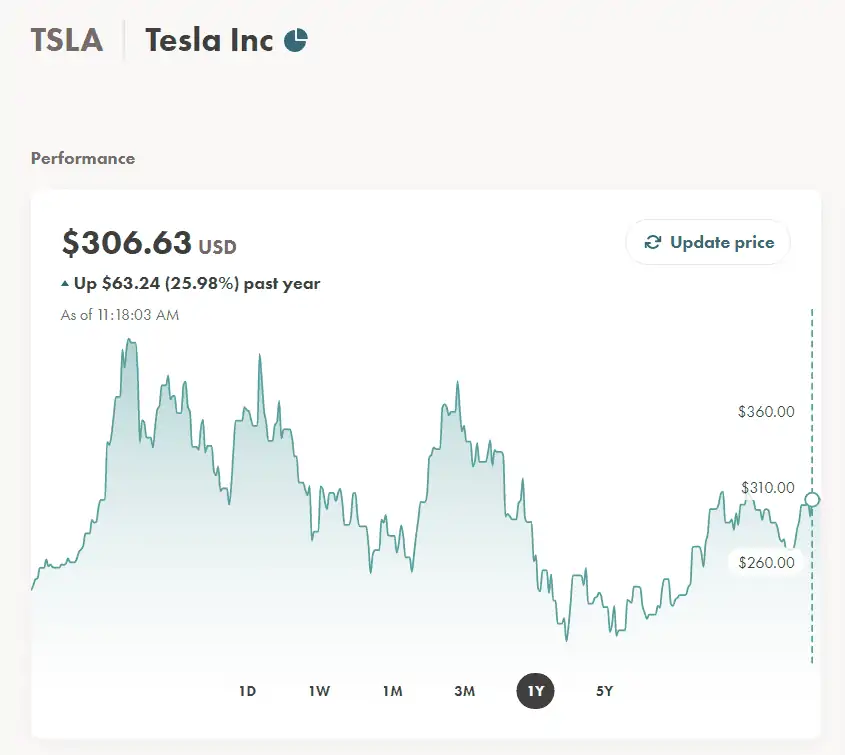 And on Questrade, this is what you see when you search for TSLA: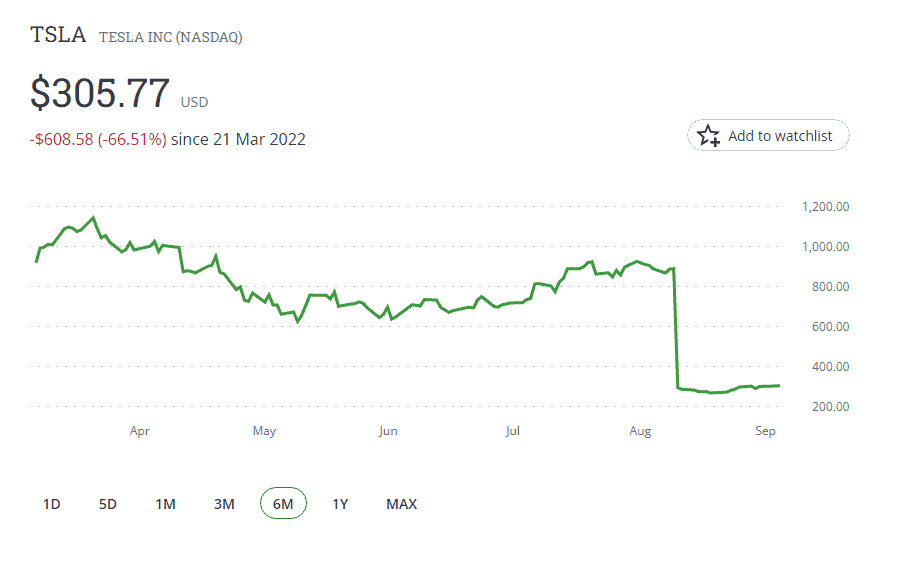 Step 6: Place an Order for Tesla Stock
You can now place an order for Tesla stock. There are different types of orders you can use. The most common ones are:
Market order: A market order is ideal if you want to buy Tesla stock right now. A market order completes your TSLA purchase at the current price.
Limit order: You can decide to buy TSLA shares at a specific price. Limit orders allow you to set a price at which your order is filled.
Some other order types include stop and stop limit orders.
You will need to confirm how many shares of Tesla to purchase as part of this step.
Step 7: Review Your Tesla Investments
After buying Tesla, you should review the stock now and then to ensure it meets your investment objectives.
Click its performance, returns over time, financials, and company plans.
Tesla is a volatile stock, and it is not unusual to see its price swing significantly to the upside and downside on news.
If you are a long-term investor, you may plan to hold TSLA as a longer-term asset. On the other hand, day traders may be looking at turning over their holdings more frequently.
How To Sell Tesla Stock in Canada
To sell Tesla stock, follow these steps:
Sign in to your brokerage account
Select your TSLA holdings
Determine how many stocks you want to sell
Place a sell order at the current price (market order) or choose to sell at a specific price (limit order)
Determine what you want to do with the proceeds
Tesla Overview (NASDAQ:TSLA)
Tesla is a company and a stock that needs no introduction. It is the world's most valuable automaker and the pioneer in the electric vehicle movement. Tesla was founded in 2003 in California, but it now calls Austin, Texas, its main headquarters.
The company is run by the enigmatic and popular CEO Elon Musk, who runs companies like SpaceX, the Boring Company, and Neuralink.
Tesla's main consumer product is the electric vehicle. Currently, it has four different models: the Model 3, the Model Y, the Model S, and the Model X. It is anticipated that the Tesla Roadster, Tesla Cybertruck, and Tesla Semi will all begin production over the next couple of years.
Tesla owns and operates production facilities known as GigaFactories around the world. These locations include California, Texas, Nevada, Germany, and Shanghai. One in New York also focuses on solar panels and energy infrastructure.
The company dominates the global EV market as the Model 3 and the Model Y account for most of the world's EV sales. Competition is growing, though, as legacy automakers like Ford, General Motors, and Toyota are all making significant investments in the electrification of their fleets.
Tesla plans to increase its production by 50% annually and introduce innovative technology like its FSD Full Self Driving autonomous platform. In August of 2022, Tesla underwent a 3-for-1 stock split, its second split in the past three years.
Should I Buy Tesla Stock Now?
Although it looks like Tesla has a bright future, whether it is a good or bad investment will depend on your investment needs, risk tolerance, portfolio type, how long you plan to hold it, and more.
Do your research (both technical and fundamental) before pulling the trigger and buying the stock.
Also, ensure to diversify your portfolio across various assets and to keep an emergency fund that is easily accessible, such as high interest savings accounts.
One way to hold Tesla and keep a diversified portfolio simultaneously is to buy an ETF that holds it.
FAQs
Can I buy Tesla stock in Canadian dollars?
When you buy Tesla through a Canadian broker, your Canadian dollar deposit is converted to USD to make the purchase. You will incur foreign currency exchange fees. You can also deposit US dollars if supported to avoid FX fees.
What is the cheapest way to buy a Tesla share?
The cheapest way to buy Tesla stock in Canada is to use a low-commission brokerage platform like Questrade or Wealthsimple Trade.
Related: