The emergence of the internet has made nearly everything simpler and more convenient, including buying and selling cars.
If, for instance, you want to buy a car online in Canada, there are platforms available today that work hard to provide what you want.
Buying or selling a car online lets you experience a streamlined process and helps eliminate a lot of inconveniences. Thus, you do not need to wait for dealerships or contend with pushy salespersons.
How to Sell a Car Online
Below are the steps on how to sell your car online:
1. Find Out How Much Your Car is Worth
Before anything else, you must first determine the value of your car through valuation tools offered at sites like AutoTrader or CARFAX.
To use the valuations tool, provide vehicle details such as:
Year/make and model
Vehicle identification number (VIN)
Postal code
Odometer
Condition your car is in
Submit the required data to receive a market value range you can use to set a price for your vehicle.
If you have remaining payments on your car loan, confirm with your lender the total cost of paying off your balance. Assume complete ownership before you sell the car.
Set a bottom-dollar price or the lowest amount you will accept for your car. Ensure the amount leaves enough to pay off your existing car loan and purchase a new unit.
One of the easiest ways to determine the value of your car is through a national retailer like Canada Drives. Sell cars or buy them through this company to make the process as straightforward as possible.
2. Prepare the Car For Sale
Have a professional check your car for needed repairs or cleaning to ensure it is in its best condition when you sell it.
Clear out any personal items from the car and keep essential ones, such as a cellphone charger, GPS, and other vital things.
Collect all the documents related to your vehicle, such as the vehicle registration permit, service records, and a vehicle history report from CARFAX, if possible.
Take high-quality pictures of the exterior and interior of your car, including the odometer. Highlight the special characteristics of the car or any luxury features it may have.
Related: Most reliable SUVs in Canada
3. Choose a Platform to Sell Your Car On
There are different online platforms you can use to sell your car. You can use all of these or compare each one to determine the most suitable one according to your need.
Platform Type
Pros
Cons
Online dealers
(Ex: Canada Drives, Clutch)
– Convenient – Quick sales – Does not require in-person negotiations – Direct offers
– Cars older than 2012 are often not accepted – Prices tend to be lower – Available only in some provinces
Online automotive marketplaces
(Ex: AutoTrader, Carpages.ca, Craigslist)
– Can set preferred prices – Websites are popular so there are more potential buyers – Ads are more visible
– Sale often takes time – Haggling is likely – Less serious buyers – Inability to negotiate
Online bidding sites
(Ex. Carity, Autozen, Copart)
– Auction-style bidding – Easy to list cars – Faster and easier
– Does not always get the best price – Limited visibility – Fewer customers
4. Gather the Documents Needed
Prepare the documents and records necessary to sell your car online. Each Canadian province has different regulations for transferring ownership of vehicles.
Below is a list of typical documents that Canadian provinces may require when you sell your car online.
Original bill of sale
Vehicle registration certificate
Transfer/tax form
Notice of sale
Bill of sale
A valid certificate of inspection
Insurance declaration
A motor vehicle safety inspection certificate
Used vehicle information package
Certificate verifying the vehicle meets safety standards (in some cases)
Vehicle permit with owner's signature
Transfer of ownership form on registration permit
Contact your provincial government to ensure you have covered your bases.
5. List Your Car For Sale
List your car on different online platforms for better visibility and to find more potential buyers. Below are the general procedures when listing your vehicle for sale on various internet platforms.
Type of Platform
Procedure
Online dealers
1. Visit the website of your preferred online dealer.
2. Click the appropriate button that will enable you to start selling. Provide the vehicle identification number and other required details. Include your contact information.
3. The dealer will personally inspect and appraise your car and send you an offer.
4. Choose between trading your car for a discount on a new one or accepting the dealer's offer in cash.
5. When you accept the offer, the dealer will pick up your car from your residence.
Online automotive marketplaces
1. Select an online automotive marketplace you want to post your car for sale.
2. Upload several photos of your vehicle. Provide a persuasive description and enumerate the car's features.
3. Enter your contact details and click the submit button.
4. When potential buyers contact you, schedule viewings and test drives.
5. Choose the offer most agreeable to you.
Online bidding sites
1. Open the bidding site you wish to use.
2. Provide your vehicle details and your contact information.
3. When the bidding site posts your vehicle, expect offers to start coming in.
4. If you find an attractive bid, ask for payment.
5. Check with the bidding site for the details on pickup and delivery.
6. Finalize the Sale
Once you find a buyer, prepare the documents for transfer ownership. Depending on where you live, the requirements will vary, and the processes will be different, too. Contact your local or provincial government to get the required documents right.
Start the process of transferring ownership only when you have received the payment. Arrange the pickup or delivery of the vehicle and turn the keys over to the buyer when you have settled everything.
Related: Car Sales Tax in Canada
Requirements and Documents Needed to Sell a Car Online
The following are among the requirements and documents you need to prepare when selling a car online in Canada:
Owner's valid driver's license
Government-issued ID. Government-issued ID. Buyers want to know who they are transacting with, so having valid identification will help with your goal of selling your car.
Vehicle registration. This document shows that your car is registered in the province you reside in and is, therefore, allowed on the road. The vehicle permit, license plate, and sticker are part of the vehicle registration documentation.
Vehicle identification number (VIN). Sharing your VIN is essential when selling your car since your buyer will need it to verify your vehicle history and perform a VIN check.
Used Vehicle Information Package (UVIP). By law, you must present a UVIP to a buyer to complete the sale of your car. In Ontario, a UVIP costs $20. In Ontario, a seller of a pre-owned vehicle is legally required to provide a UVIP to a buyer.
Depending on your location, a UVIP package may include the following:
Vehicle details (year, make, model, colour, body type, cylinders and power)
Vehicle registration history
Vehicle lien information
Condition of the vehicle
Average wholesale value on which the minimum tax owed is based
Other information dealing with vehicle safety standards
Retail sales tax and forms for an affidavit
Bill of sale
To order a UVIP in Ontario, you must present: (1) the VIN or the licence plate number of the pre-owned vehicle; and (2) your Ontario driver's licence number or registrant identification number (RIN) or your name and address.
CARFAX report. This report is a crucial part of the selling process as it provides crucial details on the different aspects of your car.

Vehicle history
Registration country of vehicle
Accident history, prior damage, and their assessed values
If it incurred damage from other elements (flood, fire, hail, etc.)
If insurance claims were made
Stolen status
Safety Standards Certificate and Emissions Test. Depending on your location, this document is not mandatory, but presenting it to your buyer can speed up the selling process.
Maintenance/service records (optional). Service records can increase the value of your car on the second-hand market. These indicate how often your car had regular maintenance and how well you have cared for it over the years.
Odometer reading. In some Canadian regions, a car seller must provide a copy of the latest odometer reading to a buyer. Other provinces only require sellers to write the current mileage on the car title or a separate document.
Bill of sale. A standard bill of sale is vital when selling a vehicle in a private sale. This document contains information about the vehicle, seller, and buyer and is necessary for the transfer of ownership.
Warranty documentation. The manufacturer's warranty is very helpful when selling a car still under warranty. Having this record can also help justify the price you set for your vehicle.
Related: Get a free VIN check in Canada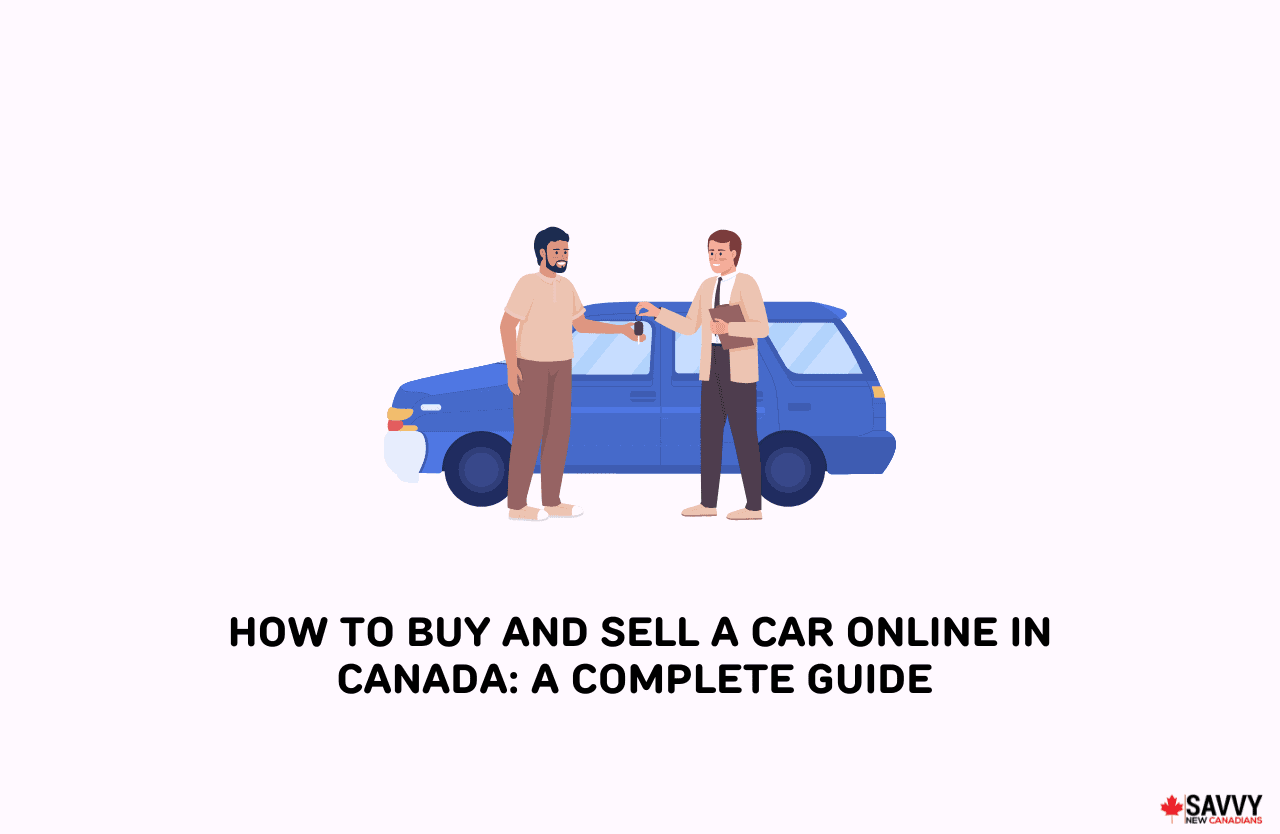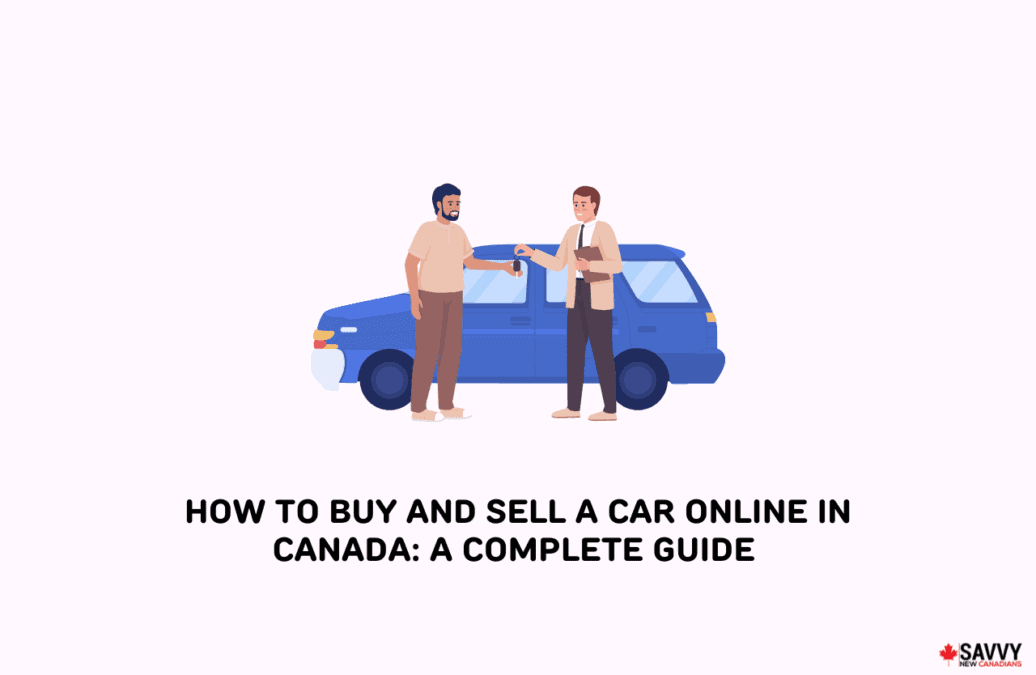 How to Buy a Car Online
Buying a car online is as easy as visiting resale sites, marketplaces, and websites that sell pre-owned vehicles. Buying cars has become simpler because of the internet, and if you want to know the specifics on how to buy a car online, read on to learn more.
If you want to buy a pre-owned car, many websites will provide endless options to help you find what you want. These online sites and marketplaces also help you find what vehicles you can avail of in your city or province.
Full-service options are also available if you want to buy a car completely online from start to finish. Knowing how to buy a used car online can help you avoid dealing personally with salespeople or if you prefer not to leave your house.
Related: Car buying tips and tricks
How to Buy a Car From the Owner Directly
Do you wish to know how to buy a car from the owner directly and experience a less stress-free process? Called private sale, this has three primary benefits: no salespeople, no marketing team, and no costly add-ons.
Buying a car from the owner can be a straightforward, pain-free process. There is only you, the buyer, transacting with a seller. Here are the steps to take when privately buying a pre-owned car.
Do your research and find the ideal vehicle.
When you find a seller, schedule the car for a test drive.
Scrutinize the vehicle. Ask for the documents related to it.
Familiarize yourself with the car's history and maintenance records.
Negotiate the price until you agree with the seller.
When you have received the payment, meet with the buyer. Present the required documents and turn over the key to the new owner.
Best Online Car Buying Sites in Canada
Listed below are the best online car-buying sites in Canada. They help find legit second-hand car buyers through secure means.
Clutch
Clutch is a legitimate car-buying platform offering a straightforward and hassle-free buying process in the comfort of your home. Founded in 2016, Clutch provides a wide selection of top quality, Clutch-certified pre-owned cars with a free 90-day Protection Plan.
For car buyers, Clutch offers a trial period of 10 days (or 750 km, whichever comes first). Exchanges are allowed within the trial period. Buyers have two options to pay: cash and financing. Down payments are not typically required.
Clutch is available only in Ontario and Nova Scotia.
Related: Here's a detailed Clutch review.
Canada Drives
Canada Drives, another online platform for buying cars, offers a 100% online experience. The process entails choosing a car, selecting a package and payment method, and scheduling the delivery of the vehicle, which they claim they can do in under 24 hours.
If you need financing, complete a three-minute online application, and wait for the approval terms via text. No in-person meetings are necessary. You only submit all required documents and sign your financing agreement online.
Canada Drives is available in Alberta, British Columbia, Manitoba, New Brunswick, Newfoundland & Labrador, Northwest Territories, Nova Scotia, Nunavut, Ontario, Prince Edward Island, Quebec, Saskatchewan, and Yukon.
Related: Learn more about Canada Drives.
Carity
Carity is a Toronto-based car-selling online platform for selling used cars to dealerships in Ontario. Carity charges no fee to use the website. You can post your car listing anonymously and reveal your information to your selected dealer.
To sell your car to Carity, fill out a car profile to list your car in the site's inventory and start receiving offers from various dealers. When you accept an offer and are ready to sell, bring your vehicle to the dealer and receive your payment.
Carity is only available in Ontario.
AutoTrader
AutoTrader is an automotive marketplace with no physical inventory, where car owners can post their car listings for free to over 16 million Canadians each month. Private sellers who want the most cash for their cars can sell directly to others.
Sell your car on AutoTrader by posting an ad containing vehicle information and pictures. You can use site features like Priority Placement and Highlighted Listing with Photo to help sell your car quickly.
Can You Sell Your Car to a Dealership Without Buying a New One?
If you want to sell your car to a dealership without buying a new one, you can do so. Provided that the car is in good condition and everything is satisfactory, you can get a sale.
Selling your car to a dealership allows you to enjoy the following:
Hassle-free, time-saving transaction. When you sell to a dealership, you can finish the transaction faster. You can be in and out of the door within a few hours.
Simple transactions. Selling to a dealership involves a basic procedure: bring the car in, have the dealer perform an assessment, negotiate the offer, and sell it.
Instant payment. Once you agree to the offer, the dealership will pay the price without delay. You also get better legal protection since the dealer is bound to maintain its reputation.
For some, however, selling privately gets you a better price than through a dealership. The reason is that dealers pay wholesale prices when they purchase previously-owned cars. Compared with private selling, prices offered by dealers are often lower due to their overheads.
FAQs
Is AutoTrader Canada free? 
Listing your car at AutoTrader Canada is free to all private sellers. The site provides guidelines to help sellers create an effective ad, which they can post in under five minutes. 
What is the number 1 selling vehicle in Canada? 
The Ford F-150 truck has been the number 1 selling vehicle in the country since 2009 after it claimed the spot from Honda Civic. While its market share dropped in 2022, the F-series remained Canada's top truck for the 57th consecutive year. 
Which cars have the best resale value in Canada? 
The top five cars with the best resale value (and lowest depreciation) in 2022 are Jeep Wrangler (-7.3%); Jeep Wrangler Unlimited (-8.7%); Porsche 911 (-14.6%); Toyota Tacoma (-14.9%); and Honda Civic (-16.3%).
What is the best way to buy a used car in Canada? 
Buying online is the best way to buy a used car because it is convenient, and you can shop for and buy a car anytime. Plus, you can complete transactions from your couch and arrange to have the dealer deliver the car to your home. The key is to choose a reputable online company. 
Is CARFAX Canada free? 
The VIN Decoder and Lookup from CARFAX Canada is free and provides limited up-to-date information about a car's history. The Vehicle History Report + Lien Check, however, costs $64.95. 
Related: