Is Betterment available in Canada? What alternatives are best for you to save on investment fees?
Betterment was one of the first robo-advisors in the United States after these technology-driven online investment advisors or wealth managers emerged from the ruins of the 2008 financial crisis.
Financial and investment advice used to be a perk only available to wealthy investors. If you were not investing six figures, you were stuck using traditional mutual funds.
While some investors have been able to trade their portfolios using online brokerage platforms for a couple of decades, this option was also limited in many ways until recently.
The advent of online investing services like Betterment has made professional portfolio management available to everyone at a low cost. You don't need a hefty bank balance or broad investment knowledge or broad investment knowledge to assess these services.
In the United States, robo-advisors comparable to Betterment include Wealthfront, Bloom, M1 Finance, Ally Invest, Vanguard, Acorns, and Personal capital.
In Canada, robo-advisor options include Wealthsimple, Questwealth, CI Direct Investing, Nest Wealth, Justwealth, and Moka.
Out top-rated choice for a robo-advisor in Canada is Wealthsimple.

Get a $25 cash bonus when you open an account.
Is Betterment Available in Canada?
Unfortunately, Betterment is not available in Canada. As per its FAQs:
Betterment currently only operates in the United States, and for regulatory reasons cannot accept international customers residing outside the United States. This includes U.S. citizens residing and/or working aboard.**

Betterment
U.S. military personnel residing abroad can use the platform if they have a valid U.S. address.
In addition to these restrictions, you must be at least 18 years old, and have a U.S. Social Security Number and a U.S. checking account before opening a Betterment account.
What is Betterment?
Betterment was founded in 2008 by Jon Stein and Eli Broverman.
It is a robo-advising platform that uses technology (algorithms) to invest your money using low-cost Exchange-Traded Funds (ETFs) and a passive indexing strategy.
Betterment is a member of the Securities Investor Protection Corporation (SIPC), which protects your investments (up to $500,000) against insolvency.
The company recently added high-interest savings and checking accounts to its service offerings. It also has hundreds of thousands of clients.
The Betterment app is available on iPhones and Android devices.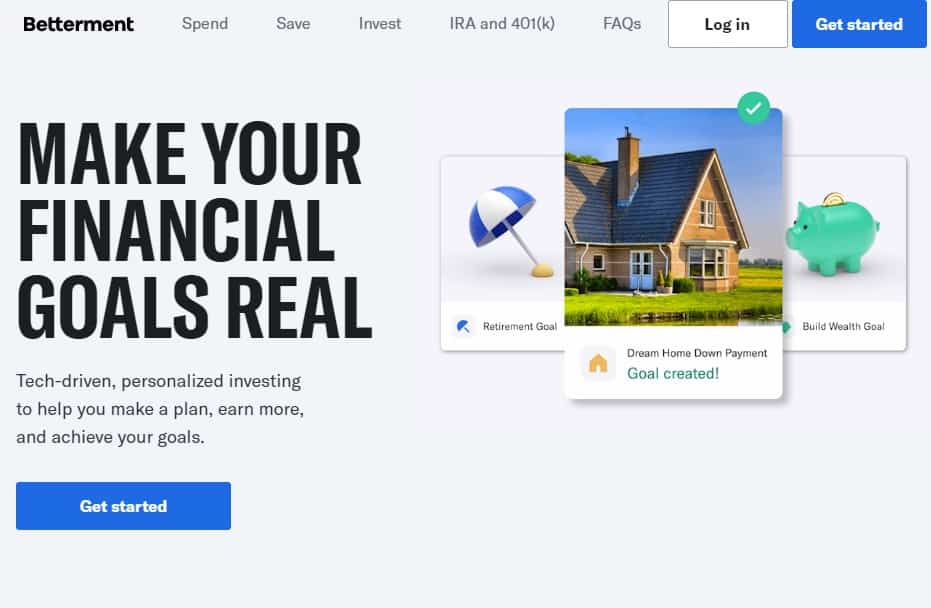 How Betterment Works (Main Features)
When you open a Betterment investment account, it takes you through a series of interviews to determine your risk tolerance and investment needs. Based on your answers, it recommends a portfolio and automatically invests your funds using globally diversified ETFs.
Its key features include:
Automatic Rebalancing:  Your portfolio's asset allocation is automatically managed to stay at your desired levels. This removes the need for tedious manual rebalancing.
Global Diversification: The ETFs in your portfolio hold thousands of stocks and bonds from all over the world, reducing your risk.
Tax Saving: Clients enjoy tax-loss harvesting, and your portfolio is designed to minimize your tax burdens.
Low-Fees: You pay a management fee ranging from 0.25% to 0.40% per year. Business accounts with balances over $2 million pay 0.15% to 0.30% per year.
Low Minimum Balance: You can open an investment account for as little as $10.
High-Yield Cash Account: This savings account has no fees and offers 0.10% APY as of September 2021.
Checking Account: Access a no-fee checking account and debit card with cash back rewards when you spend at thousands of participating retailers.
Security: Your investment account is insured by SIPC, and your deposit accounts (savings and checking) are insured by the Federal Deposit Insurance Corporation (FDIC).
Where Betterment Falls Short?
Betterment does not offer access to a discount brokerage service if you are a self-directed investor. So, besides purchasing ETFs, you can't hold individual stocks, options, IPOs, or precious metals.
You need a high account balance to access its premium service and licensed financial advisors.
Alternatives to Betterment in Canada
There are several alternatives to Betterment in Canada. In this review, I summarize four of them, including Wealthsimple, Questwealth, CI Direct Investing, and Moka.
You can check out our list of the best robo-advisors in Canada for more options.
1. Wealthsimple Canada
Wealthsimple is the largest robo-advising service in Canada. It was founded in 2014 and has more than $15 billion in assets under management.
Like Betterment, Wealthsimple offers globally diversified portfolios, automatic rebalancing, dividend reinvesting, and socially responsible investing (SRIs).
Key features of the platform are:
User-Friendly Platform: Wealthsimple has one of the most attractive platforms in the industry for its web interface and mobile app.
Award-winning investment strategy: It uses the Modern Portfolio Theory to minimize your risk and maximize your returns, plus index investing that's been shown to beat active investing most of the time.
Multiple Accounts: You can open an RRSP, RESP, TFSA, LIRA, RRIF, Joint, personal non-registered, and business accounts.
$0 Account Minimum: There is no minimum balance to open a Wealthsimple account. You can start with as little as $1.
Low Fees: Pay a management fee of 0.40% to 0.50% per year. Compared to mutual funds with up to 2% fees, your costs are significantly lower.
Expert Financial Advice: Clients can speak to a financial advisor (real human) to get expert advice on their portfolios.
Brokerage Account: Wealthsimple offers the only no-commission trading platform in Canada – Wealthsimple Trade.
Cash Account: It offers a high-interest savings account known as Wealthsimple Cash.
Security: Wealthsimple investment accounts are protected by the Canadian Investor Protection Fund (CIPF) for up to $1 million. It also uses bank-level encryption to protect your data.
Promotion: Our readers get a $25 cash bonus when they open an account and fund it with at least $500.
Where Wealthsimple Canada Falls Short
While Wealthsimple will save you on fees compared to mutual funds, it's not the cheapest robo-advisor for all account balances.
DIY investors may prefer to use Wealthsimple Trade instead of the robo-advisor platform.
2. Questwealth
Questwealth Portfolios is the managed investing arm of Questrade, one of Canada's top brokerage platforms.
In addition to offering automated rebalancing dividend re-investing and diversified portfolios, Questwealth also offers.
Active Management: Unlike most robo-advisors, it uses active investment strategies to manage your portfolio. Also, many of its portfolios have been around for some time so that you can check out their historical returns over the last 10+ years.
Low Fees: At 0.20% to 0.25% per year, its management fees are some of the lowest in Canada, even after factoring in currency exchange fees of 100 basis points for US trades.
Security: Questrade Inc. is a member of CIPF, and your funds are protected for up to $1 million. It is also a member of IIROC.
Discount Broker: You can use the Questrade platform for trading individual stocks, ETFs, mutual funds, GICs, options, and more.
Promotion: Our readers can invest up to $10,000 free for one year when they sign up here.
Where Questwealth Portfolios Falls Short
You need a minimum balance of $1,000 to start investing on this platform.
While not necessarily a downside, you should note that Questwealth uses an 'active' investment strategy which is a departure from the time-tested 'passive' strategies used by most robo-advisors.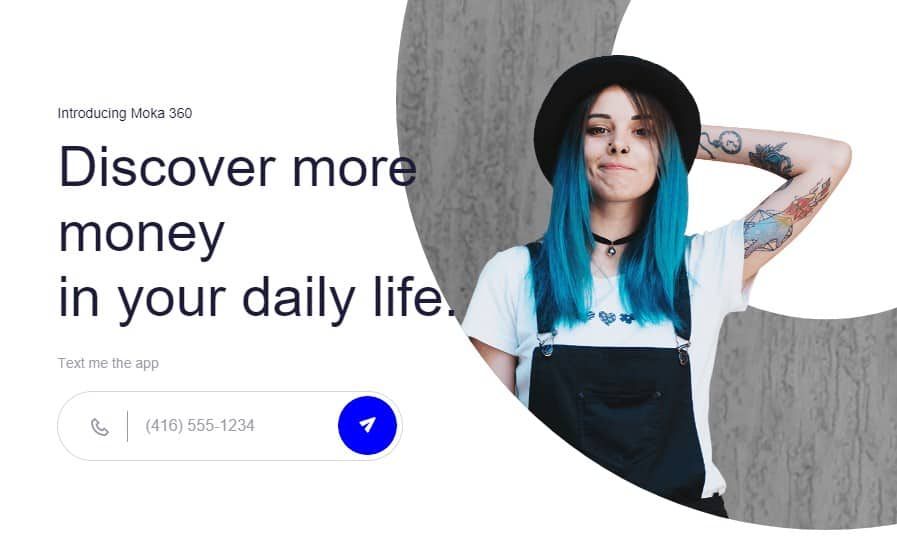 3. Moka App
Moka is a dedicated micro-investing app. If you want to invest your spare change, this app simplifies the process.
It offers:
Roundups:  Your purchases are rounded up to the nearest $1, and the balance is invested for you. You can increase the amount you invest using multiples or lump sums.
Multiple Accounts: Moka supports investing in a TFSA, RRSP, or personal taxable account. You can also invest using socially responsible investing portfolios.
Cash Back Rewards: When you shop at participating retailers, you earn cash back, which is also deposited in your investment account.
Customized Portfolios: It recommends a portfolio based on your investment profile and uses low-cost ETFs.
Security: Moka uses 256-bit encryption to protect your account data. Also, your funds are held by a custodian that is CIPF-insured.
Moka 360: This premium service offers additional benefits, including double cash backs, debt management, bill negotiation, and dedicated financial advice. Learn more about Moka 360.
Promotion: Get a $5 welcome bonus when you sign up here and connect your bank accounts.
Where Moka Falls Short
Moka has a $3.99 monthly fee for its standard service. If you are only investing a few cents here and there, you will end up paying a very high percentage in annual fees.
That said, if you set up regular contributions in addition to the routine roundup, this app is worth checking out.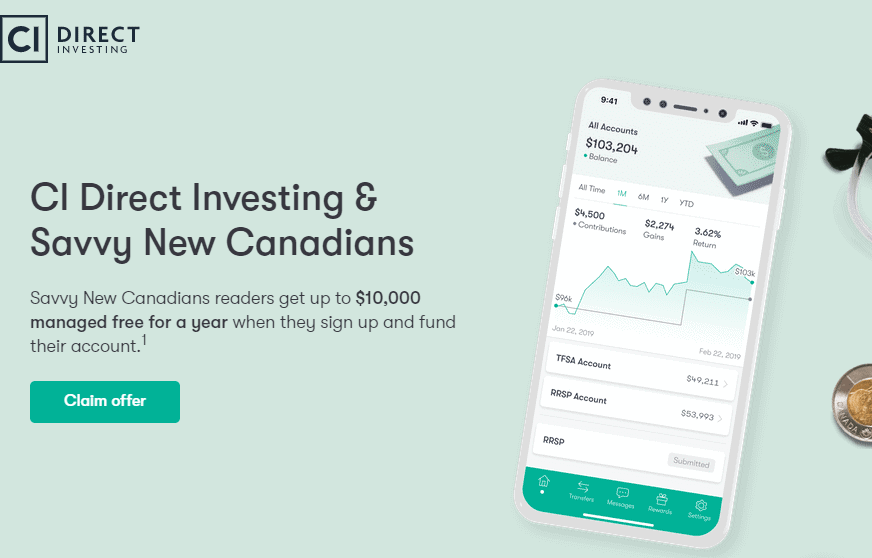 4. CI Direct Investing
CI Direct Investing (formerly WealthBar) was founded in 2013. Its key features include:
Multiple Account Types: It offers RRSP, TFSA, RRIF, RDSP, LIF, and personal and joint non-registered and business accounts.
Broad Diversification: Your portfolio holds diversified investments across asset classes and locations. It also offers SRI portfolios.
Customized Advice: Clients get access to a dedicated financial advisor who is a Certified Financial Planner.
Low Fees: You pay management ranging from 0.35% to 0.60% per year, depending on your account balance.
HISA: It offers a high-interest savings account you can park your cash in.
Security: CI Direct Investing is a registered portfolio manager. Your funds are protected by CIPF against insolvency for up to $1 million.
Promotion: You can invest up to $10,000 for free for 1 year when you sign up here.
Learn more about this fintech in our CI direct Investing review.
Where CI Direct Investing Falls Short
CI Direct Investing's management fees are a bit on the high end for smaller accounts compared to its competitors. Also, you need a $1,000 minimum balance to open an account.
Wealthsimple vs. Betterment vs. Questwealth
We compare two of the best robo-advisors in Canada with Betterment below:
| | Wealthsimple | Betterment | Questwealth |
| --- | --- | --- | --- |
| Available in? | Canada, U.S., U.K. | United States | Canada |
| Account Minimum | $0 | $10 | $1,000 |
| Account Offered | RRSP, TFSA, RESP, RRIF, LIRA, LIF, Joint, Corporate, non-registered | Roth IRA, Traditional IRA, SEP IRA, Taxable, Joint | TFSA, RRSP, RRIF, LIRA, Corporate, LIF, RESP |
| Management Fee | 0.40% to 0.50% | 0.25% to 0.40% | 0.20% to 0.25% |
| ETF Fees | Average of 0.20% | Up to 0.15% | Up to 0.23% |
| Automatic rebalancing | Yes | Yes | Yes |
| Tax-loss harvesting | Yes | Yes | Yes |
| SRIs | Yes | Yes | Yes |
| Financial Advice | Yes | Yes (with Premium) | Yes |
| Savings Account | Wealthsimple Save | Betterment Cash Reserve | N/A |
| Spending Account | Wealthsimple Cash | Betterment Checking | N/A |
| Brokerage | Wealthsimple Trade | N/A | Questrade Investing |
| Invests Spare Change? | Yes (via Roundup) | No | No |
| Security | CIPF protection | SIPC protection | CIPF protection |
| Review | Learn more | – | Learn more |
| Apply | Sign up | _ | Sign up |
Betterment Canada FAQ
What is the best robo-advisor in Canada?
We consider Wealthsimple the best robo-advisor in Canada based on its low fees, investment strategy, variety of accounts, customer service, user-friendly platform, and overall value for money.
What should a beginner invest in?
Canadians can invest using registered and non-registered investment accounts. Tax-sheltered accounts protect your returns from taxation, and this includes the TFSA and RRSP. You can learn more about the best investment accounts.
Is Questwealth good for beginners?
Questwealth and Wealthsimple both offer hands-free portfolio management, and they are great for beginners who are just learning the ropes.
Can I buy individual stocks using Wealthsimple?
You need a brokerage account to buy individual stocks and ETFs, and you can use Wealthsimple Trade for free (i.e. no trading commissions).
Is Betterment a legit company?
Yes, Betterment is registered with the Securities and Exchange Commission in the United States as an investment adviser and broker-dealer. It is also a member of SIPC and FINRA.
Have you tried any of the platforms listed above? Let us know about your experiences in the comments section below.
Is Betterment Available in Canada?
Summary
Is Betterment available in Canada? Learn about the best robo-advisors like Betterment in Canada, including Wealthsimple, CI Direct Investing, and Questrade (Questwealth).
Pros
Automatic rebalancing
Globally diversified portfolios
Low management fees
SIPC insurance
Low minimum balance
Cons
Does not offer a brokerage account
Requires high account balance to access personalized advice