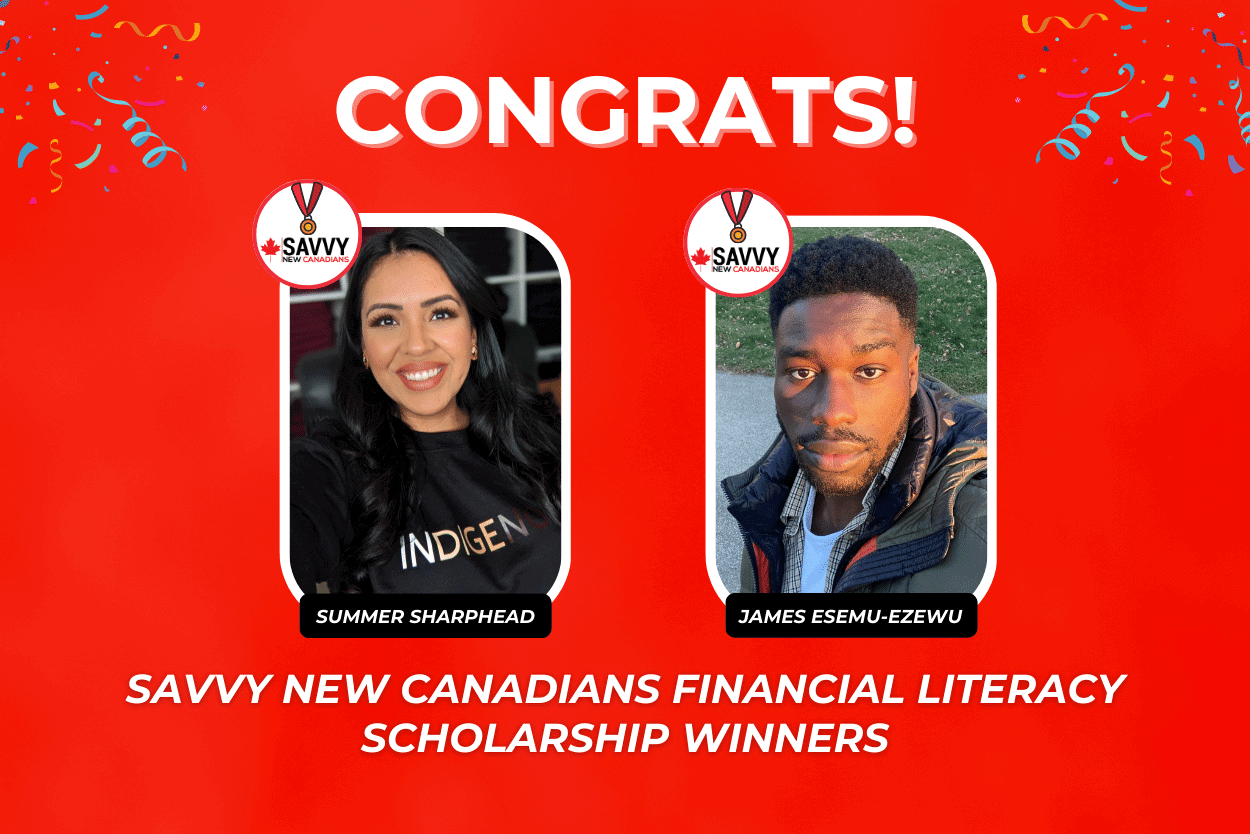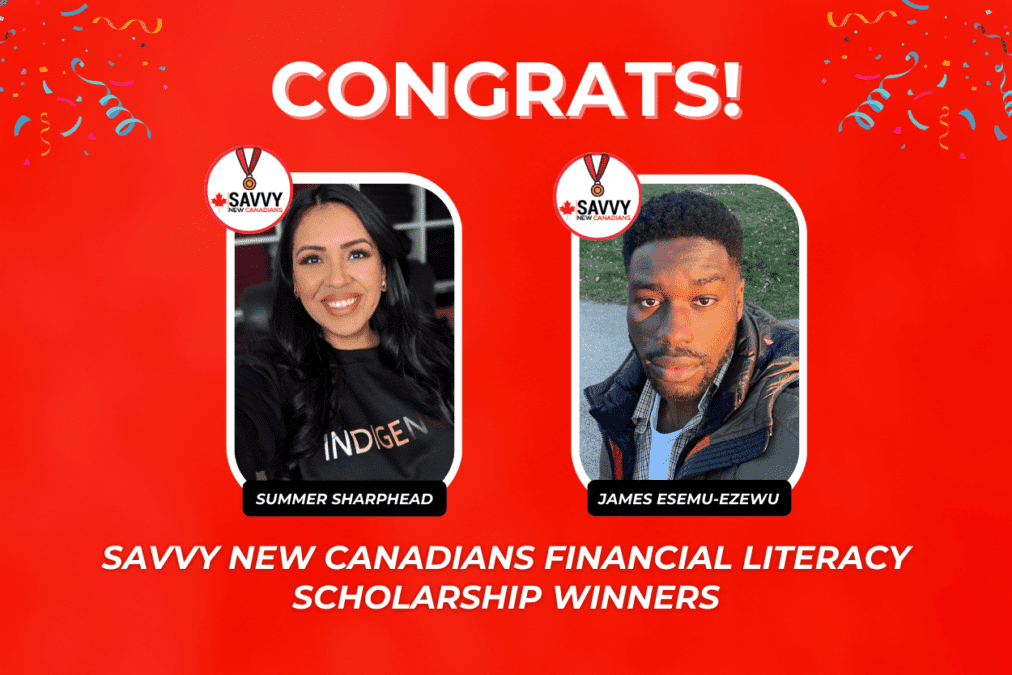 We are pleased to announce the winners of the inaugural Savvy New Canadians Financial Literacy Scholarship.
Out of the 228 applications received, Summer Sharphead and James Esemu-Ezewu were chosen for the Winter 2023 awards.
We are impressed by what they have achieved so far and wish them the best in their future endeavours!
Summer Sharphead: Winter 2023 SNC Scholar
Tan'si! My name is Summer Sharphead and I am a nehiyaw iskwew from Frog Lake First Nation in Treaty 6 Territory. I am currently a full time student pursuing my Masters in Education Policy Studies with a Specialization in Indigenous People Education, which I am scheduled to complete in April of this year. My area of research is First Nations parental sovereignty and how to encourage schools to create safe spaces for our First Nations parents in the aims to help their children thrive. I am a mother of three and I also own a small business called Nîpin Apparel and Home Decor. When I complete my program I plan to become a school administrator or to work closely with Indigenous organizations in the area of First Nations education.

Summer Sharphead
Financial literacy can go a long way in helping Canadians reach their goals. Summer sums it up perfectly when she wrote in her essay:
So financial literacy, like education, is my resistance. By being confident with money and using it as a tool, I am able to promote healing for future generations. I am able to create a safe home for my children… I am also able to attend a Masters program to eventually be a visibly Indigenous Principal and role model that so many young Indigenous students need. I am also able to go back to my Cree culture, because I am no longer just surviving, I am thriving.
James Esemu-Ezewu: Winter 2023 SNC Scholar
Hello! My name is James Esemu-Ezewu, and I immigrated here when I was 8 years old. I have a passion for content creation which includes comedy skits, music, and videography. I believe higher education facilitates critical thinking and creates opportunities for new immigrants. Keeping this in mind, a deep understanding of financial literacy is necessary to ease adaptation in a new country. With different rules regarding banking, credit, taxes, and bills, education should not be one's sole focus when aiming for financial stability in a foreign land. After I graduate with my dual major ArtSci / CompSci degree, I plan on pursuing stand-up comedy, focusing on content creation and making music. As a backup plan, I have my CompSci degree to provide financial stability.

James Esemu-Ezewu
At Savvy New Canadians, we are passionate about helping Canadians become better with their money and agree with James when he says:
Job security is not the same as financial security, and after reading books on money management, I understand financial literacy as a complement to higher education… In essence, I don't believe that academia is the only place where I have a lot to learn. I don't want to be in the dark about where my money's going, and I won't let my kids be either.
About Savvy New Canadians
Founded in 2016, Savvy New Canadians is one of the most highly sought platforms for personal financial information in Canada. It provides in-depth personal finance resources to help you take control of your money, get out of debt, invest wisely, increase your income, and become financially free.
The Savvy New Canadians Financial Literacy Scholarship runs twice a year. You can learn more about how and when to apply.