There's no feeling worse than trying to send money internationally and getting hit with a bunch of fees.
Whether you're getting charged a marked-up currency exchange rate or simply owe additional transaction fees, spending money to send money is never good. That's why we've sought the best ways to send money from Canada to the U.S.
We've investigated various platforms, from mobile sites and apps to traditional banking institutions, to discover how to maximize your money when making international transfers.
Fees can add up fast, and many are even hidden, so it's important to do your research before you make any transfers from Canada to the U.S.
If you're wondering how to send money from Canada to the U.S. cheaply, quickly, and easily, look no further. These 17 platforms stand out as the best ones in the game.
How to Send Money From Canada to the U.S. Instantly
There are several reasons, both business and personal, why you might want to send money from Canada to the U.S. Whatever your reason, these platforms are sure to offer competitive rates and various different perks to facilitate your money transfer.
1. Wise
Wise makes transferring money to the United States from Canada easy – you can do it in just three simple steps. First, you'll enter the amount you want to send and where you want to send it to.
Then you'll add your recipient's bank details. Finally, you'll pay for your transfer using direct debit, wire transfer, bill payment, or a debit or credit card.
Wise gives you a fair mid-market exchange rate – the "inter-bank rate," as they call it. That means you'll pay the real exchange rate without any markups or surcharges.
You will also pay a small fee of $3.42 Canadian plus 0.56% of the amount you send. Transfers made using Wise are usually available instantly, but some transaction types can take up to one day.
It's also worth noting that you can send money from Canada to the US for free if two conditions are met. You and the recipient need to have a Wise account, and the transfer must be done in the same currency (which would generally be USD or CAD).
Here's a detailed Wise review.
2. XE Money Transfer
XE offers money transfers from Canada to the U.S. that are quick and reliable. All you need to do is create an account, enter your recipient's details, and then confirm and send your payment. Most transfers take between one and four days to arrive in the U.S.
For Canadian users, there is no fee to send money. However, if you pay with a credit card, you will be charged a fee between 1% and 2% of the amount you send, depending on that value.
For example, if you send over $1,000, you'll be charged a 1% fee. If you send under $249, you'll be charged a 2% fee.
3. PayPal
PayPal's international money transfer service is called Xoom. It offers four easy ways to send money internationally, including depositing it in a bank account, sending it to a debit card, sending cash for pickup, and having cash delivered.
Generally, debit card deposits will typically arrive in minutes. Bank deposits will typically arrive the next business day.
To send money from Canada to the United States, users will have to pay a fee depending on their payment type. If you pay with a debit or credit card, you should know that PayPal sometimes charges hefty fees.
PayPal uses a retail foreign exchange rate, adding a 3.5% percentage fee to their bank's wholesale rate quote.
4. MoneyGram
MoneyGram offers many different options to transfer money internationally. In addition to charging a transfer fee, MoneyGram makes money from currency exchange. Transfer fees from Canada start at $4.99 but can go even higher.
Learn more in this MoneyGram review.
5. Western Union
When you send money to the U.S. with Western Union, you can do so online, through their app, or in person. Western Union can send money transfers to many major U.S. banks.
Their fees may be up to $20 for international transfers and up to $15 for domestic transfers. Western Union generally offers a competitive exchange rate.
6. WorldRemit
WorldRemit has over 8 million happy customers who use the service to send money internationally. It's 46% cheaper than most banks.
In most cases, transfers made through the platform will arrive within minutes. WorldRemit does charge an additional fee on top of the flat exchange rate. Normally, that fee comes out to about 3% of the principal amount.
Here's a detailed WorldRemit explainer.
7. Skrill
This online banking platform allows users to send international bank transfers without a fee. However, it does mark up exchange rates by up to 5% for international transfers.
You'll be charged an additional fee if you pay with a debit or credit card. Skrill prides itself on offering international transfers that are available instantly.
8. Paysend
Paysend is currently boasting fee-free international transfers between bank accounts. With instant processing, your recipient can access the money immediately.
Paysend typically offers competitive exchange rates without a strong markup. For some international transfers, they may charge a fee ranging between $2 and 1% of the principal amount.
9. Xendpay
Xendpay makes its money by charging a foreign conversion fee – for that reason, it cannot be used to send amounts that originate and deposit in the same currency.
The online site has sent over $10 billion to the USA, and it's backed by an English financial agency. Transfers generally take between one and four days to arrive.
10. OFX
The online platform OFX offers bank-beating exchange rates that match the market rate. There are no limits on the amount you can send, meaning that OFX is a good option for both individuals and businesses. Most major currencies arrive within one or two business days.
Related: Best international money transfer apps.
11. Instarem
Using exchange rates sourced directly from Reuters, Instarem only charges a tiny additional fee on top of the exchange rate to send money from Canada to the U.S.
Instarem's transfers are generally available instantly or within just one day. It's a cost-effective option for those looking to transfer money quickly.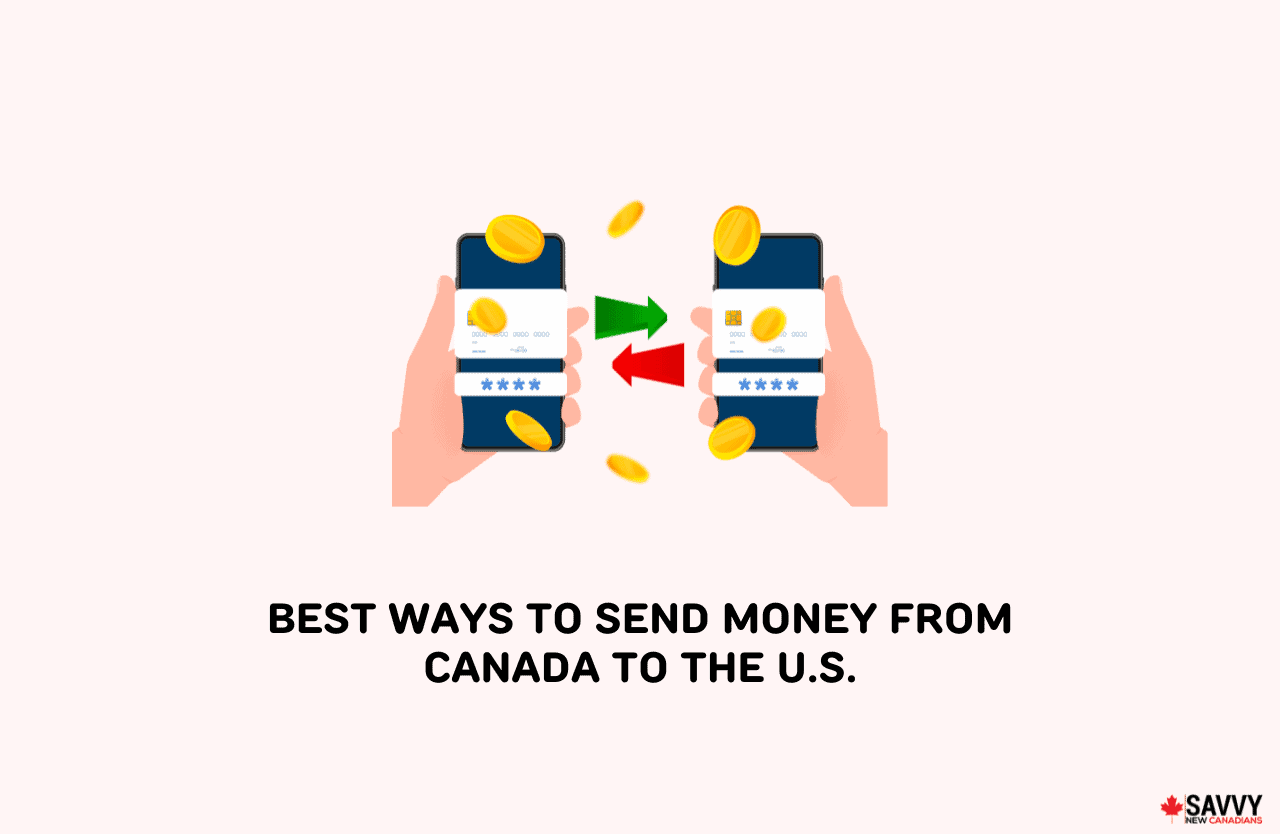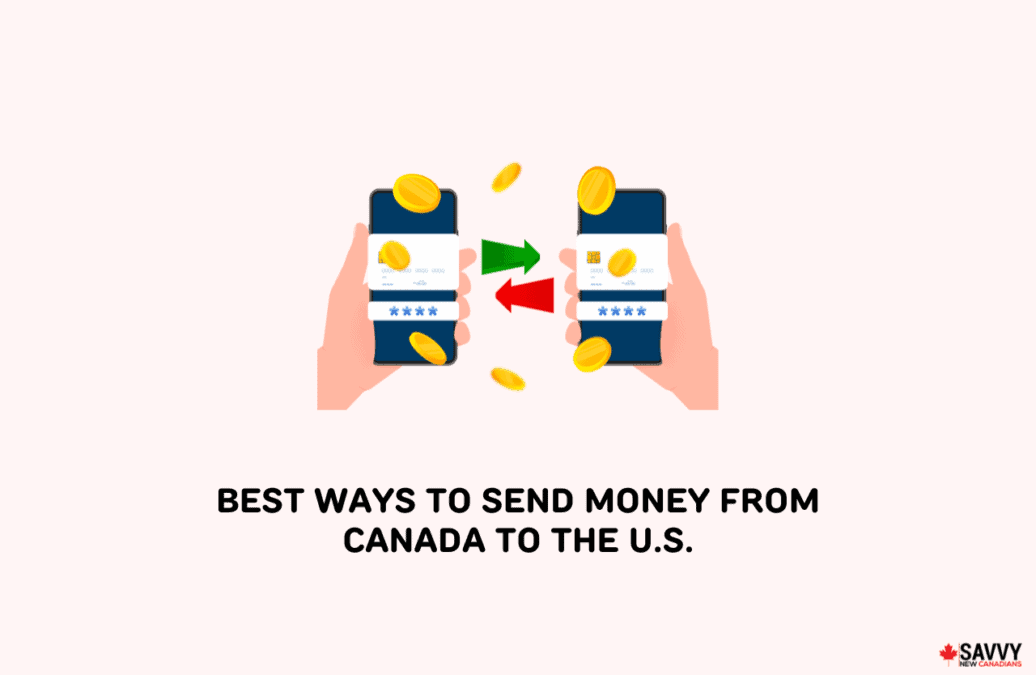 How to Send Money From Canada to the U.S. via Your Bank Account
If you're not as concerned about an instant transfer, another attractive option can be sending money to the States using your bank account.
Many banks offer international transfers, and when you hold an account with that bank, you may have perks that lessen the fees.
12. Simplii Financial Global Money Transfer
Simplii is a new-age digital bank that aims to make banking easier with fee-free accounts that meet the standards of the modern world. When transferring money internationally, you can send up to $50,000 in any 24-hour period.
There are no fees for international bank transfers aside from a 2.5% exchange rate markup. Most transfers will be received within three days.
Learn more in this review and how to get a $300 bonus.
13. Scotiabank
To send an international money transfer through Scotiabank, you'll be charged a small fee of $1.99. The exchange rate will be provided by the bank, which is generally less favourable than the mid-market rate.
This is a "fee" that needs to be also be accounted for. Most recipients will receive their money within five business days.
14. RBC
Royal Bank of Canada (RBC) allows you to send money internationally in just a few simple steps. Most recipients can get their money within two to five days.
RBC can convert currency using a reasonable bank rate (which, again, is typically less than the mid-market rate), but it will assess a fee of $6 for transactions under $1,000 and $10 for transactions over $1,000.
15. BMO
By using real-time exchange rates, BMO ensures you're always aware of what you're going to pay. When you have a BMO account, you can use the bank's Global Money Transfer service to send money to over 50 countries worldwide, including the United States.
There's a flat fee of $5 with each international transaction, and the money will typically be delivered within two to five business days.
16. CIBC
With an attractive $0 transaction fee for foreign transfers, CIBC will send money from Canada to the U.S. in as little as one business day.
CIBC uses its bank exchange rate. Of course, you do have to have a CIBC account in order to use this service.
17. TD
With a TD Global Bank Transfer, recipients will typically receive their money within one to five business days. You'll be assessed a fee that varies depending on the type of account you hold with TD.
Some accounts charge a flat fee of $25, while others charge a variable fee that amounts to 3.5% on top of the exchange rate.
What is the Cheapest Way to Send Money From Canada to the U.S.?
The cheapest way to send money from Canada to the U.S. is usually using a payment service like Wise. This way, you can send money at an optimal exchange rate with low fees.
In terms of the platform that offers the most attractive rates, Wise generally comes out on top. But some banks offer favourable transfer terms too – in particular, CIBC's fee-free international transfers are a standout in the industry.
But Wise offers low fees and a competitive mid-market exchange rate no matter where you bank.
Whenever you're sending money from Canada to the States, you must do your research so that you don't get hit with obscene exchange rate markups and transaction fees that lead you to spend more money than you need to.
Consider the platforms above when looking for the transfer method that's right for you.
FAQs
Can I use Zelle to send money from Canada to the USA?
No, you cannot use Zelle to send money from Canada to the USA. Zelle can only be used to send money between U.S. bank accounts.
Does Canada have Cash App?
Canadians do not have access to Cash App, a mobile payment service. A close equivalent would be Interac e-Transfers, which Canadians can use to send money between domestic bank accounts.
How much does PayPal charge for CAD to USD?
PayPal charges a currency conversion rate of 3.5% to go from Canadian to US dollars. This is actually cheaper than its conversion rate between other currencies, which is a whole 4%. 
How can you send money internationally from Canada?
Various methods are available to send money internationally from Canada, including bank transfers, credit unions, currency exchanges, and mobile banking platforms. Many of the platforms covered in this article offer international transfers with low fees and near-instant transfer times.
Related: