NordVPN and ExpressVPN are two of the biggest names in the VPN industry, offering the best services in nearly every aspect.
If you want to know about NordVPN vs ExpressVPN speed, price and Netflix capabilities, read on because this article will lay down some of the fundamental facets of each service.
See how each VPN provider fares on speeds, security, capabilities, and more.
Key Takeaways
NordVPN and ExpressVPN have comparable speeds and top-notch security protection due to their proprietary VPN protocols and encryption.
They are excellent at unblocking and safely accessing streaming and geo-blocked content.
When it comes to pricing, a long-term plan from NordVPN is more affordable.
While NordVPN and ExpressVPN are two of the best VPNs in the market, the right choice ultimately depends on what you are looking for.
NordVPN Top Features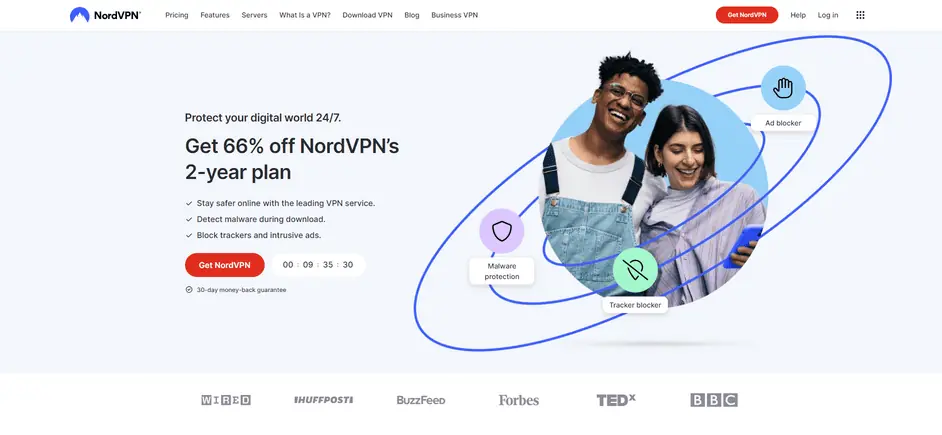 NordVPN is located in Panama and has 5,595 servers in 60 countries. For its VPN protocols, NordVPN uses OpenVPN, IKEv2/IPsec, WireGuard (NordLynx), and 256-bit AES for data encryption.
Its other top features include:
Threat protection
Meshnet
Dark web monitor
Dedicated IP
Split tunneling
Kill switch
Smart DNS
Private DNS servers
No logs policy
Six simultaneous connections
NordVPN plans also come with the following:
Secure, high-speed VPN
Malware protection
Tracker and ad blocker
Cross-platform password manager
Data Breach Scanner
1 TB cloud storage
Automatic wifi protection
Browser extensions for Chrome, Edge, and Firefox
Read our detailed review of NordVPN.
ExpressVPN Top Features

ExpressVPN is located in the British Virgin Islands and has over 3,000 servers in 94 locations.
It uses Lightway, OpenVPN, IKEv2, L2TP/IPsec VPN protocols, and 256-bit AES for data encryption.
Its top features include:
VPN split tunnelling
TrustedServer technology
Network Lock kill switch
Private DNS
IP address masking
Threat Manager
Lightway VPN protocol
No logs policy
Simultaneous use for up to 5 devices
ExpressVPN plans include these free extras:
Smart DNS service
Browser extensions for Chrome, Firefox, Edge, Vivaldi, and Brave
NordVPN vs ExpressVPN: Price and Plans
The prices for NordVPN plans are as follows:
Monthly plan:
Complete – $15.69/mo
Plus – $14.19/mo
Standard – $12.99/mo
1-year plan:
Complete – $7.29/mo + 3 extra months
Plus – $5.79/mo + 3 extra months
Standard – $4.59/mo + 3 extra months
2-year plan:
Complete – $6.69/mo + 3 extra months
Plus – $5.19/mo (2-year plan) + 3 extra months
Standard – $3.99/mo + 3 extra months
Special deals are also available all year round.
For ExpressVPN, the plans and prices are as follows:
12 Months + 3 Months free (Special Deal) – $6.67/mo
1 Month – $12.95/mo
6 Months – $9.99/mo
Payment options are credit cards, PayPal, Bitcoin, and others.
Both offer a 30-day money-back guarantee if you are unsatisfied with their services.
When it comes to NordVPN vs ExpressVPN prices, NordVPN is considerably less expensive than ExpressVPN, particularly when it comes to annual plans.
The better choice would depend on your preferred plan, whether you want a short-term or long-term service.
NordVPN vs ExpressVPN: Speed
For the NordVPN vs ExpressVPN speed category, it is worth noting that both use high-speed tunnelling protocols, which are NordLynx and Lightway, respectively.
The two features offer lighting-fast, next-generation VPN protocols, resulting in sophisticated privacy and superior performance.
Several speed tests have concluded that NordVPN is the faster VPN due to its NordLynx protocol. For some, ExpressVPN's proprietary Lightway produces faster speeds.
It generally depends on what country and location you perform the speed test.
NordVPN vs ExpressVPN: Netflix
In the NordVPN vs ExpressVPN Netflix category, both services provide excellent streaming services and can unblock Netflix and other libraries, such as BBC iPlayer and YouTube.
They also enable streaming on all servers. So, switching to another server before watching a show is unnecessary.
NordVPN and ExpressVPN also have Smart DNS, allowing viewers to stream content with the best video quality.
Between the two, NordVPN supports more Netflix libraries than ExpressVPN, which offers 24/7 Netflix access but only for a few regions.
NordVPN supports the Netflix libraries of several countries, such as the US, UK, Canada, France, Germany, Italy, Netherlands, Finland, Spain, Japan, Australia, Brazil, South Korea, and India.
ExpressVPN supports fewer Netflix regions, including the USA, Japan, and the UK.
Other streaming services included in NordVPN plans are Hulu, BBC iPlayer, Disney+, and others. ExpressVPN streaming services also have Hulu, BBC iPlayer, and Disney+.
Related: Netflix Plans and Pricing
NordVPN vs ExpressVPN: Security
The VPN services that NordVPN and ExpressVPN provide are well-matched as far as security is concerned.
Both use multiple VPN protocols to ensure the security of your internet traffic. NordVPN uses OpenVPN, IKEv2/IPsec and its WireGuard-based NordLynx that boasts higher speeds.
ExpressVPN features the OpenVPN, IKEv2, and L2TP/IPsec VPN protocols. Protection becomes more sophisticated with the proprietary protocol Lightway, which combines security and speed.
Both providers use the AEX encryption with the virtually impenetrable 256-bit key. They also have a kill switch option that prevents browsing when the VPN is disconnected.
Overall, both companies excel in providing robust security due to their industry-standard features.
Pros and Cons of ExpressVPN
Pros
30-day money-back guarantee
Anonymous browsing
No activity or connection logs
Simultaneous use of 5 devices
Bypasses ISP throttling
Unlimited bandwidth
Provides VPN on routers
Lowers ping and overall lag
Apps for every device
Wide range of payment methods
Access to content from anywhere
24-hour live chat support
Cons
More expensive than other VPN services
No dedicated IP option
Not recommended for large families and budget-conscious users
Pros and Cons of NordVPN
Pros
30-day money-back guarantee
A higher number of servers
No logs policy
6 devices can be used simultaneously
Lets you access content abroad
Bypasses internet censorship
Streaming while away
Hide Your IP
Mobile app
Browser support
Dedicated IP address
24/7 support
Cons
Fewer server connections than its competitors
The cost for dedicated IP is higher than some rival services
More expensive for users looking for a monthly plan
Alternative VPNs
Although both NordVPN and ExpressVPN offer superior services, there are alternative VPNs that provide superb features, too.
Surfshark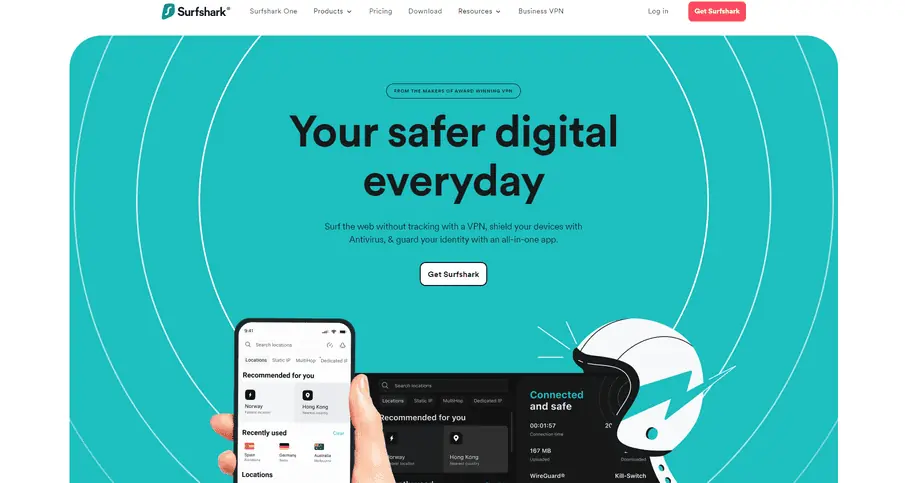 Surfshark is a top-tier and affordable VPN with AES-256 encryption, OpenVPN and WireGuard protocols, and a kill switch on every platform.
It can unblock every major global streaming site and provides access to 10 Netflix libraries. It uses private DNS servers and Multi-Hop, which routes your traffic through two VPN servers.
It includes an ad blocker, a kill switch, and a bypasser. It also connects unlimited devices to a single account.
For $2.49/mo for its 2-year plan, you can have the cheapest subscription plan that offers high-quality VPN service. It also comes with a 30-day money-back guarantee.
CyberGhost
CyberGhost offers features you would look for in a VPN provider, such as solid security protections and a massive network of over 9,000 servers in 91 countries.
Its features include unlimited bandwidth, a WireGuard protocol, 256-bit AES encryption, an audited no-logs policy, a built-in Kill Switch, streaming- and torrenting-optimized servers, and protection for up to 7 devices simultaneously.
Cyber Ghost offers three plans: the 2-year plan at $2.19/mo; the 6-month plan for $6.99/mo; and the 1-month plan at $12.99/mo.
It offers a 24-hour free trial for Windows and macOS, a 3-day free trial for Android, and a 7-day free trial for iOS. Cyber Ghost plans also offer a 45-day money-back guarantee.
ProtonVPN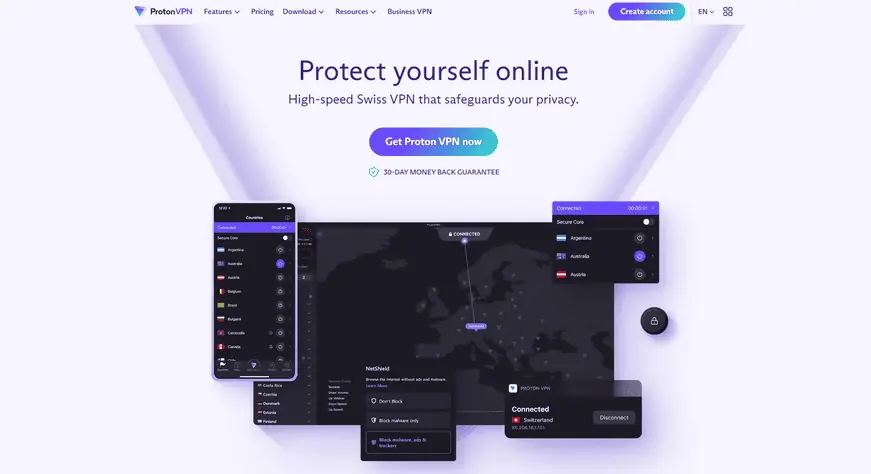 ProtonVPN is a high-speed, no-logs Switzerland-based VPN service that protects your privacy by sending your internet traffic via an encrypted VPN tunnel to keep your personal data safe.
The provider uses the highly secure OpenVPN and IKEv2/IPSec internet connection protocols. It has 1,900+ servers across 65+ countries and protects ten devices at a time.
Its features include network traffic encryption (AES-256), a Kill Switch, split tunneling, Netflix, torrenting, DNS Leak Protection, and IP address shared with others.
ProtonVPN offers three plans: Free, VPN Plus ($9.99/mo), and Proton Unlimited ($11.99/mo). Both subscriptions come with a 30-day money-back guarantee.
NordVPN vs ExpressVPN: Which is Better?
Overall, NordVPN and ExpressVPN are evenly matched as both offer excellent services with superior features. They are both reliable for unblocking platforms and streaming shows.
Both offer split tunnelling, a kill switch, DNS leak protection, P2P support, streaming and optimization features, and 24/7 customer service.
The services are compatible with Android, iOS, Linux, Mac, and Windows. They also offer a 30-day money-back guarantee.
If you consider price as a primary factor, NordVPN can provide the best value, especially if you prefer an annual contract. It has dedicated IP support and has more servers in its network.
If you want a VPN provider that can support various smart home devices, then ExpressVPN is a better choice. It also has servers in many countries and can support streaming devices and a broad range of smart home devices.
Ultimately, the best VPN for you depends on your needs and uses. Compare the options to find what you need.
To be sure, take advantage of the 30-day money-back guarantee that both providers offer. It would be the best way to determine what VPN will work best according to your needs and location.
FAQs
How much faster is ExpressVPN than NordVPN?
While both have lightning-quick speeds, the faster VPN would depend on where the speed test occurs. Overall, both have comparable speeds, with many reviews concluding that NordVPN is faster due to its NordLynx technology, which gives it superior performance over ExpressVPN's Lightway protocol.
Why is ExpressVPN more expensive than NordVPN?
ExpressVPN is more expensive because it markets itself as a premium VPN service and highlights its lightning-fast speeds courtesy of its proprietary Lightway protocol. It also boasts ultra-fast servers in 94 countries.
Is NordVPN good for Netflix?
NordVPN is excellent for Netflix as it can securely access more than a dozen regional libraries in the US, UK, Canada, Australia, and Japan. NordVPN also allows streaming on all its servers and uses the Smart DNS feature to enable the best video quality when streaming content.
Is NordVPN still trustworthy?
Yes. NordVPN is based in Panama, which does not have data retention regulations. It also uses sophisticated encryption technology, the AES-256-CBC cipher, considered the gold standard in the VPN market. Additionally, NordLynx utilizes the ChaCha20 protocol, further strengthening its privacy and security layers.