This is Part Two of the series: How to Strip, Clean, Repair, Stain and Seal an Old Deck. In part one, I discussed stripping, cleaning, and replacing the damaged boards on my old deck. You can read Part One here.
Day 3 – Staining the Deck and Deck Bench
0600 hours: This was the big day! My plan was to stain approximately 500 sq. ft. of the deck as soon as I could. I started out in the wee hours of the morning so I could get a head start on the sun.
The previous stain on our deck appeared to have been a semi-transparent cedar or redwood natural tone colour – It was difficult to say exactly what colour it was. In order to make the colour align with the other dark brown colour on the house, we decided to go with a darker semi-transparent stain this time around.
We used the Behr Premium semi-transparent waterproofing stain and sealer – Cappuccino colour. The stain was guaranteed for 6 years on decks (horizontal surfaces) and 8 years on fences and siding (vertical surfaces). If it holds up well for more than 3 years, I would not complain – anything less, and Behr will be hearing from me!
Tools and materials used on Day 3: painter's tape, stir stick, paint tray, paint can opener, paper towels, a bucket to mix paint, knee pads, and stain brushes – 3 sizes (2″, 4″, and 6″). I chose to go with a brush as it enables the wood to soak in stain the most and prevents the excessive application of stain. However, note that it's the most labour-intensive approach to staining. Other alternatives are using a roller, pad applicator, or sprayer.
I initially taped off the different areas that did not require stain using the painter's tape and some old newspaper (for large areas). Thereafter, I mixed the cans of stain inside a 4-gallon Home Depot bucket. This was important to ensure that the stain colour was consistent across the board. I started with 2 gallons and ended up using approximately 3.5 gallons for the entire deck.
I had to work really fast on my knees – thanks to those knee pads!
Because I had a fairly big deck to stain, I divided the area into two: Stained the first part and added a second coat, before moving over to the second area and doing the same thing.
1310 hours: 2 coats done on the deck! I needed to get into the house for a quick breakfast/lunch combo – I was ravenously hungry!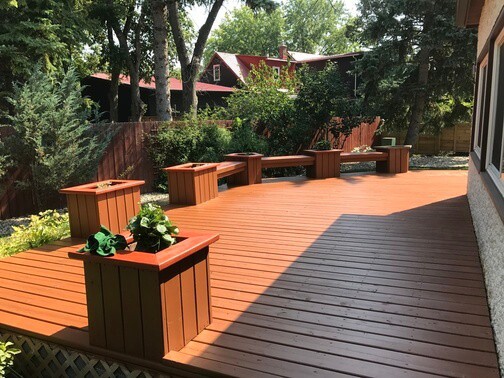 The sun was now out everywhere, but the main work was done.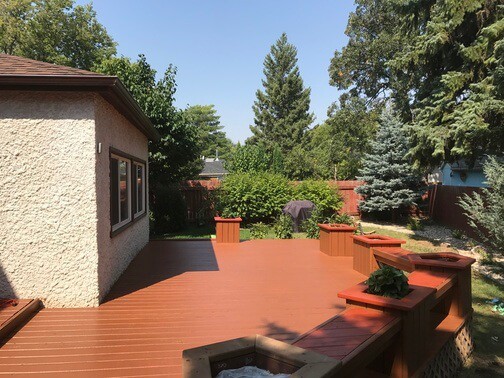 I later returned to stain the deck bench.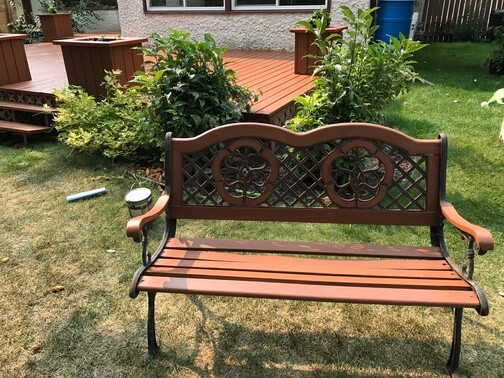 DIY Cost-Benefit Analysis
Even though I like engaging in DIY and building or doing stuff, the principal idea behind refinishing this deck myself was to save money.
I already owned a number of the tools I used to accomplish this task (hammer, chisels, leaf blower, putty knife, hand brush, power washer, broom, tape measure, impact drill, and screwdriver).
A few more that I bought are for long-term use and had been on my to-buy list for a while – jigsaw, orbital sander, and pump sprayer.
| | | | |
| --- | --- | --- | --- |
| Material | Cost | Tool | Cost |
| Stain | $190.88 | Orbital Sander | $69.99 |
| Stain Brushes | $16.98 | Jigsaw | $56.99 |
| Lumber/Wood | $41.52 | Pump Sprayer | $19.99 |
| Bucket | $3.97 | TOTAL | $146.97 |
| Behr Cleaner | $26.94 | | |
| Behr Stripper | $59.94 | | |
| Stiff Brush | $9.57 | | |
| Deck Screws | $11.98 | | |
| Disc Sanders | $25 | | |
| Roller Kit | $8 | | |
| Others | $8 | | |
| TOTAL** | $402.78 | | |
Comparing quotes ranging from $1400 to $2050, our savings on this project was anywhere between $900 to around $1500.
Other Deck Refinishing Tips and Tricks
Deck Damage Repair
Always ensure you replace damaged/rotting deck boards. Your deck refinishing work isn't complete if you leave rotten wood in place – the stain will quickly fail in those areas.
When replacing only portions of a deck board, add a cleat to the existing joist to reinforce and ensure the new board has adequate support.
Use a woodblock when tapping a new board into place. This will prevent damage to the board surface from your hammer.
Pre-drill screw holes in new boards to make fastening with screws faster and easier. Use 3″ or longer screws for common-sized deck boards.
Drive down any nails or screws that are now popping out. If screw/nails are loose or missing, replace them.
Only use screws that are corrosion resistant.
Deck repair time is also the best time to check your decking posts and correct any swaying, wobbliness, or replace rotting or splitting posts.
If you have debris between the boards, you can use a putty knife to remove them.
Stripping and Cleaning Your Deck
Use a plastic drop cloth to cover any flowers or vegetation you have in the area to prevent damage from the chemicals used in the stripping and cleaning process. Wet the surrounding areas as well.
New pressure-treated lumber will not take stain and should be left to weather for 6 months or more before it's prepared and stained.
Be careful if using a power washer to remove the stripper or wash the deck. Follow the manufacturer's recommendation for washing a deck or wood surface and use the appropriate tip/pounds per square inch (psi) – pressure. Do not exceed 600 psi for softwood and 1200 psi for hardwood. Keep the wand 12-18 inches from the deck and wash in the direction of the wood grain.
Stripping and cleaning of the boards are an important step to ensuring that the stain will last a long time. If stain remains after stripping and cleaning, proceed to sanding.
Sanding Your Deck
Proper sanding will make for smooth boards and open up the wood pores so they can soak up the stain. Use between 40 and 80 grit sanding paper. Avoid higher grits as they can start to close up the wood pores. 60 grit appears to be a sweet spot for deck floor sanding.
A large floor sander which is readily available for rent at home improvement stores will make your work faster. However, it may not be as effective as a smaller belt or sheet or orbital sander which can be applied to tackle individual deck boards.
When it comes down to stripping, cleaning, and sanding your deck, elbow grease (hard physical labour) is your best friend.
Staining Your Deck
Follow the manufacturer's instructions.
When it comes to staining, less is more! Thin coats are ideal. Thick coats will peel or flake quickly.
If the stain is water-based, always keep a wet edge to avoid lap marks i.e. marks that show up after drying and indicate where you stopped and started painting at different times. Remember to back-brush often.
Avoid staining under direct sunlight or in extreme heat. It will dry before the wood is able to soak in the stain and lap marks will be plentiful.
Only stain deck boards that are completely dry and have 16% moisture content or less.
Stain only on a day when the weather forecast puts the possibility of rainfall at 0%.
Transparent stains are transparent. Semi-transparent stains allow the grain of the wood to show through. Solid stains are 100% opaque and are best for very old and weathered decks since they hide imperfections brilliantly.
The deck refinishing project took me over 35 hours to complete. My wife was unable to offer much assistance as we have two kids (1 and 3 years old). As you can imagine, you can't leave those 2 boys alone for one minute – if you do, something gets destroyed. However, their encouragement (wife and kids) during the task was very helpful! 😉
Since completing this project, I've put my jigsaw and orbital sander to building two pallet planters that I intend to use in planting strawberries, kale, and sweet peppers next spring.