In this 2-part series, I show how I stripped, cleaned, repaired, stained and sealed our old deck from start to finish for cheap! For Part 2 of the series, click here.
When we bought our house in the Spring of 2016, the stain on the deck was already flaking off and I knew I would have to refinish it at some point. Fast forward a year (2017), and there are now rotting boards on the deck floor and planters.
I was initially contemplating leaving the deck to weather as much as it would take to get the remaining stain off and save me the job of stripping if I chose to refinish it myself. However, when I started to notice the rot and how fast it was spreading to other healthy boards, I decided to do something about it sooner than later.
Inclusive of the surfaces of the planters, our deck measured approximately 500 sq. ft. A few quotes to get someone to come repair it showed that we would be needing anywhere from $1, 400 to just over $2,000! On average, we were going to spend at least $1,500 – We definitely could not afford to put up this much towards refinishing the deck!
At this point, I started looking closely at how I could get the deck refinished without breaking the bank. Following some research online – Google and YouTube, I took some vacation time off work and embarked on my latest DIY project.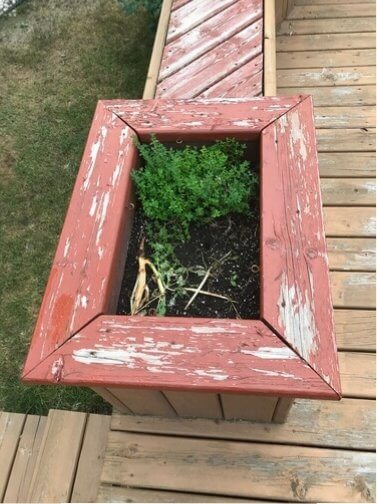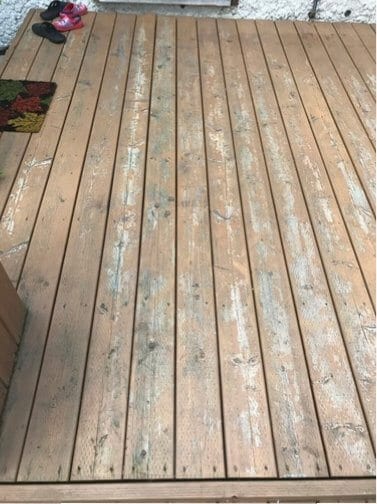 Day 1 – Remove Rotten Wood, Strip, and Clean
The weather was promising – cloudy day but warm enough to be comfortable working outside.
Remove Damaged Wood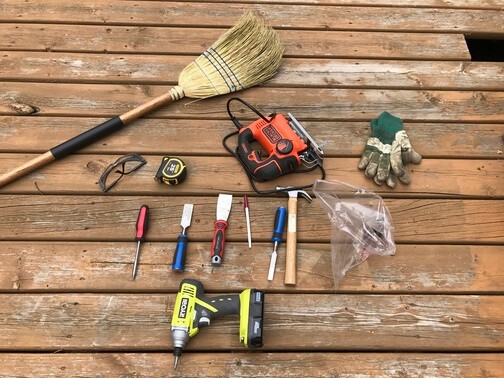 I got to work and started removing and cutting out rotten boards from the planters and deck floor. For replacement, I had obtained western red cedar for the deck floors and pressure-treated (PT) lumber for the planters. The idea behind this is I wanted to be able to stain the floor decks immediately while leaving the planter replacements to weather over the winter and spring for staining sometime next year. The cedar was twice as expensive as the PT wood.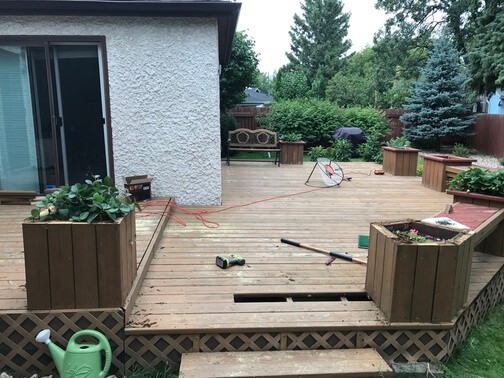 I made the cuts required to replace the rotten wood and put them aside – my plan was to install them following stripping and cleaning. You can see yours truly using the jigsaw like a pro below!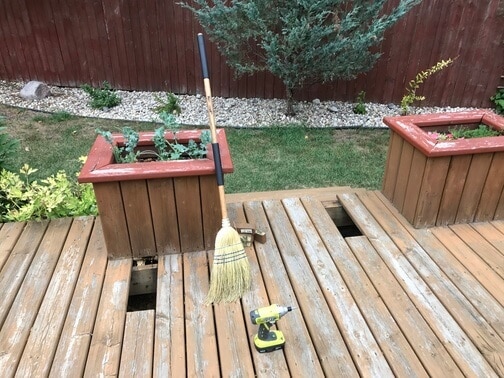 Stripping
For this task, I used the Behr Premium Wood Stain and Finish Stripper.
Before proceeding with stripping the deck, I wetted all surfaces with water including walls, doors, flowers and other vegetation in the surrounding area using a garden hose in other to prevent them from getting burned or getting discoloured. The stripper is a caustic chemical and you should wear appropriate safety gear for your feet, eyes, and nose as required.
The stripper has a thick viscous consistency and cannot be applied using a sprayer. I applied it using the combination of a nap roller, roller frame and extension pole after pouring the stripper into a bucket. I had to work fast as the surface must stay wet until you are done stripping.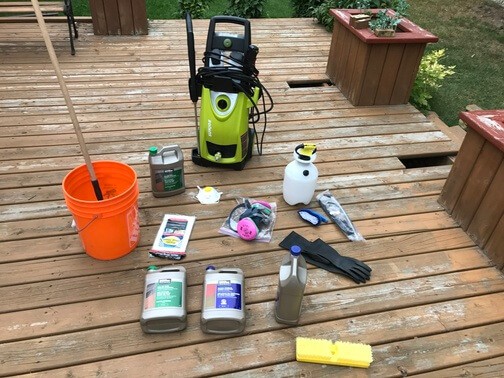 After applying the stripping agent, instructions on the container is that you let it sit for 5 – 45 minutes before brushing. I was continuously misting with the garden hose and from about 25/30 minutes post-application started to brush off the stain, starting where the stripper was first applied.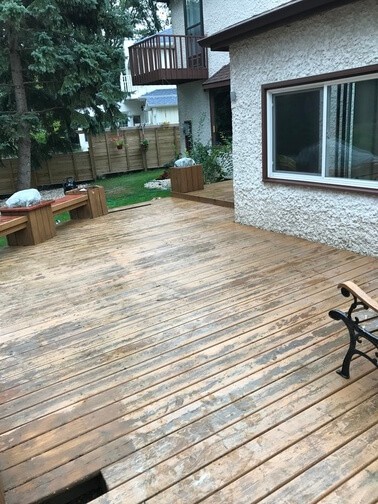 Yay! The old stain was coming off!
My excitement appeared to have been premature. Although the stain was coming off on the brush, it required a lot of elbow grease (tough physical effort), and I knew right then – it was going to be a long day!
Stripping took me at least 3 hours of brushing, misting, brushing, misting, and on and on. The vertical surfaces were the most difficult or maybe they just had less stripping agent on them… I had almost run out of stripping agent when I got to apply it on the planters.
After doing all the brushing I could do, I used the power wash at the lowest setting (the same setting I use when washing my car) to rinse off the deck. From what I had read online, you can probably strip your deck using a power washer and ditch the expensive stripper, however, you risk doing serious damage to the wood – including etching, gouging, or just plain destroying the wood. I wanted to avoid any of these possibilities, so I chose to go with low pressure (approx 500 psi).
Cleaning
For this task, I utilized the Behr Premium All-in-one Wood Cleaner. The cleaner is required to neutralize the stripper and also get rid of mildew, algae, and fungus. It brightens the wood and returns it to its natural colour.
Since the deck was already super-wet, I didn't need to wet it again. I applied the cleaner using a pump sprayer after diluting it 1:1 with water as per instructions. I let it sit for a while, and then again – brush, brush, brush until it foams. The entire deck was then rinsed off with the garden hose.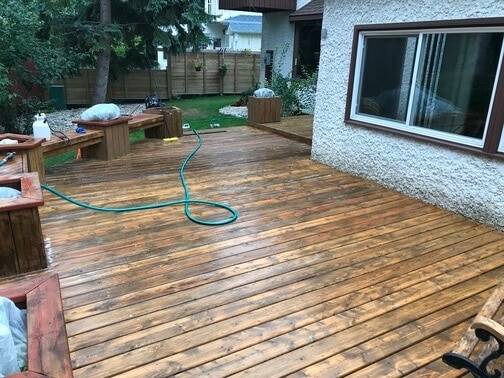 It had been a long day, and after almost 12 hours of heavy labor, it was time to pack it in for Day 1.
Materials and Tools used on Day 1 include: Jigsaw, impact driver and screwdriver, tape measure, nose mask, eye goggles, gloves, nail set, pump sprayer, power wash, garden hose and sprayer, stiff brush, cleaner and stripper, putty knife, plastic drop cloth, decking screws, bucket, broom, and new deck boards.
Day 2 – Sanding and Deck Board Replacement
It's been two full days since I stripped and cleaned the deck. The weather had been hot and the deck was sufficiently dry for sanding. As you may or may not imagine, I was still feeling pretty worn out from all the scrubbing I did on Day 1. I couldn't afford to dwell on the pains and aches I was feeling, so I got to work.
Below is a picture of the deck two days after it was stripped and cleaned. There were still some areas where the stubborn stain remains in place. I noticed these were areas that were usually protected from the elements – rain, sun, etc.
Sanding
My plan was to sand all individual boards on the deck and planter. I really wanted the stain to soak into the wood after I applied stain and sanding was great at getting the wood pores to open up. I needed to sand off all the stain I had failed to get off with the stripper and cleaner combo. Sanding was also required to get rid of any raised wood fibre and smoothen the deck so we could walk on it comfortably even when barefoot.
For this task, I had purchased a 5″ orbital sander and tens of sanding discs with different grit sizes – 40, 60, and 80. I used a sanding grit of 40 for those areas that still had a heavy stain presence, and followed with a 60 grit to smoothen. The deck boards were generally sanded using 60 grit and for the planters, I started with a 60 grit and finished with 80 grit sanding disc.
The sanding process took me several hours – almost 7 hours of my life. I could have rushed it, but I wanted the finished product to look professional, and thus, put in the time.
After sanding, I used the leaf blower to blow off the resulting wood dust. This is important as stain will not adhere well if you have wood dust everywhere.
Board Replacement
After sanding and blowing off the wood dust, I then proceeded to replace the rotten wood I cut out on Day 1.
Materials and tools used on Day 2 include: orbital sander, sanding discs, deck screws, leaf blower, impact drill and screwdriver, hammer, and painter's tape (I painted the red colour portion on the planters).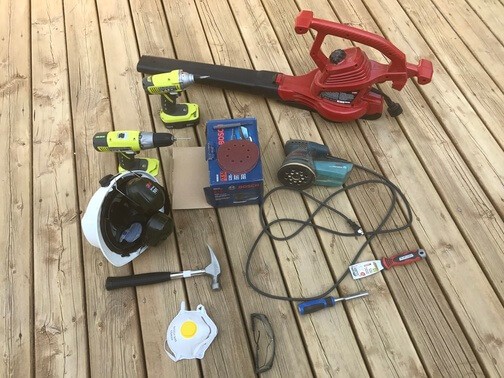 Phew! Day 2 was long – almost 11 hours of grueling work! I figured it was time to retire and rest for the long day ahead. The weather had been great so far and my plan was to stain and seal the next day (Day 3), starting at 6 a.m.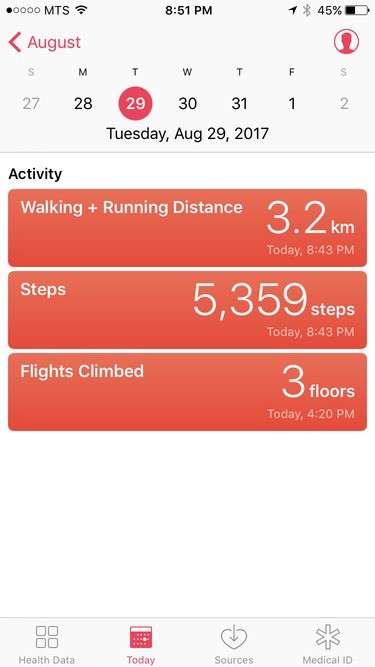 Continue to Part Two of the Series: How To Stain and Seal An Old Deck.
Also Read: