Meal kit boxes have soared in popularity due to the benefits they offer in meal preparation.
Meal kits refer to boxes of premeasured ingredients with full recipes delivered to your home as subscriptions.
Many of these companies offer free trials and free meals to attract more customers.
Read on to learn about meal subscription boxes Canada offers and how to obtain free meal kits and discounts.
What Are Meal Kit Subscription Boxes?
Meal kit subscription boxes are free food boxes that contain easy-to-follow recipes and pre-portioned or partially-prepared ingredients for pre-planned meals, usually as a subscription service.
Through this service, subscribers can select from various menus and dietary restrictions and cook fresh, homemade meals without purchasing ingredients.
Subscribers can customize their meal kits for one person in Canada or any number based on their desired quantity of meals and dietary preferences.
Best Free Meal Box Trials in Canada
Below are some of the most popular meal box subscription boxes and a few free trials available today.
1. HelloFresh
When it comes to meal kit delivery in Canada, HelloFresh is the largest and the leading meal box subscription service and is a pioneer in the industry.
HelloFresh comes in various options: Meat & Veggies, Veggie, Family Friendly, Fit & Wholesome, Quick & Easy, and Pescatarian.
There are over 35 fresh recipes weekly and varying choices of sides, desserts, and snacks available.
HelloFresh delivers to Ontario, Quebec, Manitoba, British Columbia, Saskatchewan, Newfoundland, Alberta, and the Maritimes.
Pricing
While the cost of HelloFresh's meals depends on the number of people and the number of meals you order each week, the meal service starts at $7.49 per serving.
Based on HelloFresh prices, the price per meal for two people would be:
For three meals a week – $11.49 per serving
For four meals a week – $11.25 per serving
For four people, the prices are as follows:
For three meals a week – $10.33 per serving
For four meals a week – $9.69 per serving
How to Get Freebies, Discounts, or Promo Codes
While HelloFresh currently does not have free trials, it does offer several coupons and promo codes for 2023:
When you select this HelloFresh plan, you get up to 20 free meals delivered weekly. Order at least three recipes for two people each week, so you pay only $5.50 per serving.
You can also get six free meals for a 2-person plan. Instead of paying $82.99 ($73 box price + $9.99 shipping fee), pay only $32.99 for your first box.
Get $30 Off Today – Save $30 on your first box with HelloFresh's discount food boxes. Get $20 savings on your first box (plus free shipping) and $10 on your second box.
Get 5×10% Off Today – Use this promo to save 10% on your first five boxes.
Save up to $120 – Enjoy discount codes that offer up to $120 savings on your deliveries.
Here's a detailed HelloFresh review.
2. SPATULA Foods
Toronto-based SPATULA Foods offers gourmet flash-frozen restaurant-quality meals created by Michelin-trained chefs and are quick and easy to prepare.
SPATULA meal kits are packed in convenient, vacuum-sealed pouches and designed for eaters who lack time and love convenience.
A stress-free and time-saving solution, each meal only needs to be heated in a pan, stirred using a spatula, and it is ready to eat.
SPATULA features 30+ go-to meals such as Pan Seared Tilapia and Chefs' Specials like Singapore Black Pepper Udon.
The company serves Southwestern Ontario and the Greater Toronto Area (GTA), as well as Burlington, Hamilton, Kingston, London, and Ottawa.
Pricing
A SPATULA subscription costs $77.94 and comes with a freebie for your initial order and first access to new meals.
A one-time purchase meal box called the Discovery Box is available if you want to sample the meals first before buying a subscription. The price starts at $89.94, or $13.49 per serving.
SPATULA Foods offer two main meal plans. The first is the Elevated Everyday meal plan that starts at $9.99 per portion. The second is the Chefs' Specials, which start at $12.49 per portion.
Subscriptions can be paused or cancelled at any time.
How to Get Freebies, Discounts, or Promo Codes
Get a $30 discount by signing up at SPATULA Foods using the promo code SAVVY30.
Here's a detailed SPATULA Foods review.
3. Chefs Plate
Chefs Plate is a Canada-based meal kit delivery company that helps you prepare tasty meals through various pre-portioned meal plans delivered to your doorstep.
There are 23 different recipes you can use to prepare 15- or 30-minute meals. The meal plans are customizable, too.
Meal options are Meat & Vegetables, Vegetarian, and Family Friendly. Recipes include Thai-Inspired Beef Bowls, Savoury Italian-Spiced Chicken, and Fresh Mozzarella Pasta.
Chefs Plate delivers to Calgary, Toronto, Quebec, Ontario, Edmonton, Ottawa, and Vancouver.
Pricing
Chefs Plate meals start at $8.99 per serving. For a plan consisting of 3 meals for two people per week (a total of 6 servings), the box price is $59.94, putting the cost per serving at $9.99.
As your first box comes with free shipping, you only pay $59.94. The regular delivery fee is $9.99 for all plans.
How to Get Freebies, Discounts, or Promo Codes
Get 9 Free Meals – If you are a new customer, use free meal kit codes to get nine free meals throughout your first four boxes.
Place your order before the 30-minute time limit is up to avail of the offer. For this offer, you get six meals for $5.00 each (plus free shipping) for a first box total of $29.97.
Chefs Plate has no free trial but currently offers these promos:
$62 Off Throughout Your First 3 Boxes – Get $62 off when you place your first three boxes using this promo.
For this promo, you get six meals for $3.99 each and a first box total of $23.94, saving you $36.
Get $90 Off – Enjoy a $90 discount throughout your first four boxes when you place your order using this promo.
Related: Chefs Plate detailed review.
4. Fresh Prep
Fresh Prep is a Vancouver-based meal kit delivery service that helps you prepare meals in 30 minutes or less.
Ingredients are sourced from antibiotic-free poultry and sustainably sourced seafood to ensure carb-conscious, vegetarian, vegan and gluten-friendly meals.
Meal plans include 1 & 2 People (for two people) and Family (for four persons). Each meal can be ordered in 2, 3, or 4 quantities per week.
There are ten recipes to choose from each week. Easy meals and sides are also available for quick meals.
Recipes include Pork Banh Mi & Carrot Fries with Pickled Daikon & Spicy Mayo, Spicy Red Thai Chicken Tikka Masala, and Greek salad.
Fresh Prep delivers meals in reusable, insulated cooler bags to British Columbia and Alberta.
Pricing
Fresh Prep meals cost $10.50-$13.50 per serving and $54-$168 per week, depending on the number of servings and the number of meals.
How to Get Freebies, Discounts, or Promo Codes
3 Free Meals – New customers receive three free meals free upon sign-up, which is up to 75% off the first order. Free delivery is available.
$80 Off Promo – Get $35 off when you place your first order. During your second and third orders, you get $25 and $20 off, respectively.
Fresh Prep Partner Discounts – Discounts of up to $120 on your first order are available when you apply coupon codes from Fresh Prep partners.
Get a discount on Fresh Prep (use promo code AFLSAVVY90 or AFLSAVVY75).
5. Goodfood
Goodfood is a Canadian online grocery subscription service that delivers meal kits, read-to-cook meals, and grocery products to subscribers every week.
Headquartered in Montreal, Quebec, it is one of the biggest food subscription services in the country, offering five main subscription dinner plans: Classic, Easy Prep, Family, Vegetarian, and the low-carb Clean15.
Each meal contains proportioned raw ingredients, easy-to-follow recipes and meals that can stay fresh for up to a week following the delivery of the box.
Good food meal kits offer options for beginners, vegetarians and those who follow low-carb diets. Recipes include Indian-Spiced Tilapia, Halloumi & Apple Grain Bowls, and Ground Beef Rigatoni.
Goodfood does not have any sign-up or cancellation charges. It delivers to cities and towns across Alberta, British Columbia, Manitoba, the Maritimes, Ontario, Quebec, and Saskatchewan.
Pricing
The cost of Goodfood meals varies depending on the number of servings and recipes. :
2 recipes – $4.81 per serving for 4 servings
3 recipes – $5.16 per serving for 2 servings; $4.46 per serving for 4 servings
4 recipes – $4.81 per serving for 2 servings; $4.02 per serving for 4 servings
How to Get Freebies, Discounts, or Promo Codes
Sign up at Goodfood and get up to 16 free meals across the first four baskets. Only new members can avail of the free meals promo.
Related: Here are the best food delivery apps in Canada.
6. Cook It
Cook It is a Canadian meal kit delivery company based in Montreal that offers both ready-to-cook and ready-to-eat meals from various cuisines of the world.
Through a no-commitment subscription, the company offers a large selection of meal kits and prepared meals each week, delivered for free.
Each Cook It meal kit contains recipe cards and all the meal ingredients that make the set ready to cook. Two food plans are available: Regular and Vegetarian.
For each plan, subscribers can choose from 14 meal kits each week. They can also pick from 6 ready-to-eat meals each week, which have been prepared and only need to be warmed up.
The most popular recipes are Satay Chicken Skewers with a Side of Bok Choy, Roasted Chipotle Sweet Potato Bowls, and Crusted Salmon.
Cook It delivers orders for free in recyclable and reusable insulated boxes anywhere in Ontario, Quebec, and the Maritime provinces.
Pricing
The Regular meal kit costs $12.84 each, while the Vegetarian meal kit is $12.17. The Regular and Vegetarian prepared meals cost $13.95 and $13.26, respectively.
The prices of the weekly menus are as follows: Regular meal-kits – $77.04; Vegetarian meal-kit – $73.02; Regular prepared meals – $83.70; and Vegetarian prepared meals – $79.56.
How to Get Freebies, Discounts, or Promo Codes
Cook It offers the following ways to get discounts and credits:
Get up to $65 Off – Sign up and get up to $65 off your first three boxes.
Eat for Free – Get a $40 credit for every friend you refer.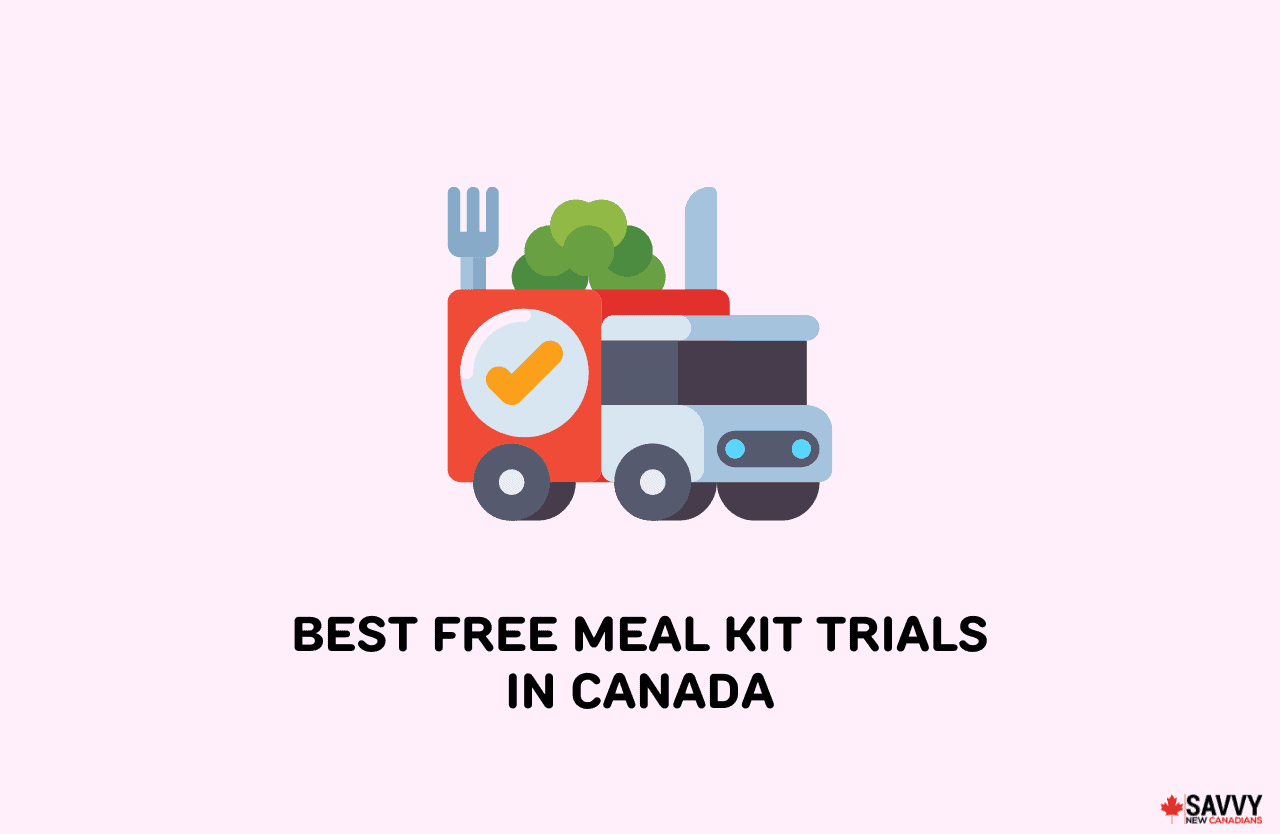 7. Wecook
Wecook is a meal subscription company in Quebec that offers healthy prepared meals and vacuum-sealed meats weekly to subscribers in select areas.
Wecook offers four meal plans that cater to low-carb and vegetarian needs. Four choices of side dishes (rice, sweet potatoes, or vegetables) and cookies are also available to go with your chosen plan.
Recipes include Spicy Peanut Chicken, Burgundian Braised Beef, and Italian-Style Orzo Salad. Meals are packed in recyclable packaging.
Wecook delivers for free to Ontario and Quebec only.
Pricing
Pricing starts at $9.04 per serving. A minimum order of 6 meals or $100 of vacuum-sealed products is required.
The prices of various Wecook meal plans per week are 6 Meals – $14.95; 9 Meals – $13.95; 14 Meals – $13.25; and 22 Meals – $12.25.
How to Get Freebies, Discounts, or Promo Codes
20% Discount on First Order – Sign up and make your first order to get a 20% discount.
$60 Discount – Wecook partner websites offer up to $60 off when using their promo codes.
8. Porta
Porta is a classic and restaurant-quality Italian subscription service established in Ontario. It highlights Italian meals delivered for free that are ready to eat in 15 minutes or less.
Its fresh and flash-frozen meal offerings include a wide variety of frozen Italian meals, such as pizza, pasta, risotto, dessert and pastries.
Meal plans are available for families, vegetarians, couples, and novice cooks.
Each recyclable box can contain 6, 9, or 15 dishes and can be filled with your choice of desserts, pasta, or pizzas.
Subscribers can choose between weekly, bi-weekly, and monthly delivery options. Porta delivers meal boxes to select areas in Ontario within one day.
Pricing
The cost depends on the size of the box you pick and its contents.
The minimum purchase required is the small box, where you can select from 6 menus, which you can set to deliver weekly, bi-weekly, or monthly.
The following are the standard prices:
Pizzas – $11.99
Pasta (2 servings) – $18.99
Dessert pack with 4 servings – $15.99
4-pack pastries – are $12.99
A 6-item box of pizzas costs $71.94.
Porta offers free delivery on its medium and large boxes and charges $4.99 on small ones.
How to Get Freebies, Discounts, or Promo Codes
Get 20% Off Your First Box – Sign up at Porta and use a promotional code to get $20 off your first order.
Discounts on bigger boxes – Get $1.00 off all items if you choose a medium box and $1.33 off all items if you pick a big box.
Refer a Friend – Receive a $30 discount on your next order when you refer a friend.
Bonus: Free Meal Kit Trials in the US
Meal kits are also the fad in the US, with customers benefiting from the convenience and superior taste that meal kit companies offer.
Among them are GreenChef and Blue Apron, which are well-known for their diverse and tasty meal boxes.
Green Chef
Green Chef is a meal kit delivery that offers easy-to-prepare meals that take less than 30 minutes to finish.
Meal plans include Mediterranean, Vegan, Vegetarian, Keto + Paleo, Fast & Fit, and Gluten Free.
The meal service offers up to 30 weekly options, with recipes ordered based on meal preference.
Instead of the usual two- or four-serving meals offered by most other meal kit delivery companies, Green Chef offers a six-serving option.
Pricing
Green Chef meals start at $11.99 per serving. With weekly meal plans, the cost depends on the number of servings and meals you order each week.
Two servings per meal –

3 meals per week – $13.49 per serving

4 meals per week – $12.99 per serving
Four servings per meal

2 meals per week – $12.99 per serving

3 meals per week – $12.49 per serving

4 meals per week – $11.99 per serving
Six servings per meal

3 meals per week – $11.99 per serving

4 meals per week – $11.99 per serving
Premium meals cost between $6.99 and $9.99 more per serving. As for shipping and handling, Green Chef charges a flat fee of $9.99 per box.
How to Get Freebies, Discounts, or Promo Codes
Green Chef currently has no offers of free meals or free trials, but the company offers the following discounts:
$200 Off – When you apply this promo during checkout, you get $200 off throughout your first five boxes.
Use this promo for a meal plan for four people with three meals per week (or a total of 12 servings) and pay only $4.99 per serving.
Promo codes from partner websites – Green Chef partners offer promo codes you can apply when you place your order.
Blue Apron
Blue Apron is a pioneer in the field for being one of the first meal kit companies to operate.
Subscribers can select from any of these plans: 2-Serving Signature Plan, 4-Serving Signature Plan, Vegetarian Plan for 2, and Wellness Plan for 2.
Five meal options (Chef Favorites, Wellness, Family Friendly, Fast & Easy, and Veggies) and eight weekly menu choices are available.
Premium meals, called Blue Apron Premium Recipes, are available to customers who prefer to create more elaborate meals.
Blue Apron also features a unique wine program where subscribers can choose from curated wines that go with the current week's recipes.
Pricing
The cost of the meals depends on the number of servings ordered and the type of meal plan.
Blue Apron boxes cost $9 per serving plus the shipping fee. For the premium meals, prices are between $14.99 and $19.99 per serving.
The Signature for 2 plan costs $11.99 per serving for two meals weekly, while the Signature for 4 option costs $9.49 per serving for four meals a week. The shipping fee is $9.99.
How to Get Freebies, Discounts, or Promo Codes
Get up to 16 meals free across six orders (a $130 value) plus free shipping for your first order.
1st box – $35.00 off + Free shipping
2nd box – $27.00 off
3rd box – $18.00 off
4th box – $18.00 off
5th box – $14.00 off
Blue Apron has discontinued offering the free meal box trial. Discounts and coupon codes that can be applied to the first few orders are available to new customers instead.
Pros and Cons of Meal Kit Subscription Boxes
Before signing up for this service, find out the benefits and drawbacks of these meal kits.
Pros
Convenience
Easy preparation
Flexibility
Excellent taste
Wide variety of meals
Less food waste
Options for special diet
Helps learn new recipes and cooking techniques
Eco-friendly
Cons
Can be expensive
Some meals take up to 40 minutes of prep time
Meals are limited and may not always appeal to all palates
Grocery shopping is still necessary
Customization is not always available
Cancellation of a subscription may not take effect right away
Some food packaging items are not recyclable or biodegradable
More packaging waste
Costly shipping fee
Are Meal Kit Subscription Boxes Worth It?
Meal subscriptions have remained popular due to the convenience and flexibility they offer. Even so, they can be costly for some who consider grocery shopping more cost-effective.
But if you do not have the time to plan and prepare meals due to a hectic lifestyle, subscribing to meal kit subscription boxes is worth it.
With a meal kit service, you can save time, prepare better meals, and eat healthier without all the stress associated with meal preparation.
FAQs
What is the cheapest meal kit company?
EveryPlate, from HelloFresh, is the cheapest meal kit at $4.99 per serving. This is the standard price regardless of what meal combination you choose. 
What is the cheapest pre-made meal delivery service?
Goodfood prepared meals are the cheapest, with a serving costing as low as $4.02 when multiple servings are ordered. Applying promotional codes can also help reduce the total cost.
How much is HelloFresh after the trial?
HelloFresh offers no free trial, only significant discounts across your first seven weeks of meals. HelloFresh meal kits start at $6.99.
Can you cancel HelloFresh after the free trial?
HelloFresh does not offer a free trial. To cancel your HelloFresh subscription, log in to your account, go to "Account Settings," click "Cancel Plan," and follow the prompts for cancellation.
What is the most affordable meal kit delivery service?
The Cheap Meal Kit Service from HelloFresh is the most affordable meal kit delivery service, which starts at $3.99 per serving.
Related: Check out these best food delivery jobs in Canada.