The futuristic-looking Tesla Cybertruck is inching closer to reality as the Texas Gigafactory revealed it has built the first production car four years after its initial reveal.
Following its 2019 launch, the all-electric truck experienced delays due to multiple issues. Even with the completion of the production car, Tesla enthusiasts may have to wait longer.
Read on to learn more about the Cybertruck, its release date, price, and specs.
Key Takeaways
The Tesla Cybertruck is an electric full-size pickup truck designed to have the function of a utility truck and the performance of a sports car.
The radical-looking truck is a long-awaited Tesla creation, as evidenced by the nearly 2 million pre-orders as of July 2023.
Tesla has not released much information about specifications and deliveries, but production started in July 2023. Mass production is scheduled to start in 2024.
What is the Tesla Cybertruck?
The Tesla Cybertruck is an electric full-size pickup truck created by Tesla, Inc. First revealed in November 2019, the Cybertruck has the function of a utility truck with the performance of a sports car.
The truck's features include an ultra-hard 30X cold-rolled stainless steel body and Tesla armour glass, up to 3,500 pounds of payload capacity, and adjustable air suspension. One of the truck highlights is the Tesla Cybertruck's towing capacity of 14,000+ pounds.
When production commences, reports indicate that Tesla will have four Cybertruck models:
Single-Motor Rear-Wheel Drive (RWD)
Dual-Motor All-Wheel Drive (AWD)
Tri-Motor AWD
Quad-Motor AWD
The Tesla Cybertrucks are being built in a Gigafactory in Austin, Texas, along with the Model Y. The factory is also the location of Tesla's global headquarters.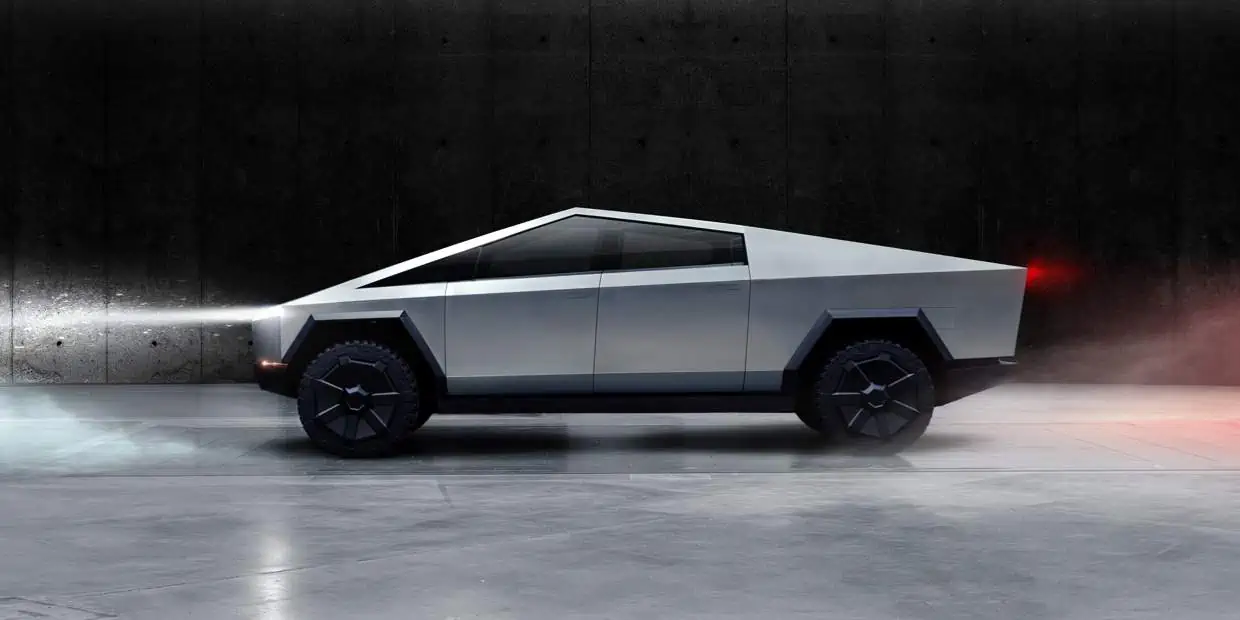 Tesla Cybertruck Specs
Here is a broad look at the Tesla Cybertruck specs, including what it offers in terms of interior, range, and other significant features.
Interior
Tesla has not released any official information about the Tesla Cybertruck interior. A few photos of the prototype showed a spacious six-seat cabin and a huge storage bin under the rear seat. There is also an armrest up front that you can adjust to get an extra seat.
The dashboard has a minimalist design, showing only a yoke or a squarish-shaped steering wheel, which some reports say, has some kind of display and lights up. Devoid of the typical features of a dashboard, the cabin gives off a futuristic appeal.
A 17-inch screen that runs on Tesla's updated infotainment system sits at the centre of the clutter-free dashboard, similar to the Model X and Model Y units.
Range
The Tesla Cybertruck range is among the widely discussed features. The truck features a maximum range of acceleration from 0-60 mph in less than 3 seconds and up to 500 miles of range.
Back in 2019, Tesla announced the Cybertruck would come in four powertrain choices:
Single Motor RWD – 250 miles (402 km) of range
Dual Motor AWD – 300 miles (483 km) of range
Tri-Motor AWD – 500 miles (804 km) of range
Quad Motor AWD – 620 miles (998 km) of range
Other Features
The Tesla Cybertruck comes with a 17-inch infotainment display, an adaptive air suspension that helps create up to 16 inches of ground clearance, a rearview camera mirror, advanced safety features, a bed with 120- and 240-volt outlets, an air compressor, and a tonneau cover.
Factory options include all-wheel drive and up to 4 electric motors. Other options may include a loading ramp, heated seats, and a camper van top.
It is also worth noting that the bed of the Cybertruck has a retractable and lockable locking rear cover that enables owners to store their gear safely in the bed. An air compressor and power plugs come with the truck for easy airing of tires and powering of tools.
When it comes to charging, Tesla says that when the Cybertruck is connected to a fast charger, it will take approximately 27 minutes to charge the battery from 10% to 80%. If charging at home, a full recharge can take up to 13 hours, depending on the version.
Tesla Cybertruck Price
In 2019, the US prices for the Tesla Cybertruck were as follows:
Single Motor RWD – US$39,900
Dual Motor AWD – US$49,900
Tri-Motor AWD – US$69,900
Quad Motor AWD – Not Available
No official Tesla Canada prices were disclosed, but some industry experts expect Cybertruck pricing in Canada to be 40% higher than in the US, or between $50,000 and $100,000 or higher.
Prices, however, are set to change. During a Tesla shareholder meeting in August 2022, Musk revealed that "a lot has changed" since Tesla initially unveiled Cybertruck to the public.
Due to various issues with the truck, the commercial version will be different. The Tesla Cybertruck price will also increase due to inflation. Musk added that the price and the specifications will change before its release.
Tesla Cybertruck Release Date
Tesla has not yet divulged an official release date for the Cybertruck, so technically, there is still no Tesla Cybertruck for sale. When Tesla first announced the Cybertruck in 2019, it was scheduled to start production in 2021 but fell behind schedule due to battery shortage reports.
In August 2021, Musk announced the company was pushing the release further to January 2022. In July 2022, there were reports that deliveries would start in mid-2023, which did not push through. In October of the same year, Musk disclosed the Cybertruck production would be in an Austin, Texas plant.
During the company's Q4 2022 earnings call, the CEO announced that mass production will not start until 2024. Later, leaked Tesla documents revealed that basic flaws in the prototype version caused a series of delays. These included issues with the braking performance, body sealing, and suspension systems.
With the announcement of the first completed production pickup in the Texas Gigafactory comes reports that a delivery event has been confirmed in the latter part of the year, in which a few insiders will receive keys to Cybertruck units.
As the Tesla Cybertruck entered production early in July, Tesla plans to produce 375,000 units yearly. With pre-orders nearing 2 million, new orders may take approximately five years to arrive.
For now, no Tesla Cybertruck Canada release date has been set.
How to Pre-Order the Tesla Cybertruck
If you wish to pre-order a Tesla Cybertruck, go to the Tesla Cybertruck Preorder page, provide your card details, and pay a fully refundable fee of $150.
How Does the Cybertruck Compare to Other Tesla Models?
Among Tesla vehicles, the Model Y and the Cybertruck are two of the more comparable ones.
They are both high-end electric trucks but with different appearance and characteristics. The Model Y is a fully electric small crossover SUV that is more like a sports sedan, while the Cybertruck is more like a pickup truck or a premium SUV.
In terms of turning, Musk himself said that the Tesla Cybertruck may be better at turning than the best-selling Model Y crossover. His remark is considered surprising by many, given that the Model Y has a length of 187 inches, while the Cybertruck is said to be 231 inches long.
Additionally, the Cybertruck is reportedly larger than the Model Y when it comes to interior space and exterior dimensions. Model Y has a more conventional dashboard with buttons and a touchscreen, while the Cybertruck features a minimalist look.
As for the Tesla Cybertruck interior, it is expected that it will mimic the Model X and Model Y due to the prototype images, specifically the nearly empty dashboard and the 17-inch touchscreen positioned in the centre.
Here is a basic list of how the Cybertruck compares to other Tesla models:
| | | | | |
| --- | --- | --- | --- | --- |
| Item | Model S | Model Y | Model 3 | Cybertruck |
| Price | CA$128,776 | CA$61,980 | CA$56.980 | between $50,000 and $100,000 or higher (USD) |
| Range | 405 miles | 330 miles | 272 miles | Up to 500 miles |
| Seating | Up to 5 seats | 7 seats | 5 seats | 6 seats |
| Cargo Capacity | 28 cu ft | 76 cu ft | 23 cu ft | 100 |
| Drive | AWD dual | AWD Dual | RWD | AWD |
| Acceleration | 3.1s | 0-60 mph | 4.8s | 0-60 mph | 5.8s | 0-60 mph | 2.9s | 0-60 mph |
| Top Speed | Up to 149 mph | Up to 135 mph | Up to 140 mph | 130 mph |
Is the Tesla Cybertruck Worth It?
Based on the available information about the features and capabilities of the Tesla Cybertruck, it may be worth it in terms of innovation, such as material made of ultra-hard cold-rolled steel, a range of over 500 miles, a tow rating of 14,000 pounds and an eclectic, futuristic look.
As for price, the Tesla Cybertruck may be more affordable than other vehicles in its category, assuming the cost remains at the originally announced US$40,000 (unlikely). To compare, the Hummer EV Pickup starts at $85,300, the Rivian R1T at $73,000, and the Ford F-150 at $49,995.
While not everyone will find the Cybertruck their cup of tea, it is worth pointing out that there are nearly 2 million pre-orders. Due to high demand, it may also be difficult to obtain a Cybertruck. Tesla plans to have 375,000 built per year. 
FAQs
When can we expect the Cybertruck in Canada? 
There is no announcement when the Cybertruck will be officially available in Canada. Tesla estimates the all-electric pickup will arrive in the third quarter of 2023 in the US. Only 1,000 deliveries, however, are expected throughout 2023. Volume production is set to start in 2024.
How long is the Cybertruck waiting list? 
The Tesla Cybertruck waiting list is around five years. There are currently 1.9 million pre-orders, and with Tesla's production plans set at 375,000 a year, new orders will take roughly five years to fulfill. 
How many Cybertrucks have been ordered so far? 
As of July 2023, there are more than 1.9 million reservations, which grew from 1 million pre-orders back in May 2021. With Tesla's production plans to peak at 375,000 a year, new orders will take approximately five years to deliver. 
How big is the final Cybertruck? 
The final Cybertruck will be less than 19 feet, with a bed measuring over six feet long. The size will make it possible for the Cybertruck to fit in a private garage, unlike its comparable rivals that are longer than 20 feet. 
Related: