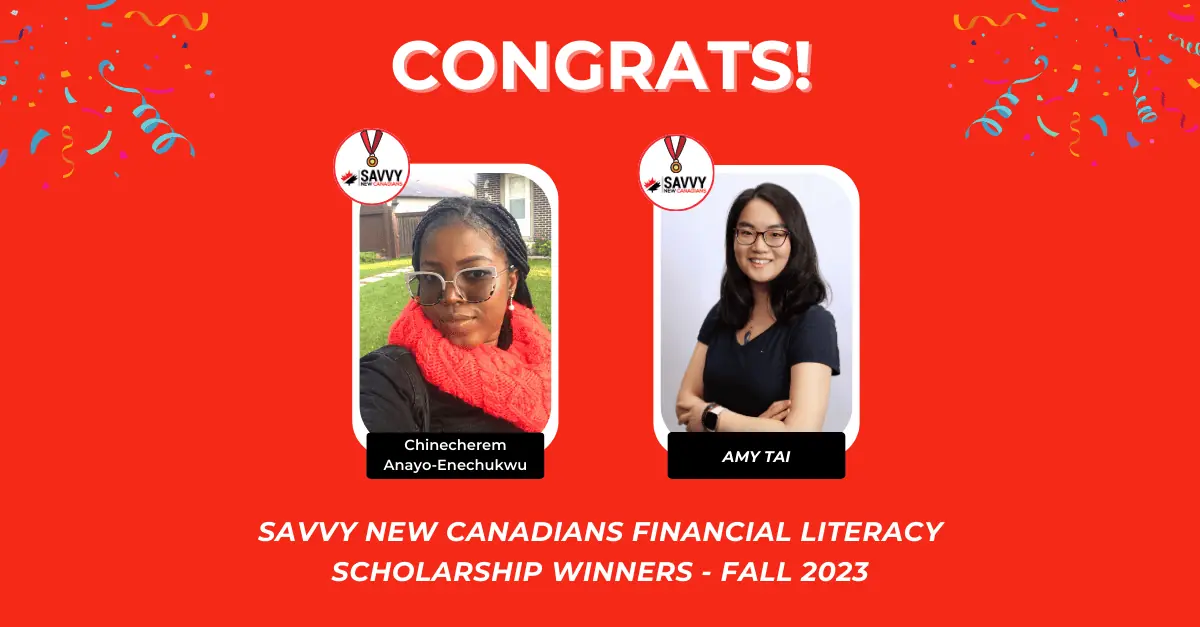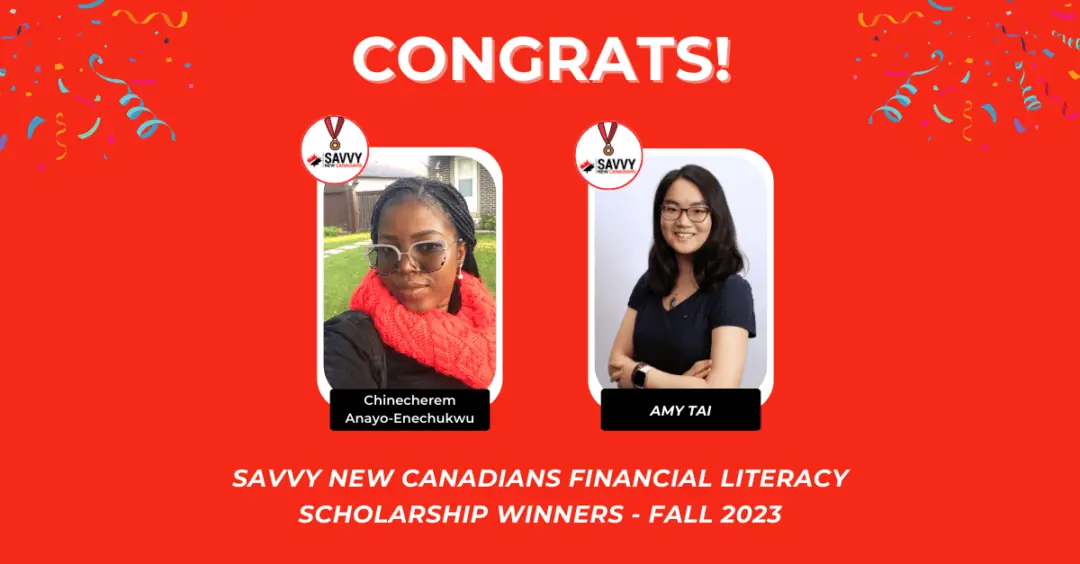 We are pleased to announce the winners of the second edition of the 2023 Savvy New Canadians Financial Literacy Scholarship.
Of the 271 applications received, Amy Tai and Chinecherem Anayo-Enechukwu were chosen for the Fall 2023 awards.
We are impressed by what they have achieved so far and wish them the best in their future endeavours!
Amy Tai: SNC Scholar Fall 2023
My name is Amy Tai and I am currently pursuing my Masters in Applied Science in Systems Design Engineering at the University of Waterloo. My research focuses on cancer diagnosis and treatment using medical imaging and patient metadata. I believe financial literacy is essential to gaining financial freedom and that there are numerous ways to stretch one's dollar when spending, but that these methods are not always apparent. After my graduate education, I plan on working in the healthcare field to safely and securely leverage new technologies to better improve patient experiences.
Chinecherem Anayo-Enechukwu: SNC Scholar Fall 2023
I am Chinecherem Chiamaka Anayo-Enechukwu, hailing from the vibrant state of Enugu in Nigeria. My academic journey led me to attain my LL.B degree from Enugu State University, followed by my successful completion of the Nigerian Law School, where I earned my Barrister at Law (BL) qualification… Recognizing the importance of financial literacy, which entails the art of strategic budgeting and making prudent financial decisions, I am determined to enhance my understanding in this area… My unwavering commitment to education has been the driving force behind my academic endeavors. Ultimately, my goal is to become a dedicated Lecturer and, God willing, a Professor of Law. Education has been a cornerstone of my life, motivating me to continually strive for excellence.
About The Savvy New Canadians Scholarship
At Savvy New Canadians, we are passionate about helping Canadians become better with their money. Our annual scholarship is one of the many ways we give back to the community and foster financial literacy in Canada.
Founded in 2016, Savvy New Canadians is one of Canada's most highly sought platforms for personal financial information. It provides in-depth personal finance resources to help you take control of your money, get out of debt, invest wisely, increase your income, and become financially free.
The Savvy New Canadians Financial Literacy Scholarship runs every year. You can learn more about how and when to apply for the 2024 edition.