Perhaps, Disney, will one day bring a theme park to Canada. Just maybe.
Until that happens, Canadians who want to visit the most magical place on earth will have to make the trip south to either Disneyland Park in California or the Walt Disney World Resort in Orlando, Florida.
In 2019, we spent our summer vacation embarking on a road trip through Western Canada. For 2020, our plan was to visit the Walt Disney World theme parks, and given the outrageous costs of these attractions, we had to start making plans early.
In this post, I show how we saved 20% on Walt Disney World theme park tickets and how you can do the same. A similar offer is available online for Disneyland tickets.
Disney promotions are usually time-limited and since Canadians have few options to score cheap Disney tickets (compared to Americans), you want to take advantage as soon as you can.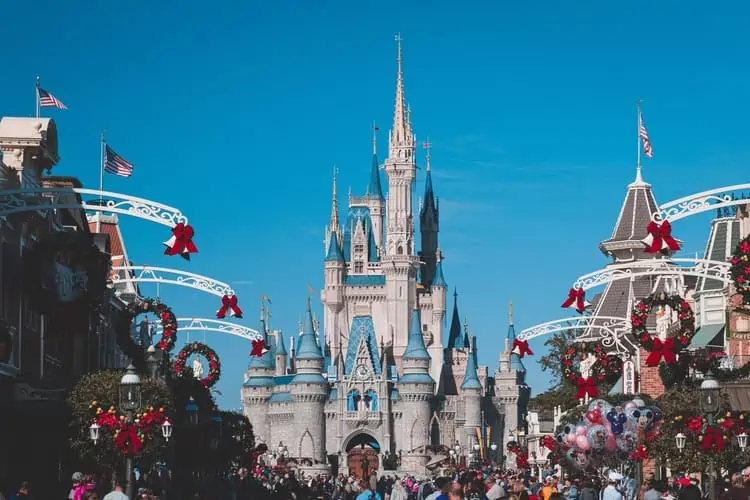 2020 Update
All Disney parks were closed. Here's the information they provided regarding ticket refunds and modifications: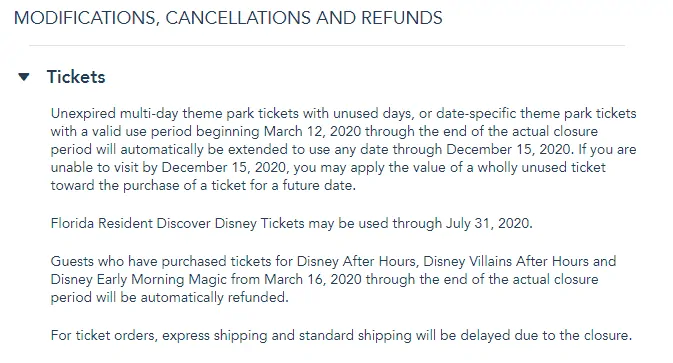 While we ended up not making this trip due to the worldwide closure of parks and borders and movement restrictions, you can still use some of the ideas below to save on your trip to Disneyland.
Check out Canada-specific offers here.
How To Save Money on Disney Tickets
There are several strategies you can deploy to save on Disney tickets. The problem, however, is that most of them apply only to Americans.
For example,
Florida residents enjoy steep discounts and can save up to 30%.
US military personnel discounts
American Automobile Association discounts
Canadians can also access some discounts available directly through Disney and their authorized online vendors. Generally, you want to purchase tickets early and not wait until the last minute.
Also, you can cut your Disney vacation bill by using these tips:
1) Visit during the off-peak season e.g. when kids are in school, prior to and after the summer months.
2) Visit when your kids are under age 3 to avoid paying for them. The challenge with this is that they wouldn't fully appreciate their experience at this tender age.
3) Purchase a Park Hopper Plus option if you plan to visit the water parks and want the flexibility of visiting more than one theme park per day. It is much cheaper than paying for a water park ticket separately.
Walt Disney Theme Park Ticket Discounts for Canadians
Starting in the fall of 2019, Disney released their exclusive offer for Canadians to save 20% on 4-day or longer Walt Disney World theme park tickets.
The savings are significant at about $21 per person per day or $82 per person for a 4-day theme park ticket.
The offer is only applicable to tickets purchased by February 7, 2020, and tickets are valid for visits to the park on or before December 31, 2020.
Note that proof of your Canadian residency will be required at the time you redeem your ticket at the theme park's main entrance.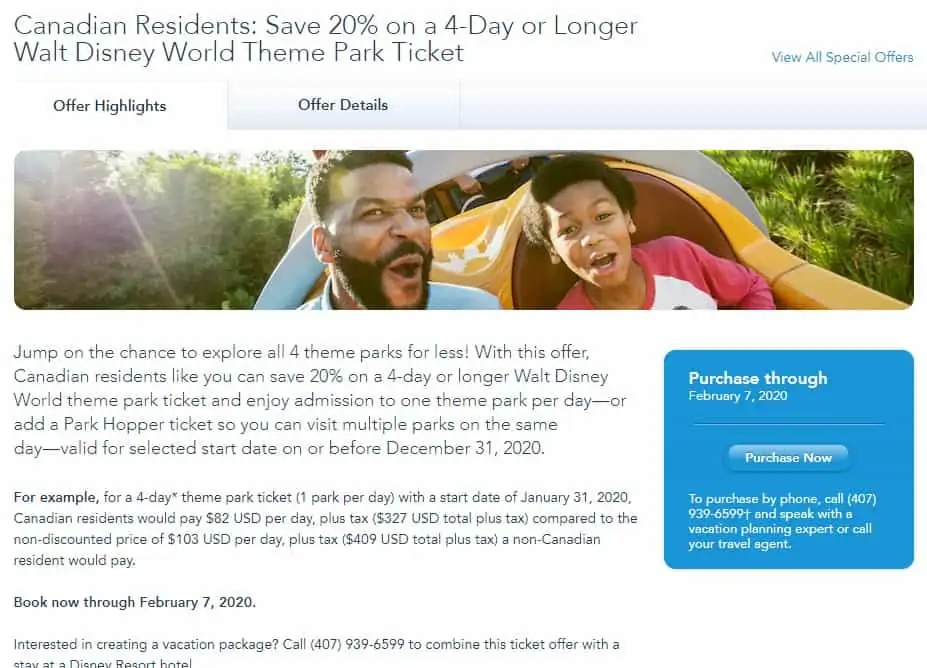 We took advantage of this offer and purchased four 4-day Walt Disney World theme tickets on January 5, 2020.
After clicking on the Disney offer, it brought me to a page where I could select the number of days (starting at 4-days for this offer) and the types of tickets.
Basically, there are 3 main types of Disney tickets:
1. 1 Park Per Day Ticket
This is the basic ticket type and it allows you to visit one theme park per day. Walt Disney World consists of four different parks:
Magic Kingdom
Epcot
Disney's Hollywood Studios
Disney's Animal Kingdom
A 4-day "1 Park Per Day" ticket would give you access to all four parks over four days. When you apply the 20% discount, here's what you pay for two kids and two adults: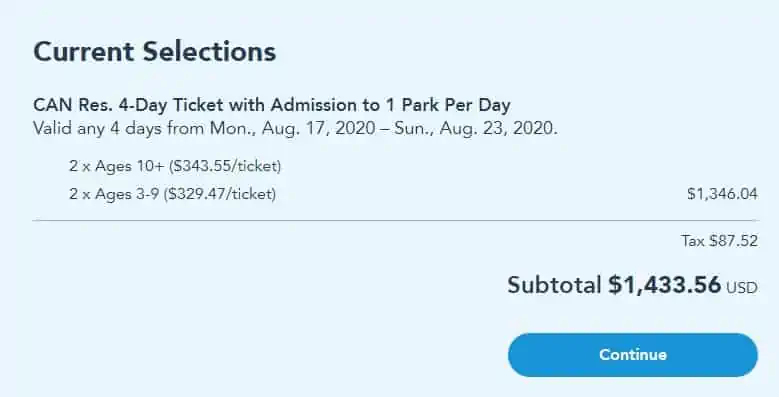 Here's what it would have cost for the 1 Park Per Day ticket without the 20% discount offer:
2. Park Hopper Option
This option adds an extra fee to your ticket and allows you to visit multiple theme parks per day.
A 4-10 day ticket costs an additional $80 with the park hopper option. The longer you stay, the more affordable this option is.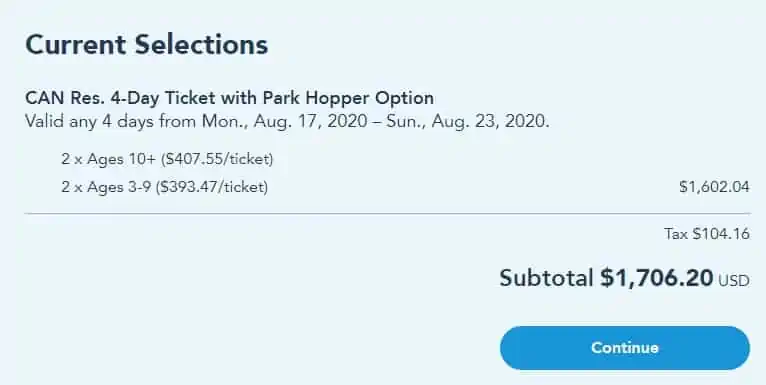 3. Park Hopper Plus Option
In addition to giving you access to multiple theme parks per day, a "Park Hopper Plus" option gives you a certain number of visits to a water park and other Walt Disney World events.
A 4-10 day ticket will cost you an extra $100 to enjoy park hopper plus privileges.
The longer you stay, the more affordable this option is. For a 10-day ticket, it costs $10 extra per day.
After you have selected the number of days, ticket type, and the first day of your visit, you will be presented with the total cost.
For an idea of your savings per day, here is what it would cost if you were to purchase the 4-day ticket without the 20% discount for 2 kids (under age 9) and 2 adults (age 10+) i.e. the non-discounted price a non-Canadian would pay for the same tickets:
1 Park Per Day: $1,794 ($1,433.56 USD with discount)
Park Hopper Option: $2,134.80 ($1,706.20 with discount)
Park Hopper Plus Option: $2,220 ($1,774.36 with discount)
Note that all prices are quoted in USD.
I went with the Park Hopper Plus option and paid $1,774.36, saving about $445.
Park Hopper and Park Hopper Plus: Are They Worth It?
Is it worthwhile to purchase the Park Hopper or Park Hopper Plus option?
I was going to pass on the park hopper option in order to save money because I felt that our kids would have their hands full each day will all the attractions available at each park.
However, purchasing separate tickets to the water parks is expensive, and if you plan to visit the water parks for more than one day, a Park Hopper Plus option is cheaper.
For example, a 1-day water park ticket for us would have cost $281.18.
The Park Hopper Plus option gives you access to the following places:
Disney's Blizzard Beach Water Park
Disney's Typhoon Lagoon Water Park
Disney's Fantasia Gardens Miniature Golf Course
Disney's Oak Trail Golf Course
ESPN Wide World Sports Complex
Disney's Winter Summerland Miniature Golf Course
With a 4-day ticket and Park Hopper Plus option, you can visit multiple theme parks in four days (does not have to be consecutive) and you also get four visits to any of the other six Walt Disney World fun attractions.
Other Things To Note
Tickets used to be valid for admission for 14 days after your first use. Following recent changes, your ticket's validity is based on the number of days you have purchased and your ticket options.
For example, for our 4-day ticket, we get 8-days of validity.
You can purchase other ticket options including flexible dates and Memory Maker.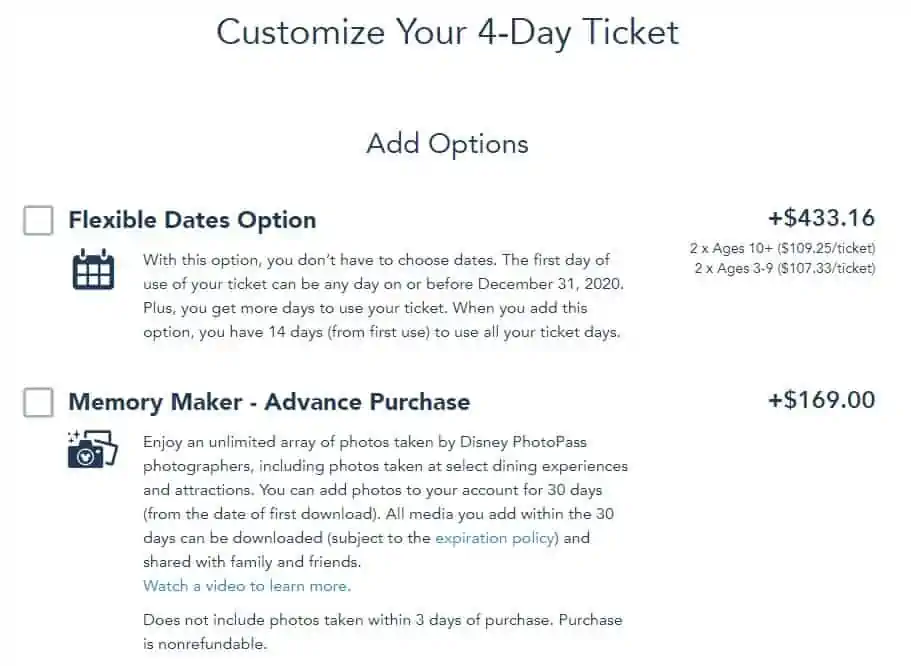 If you are unable to redeem your tickets and they expire, you can apply the price you paid towards the purchase of new tickets with an equal or higher price.
You can modify your ticket dates on or before midnight of the day before your ticket's first valid day of use.
There is a $25 USD cost to deliver your tickets to Canada via FedEx. Alternatively, you can pick it up free of charge at any Walt Disney World theme park ticket sales location in the U.S.
Disneyland Ticket Discount for Canadians
Similar to Walt Disney Resort tickets, Canadians can also save on Disneyland tickets.
Currently, Disneyland is offering a 20% discount on the advance purchase of a 3-day or longer admission ticket.
Tickets must be purchased by February 16, 2020, and are valid until December 31, 2020. Each ticket includes one Magic Morning early admission and expires 13 days after the first use or on January 13, 2021.
For a 3-day ticket, you will pay $240 plus tax, a saving of $60 per person.
Conclusion
 A trip to "The Happiest Place on Earth" and "The Most Magical Place On Earth" does cost a small fortune.
That said, you may be able to save a bit if you catch a good promotional offer!