This post may contain affiliate links. Please read my disclosure for more info.
Wealthsimple is one of the most popular robo-advisors around the world, with operations in Canada, the U.S. and U.K.
When they launched in Canada in 2014, they ushered in an era of low-cost investing that made it easier for everyday investors to access low-cost exchange-traded funds (ETFs). Wealthsimple Trade is their latest product offering.
Much has been said about the true impact of high management fees for mutual funds. With current average fees as high as 2.23% for equity mutual funds, Canada has consistently received the award for some of the highest investment fees among developed nations.
What high and unrelenting fees do is to dampen the overall returns that mutual fund investors make in the long run, particularly, since mutual fund managers rarely beat their index benchmarks.
With their digital wealth (robo-advisor) service, Wealthsimple offers investors a low annual management fee of 0.50% on accounts under $100,000 and 0.40% on accounts that exceed $100K. Not only that, when you sign up using our special promo link, you get a $50 cash bonus!
What is Wealthsimple Trade?
On August 16, 2018, Wealthsimple teased DIY investors in Canada with something exciting – a $0 commission, no account minimum, unlimited FREE trades brokerage service.
This trading service was fully launched today and allows you to trade more than 8,000 popular stocks and ETFs listed on major Canadian and U.S. brokerages.
Currently, if you wanted to buy and sell individual stocks and ETFs via a self-directed discount brokerage account, you pay up to $9.99 per trade. A zero trading commission for both "buy" and "sell" transactions is a first in the market.
Users of Wealthsimple trade have access to a top-notch mobile app that ensures they can trade on the go.
Self-directed investors are able to open non-registered personal investment accounts, RRSPs and TFSAs, and there are plans to support other registered accounts like RESPs in the future.
How To Open a Wealthsimple Trade Account?
The app launched in March 2019. Over 130,000 Canadians had signed up to join the waiting list and more than 7,000 people tested it.
New users can get started with trading in as little as 5 minutes and the Wealthsimple Trade app is available on both iOS and Android.
The app offers the following benefits:
Unlimited commission-free trades
Buy and sell thousands of stocks and ETFs
No account minimum – start trading with as little as $1
Minimal paperwork requirement
Search and track stocks easily
Top-notch encryption to protect your account
CIPF protection up to $1 million
In order to be eligible to open an account and trade, you will need to be:
A resident of Canada
At least 18 years old
Have a Canadian SIN and address
Wealthsimple Trade Zero Fees: How Do They Make Money?
Since Wealthsimple Trade will charge $0 trading commissions, it begs the question: "How will they make money?" Businesses exist to make a profit, eh?
As per their website, they will make money on "currency exchange for U.S. trades," and on other premium offerings that are going to be introduced in the future.
If you are wondering what fees are like when you buy and sell stocks and ETFs at other brokerages in Canada, here is a summary:
Wealthsimple Invest vs. Wealthsimple Trade
Wealthsimple Invest is the robo-advisor service that offers automated low-fee investing to investors who want a hands-on approach to their portfolio at the lowest fees possible using ETFs. Account holders receive automatic re-balancing of their portfolio and free financial advice.
You can open different kinds of accounts including RRSP, TFSA, RESP, RRIF and LIRA (Canada), or Traditional IRA, Roth and SEP IRA's (United States), and ISA and JISA Individual Savings Accounts (United Kingdom). They also provide non-registered investment accounts in all three countries.
Wealthsimple currently has over 175,000 clients and $5 billion in assets under management.
Wealthsimple Trade provides a trading service to self-directed investors who want a hands-on approach to their investing and who would like to purchase individual stocks and ETFs to make up their investment portfolio. You can trade with as little as $1 and there are no trading fees.
Client accounts (Canadian) with both Wealthsimple and Wealthsimple Trade are protected by the Canadian Investor Protection Fund (CIPF) up to $1 million.
Conclusion
The prospect of getting to buy and sell ETFs and stocks at zero fees is compelling. While a hands-on investment approach is not for everyone, self-directed investors will be glad to save even more money on their investments.
The absence of a minimum balance also means you do not need thousands of dollars to try out DIY investing.
This article was originally published in 2018 and is regularly updated.
Related: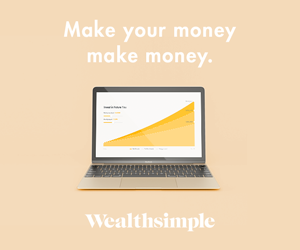 Wealthsimple Trade: Invest in Stocks Online For Free
Summary
Wealthsimple Trade is a $0 commission, no account minimum, and unlimited FREE trades brokerage service.