Want to make extra cash working from home or anywhere for that matter? VIPKid may be the perfect side hustle for you.
VIPKid is an online platform that pays you to teach the English language to children in China. Similar to other ESL tutoring sites like TeachPartTime, QKids, Magic Ears, Golden Voice English, and Gogo Kids, VIPKid is a great opportunity to earn additional income on top of your day job.
Teaching English online is not just a part-time opportunity as there are people who work with VIPKid on a full-time basis to earn $50,000 per year!
This VIPKid review covers how to apply to start teaching, pay/salary, whether it is a scam, benefits, complaints, and more.
What is VIPKid?
VIPKid is a company based in China (and San Francisco) that connects kids between ages 4-12 with English-speaking tutors who are based in the United States and Canada.
It was founded in 2013 by Cindy Mi. The online ESL platform caters to over 500,000 students and has more than 60,000 teachers.
VIPKid teachers use their online portal to teach these kids the English language using a curriculum that is based on the U.S. Common Core State Standards.
VIPKid has been recognized as a Top 50 most innovative company by Fast Company and was also ranked #1 by Flex Jobs in Forbes' 2018 Top 100 Remote Work Companies Report.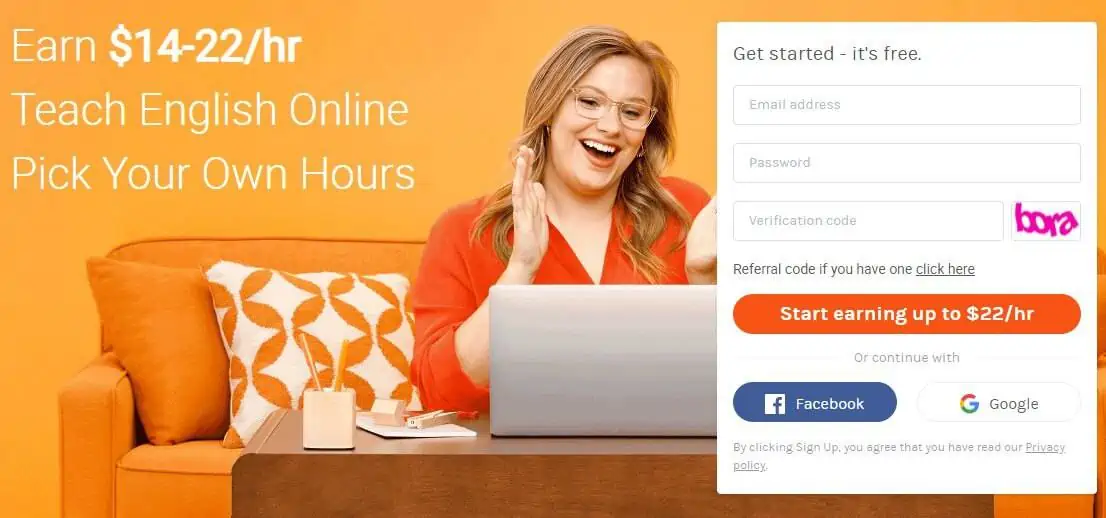 VIPKid Application Process
The application process is relatively straightforward. Their basic requirement is a Bachelor's degree in any field of study. Your degree is not required to be in Education or anything related to Education. 
VIPKid takes its application process seriously. This is because they want to ensure that the kids you will teach get the best learning experience possible. 
You should be a native English speaker from North America (Canada or the United States) and if you have had any experience working with kids or teaching, this is considered an asset.
While prior teaching experience is not listed as a hard requirement, it is helpful for getting hired. Your experience with kids could also be in a coaching capacity.
To start the process of becoming a VIPKid teacher, apply on their website and follow the next 5 steps:
Submit your resume and other information regarding your degree and teaching experience.
Participate in a one-to-one 30-minute online interview where you display your teaching skills to a VIPKid recruiter. Alternatively, instead of the 30-minute interview, you can record a demo interview on your own time and a VIPKid recruiter will evaluate your recording.
Watch lesson videos to learn about the standards and curriculum you will be teaching, and how the VIPKid platform works in general.
Practice teaching a full-length class (demo) with another VIPKid teacher.
Sign your contract and complete a background check. They require an initial 6-month contract and you can renew when it expires.
You are now ready to start teaching and can do so on your own schedule.
As a VIPKid teacher, you can work from anywhere in the world as long as you have a stable internet connection. Success in the interview stage depends on your ability to do well in 24 distinct areas which can be found on their website. These include:
A. VIPKid Techniques
Classroom management
Lesson planning
Efficient pacing and timing
Rapport
Energy level
Lesson objectives
B. Teaching Practices
Talk time
Adapting to the student
Patience
Transcending
Extending
C. Professionalism – which includes things like your appearance, presentation quality, lighting, etc.
D. ESL foundation
Related Posts
VIPKid Technology Requirements
As a VIPKid teacher, you are required to provide the following technology to facilitate your online teaching:
A desktop, laptop, MAC, or Surface. The operating system for these devices must be at least a Windows 7 or higher or MAC OS 10.8x, with a memory of at least 4GB RAM and a processor that is Intel Core i3 or above
Web camera (HD)
A headset that has a microphone
Chrome browser (version 65 or above) and Flash
How Much Does VIPKid Pay?
VIPKid pays between $7-$9 per 30 minutes of teaching depending on your credentials and demo lesson performance. They pay a participation incentive of up to $1 per class and a finished class incentive of up to $1 per class.
In total, the pay rate is $14-$22 per hour.
Teacher reviews online show that the average pay hovers around $20 per hour. The better your performance, the higher your pay!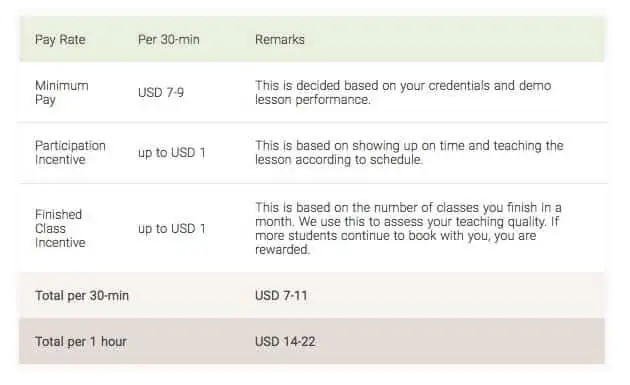 VIPKid teachers are considered to be independent contractors, and as such, you are responsible for paying your taxes. Payment is via direct bank deposit and occurs between the 10th and 15th of the month. If you choose to renew your 6-month contract, you can negotiate a higher pay rate at the same time.
VIPKid Review: What Others Are Saying
The online reviews for VIPKid are mostly positive, however, there are some complaints that are worth noting.
VIPKid – Pros and Benefits
1. Flexible Schedules: You enter the time you are available which gives you the freedom to manage your schedule. You can work from home or anywhere in the world. There is no minimum work hour requirement, however, some bonuses may be tied to taking a certain number of classes per month.
2. Short Classes: Each class runs for a total of 30 minutes maximum – 25 minutes of teaching and a few minutes for comments or to resolve tech issues. The short duration means you can quickly insert a class inside your existing daily schedule without much of a hassle.
3. Stress-Free Side Gig: VIPKid provides the teaching material for every class and they also manage communication with parents. You teach and that's all there's to it. There's no need to commute to a place of work.
4. Competitive Pay: They pay $24-$22 per hour which is not a bad income to make considering that the average is around $20/hour and your teaching costs are minimal. Also, you get paid even if your student does not show up. And, they pay on time!
VIPKids – Complaints
The common complaints that have been raised about teaching at VIPKid are:
1. Inconvenient Teaching Times: The teaching times/slots can be inconvenient depending on your timezone. The peak time periods that students are available is Beijing time, Monday – Friday from 6-10 p.m., and Saturday – Sunday from 9 a.m. to 10 p.m.
If you reside in the EST time zone, this is equivalent to 5 a.m. – 9 a.m. (Mon-Fri) and 8 p.m. – 9 a.m. (Sat-Sun). What this means is that you should be prepared to teach in the wee morning hours. This problem is worse for those who live in time zones that use PST or MST.
2. Parents Complaints: Some reviewers have indicated that parents left misleading reviews that are further complicated by language/translation barriers, negatively impacting the teacher's ability to attract more bookings.
3. Kids Can Be Difficult: Okay, kids are going to be kids and you should only consider a job teaching kids if you like them and know how to work with them. Some kids can misbehave or be understandably difficult.
4. No Employee Benefits: VIPKid teachers are considered independent contractors which means there is no vacation pay, sick days, or health benefits. They expect you to show up on the days you are booked. If you cancel more than the maximum number of classes you are allowed, your employment may be terminated.
5. Monthly Income Not Guaranteed: The number of bookings you get per month is not guaranteed. However, the more time slots you are available for, the more bookings you should get.
Other complaints include a slow Freshdesk support system, technical issues, and poor communication.
Want to earn cash from home? There are a few other opportunities to make money from the comfort of your home.
Is VIPKid a Scam?
No, VIPKid is a legitimate gig and I personally know a number of people who routinely make about $1,000 per month on the platform. There are tons of reviews about VIPKid on the internet you can read to learn about real users' experiences.
I believe that VIPKid is worth checking out if you have a Bachelor's degree, have worked with kids in any capacity, like kids, and are looking for ways to earn additional income. The $14 to $22 per hour pay is acceptable.
Summary
VIPKid may be the perfect side hustle for you to make extra cash working from home. This VIPKid review tells you all you need to know. It's not a scam.