Have you ever had to pay out of pocket for unexpected vet bills? They can be very expensive, and if you're not covered by pet insurance, you have no choice but to pay the full cost upfront.
Pet insurance has saved millions of people across Canada when it comes to paying for unexpected vet bills. If your pet isn't insured, you may be shopping around and comparing various pet insurance providers.
In this Trupanion pet insurance review, you'll learn about the company, what they do and do not cover, how to get a quote, its pros and cons, and what to look for in pet insurance.
What is Trupanion?
Trupanion is a pet insurance provider based in the US. They offer cat and dog insurance in Canada, the US, Puerto Rico, and Australia.
Trupanion provides comprehensive coverage with no payout limits for new, unexpected injuries and illnesses. They can pay your vet directly, taking the hassle out of you paying upfront and submitting an insurance claim.
Founded in 1998, the CEO and founder Daryl Rawlings wanted to introduce high-quality medical insurance for dogs and cats after his family couldn't pay for his dog's surgery. Thus, came Trupanion.
What Does Trupanion Cover?
Trupanion offers comprehensive insurance for dogs and cats. They cover all unexpected illnesses and injuries, including congenital conditions developed before birth, hereditary conditions the breed is prone to inheriting, and unidentified issues – even if there is no official diagnosis.
Hereditary conditions include things like:
Hip and elbow dysplasia
Thyroid disease
Diabetes
Upper respiratory infections
Unidentified issues include:
Cough
Diarrhea
Vomiting
Weight change
Trupanion also covers surgeries, diagnostic tests, medications, hospital stays, veterinary supplements, and more.
All pets get one simple plan that covers 90% of your pet's medical bills. They never impose payout limits, ensuring that your pet gets the best possible care without you worrying about the finances.
You can add the following riders to your pet insurance policy for an additional cost.
Recovery and Complementary Care Rider: this provides coverage for homeopathy, behavioural modification, hydrotherapy, naturotherapy, rehabilitative therapy, and chiropractic therapy.
Pet Owner Assistance Package: this provides coverage outside the vet office. You can get reimbursed for the cost of advertising and reward for lost pets, boarding fees if you are hospitalized, vacation cancellation costs, liability coverage for third-party property damage, and burial or cremation for accidental deaths.
What Does Trupanion Not Cover?
Trupanion and most other pet insurance companies do not cover pre-existing conditions before you sign up for the insurance. Conditions that occur during the waiting period are also not eligible for coverage.
Trupanion also does not cover wellness and preventative care for common procedures or exam fees. Since these fees are routine and Trupanion only focuses on emergency care, it is not covered.
Exam costs such as vaccinations, microchipping, spaying/neutering, parasite prevention, dental cleaning, and routine lab work are also excluded from Trupanion's insurance policy.
How Much Does Trupanion Cost?
Deductibles range from $100 to $1,000. The amount you choose will alter how much you pay as a monthly premium.
If you pay a lower deductible, you'll be paying more now but can save more later. You'll be paying a higher monthly premium but will reach 90% coverage faster.
By paying a higher deductible, you'll pay less monthly but could pay more later. It may take longer to reach 90% coverage of eligible conditions.
The cost of Trupanion's insurance policy is customized based on your puppy, kitten, dog, or cat's unique situation. Get a quote to see how much you'll be paying. Whatever the cost, your monthly payments will not increase for 12 months.
How to Get a Trupanion Quote
To get a free quote, click here.
On Trupanion's website, simply fill out the form and tell them a little bit about your pet.
We got a quote for a 2-year-old male dog who is a short-haired Chihuahua. He has been neutered and is not an assistance animal.
You also need to enter your postal code and email address. For context, we live in Toronto, Ontario.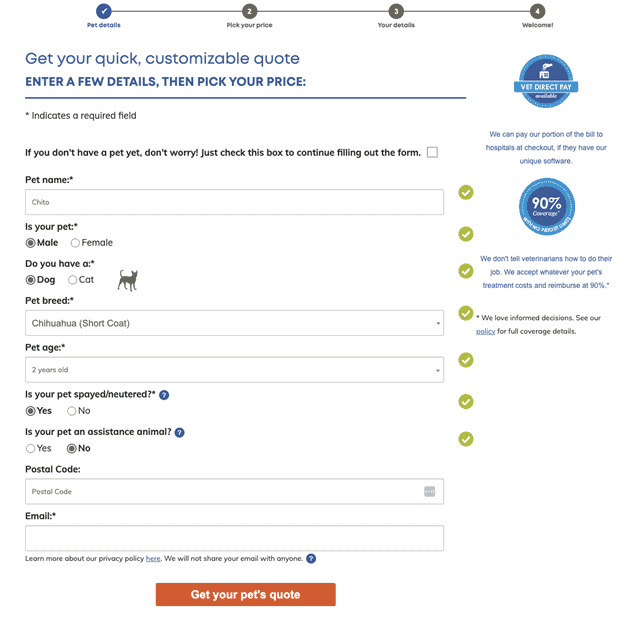 Submit this form, and you will receive a quote right away. Our suggested quote and most popular option is $75.78 per month with a $200 deductible. Alternatively, you can choose a $0 deductible, $700 deductible, or choose a deductible of your choice.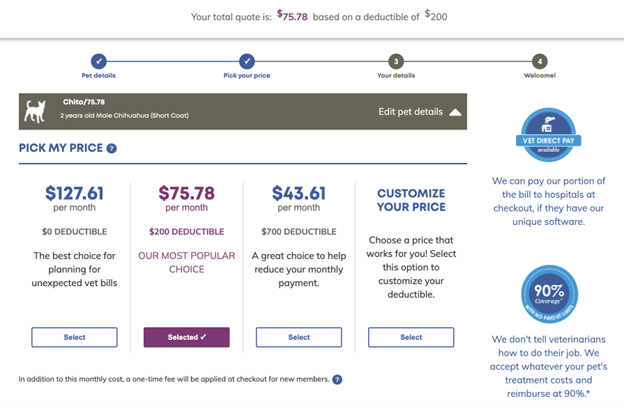 You can also choose to receive enhanced coverage with the optional Recovery and Complimentary Care or Pet Owner Assistance packages. Our quotes were $5.02/month and $4.95/month, respectively.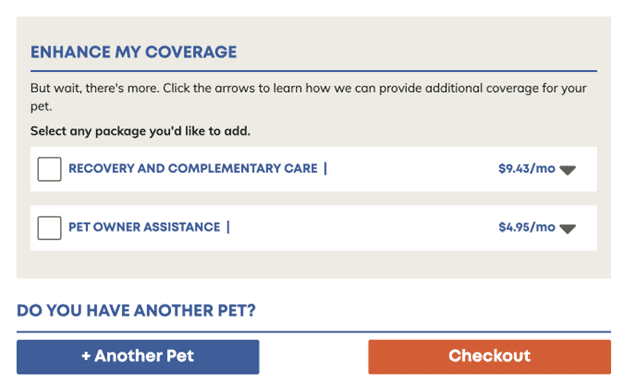 After that, you can add another pet or checkout right away.
Pros of Trupanion
No payout limits. Trupanion policies offer unlimited payouts, up to 90% of the total cost. They don't limit your coverage with caps of any kind. Unlike most other pet insurance companies, there are no per-incident, annual, or lifetime limits.
90% coverage. Trupanion always covers 90% of your pet's medical bills, no matter how old they are, what illness or injury they have, or how expensive the treatment is. Most other pet insurance companies provide coverage from 70% to 90%, but that varies based on the pet's age and your monthly rate.
Vet Direct Pay. Trupanion offers Vet Direct Pay, where you only pay a portion of the vet bill, and they will directly pay the rest to your vet or emergency clinic. Direct Pay works at over 1,000 vet hospitals across Canada, and even if it is not yet available, the Trupanion policy still works.
Flexible monthly payments. When signing up for Trupanion, they allow you to customize your price, so you can pay whatever amount you want per month, plus the deductible.
Easily get a quote and sign up. It took less than 2 minutes to get a customized quote, which you can adjust based on your preference. The entire process is completed online, and you can check out within just 5 minutes.
Cons of Trupanion
Limited availability for Vet Direct Pay. Direct Pay is not available in all provinces, including the Northwest Territories and Nunavut. Some provinces, like Yukon and Newfoundland and Labrador have very limited vet hospitals that accept Direct Pay.
Waiting periods. After getting insurance, you'll have to wait 5 days for injuries and 30 days for illnesses before submitting a claim. If your pet has an illness or injury before then, you won't be covered.
Cost. Trupanion isn't the cheapest pet insurance provider. Our monthly cost was $75.78 plus a $200 deductible. This monthly cost can and very likely will go up over the years. However, Trupanion covers 90% of all unexpected vet bills, so it can be worth it.
Most routine procedures are not included. Wellness and preventative care and exam fees for common procedures, like vaccinations, routine lab work, and dental cleaning, are not included in Trupanion's policy.
Related: Best Life Insurance Companies in Canada.
Is Trupanion Legit?
Trupanion is a legit pet insurance company underwritten by Omega General Insurance Company. Founded in 1998, they have been around for over 20 years, providing high-quality medical insurance for cats and dogs.
Customer service is available 24/7, and you can reach them by calling 855-210-8749.
Trupanion has a rating of 4.3 on Trustpilot with over 4,300 reviews, and 3.9/5 on ConsumerAffairs.
What to Look for in Pet Insurance
When comparing pet insurance providers and finding the one that's best for you and your pet, you should consider factors such as:
Coverage for illnesses and accidents. Some pet insurance companies only pay out 70% of the cost of the vet bills, while others cover 90%.
Check what illnesses and injuries they cover. Some pet insurance covers a long list of conditions, while others may exclude a condition specific to your pet.
The cost of the deductible and monthly premium. How much can you afford to spend each month? You may want to consider getting a lower deductible and paying more monthly or a higher deductible and paying less per month. Each has its pros and cons, but it's something you should consider based on your financial situation.
Keep a lookout for discounts. Some pet insurance companies will provide a discount if you stay with them for many years, have multiple pets, or have an existing insurance product with them.
Related: You might also want to learn more about estate planning for your pets.
FAQs
Is Trupanion insurance expensive?
Yes, Trupanion insurance can be considered expensive. However, your deductible is fully customizable, so you can pay more or less as a monthly premium. Keep in mind that while Trupanion isn't the cheapest, they provide 90% coverage and quality support.
Is Trupanion a Canadian company?
Trupanion got started in the United States, but they serve Canada, Australia, and Puerto Rico as well. They have head offices in Canada and the US.
Is Trupanion the same as Petplan?
Petplan (now Fetch by the Dodo) is a different pet insurance company than Trupanion. They have different plans, pricing, and coverage options.
Is Trupanion worth it in Canada?
Many pet owners say that Trupanion is worth it. Although they can be expensive, they cover 90% of all vet bills for unexpected illnesses and injuries. They can directly pay your vet, and they offer unlimited payouts. Trupanion pet insurance reviews on websites like Trustpilot are mostly positive.
Related: Best Renters Insurance in Canada.