Tangerine promotions are popular for offering cash bonuses across savings, chequing, credit cards, and mortgage products.
And if you are already considering opening a Tangerine Bank account, timing your entry to coincide with one of these promotions is the savvy thing to do.
The current promotional offers from Tangerine are some of the best I have seen in years, with up to $5,000 on the line.
Read on to learn about the best Tangerine promotions available right now.
Tangerine Promotions
Tangerine's promotional offers include the following products:
Credit cards
Savings account
Chequing account
Mortgages
All these offers are available on a limited-time basis, so pay attention to the end dates to avoid missing out.
Tangerine Credit Card Promotions
Until November 18, 2022, you can apply for the no-fee Tangerine Money-Back Credit Card and earn an extra 15% cash back on up to $1,000 spent in your first two months.
This is equivalent to an additional $150 in cash back rewards.
The standard rewards on this card are:
2% unlimited cash back in up to 3 categories of spending
0.50% unlimited cash back on everything else
This cash back rate alone puts this card on top of my list of the best no annual fee cash back credit cards in Canada.
If you are considering moving your credit card debt to another credit card, this Tangerine credit card also offers a 1.95% balance transfer rate for six months.
Get the Tangerine Money-Back Credit Card or read my full review.
Tangerine Bank Account Promotions
Tangerine's saving and chequing account promotions go together.
To take advantage of Tangerine's promotional interest rates and chequing account cash bonus offers, you will need to open two accounts.
To start, sign up for a Tangerine account and enter the Tangerine promo code EARNMORE.
Open a free chequing and savings account by November 30, 2022, to get these benefits:
20% cash back for 60 days when you use your Tangerine Visa Debit card (Client Card) to make online purchases or pay online bills.
You can earn up to a maximum cash back bonus of $400.
Earn a 4.25% promotional interest rate on your savings for five months.
The Tangerine 4.25% interest rate falls back to 1.00% after the promotional period ends.
For a non-promotional rate on savings, you can check EQ Bank.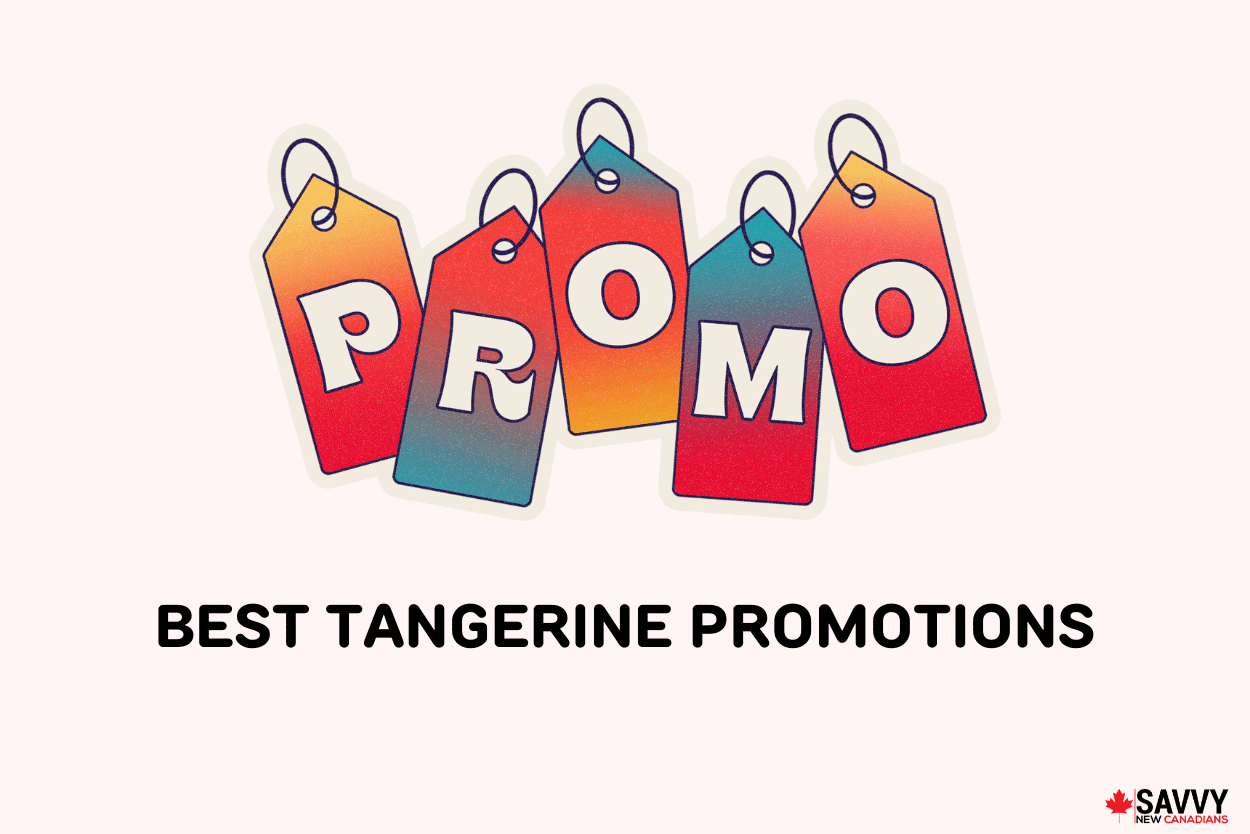 Tangerine Mortgage Promotions
You could earn up to a $5,000 cash bonus when you get a Tangerine Mortgage. The bonus is deposited in your Tangerine chequing account within 30 days of funding your mortgage.
This Tangerine mortgage promotion is available until October 31, 2022, and applies to new mortgage applications for a home purchase. Your mortgage amount must be at least $350,000, and you should be approved for either a 5-year fixed or variable mortgage rate.
The cash bonus available is as follows:
| | |
| --- | --- |
| Mortgage Amount | Cash Bonus |
| $350,000 to $749,999 | $2,000 |
| $750,000+ | $5,000 |
Get a Tangerine mortgage or read my full review.
Other Canadian Bank Promotions
Simplii Financial
Simplii Financial is offering a $350 cash bonus when you open a free chequing account. This account includes unlimited transactions and Interac e-Transfers and has no monthly fee.
To qualify for the offer, you need to add a direct deposit payment of at least $100 for 3 straight months (examples include your payroll, EI, or pension payments).
Simplii clients can also earn 4.75% interest on their savings for a limited time.
Get more details in this Simplii review.
Neo Financial
Neo Financial is a neobank with a free hybrid account and rewards credit card.
The free Neo Card pays up to 4% cash back when you shop at over 7,000 stores at an average of 0.50% cash back at non-participating stores.
New cardholders also get a $25 bonus when they apply using our exclusive link.
You can also learn about other Neo Financial products in this review.
EQ Bank
EQ Bank offers one of the best non-promotional savings rates in Canada at 2.00%.
For a limited time, new customers also get a $150 cash bonus (expired) when they open an EQ Bank Savings Plus Account and add a payroll direct deposit of at least $100 per month for 3 consecutive months.
Here's an EQ Bank review with more details.