Simplii Financial's promotional interest rate is one of the best savings account rates in Canada right now.
You earn a 6.00% interest rate on every dollar you deposit in your account for a limited time.
Considering that savings interest rates are still as low as 0.10% at some banks, this offer means you can earn up to 300x more on your deposits.
Read on to learn about the current Simplii savings account promotion, how to sign up for a new account, and how to qualify for a cash bonus when you open a free chequing account.
Simplii Promotional Interest Sep 2023: Earn 6.00% Interest
If you are looking to deposit your money in a savings account that offers a high-interest rate, the Simplii saving account is currently a good choice.
It offers a 6.00% interest rate on all deposits for 5 months when you sign up here.
There is no minimum balance requirement for taking advantage of this promotional rate. Simply open an account and deposit funds. Also, this savings account has no fees.
Simplii Financial High-Interest Savings Account
Simplii Financial offers a high-interest rate savings account (HISA) that normally pays a tiered 0.40% to 2% interest (recently increased to 6.00%).
This no-fee account can be paired with a free Simplii chequing account, so you have access to unlimited transactions, mobile cheque deposits, free personalized cheques, and free access to all CIBC ATMs in Canada.
Interest on your Simplii savings is calculated daily and paid into your account every month.
The Simplii savings account is eligible for deposit insurance via the Canada Deposit Insurance Corporation (CDIC) for up to $100,000.
In addition to its general HISA, Simplii also offers these savings accounts:
Simplii tax-free savings account
Simplii RRSP savings account
Simplii USD savings account
Learn more in this Simplii review.
How To Open a Simplii Financial Savings Account
You can open a Simplii Savings account by visiting the bank's website.
You must be a resident of Canada and at least the age of the majority in your province (i.e. 18/19 years or older).
When completing the online application, you will need to provide your Social Insurance Number and a digital signature.
Newcomers to Canada and international students can also open an account.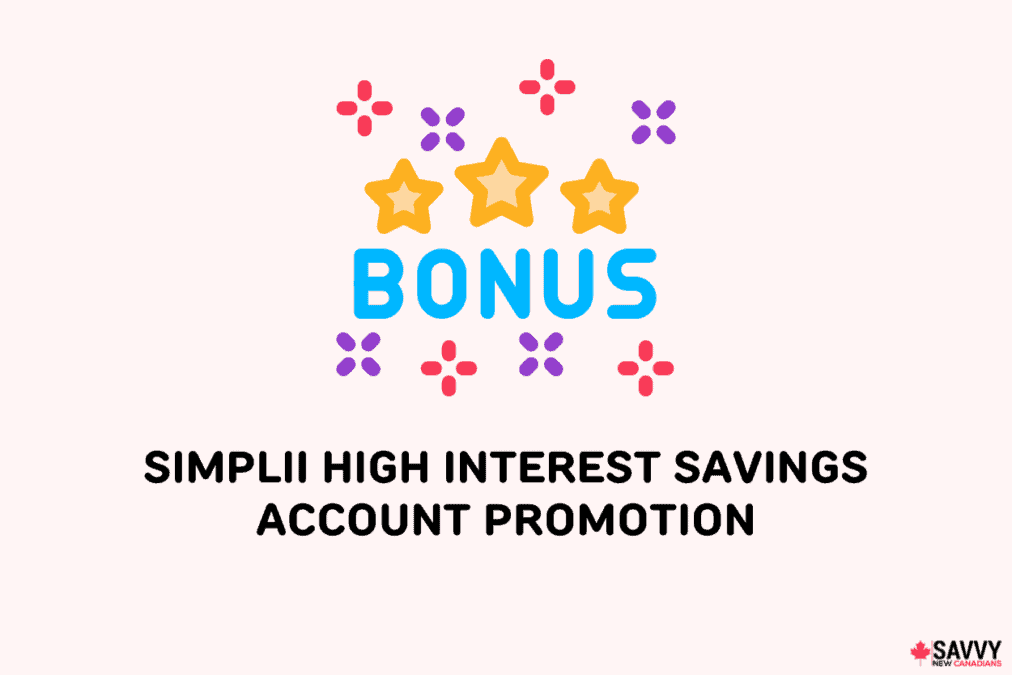 Other Simplii Promotions
In addition to Simplii's special interest rate offer, new customers can also take advantage of these promotions.
$400 New Chequing Account Offer
You can get a $400 cash bonus when you open a new Simplii Chequing account and:
Add a direct deposit of at least $100 monthly for three consecutive months. Eligible direct deposits include payroll, pension payments, and EI deposits.
$300 Global Money Transfer Offer
When you send money abroad using the Simplii Financial Global Money Transfer (GMT) service for the first time, you get a cash bonus based on the amount of your transfer:
Under $5,000: $50 bonus
$5,000 to $14,999.99: $100
$15,000 to $24,999.99: $175
$25,000 and over: $300
You can send funds internationally to over 130 countries using your Simplii no-fee chequing account, USD savings account, credit card, or line of credit.
Learn more about how to get the special offer on the Simplii GMT here.
Simplii Savings Account Promotion FAQs
How much interest is Simplii high interest savings paying?
The current promotional rate for the Simplii savings account is 6.00%. This offer is available for 5 months after opening an account.
What Canadian bank pays the highest interest?
Simplii's promotional interest rate is one of the highest in Canada at 6.00%. You can also take advantage of the non-promotional rate of 2.50% offered by EQ Bank or the 3.00% non-promotional rate offered by Neo Financial.
Who owns Simplii Financial?
Simplii Financial is a division of the Canadian Imperial Bank of Commerce (CIBC).
Can I have more than one Simplii account?
Yes, you can open multiple Simplii accounts, including savings, chequing, mortgage, and investment accounts.
Is Simplii a good bank?
Yes. Simplii is one of the best banks in Canada. It was established in 2017 and has almost 2 million customers.