Simplii Financial and Wealthsimple are popular in the online banking sphere in Canada.
While Simplii Financial is an online bank, Wealthsimple is a financial technology company (fintech) that offers savings products, investments, and various other financial services.
This Simplii vs. Wealthsimple comparison covers their product offerings, pros, cons, fees, and everything else you need to choose between them.
Simplii vs. Wealthsimple
This guide compares both financial institutions and what you can expect for everyday banking services, including:
Chequing accounts
Savings accounts
Investments
Money Transfers
Credit Cards and Loans
Fees
Security
Customer service
What is Simplii Financial?
Simplii Financial is the online banking arm of the Canadian Imperial Bank of Commerce. It is one of the best digital banks in Canada.
Owned by a top-five bank by market capitalization, Simplii Financial provides a robust selection of financial products, including chequing, savings, investments, credit cards, and personal loans.
It also recently introduced a Visa prepaid card.
Learn more in this Simplii review.
What is Wealthsimple?
Wealthsimple is Canada's top financial technology company, with more than 1.5 million customers and over $15 billion in assets under management.
Its products include online wealth management (robo-advisory), savings accounts, a commission-free brokerage platform, tax preparation software, crypto trading, P2P money transfer, and cash back prepaid card.
Learn more in our detailed Wealthsimple review.
Simplii vs. Wealthsimple: Chequing Account
Simplii Financial has a no-fee chequing account that includes unlimited free debits, bill payments, and Interac e-Transfers.
Clients get free access to thousands of CIBC ATMs across Canada, and they even earn some interest on their balance.
The Simplii No Fee Chequing Account supports mobile cheque deposits, and you can order free personalized cheques.
When you open an account here, you get a $400 cash bonus for a limited time.
Wealthsimple does not offer a chequing account.
Verdict: Simplii Financial can help you save money on a chequing account for everyday banking transactions.
Simplii vs. Wealthsimple: Savings Account
Both Simplii Financial and Wealthsimple offer savings accounts with slightly better rates than some of the big banks.
Let's break things down.
Simplii Financial: Savings Account
Simplii Financial offers a general savings account and a few others:
TFSA savings account
RRSP savings account
USD savings account
Its standard savings account pays a tiered 0.40% to 2% interest rate on your balance (5.25% promo rate for a limited time). That said, if you are a new client, you could earn a higher promotional rate for a limited period.
The same rate applies to its TFSA, RRSP, and USD accounts.
None of these accounts have a monthly fee or minimum balance.
Wealthsimple: Savings Account
Wealthsimple offers a Save account for individuals and businesses. The Wealthsimple Save Account for individuals pays 1.50%.
You can pair up your Save account with Wealthsimple Cash.
Verdict: While Wealthimple has a higher base interest rate on savings, it does not offer TFSA, RRSP, or USD accounts like Simplii Financial.
Simplii vs. Wealthsimple Investments
Both Simplii and Wealthsimple offer investment services. Wealthsimple offers options for managed and self-directed investors, with a side of alternative investment solutions for those interested in cryptocurrencies.
Simplii Financial: Investments
Simplii customers can invest using CIBC mutual funds in registered and non-registered investment accounts.
They can also invest using Guaranteed Investment Certificates (GICs) starting with as little as $100. These GICs have terms ranging from 1 to 5 years.
Wealthsimple: Investments
Wealthsimple clients can invest in professionally managed portfolios via its robo-advisor platform, Wealthsimple Invest.
Here, portfolio managers invest on your behalf using low-cost Exchange-Traded Funds (ETFs) in line with your risk tolerance and investment objectives.
When you open a Wealthsimple Invest account and deposit $500 or more, you get a $25 cash bonus.
Self-directed investors can manage their own portfolios and buy and sell stocks and ETFs directly via the Wealthsimple Trade platform.
This no-commission brokerage is one of the best in Canada, and you could get a $25 cash bonus when you deposit at least $150 in your new account.
Lastly, you can invest in cryptocurrencies via the Wealthsimple Crypto platform.
Verdict: Wealthsimple is better for investing and offers a lot more options compared to Simplii Financial.
Simplii vs Wealthsimple: Credit Cards
Both Simplii and Wealthsimple offer prepaid Visa cards. Simplii also has a cash back credit card.
Simplii Financial: Cash Back Visa
The Simplii Financial Cash Back Visa Card is one of the top no-fee cash back cards in Canada.
It offers:
4% cash back on restaurant, bar, and coffee purchases (on up to $5,000 spend/year)
1.5% cash back on gas, groceries, pre-authorized payments, and drug store purchases ($15,000 spend limit)
0.50% cash back on all other purchases
It also has a 9.99% promotional purchase interest rate for the first 6 months (and 19.99% after).
New cardholders earn 10% cash back for the first 4 months when they spend at bars and restaurants ($50 value).
In addition to its cash back credit card, Simplii also offers a Digital Visa Gift Card.
Wealthsimple: Credit Card
The Wealthsimple Cash Card is one of the best prepaid cards in Canada for earning cash back. It has no annual fees and pays 1% cash back on all purchases.
You can choose to cash out your earnings or put them towards investing.
Verdict: Wealthsimple has the better prepaid card. That said, Simplii Financial's credit card is one of the best no-fee cash back credit cards, and it can help you improve your credit score.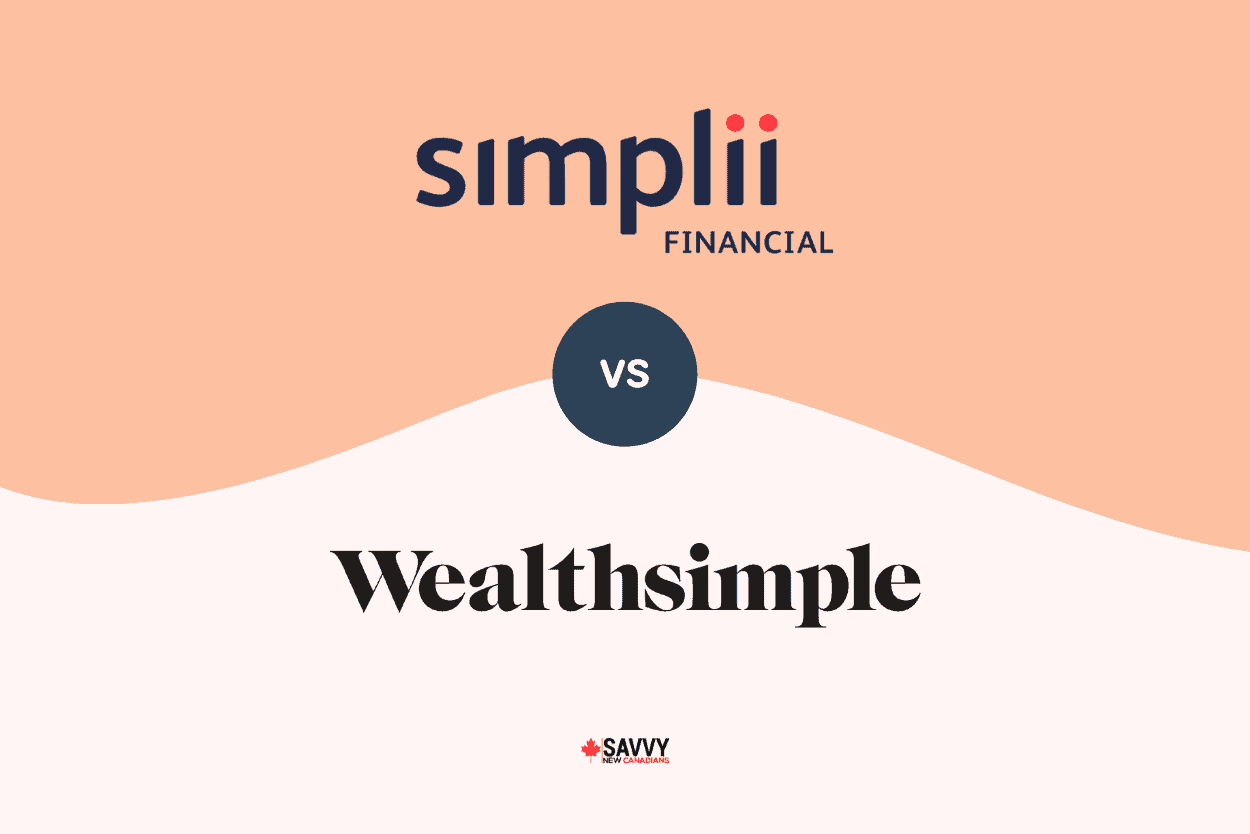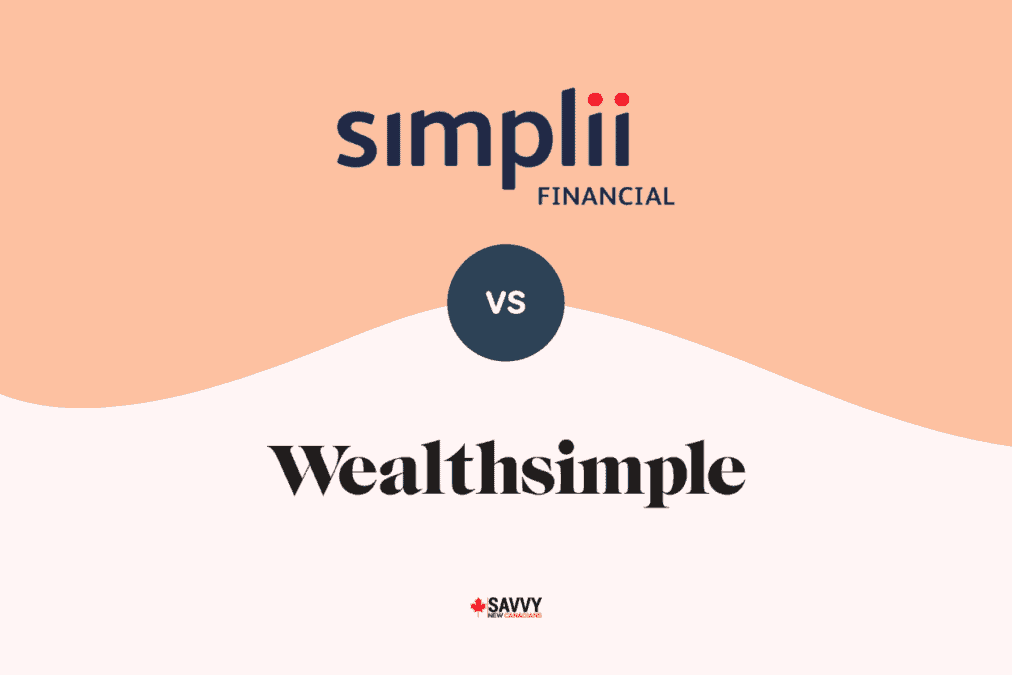 Simplii vs. Wealthsimple: Money Transfers
Simplii and Wealthsimple offer money transfer services via Global Money Transfer and Wealthsimple Cash App, respectively.
Simplii Financial: Global Money Transfer
The Simplii Global Money Transfer service can be used to send money internationally to over 130 countries.
It has no transfer fees, and you get a competitive exchange rate.
You can use your Simplii chequing, line of credit, or credit card to fund your transfer and have it delivered within 1 to 3 business days.
First-time senders get up to a $350 bonus. Learn more about Simplii GMT.
Wealthsimple: Money Transfer
You can use the free Wealthsimple Cash App to send and receive money instantly in Canada.
Want to split a bill with a friend? You can do that using Wealthsimple Cash. There are no fees for deposits or withdrawals, and you can also use the card to manage your Cash Card and payment wallets.
Verdict: Simplii is great for international money transfers, while Wealthsimple is a great P2P payment platform for CAD transfers.
Simplii vs Wealthsimple: Loans
Simplii Financial offers other credit products:
Mortgages
Line of credit
Personal loans
A secured line of credit
Creditor insurance
Wealthsimple does not offer loan products.
Verdict: Simplii is the better choice if you need access to loans, lines of credit, or mortgages. You could also check out these loan comparison sites.
Other Factors To Consider
Fees
Although Simplii's chequing account has no monthly fees, the following service fees may apply:
Stop Interac e-Transfer: $3.50
Stop payments: $10 to $16.50
Money orders and bank drafts: $7.50
Outgoing wire transfers: $30 to $80 per payment
Wire transfer from another bank: $10
RRPS or TFSA transfers to another bank: $50 per transfer
Overdraft protection: $4.97 minimum charge
Non-sufficient funds (NSF): $45
Inactive account (after 2 years): $20 each year
You will also pay management fees when you invest using the Simplii mutual fund.
For Wealthsimple, a 0.40% to 0.50% annual management fee applies to robo-advisor accounts.
For its free brokerage platform, you can upgrade to the Plus tier for a $10 monthly fee and access to USD accounts, unlimited price alerts, higher instant deposit limits, and other perks.
Wealthsimple Cash is free; a 1.5% to 2% fee applies to crypto trades on Wealthsimple Crypto, and Wealthsimple Tax is free (donations welcome).
Convenience
Both Simplii and Wealthsimple are digital organizations. They do not offer in-person support; however, you can chat with agents online or by phone.
Security
Deposits in your Simplii accounts and Wealthsimple Save/Cash accounts are protected by the Canada Deposit Insurance Corporation (CDIC) up to specified limits.
Your investments are also protected against firm insolvency by the Canadian Investor Protection Fund (CIPF).
Promotions
When you open a new Simplii chequing account and set up a direct deposit of at least $100/month for 3 consecutive months, you get a $350 cash bonus.
This bank also has several opportunities to earn when you send money abroad, get a mortgage, or refer friends.
New Wealthsimple clients get cash bonuses when they open the following accounts:
Wealthsimple Invest: $25 bonus with a $500 deposit
Wealthsimple Trade: $25 bonus with a $150 deposit
Wealthsimple Crypto: $25 bonus with a $150 deposit
Pros and Cons of Simplii Financial
Pros:
No-fee chequing account with unlimited transactions
Access to multiple banking products
Free access to thousands of ATMs across Canada
Good cash back credit card
Cons:
No in-person branch support
Promotional savings rates are short-lived
Pros and Cons of Wealthsimple
Pros:
All-in-one platform for investing
Access to 'competitive' savings rates
Top-rated prepaid cash back card
Low investment fees compared to mutual funds
Cons
Does not offer a chequing account
No credit card or loans
Simplii Financial vs Wealthsimple: Summary
If you want to replace your traditional chequing account with a fee-free bank account, Simplii Financial is a great choice. Pair this account with the Simplii Cash Back Visa, and you have a great combo.
For low-cost investing, Wealthsimple is the better choice. Pair your Wealthsimple investment accounts with the Cash Card to earn 1% cash back on all your purchases.
You can use both Simplii and Wealthsimple to enjoy the benefits they both have to offer.
Related: