I love getting cash back when shopping for groceries and other household purchases and until now, my go-to cash back apps have been Ebates (Rakuten), Checkout 51, Drop and Caddle.
I recently stumbled upon another Canadian rebates site, Shopper Army, and this review covers how to earn cash back using their portal and how the company stacks up against its closest competitors.
What is Shopper Army?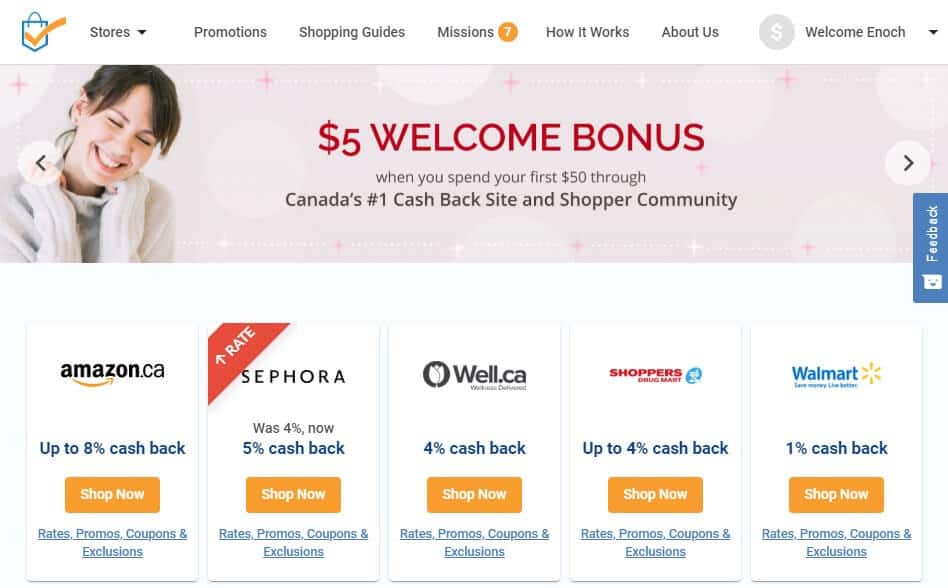 Shopper Army is a part of BrandSpark International and has been operating in Canada since 2014. They are a cash back rebates company providing Canadians with an opportunity to earn cash rewards when they shop at 60+ retailers (like Amazon and Walmart).
Their office is located at Unit 503-1 St. Clair Avenue W, Toronto, Ontario, M4V 1K6.
BrandSpark International is actually a market research company which is why I was not surprised to see that some of the ways to earn rewards on Shopper Army include testing products for free, taking surveys, and showing your honest feedback.
As of this writing, Shopper Army has awarded its members over $389,000 in cash back rewards.
How To Earn Cash Back With Shopper Army
If you use Rakuten to earn cash back when shopping online, you will find the Shopper Army system to be pretty similar.
Basically, to earn cash back, you need to:
Sign up for a free account at ShopperArmy.ca.
Visit your favourite online store (e.g. Amazon) by clicking on the "Shop Now" link on Shopper Army's website.
Shop as usual at your store of choice.
Get cash back deposited into your account within days.
Cash-out your earnings via an Amazon gift card (starting from $5) or PayPal (minimum of $35).
Similar to Rakuten (Ebates), there is a waiting period (validation time) when your cash back earnings are set to pending status. This is to allow the site to ensure your product is not returned back.
Shopper Army Cash Back Stores
Shopper Army is affiliated with over 60 popular retailers in Canada and you earn cash back when you shop at these stores using the Shopper Army website.
Cash back offers range from 1% to 10%.
Some of the stores available are:
Sephora (5% cash back)
Hudson's Bay (3%)
Walmart (1%)
Shoppers Drug Mart (4%)
Old Navy (4%)
Canadian Tire (4%)
GAP (4%)
Adidas (up to 4%)
Banana Republic (3%)
Joe Fresh (3%)
Rona (3%)
Best Buy (5%)
The variety of stores covers most purchases you may need to make in the fashion, shoes, home, baby and kids, electronics, beauty, and personal, health and wellness, food and groceries categories.
Additional Ways To Earn Cash Back With Shopper Army
Shopper Army offers the savvy shopper additional ways to earn rewards:
1. Bonus Cash Back, Coupons, and Promo Code
The Shopper Army website has a 'promotions' page where you will find a list of opportunities to earn bonus cash back and coupons or promo codes for significant discounts off everyday household purchases. This is in addition to the regular cash back offers.
You can also score free promo codes and coupons by following their Instagram and Facebook accounts.
2. Missions
On your account dashboard, you will find a 'missions' page that lists opportunities to earn extra rewards. For example, your mission (if you choose to accept it) could be to participate in a research study, complete a survey, provide feedback about a product or test a product.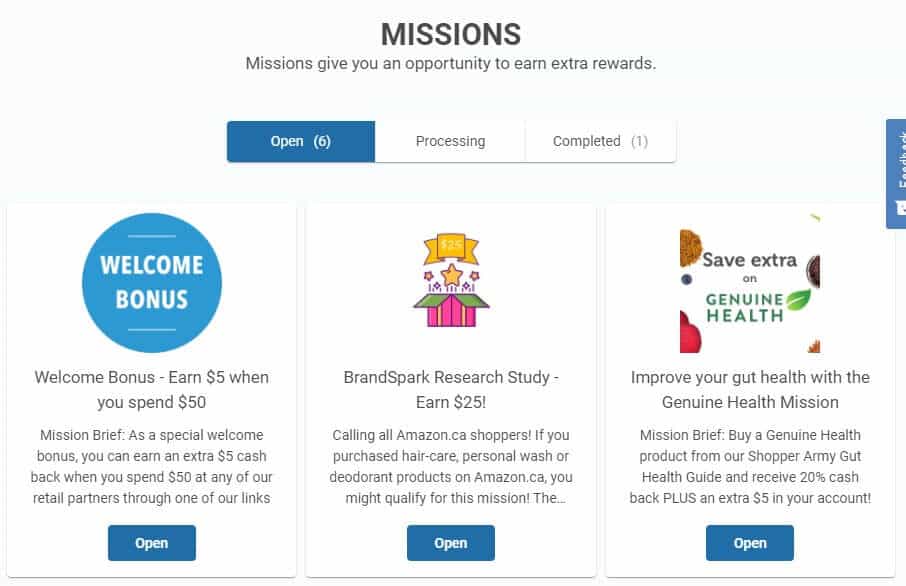 3. Refer Friends
If friends join Shopper Army and use your referral link when signing up, you both share $5 ($2.50 each) after they have earned at least $10 in cash back.
Shopper Army vs. Rakuten (Ebates)
Overall, you will get more value from Rakuten.
Earning Cash Back: To earn cash back rewards, you need to be signed in to your account and visit your preferred online store after clicking on a link to their website. Note that if you have Adblock installed on your browser, your shopping trip may not be recorded.
Rakuten has partnerships with over 750 stores, while Shopper Army has over 60 stores on its platform. To maximize your earnings, check each site before you shop and use the one with the highest cash back offer at your store of choice.
Sign-Up Bonus: Rakuten offers new members a $30 sign up bonus after they have completed a purchase of at least $30. Shopper Army will pay you $5 after your first purchase of $50 or more.
Referral Bonus: When you refer friends to join Shopper Army, you both receive $2.50 after they have earned $10 in cash back. Rakuten gives you up to $30 for each referral after they make a purchase of at least $30 through the website or app.
Mobile App: Rakuten has a versatile mobile app that is available on Android and iPhone. Shopper Army does not have an app, however, their website is mobile-friendly.
Browser Extension: I find the Rakuten Chrome and Firefox browser extension to be very useful. It alerts me when I am on an affiliated store's website and reminds me to activate cash back offers. The extension also makes cash back offers to show up on your search results from Google and Bing.
Shopper Army does not appear to offer a browser extension.

$30 sign-up bonus
Earn up to 40% cashback
Features 2,500 stores and retailers
Redeem earnings by PayPal & check
Pros and Cons of Shopper Army
In my opinion, the downsides of Shopper Army are its limited number of affiliated stores. Rakuten has over 750 stores on its platform, giving shoppers greater access to earn cash back.
A few other things I'd like to see them improve upon would be to have a mobile app and up their referral bonuses. Depending on where you shop, racking up $10 in cash back can take a while.
Overall, my review of Shopper Army is positive, and you should add them to your list of sites to check whenever you shop online.
Shopper Army Alternatives in Canada
KOHO: This is the best free cash back app in Canada. Get a $20 bonus after making your first purchase using the KOHO app. Learn more in this KOHO review.
Ampli: Earn automatic cash back when you shop online or in-store at affiliated stores and get a $5 bonus after linking your first card (AMPLI5).
Drop App: Earn automatic cash back when you shop online or in-store and get a $5 bonus after linking your first card.
Caddle: Earn rewards when you shop, answer surveys, and watch video ads. Get a $1 signup bonus.
Have you used ShopperArmy? Tell us about your experience in the comments!
Shopper Army Review
Summary
Shopper Army is a cash back rebates site similar to Ebates that pays you when you shop online. This Shopper Army review covers what you need to know.