If you are looking for an all-inclusive "unlimited" chequing account, the Scotiabank Ultimate Package may be for you.
For a $30.95 fee that can be waived when you keep a $5,000 balance, this account offers unlimited free transactions and Interac e-Transfers; unlimited free ATM withdrawals worldwide, annual fee waiver on a premium credit card, free overdraft protection, free cheques, drafts, and many other VIP perks.
Read on to see what the Ultimate Package offers, how it compares to other Scotiabank chequing accounts, and how to get a $350 cash bonus.
Scotiabank Ultimate Package Features
1. Free unlimited Transactions: This account is best suited to individuals who conduct lots of monthly transactions. You won't need to worry about accruing extra charges as the Scotiabank Ultimate Package comes with unlimited debits and Interac e-Transfers.
2. Free ATM Withdrawals Globally: Enjoy free withdrawals from Scotiabank and non-Scotiabank ATMs anywhere in the world.
3. Save up to $150 on Credit Card Annual Fees: You can waive the annual fee on your premium Scotiabank credit card by up to $150. This continues every year as long as you have the card, including:
4. Unlimited Free Global Money Transfer: Send money worldwide through Scotia International Money Transfer.
5. Earn Rewards: Chequing account holders earn Scene+ points on every purchase at 1 point per $5 spent. You can redeem your points for travel, gift cards, movies, food, drink, tech, and more.
If you sign up for a new account by October 31, 2023, you could qualify for a $350 cash bonus1 (Terms and Conditions apply).
6. Interest Rate Boost on MomentumPLUS Savings Account: You get an extra 0.10% on top of the regular savings interest rate and can earn a savings rate of up to 5.00%* interest for a limited time.
7. Free Equity Trades: Get ten free equity trades on Scotia iTrade in the first year and five free equity trades in subsequent years.
8. Free Safety Deposit Box: This perk offers a free small safety deposit box that is worth $55 annually.
9. $30.95 Monthly Account Fee: The Ultimate Package costs $30.95 per month. You can waive the entire fee by maintaining a minimum daily balance of $5,000 or a combined balance of $30,000 across your Ultimate Package and MomentumPLUS Savings Account.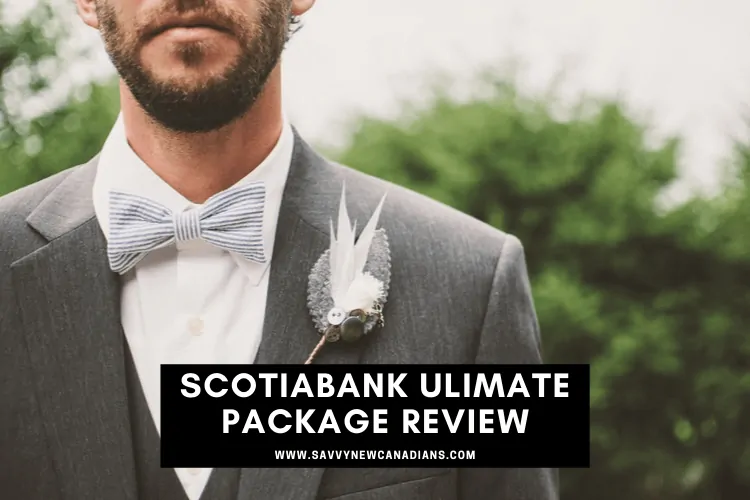 Scotiabank Ultimate Package Chequing Benefits
Scotiabank is a top-tier Big Five bank in Canada and offers many conveniences to its customers.
With a network of around 900 branches and 3,600 ATMs, banking services are always available at your fingertips. When you travel abroad, you have access to more than 44,000 surcharge-free ATMs through the Global ATM Alliance.
The Ultimate Package provides seamless banking with unlimited debits, e-Transfers, ATM withdrawals, international money transfers, free safety deposit box, stock trading, plus:
Free overdraft protection
Free personalized cheques and drafts
Exclusive rates on select GICs
Mobile pay, including Samsung Pay, Google Pay, and Apple Pay
Mobile cheque deposits
Access to mobile and online banking
Downsides of the Scotiabank Ultimate Package
While the $30.95 monthly fee can be waived, it means you need to maintain a high chequing account balance of $5,000.
Alternatively, you could keep a balance of $30,000 in your MomentumPLUS Savings Account or across your chequing and savings account to avoid paying the monthly fee.
For you to qualify for the $350 welcome cash bonus,¹ you will need to complete two of three actions within 60 days of opening your account:
Scotiabank Ultimate Package vs. Other Scotiabank Chequing Accounts
Scotiabank offers four other chequing accounts in addition to the Ultimate Package. They are:
Scotiabank Preferred Package
Scotiabank Basic Plus Account
Scotiabank Basic Account
Scotiabank Student Banking Plan
Here's how the Ultimate Package compares:
Ultimate Package
Preferred Package
Basic Plus
Basic Account
Student Banking
Monthly fee
$30.95
$16.95
$11.95
$3.95
$0 (must be enrolled FT at a post-secondary institution
Minimum balance to waive the monthly fee
$5,000
$4,000
$3,000
N/A
N/A
# of debit transactions
Unlimited
Unlimited
25/month
12/month
Unlimited
# of eTransfers
Unlimited
Unlimited
10/month
2/month
Unlimited
Senior's discount
-$4.00
-$4.00
-$4.00
-$3.95
N/A
Special features
Earn Scene+ points;
$350 welcome bonus;
Up to $150 waived on credit card fees annually; 0.10% interest rate boost on savings; Unlimited free non-Scotiabank ATM withdrawals globally; No monthly overdraft protection fee; Up to 10 free equity trades on Scotia iTrade; Free personalized cheques and drafts
Earn Scene+ points;
$350 cash bonus; Up to $150 waived on credit card fees (1st year only); 0.05% interest rate boost on savings; 1 free non-Scotiabank ATM withdrawal/month; International money transfer at $1.99
Earn Scene+ points; International money transfer at $1.99
Earn Scene+ points
Get a $100 bonus
Learn more
–
Read review
Read review
–
–
Application
Apply
Apply
Apply
Apply
Apply
How To Open a Scotiabank Chequing Account
You must be at least 16 years old and a resident of Canada (or on a work or study permit) to be eligible for a Scotiabank Ultimate Package account.
To apply, click this link to visit Scotiabank's page for the Ultimate Package account and then click on "Get Ultimate Package." The application process takes about 5 minutes to complete.
You will need to enter your basic personal information, including your phone number, email address, social insurance number, and birth date.
Scotiabank Chequing Account Alternatives
Two alternatives to the Scotiabank Ultimate Package are:
Simplii Financial No-Fee Chequing Account (no monthly fees)
HSBC Premier Chequing Account (premium bank account)
The no-fee chequing account from Simplii Financial has no monthly fees, and it offers some benefits you would normally find with a premium chequing account, including:
$350 bonus when you sign up and set up direct deposits
Unlimited free bill payments and debit transactions
Unlimited free Interac e-Transfers
Earn interest on your balance
No monthly or minimum balance requirement
Unlimited free withdrawals
Free access to 3,400+ CIBC ATMs across Canada
Free international money transfers
You can also open a free savings account and earn high-interest rates, plus Simplii also offers a no-fee cash back credit card, mortgages, lines of credit, personal loans, and investments.
Get a free Simplii Financial Chequing Account ($350 bonus)
HSBC Premier Chequing Account costs $34.95 monthly; however, this fee is waived if you meet minimum monthly deposit or asset thresholds.
HSBC Premier Chequing Account
Monthly fee: $34.95 if you do not meet the eligibility criteria.
Free transactions: Unlimited debits and Interac e-Transfers.
Sign-up bonus: Earn up to $500 in welcome bonus cash back.
Interest earned on deposit: N/A
On HSBC's website