Scotiabank is a member of the five big bank group that dominates the industry in Canada.
Like its peers, Scotiabank offers a suite of savings products, including high-interest savings accounts, TFSA accounts, foreign currency savings accounts, and student savings accounts.
Scotiabank's MomentumPLUS Savings account offers a high savings interest rate (compared to its peers), and you can also combine it with a premium chequing account.
Scotiabank High-Interest Savings Accounts
The following are the various high-interest savings accounts offered by Scotiabank.
1. Scotiabank MomentumPLUS Savings Account
The MomentumPLUS Savings Account offers a regular interest rate plus an additional premium rate that varies with the length of the premium period you choose.
For example, you could earn a regular 1.40% interest rate plus up to an extra 1.25% if you keep the money in the account for 360 days. The premium periods available are 90, 180, 270, or 360 days.
For a limited time, new clients get a 2.50% bonus interest for five months (for up to 5.25% interest).
Scotiabank customers who open an Ultimate Chequing Package or Preferred Chequing Package at the same time they sign up for the MomentumPLUS savings earn an extra 0.10% or 0.05% interest on their account balance, respectively.
A MomentumPLUS savings account is great for saving towards multiple goals using one account, and the longer the timeframe, the higher the interest rate.
Other features of this account include:
No monthly account fee or minimum balance
Unlimited self-service transactions
Automatic savings plan
Mobile cheque deposits
2. Scotiabank Savings Accelerator Account
Those looking to earn a higher interest rate on a large cash balance would like the tiered rates offered by the Savings Accelerator Account.
It has no monthly account fee, and you can earn up to 1.50%.
$0 – $249,999: 1.40%
$250,000+: 1.50%
The Scotiabank Savings Accelerator account can also be opened for registered plans, including the TFSA, RRSP, and RESP.
3. Scotiabank Money Master Savings Account
This everyday savings account can be used to earn interest (0.01%) on the money you don't need immediately.
It offers a free 'Bank The Rest Savings Program' that helps you save whenever you use your debit card by rounding up your purchases to the nearest $1 or $5.
The Money Master Savings Account does not have a monthly fee, and you can perform unlimited transfers to your other accounts with Scotiabank.
Scotiabank TFSA Savings Account
A Tax-Free Savings Account (TFSA) earns income that is tax-free for life. You can withdraw your money anytime and recontribute it in the following year or after.
For 2023, the annual TFSA limit is $6,500, and Scotiabank offers two savings accounts you can use to hold TFSA funds.
4. Scotiabank TFSA Savings Accelerator Account
The Scotiabank TFSA savings accelerator account offers an interest rate based on your account balance. The current rates as of this writing are:
$0 – $249,999: 0.75%
$250,000+: 0.80%
Online transfers to your other Scotiabank accounts are free; however, a fee applies to other debit transactions. There is no direct access to this account using an ATM.
5. Scotia Tax-Free Savings Account
A Scotia Tax-Free Savings Investment account can hold GICs, mutual funds, ETFs, and/or cash in a savings account.
For the savings account option, you earn 0.01% on your balance.
Here are some of the best TFSA savings rates in Canada, and you can learn about GIC rates.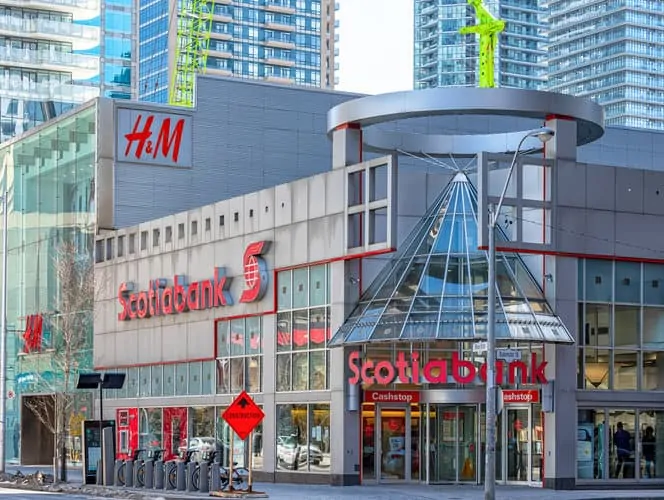 Scotiabank Foreign Currency Savings Accounts
Finding an account that pays any interest on foreign currency deposits is a challenge for freelancers and small businesses in Canada.
Scotiabank offers two accounts worth checking out if you earn income in USD or Euros.
6. Scotiabank U.S. Dollar Daily Interest Account
The Scotiabank USD Daily Interest account pays a tiered rate of up to 0.05%.
It has a $1 per month account fee, and this is waived if your balance is $200 USD or more. Seniors aged 60 and over also do not pay a monthly fee.
Two free debit transactions are included in the package monthly, and additional debits cost $1.25 each.
The minimum balance to start earning interest is $1,000. Learn about the best USD savings accounts in Canada.
7. Scotia Euro Daily Interest Savings Account
This Euro savings account has a $1 monthly account fee that is waived if you are a senior or when you keep a minimum daily balance of €200.
Two debit transactions are included in the package each month, and additional debits cost €1.25 each.
The tiered interest rate pays 0% on all balances.
Scotiabank Savings Account for Youth
Help your kids to build good financial habits and learn the basics of saving money using a youth bank account.
8. Scotiabank Getting There Savings Program for Youth
The Getting There Savings Program for Youth is a hybrid account that combines chequing and savings account features. It is available to kids under the age of 18 and offers:
No monthly account fee
Unlimited debit purchases
Two free Interac e-Transfers per month
Up to 0.10% interest on deposits
Free paperless or paper statements
Access to Scene+ Rewards when they turn 14 and older
How To Open a Scotiabank Savings Account
Scotiabank has more than 950 branches and 4,000 ABMs in Canada.
You can visit one of their branches to open a savings account or proceed via online banking.
You will be required to confirm your identity using a government-issued photo ID (e.g. driver's license) or a combination of IDs from other reliable sources.
You can also contact customer support via phone if you have questions about opening an account.
Benefits of a Scotiabank Savings Account
In addition to the peace of mind that comes from keeping your money at a bank that has been around since 1832, a Scotiabank savings account provides the following benefits:
Access to mobile and online banks
Mobile cheque deposits
No monthly account maintenance fees
Eligibility for CDIC insurance
Free Scotia InfoAlerts when money enters or leaves your account
Automatic savings plans so you can save money easily
You can save towards multiple financial goals using the MomentumPLUS savings account
Scotiabank Savings Account Fees
While Scotiabank savings products do not have a monthly account fee (excluding the foreign currency ones), transaction fees may apply when you transfer or withdraw funds.
Transfers to your other Scotiabank accounts using online banking are always free. Other debit transactions cost $5 each.
A monthly fee applies to foreign currency accounts. This fee is waived if you keep a minimum closing daily balance of $200 USD/EUR as applicable.
A $2.25 monthly fee applies to the Money Master Savings Account if you request paper statements.
Scotia Savings Account Rate vs. EQ Bank vs. Neo Financial
When comparing the best savings rates available in Canada, online banks often come out on top. Two options to consider are:
EQ Bank: Offers a standard high interest rate on its EQ Bank Savings Plus Account with unlimited free transactions, bill payments, electronic fund transfers, Interac e-Transfers, and mobile cheque deposits.
EQ Bank Savings Plus Account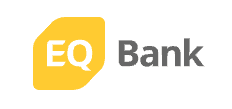 3.00%* non-promotional interest rate
Unlimited debits and bill payments
Unlimited Interac e-Transfers
No monthly account fees
Simplii Financial: Earn a promotional 5.25% interest rate on your deposits for the first 5 months. Easy access to a free unlimited transaction chequing account that includes a $400 bonus.
Simplii High-Interest Savings Account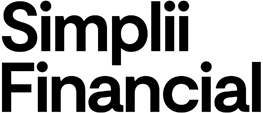 6.00%* rate for 5 months
Unlimited debits and bill payments
Unlimited Interac e-Transfers
$400 cash bonus offer with a free chequing account
HSBC Bank Canada: The HSBC High Rate Savings Account offers a competitive interest rate on your deposit. It also includes three free debits each month.
HSBC High Rate Savings Account
Up to 1.85% interest*
No monthly fees
Top Canadian bank
No minimum balance & 3 free debits monthly
Neo Financial: This account has no monthly fees and offers free and unlimited debits, bill payments, and Interac e-Transfers.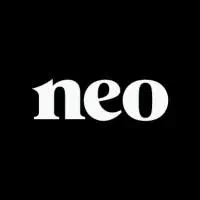 Unlimited 5% average cash back
No monthly fees + $20 bonus
2.25% non-promo interest rate paid on balance
Unlimited free transactions
Get a Mastercard for payments online and ATMs
Access to a no-annual-fee credit card