The Scotiabank L'earn Visa card is an entry-level credit card for students similar to the Scotiabank SCENE Visa Card.
In addition to this card being a good one for students who are getting their first credit cards, it is also available to new immigrants and international students who are looking for a secured credit card to build their credit score.
Scotiabank L'earn Visa Card – At a Glance
$0 annual fee
19.99% on purchases; 22.99% on cash advances and balance transfers
Up to 1% cash back
Up to 20% discounts on car rentals at participating AVIS locations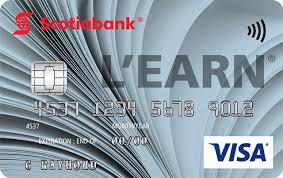 Scotiabank L'earn Visa Card Cash Back Rewards
The L'earn Visa card is a plain-vanilla credit card with very little to offer in the way of perks, however, it does provide up to 1% cash back.
The cash back rewards are tiered depending on how much you spend per year as follows:
On the first $500: 0.25% cash back
On the next $500: 0.50% cash back
On any amounts over $1,000: 1.00%
Thus, after spending $1,000 using your Scotiabank L'earn Visa Card, you start earning 1% in cash back and there is no limit.
Scotiabank L'earn Visa Car Rental Discounts & Other Benefits
When you rent a car at participating AVIS car rental locations worldwide, you can get discounts up to 20%.
The card works great for payments and is eligible for Apple Pay and Android Pay. It also works with Visa payWave and cardholders have access to thousands of Scotiabank ABMs.
In addition, you can add optional protection to the card (at a fee) if you so wish.
Downsides
This is an entry-level card for individuals who are looking for a credit card that requires minimum personal income and is easy to be approved for.
It does not offer any insurance coverage.
Scotia L'earn Visa vs. SCENE Visa Card
The SCENE Visa Card is Scotiabank's second student credit card. It offers 1 SCENE point per $1 spent on everyday purchases and 5 points per $1 spent at Cineplex theatres and Cineplex.com.
The Scotia SCENE Visa card is great for earning free movies and food/drinks at participating restaurants.
A free movie can be redeemed for 1,250 points (general admission or 3D movie tickets), while you get $10 off your bill participating restaurants in exchange for 1,000 points.
You can learn more about the SCENE Rewards Program here.
The L'earn Visa and SCENE Visa cards are similar with regards to having $0 annual fees and ease of approval.
New SCENE Visa cardholders get 1,250 bonus SCENE points after completing their first purchase.
To apply for either cards, you must:
Have a Canadian address
Not have declared bankruptcy within the last 7 years
Have reached the age of the majority in your province or territory i.e. 18 or 19 years or older
International students must have at least 6 months left on their student permit
Conclusion
The L'earn Visa card is one of Scotiabank's student cards and also works well for newcomers and foreign students who have no previous credit history.
For a higher rate of cash back rewards, the no-fee Tangerine CashBack Credit card or SimplyCash Card from AMEX work better.
Scotiabank L'earn Visa Card Review
Summary
The Scotiabank L'earn Visa card is one of two Scotiabank credit cards for students. This L'earn Visa card review covers what you need to know.
Pros
Easy to qualify for
Offers cash back rewards