The Scotiabank American Express card is one of three popular American Express cards offered by Scotiabank.
The other two are the Scotiabank Gold American Express card (best travel credit card in Canada) and the Scotiabank Platinum Express card.
The Scotiabank American Express card offers 1 Scotia Rewards point for every $1 you spend on everyday purchases (1% return), travel insurance benefits, and 5,000 bonus points ($50 value) when you spend $500 within your first 3 months.
Also, this card has no annual fees which makes it even more attractive.
This review of the Scotiabank American Express card covers its features, insurance coverage, downsides, and everything else you need to know.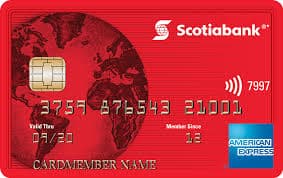 Summary of Features
No annual fee
Get a 5,000 bonus after spending $500
Earn 1 Scotia Rewards point per $1 spent
Travel emergency medical insurance
Trip interruption insurance
Travel accident insurance
Car rental collision/loss damage insurance
Price protection
Extended warranty and purchase security
Save up to 25% on car rentals
19.99% purchase APR and 22.99% APR for cash advances
Scotiabank American Express Card Benefits
1. No Annual Fee: When you consider that this card offers a competitive array of insurance benefits, the lack of an annual fee is surprising.
2. Sign-up Bonus: You receive 5,000 bonus points when you spend up to $500 in your first three months. This is equivalent to $50 in travel rewards.
3. Earn Scotia Rewards: Earn 1 point per $1 spent on eligible purchases. You can easily redeem your Scotia Rewards points for travel through Scotia Rewards Travel Service. There are no restrictions and you get a "best price guarantee" on airfare.
Apart from flights, you can redeem your points for thousands of other rewards and merchandise.
4. Comprehensive Travel Insurance with four types of coverage:
Travel emergency medical insurance up to $1 million per family member. The coverage applies to persons under age 65 for up to 8 consecutive days, and those who are 65 or older for up to 3 consecutive days.
Trip interruption insurance up to $2,500 per person and a maximum of $10,000 per trip. You must use your card to pay at least 75% of your trip expenses for this coverage to apply.
Travel accident insurance up to a maximum of $250,000.
Rental car collision/loss damage insurance with coverage for vehicles costing up to $65,000 and for up to 48 consecutive days.
5. Purchase Security and Extended Warranty: Your purchases are protected against damage, loss, or theft for the first 90 days. The manufacturer's warranty is also doubled for up to one additional year.
6. Price Protection: If the price of an item you buy with your card drops within 90 days of purchase, you can claim the difference…up to $500 per year.
7. Car Rental Discounts: Save up to 25% on car rentals at participating AVIS and Budget locations.
8. Other perks offered by the Scotiabank American Express card are:
American Express Invites
Travel discounts, offers, and privileges e..g. on vacation packages, cruise upgrades, and car rentals
Free supplementary cards
Without considering the travel insurance and other perks, and assuming you spend $1,500 per month using this card, your annual points are valued at around $230 using these numbers:
$250 on gas, $650 on groceries, $300 on dining and entertainment, and $300 on other expenses.
The travel insurance coverage offered by this card may eliminate your need for a premium travel credit card.
Scotiabank AMEX vs. Scotiabank Gold AMEX Card
The most popular Scotiabank AMEX card is the Scotiabank Gold American Express card.
The Scotiabank Gold comes with a $120 annual fee and a host of premium benefits including:
50,000 bonus points ($500 value).
No foreign transaction fee (savings of 2.5%).
5x points on groceries, dining, and entertainment; 3x points on gas and daily transit; 1x point on everything else.
Comprehensive travel insurance (8 types) including travel emergency medical for up to 25 consecutive days if you are under 65.
Access to AMEX offers, AMEX Front of The Line, and AMEX Express Invites.
Discounted Priority Pass Membership for access to over 1,200 VIP lounges around the world.
If you are looking for a premium travel credit card, the Scotiabank Gold American Express definitely takes the spot. However, note that it will cost you $120 in annual fees.
Read my detailed Scotiabank Gold American Express Review.
Is The Scotiabank AMEX For You?
This card combines no annual fees with an impressive list of travel insurance benefits. If you do not want to shell out an annual fee but want to earn travel rewards, the Scotiabank American Express is worth checking out.
Scotiabank American Express Card Review
Summary
The Scotiabank American Express card is an excellent no-fee travel rewards credit card. See how it compares to the Scotiabank Gold AMEX and how you can get a $50 bonus.