Rogers Bank offers three credit cards in Canada: Rogers Platinum Mastercard, Rogers World Elite Mastercard, and the Fido Mastercard.
While much has been said about the recent changes to benefits offered by all three Rogers Credit Cards, the reality is that the cards remain competitive given their no-annual fee status.
The Rogers Platinum Mastercard offers a decent 1% cash back on everyday purchases, and those looking to avoid the 2.5% foreign currency transaction fee, would love that it offers 3% on all purchases in U.S. dollars.
This Rogers Platinum Mastercard review covers what you need to know before you apply.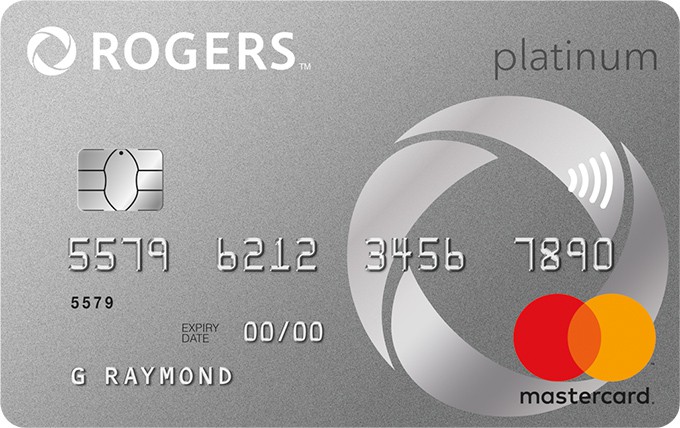 Rogers Platinum Mastercard – At a Glance
$0 annual fee; free supplementary cards
19.99% interest on purchases and 22.99% for cash advances
3% unlimited cash back on U.S. dollar purchases
1% unlimited cash back on all other purchases
$25 welcome bonus when you meet the eligibility requirements
Easy cash back redemption starting at $20
Rogers Platinum Mastercard Benefits
No Annual Fee: This card has no annual fees and is worth looking at if you are in the market for a no-fee cash back Mastercard.
1% Unlimited Cash Back Rewards: The flat 1% cash back on everyday purchases is attractive since you do not need to overthink where and when you earn cash back. It's also unlimited with no annual spending restrictions.
3% Unlimited Cash Back Rewards on U.S. Purchases: USD purchases earn cash back at a 3% rate. This cash back offer used to apply to all foreign currency purchases, however, it now applies to only U.S. dollar spending which is a bit of a downer.
$25 Welcome Cash Bonus: New cardholders who make their first purchase within 3 months of receiving their card get $25 in bonus cash back.
Easy Cash Back Redemption: You are able to cash out your earnings to pay for purchases wherever Mastercard is accepted worldwide using the Mastercard pay with Rewards app. The minimum redemption amount is $20.
Mastercard Benefits: Mastercard is accepted at 44 million locations around the world. As a Mastercard cardholder, you also enjoy their Zero Liability protection and contactless payment capability.
Downsides
The Rogers Platinum Mastercard does not have a lot of downsides.
If you use your credit card to make purchases outside of the United States, other cards on my list of no foreign transaction fee credit cards work better.
These cards offer 0% FX fees and you save the 2.5% fee as opposed to getting a net benefit of 0.50% when you use the Rogers Platinum Mastercard.
Also, the Rogers Platinum card does not offer any insurance coverage, although you can choose to add-on balance protection insurance, travel insurance, and InfoProtector 360 for a fee.
How To Sign Up For The Rogers Platinum Mastercard
You can apply for this card here.
To qualify, you should be at least the age of the majority in your province of residence and not have filed for bankruptcy in the last 7 years.
If your application is approved, you should receive a welcome email within 2-3 business days.
For inquiries about the status of your application, call 1-855-775-2265 (option 3).
How To Redeem Your Cash Back Rewards
Rogers Bank has simplified how to redeem your cash back easily. You don't need to wait for a year to apply cash back as a statement balance
1. Use the Mastercard Pay with Rewards app as follows:
Download the app from the App Store or Google Play
Manually redeem cash back to pay for purchases completed in the past 90 days, or
Automatically redeem cash back on your next transaction
2. You can also redeem your cash back online. Sign in to your Rogers Bank online account and choose the Pay with Rewards option.
Rogers Platinum vs Rogers World Elite Mastercard
The Rogers World Elite Mastercard is one of Rogers Bank's no-fee premium credit cards. It offers 3% unlimited cash back on all U.S. dollar purchases and 1.5% unlimited cash back on everything else.
Compared to its Platinum counterpart, the World Elite provides an extra 0.50% cash back on regular purchases (1.50% vs 1.00%).
The card also offers:
Comprehensive travel insurance including travel emergency medical, rental car collision/damage, trip interruption, an trip cancellation
Complimentary membership in Mastercard Airport Experiences provided by LoungeKey
Free Boingo Global Wi-Fi
Purchase protection and extended warranty
The Rogers Platinum Mastercard does not offer insurance coverage as a part of its standard package.
While the Rogers Platinum Mastercard has no minimum income requirement, you must have a personal income of at least $80,000 (or $150,000 for a household) to be eligible for the Rogers World Elite Mastercard.
Both cards do not have an annual fee and up to nine additional cards are free.
Finally, both cards offer a $25 welcome bonus when you use your card within 3 months of receiving it.
Is the Rogers Platinum Mastercard for You?
The no-fee Rogers Platinum Mastercard receives a positive review. if your personal income is $80,000 or higher, you will get more benefits from the Rogers World Elite Mastercard.
Alternatives to these Rogers cards if you do not want to pay FX fees include:
Home Trust Preferred Visa: Has no annual fees, $0 foreign currency transaction fees, and you earn 1% cash back.
Brim Mastercard: Brim Financial offers three Mastercards that waive the foreign currency transaction fee plus cash back rewards. You can get more details about them in this Brim Financial World Elite Mastercard review.
For competitive cash back rewards, take a look at the Tangerine Money-Back Mastercard. It has no annual fees and you earn up to 2% unlimited cash back.
Rogers Mastercard FAQ
How do I activate my Rogers Mastercard?
To activate your card, visit rbaccess.rogersbank.com to register your online account. Go to the "I want to…" section on your 'My Account' page and click on "Activate card" to enter the required details. You can also activate your card by calling 1-855-275-2216.
How do I pay my Rogers Mastercard balance?
You can pay your Rogers credit card statement through online banking, in-person at your bank, pre-authorized debit from your chequing account, and by sending a cheque to Rogers bank, P O Box 4022, Station A, Toronto, ON M5W 0G7. Payments to your account may take 1-5 business days before it is processed.


Rogers Platinum Mastercard Review
Summary
Rogers Platinum Mastercard is one of three credit cards issued by Rogers Bank in Canada. This Rogers Platinum Mastercard review covers what you need to know.