A successful investment journey starts with choosing a great investment broker and investing in line with your risk tolerance, investment objectives, and time horizon.
Questrade and Scotia iTrade are some of Canada's most popular online brokerage platforms you can use to begin your investing journey.
Both offer excellent features and benefits to DIY investors but also differ significantly in some aspects you can take advantage of to meet your investment goals faster.
This Questrade vs Scotia iTrade comparison walks you through their account types, investment products, trading fees, minimum investment, and more so that you can choose the one that fits your investment needs.
Questrade Overview
Questrade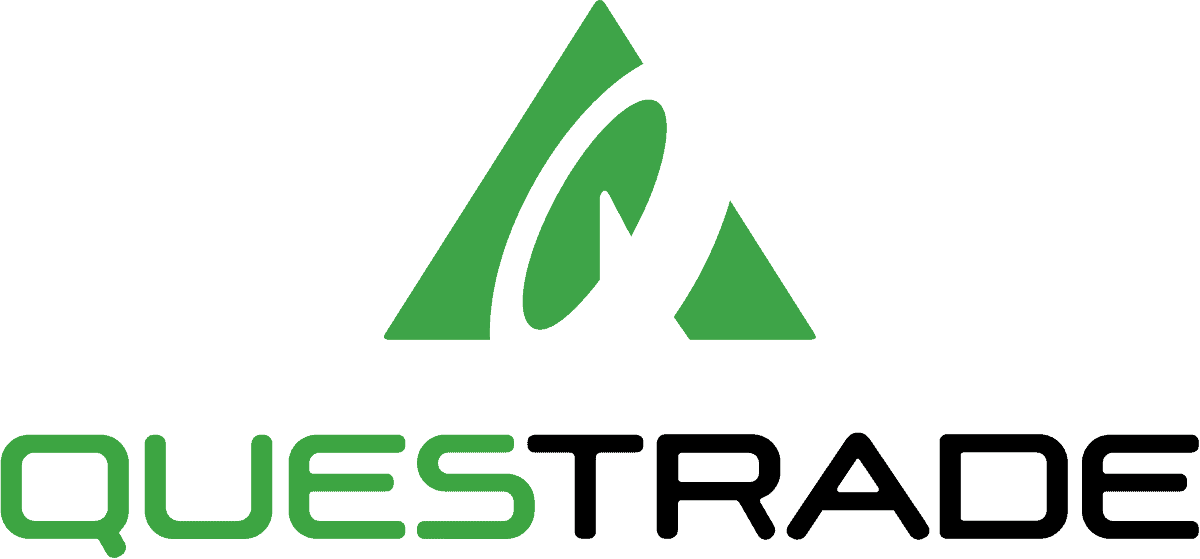 On Questrade's Website
Fees: Buy ETFs commission-free and stocks at $0.01 per share
Account minimum: $1,000 to start trading
Promotions: Get $50 in free trades
Founded in 1999, Questrade is an independent online discount brokerage platform based in Toronto.
The platform boasts $30 billion in assets under management, and investors definitely see value in its offerings, with over 250,000 investment accounts annually.
It allows self-directed investors to take control of their investment portfolios by offering different account types and investment products, low trading fees, commission-free ETFs, trading platforms & tools for both new and advanced traders.
So if you are a hands-on, DIY investor who loves to trade different securities actively and remain in control of your portfolio, Questrade can help you cut fees and maximize returns.
New and hand-off investors can also use Questwealth, a Questrade management investment service that invests and manages your portfolio on your behalf at a fee.
Scotia iTrade Overview
Scotia iTrade
On Scotiabank's Website
Fees: Up to $9.99 per trade or $4.99 for active traders
Account minimum: Fees on accounts under $10,000
Promotions: Sometimes available
Scotia iTrade is the online brokerage arm of Scotiabank, one of the top-five Canadian banks founded in 1832. It was launched in 2009 following the purchase of E*Trade Canada in 2008.
The do-it-yourself online brokerage platform allows self-directed investors to take control of their investment portfolios with various investment accounts, products, and trading platforms.
It also stands out as one of Canada's few online trading platforms to offer commission-free ETFs, alongside Wealthsimple Trade and Questrade.
However, its flat-trading fees run high compared to independent discount brokers in the same league, which may be a turnoff to cost-conscious investors.
Learn more in this review of Scotia iTrade.
Questrade vs Scotia iTrade: Account Types
Both Questrade and Scotia iTrade offer access to registered, non-registered and non-personal accounts for investment. Both brokers offer almost similar accounts.
Questrade and Scotia iTrade registered accounts include:
Tax-Free Savings Account (TFSA)
Registered Retirement Savings Plan (RRSP)
Registered Education Savings Plan (RESP)
Registered Retirement Income Fund (RRIF)
Their non-personal accounts include:
Investment clubs
Corporate, partnerships, and sole proprietorship
Trust accounts
Margin accounts
Questrade vs Scotia iTrade: Investment Products
When choosing an online brokerage platform in Canada, you need to make sure that you'll get all the products you want to invest in on the platform so that you can easily manage your portfolio in one place.
Both brokers offer similar products; however, Questrade offers more asset options than Scotia iTrade.
Investment products for both platforms include:
Bonds
Stocks
Guaranteed investment certificates (GICs)
Mutual funds
Exchange-Traded funds (ETFs)
Questrade supports extra assets, including International Equities, IPOs, precious metals, Foreign Exchange and CFDs.
Questrade vs Scotia iTrade: No-Commission ETFs
Platforms like Robinhood popularized fee-free trading in the US, which is slowly crossing borders to Canada. That has made no-commission trading a significant factor when sifting through online brokerages in Canada.
Both Questrade and Scotia iTrade offer no-commission fee ETFs.
For instance, Questrade waives trading fees for all ETF buy orders on the platform. But you'll incur a trading fee of 1 cent per share and $4.95-$9.95 per trade on sale orders.
Scotia iTrade also allows you to purchase 40+ ETFs at no commission when you execute your trade online or through TELE-TRADER, and hold the ETF for at least one business day.
Standard fees apply when you sell.
Questrade vs Scotia iTrade: Trading Fees
Trading fees are arguably the most important factor to consider when choosing a stock trading platform. Even a few cents difference in trading commissions make a huge difference to your returns in the long run.
Scotia iTrade standard trading commissions stand at $9.99 per equity trade and are among the highest in the industry. Questrade charges slightly lower trading commissions at $9.95/trade.
Both platforms also offer discounted active trader fees. Scotia iTrade active trader fee is $4.99/trade, while Questrade is relatively cheaper at $4.95/trade.
Related: Motley Fool Canada Review.
Questrade vs Scotia iTrade: Admin & Other Fees
Questrade does not charge maintenance fees. However, Scotia iTrade charges account maintenance and admin fees as follows:
$25 per quarter for non-registered accounts with a balance of $10,000 or less.
$100 per year on registered accounts when the balance is less than $25,000.
$60 unclaimed account fee
$300 CCPC set-up fees.
$100 CCPC annual fee
Both platforms charge a fee of $150 when transferring your account in full to another financial institution.
Questrade vs Scotia iTrade: Trading Platforms
Questrade and Scotia iTrade offer mobile apps, desktop web platforms, and trading tools. Scotia iTrade offers the following trading platforms:
Scotia Online: The standard interface that integrates with your banking account. Trading tools include stock screeners, charting tools, research reports, and sustainable investing.
Scotia iTrade mobile app: This allows you to buy and sell stocks and ETFs on the go.
Scotia iTrade Flight Desk platform: Excellent for experienced and active traders. It offers access to powerful options trading tools, level 2 real-time streaming quotes, in-depth analysis, advanced strategies, and customizable layouts.
Questrade offers the following trading platforms and tools:
Questrade Trading: Browser-based trading platform that offers a built-in Learning Mode and tools to help you learn, research stocks, trade, manage your account and track performance.
Questrade Edge: A downloadable web and desktop platform that offers advanced trading tools, including advanced order types, customizable options trading dashboards, and research tools from industry leaders, like Trading Central and Morning Star.
QuestMobile: Available for both iOS and Android devices. Allows you to research and trade securities, move money, and track your portfolio's performance on the go.
Questrade Global: This allows you to quickly make FOREX and CFD trades on international markets.
Questrade vs Scotia iTrade: Minimum Investment
High account minimums can be a hurdle for investors looking to start small and invest their pocket change, hence the need to consider minimum investment requirements when choosing the best Canadian online brokerage platforms.
To that end, Questrade has a minimum investment of $1,000, while Scotia iTrade does not have a minimum investment requirement.
Customer Service
Scotia iTrade offers customer service Monday to Friday from 8 am to 8 pm. Services are accessible via phone or email.
Questrade offers customer service via chat, telephone, and email. Their customer reps are available Monday to Friday from 7:30 am to 8:pm.
Security
Both Scotia iTrade and Questrade are regulated by the Investment Industry Regulatory of Canada (IIROC) and are members of CIPF.
Thus, you can sleep tight at night knowing your account is insured against insolvency up to $1 million.
In addition, Questrade protects your account with an additional $10 million in private insurance, while Scotia iTrade offers a security guarantee against unauthorized online transactions. You'll get 100% compensation when funds or securities are unlawfully removed from your account.
Promotions
Questrade offers $50 in free trades if you open an account and invest at least $1,000.
As of this writing, Scotia iTrade did not seem to have a promotional offer. You can keep up with the various brokerage promotions available here.
Scotia iTrade vs Questrade vs TD Direct Investing
| | | | |
| --- | --- | --- | --- |
| | Scotia iTrade | TD Direct Investing | Questrade |
| Stock trading fees | $9.99 | $9.99 | $4.95 – 49.95 |
| Option fees/contract | $9.99 + $1.25 | $9.99 + $1.25 | $9.95 + $1 |
| Commission free-ETFs | Purchase 40+ commission-free ETFs. Pay $9.99 when you sell. | None | Free to buy. $4.95-$9.95 per "sell" trades |
| Trading commission discount | $4.99/trade for active stock traders | $7.0/trade for active stock traders. | $4.95/trade for active stock traders. |
| Types of accounts | TFSA, RRSP, RRIF, RESP, non-registered accounts, etc. | TFSA, RRSP, RESP, RRIF, DPSP, LIRA, margin, etc. | TFSA, RRSP, RESP, RRIF, LIRA, and non-registered accounts incl. cash, margin, trust, corporate, investment club, |
| Minimum investment | None | None | $1,000 |
| Maintenance fee | $25/quarter for non-registered accounts if balance is less than $10,000. $100 for registered accounts if balance is less than $25,000 | $25/quarter if balance is less than $15,000. | None |
| Platform | Web and mobile app | Web and mobile app | Web, desktop, and mobile apps. |
| Promotion | N/A | N/A | Fund with $1,000 to get $50 in free trades. |
Questrade vs. Scotia iTrade: Conclusion
Questrade and Scotia iTrade are among the best trading platforms in Canada that make investing for Canadians pain-free with beginner/advanced trading interfaces and tools.
However, Questrade wins this comparison with its lower trading fees, zero maintenance fees, and trading tools for advanced traders.
Related: Best Investment Apps for Students.