Should you take CPP early at age 60, wait until the standard retirement age of 65, or even delay until 70?
Deciding when to take the Canadian Pension Plan (CPP) is important to seniors seeking to maximize their retirement benefits.
Depending on your health, financial situation, and retirement plan, taking CPP at 60 may make the most sense. Or, you may be better off waiting until later to maximize your lifetime benefits.
This article covers the pros and cons of taking CPP at age 60, how much you can expect, and how to apply.
Should You Take CPP at Age 60, 65, or 70?
How much CPP you get depends on the age you start your pension, how much and for how long you contributed, and your average earnings.
In general, to get the maximum CPP, you must have contributed the maximum for at least 39/40 years between age 18 and 65.
The Canadian government is clear on what happens when you take CPP at age 60, 65, or 70.
Age 60: CPP benefits decrease by 0.6% each month or 7.2% per year. This means that at age 65, you will have a permanent 36% decrease in benefits (assuming you start taking CPP at age 60).
Age 65: This is the standard retirement age in Canada, and you receive the full CPP pension you qualify for.
Age 70: Delaying CPP past age 65 will result in a 0.7% increase each month or 8.4% per year. This means that at age 70, you will have a permanent benefit increase of 42% (assuming you wait until age 70 to start taking CPP).
To put this into perspective, the maximum monthly CPP benefit in 2023 is $1,306.57.
Based on the maximum CPP benefit, you could receive:
$836.20/month if you start collecting at age 60
$1,306.57 if you start collecting at age 65
$1,855.33 if you start taking CPP at age 70
You can estimate your CPP benefits using the CPP Statement of Contribution provided on your My Service Canada Account (MSCA).
So, is it better to delay CPP to get a larger benefit?
Not necessarily. I explain further below.
Pros of Taking CPP at 60
Here are some reasons why you may be better off taking CPP earlier.
1. Meet income needs: If you have retired (i.e. stopped working) and need an extra source of income to survive, the CPP is an easy one to tap into. You could also use your TFSA or RRSP to cover shortfalls in income, but if they aren't an option or are not adequate, taking CPP benefits as early as age 60 can help increase cash flow.
2. Shortened life expectancy: An increase in future CPP benefits when you delay may not be worth it if you have a shorter-than-average life expectancy. Maybe you have been diagnosed with a severe illness or have a family history of poor health.
You should consider taking CPP early if you don't expect to live as long as the Canadian average, which is around 80 years for men and 85 years for women (at age 60).
If you qualify for CPP disability based on your mental or physical health, you could qualify for the CPP disability benefit while under age 65 (higher than the CPP retirement pension).
Use a CPP breakeven calculator to see the benefits you get in total at each age. You can also estimate using the CPP breakeven chart below.
3. No longer working: You no longer make CPP contributions when you stop working. While some zero or low-income years can be dropped when calculating your CPP entitlement, there is a cap (17% general drop-out rate).
If you retire at age 60, you could drop up to 7 years of low earnings. If the gap between age 60 and 65 takes you over this limit, it may make sense to take CPP early at 60 to avoid further decreases in monthly CPP benefits.
Drop-out months based on the general dropout provision and the age you start collecting CPP are:
| | | |
| --- | --- | --- |
| Start CPP Benefit | Maximum CPP Contribution Months | Maximum General Dropout Months* |
| 60 years | 504 | 86 |
| 61 years | 516 | 88 |
| 62 years | 528 | 90 |
| 63 years | 540 | 92 |
| 64 years | 552 | 94 |
| 65 years | 564 | 96 |
*Calculated as 17% of the maximum contributory period in months.
This does not include other dropout provisions, such as for child-rearing and employment income after 65.
Using the table, a retiree at 60 may qualify to drop up to 86 months or 7.16 years.
A retiree at age 65 can drop up to 8 years of their lowest earning years when calculating their CPP retirement benefit.
4. Opportunity cost of investments: If you are an investing guru who steadily earns 10%+ returns per year on your investments, you could decide to take CPP early so you can invest the money and grow your portfolio.
If you ask me, I'd say not many people can replicate this feat year in, year out. And you are most likely better off with the guaranteed 7.2% annual return that's being offered by the Canadian government when you delay taking CPP between age 60 and 65.
Another argument that has to do with investments and whether to delay or take CPP early has to do with the state of the stock market and your retirement portfolios.
If your TFSA or RRSP portfolio is down due to a stock market slump, you may want to wait for the market to recover (so you don't lock in losses by selling) and rely on CPP income in the interim.
5. Consider GIS eligibility: The Guaranteed Income Supplement (GIS) is an Old Age Security (OAS) monthly benefit paid to eligible low-income seniors.
If you are likely going to qualify for GIS and other income-tested retirement benefits, it may make sense to take CPP early.
Delaying CPP until 65 to get the full pension could result in a higher income and GIS clawback.
This loss of non-taxable GIS income via clawback may not be fully offset by the increase in taxable CPP benefits.
If you are expecting significant increases in income after age 65, you could take CPP early to minimize taxes and the OAS clawback.
6. Retirement plan: A carefully crafted retirement plan may show that taking CPP earlier is better. For example:
Higher income needs early in retirement. You may plan to travel and spend more during the early years of retirement and slow things down in later years.
Income and estate planning. Perhaps you want to take as much of the CPP as possible so you can leave other investment assets to your heirs.
7. Can work if you choose: While taking CPP at 60, you can continue to work and contribute to the plan. These contributions go towards post-retirement benefits and increase your CPP payments.
Cons of Taking CPP at Age 60
The disadvantage of taking CPP at 60 are:
Lower Lifetime benefits: You get a permanent 36% pay cut out than if you had waited until age 65. If you end up living past the 80s, the money you end up leaving on the table will be significant.
Longevity risk: There is a good chance you could live longer than your expectations. If you live past 74 years, you may lose out on benefits by taking CPP at age 60.
You will also be stuck with a pension that's up to 36% lower for your lifetime.
Guaranteed return: There is a guaranteed 7.2% return (inflation-adjusted) when you take CPP at age 65 instead of age 60.
And, if you wait until age 70 before starting, you enjoy a 42% increase in benefits, or a 122% increase compared to what you get at age 60.
These rates of return are difficult to replicate if you manage your own money.
How Much CPP Will I Get at 60?
The maximum CPP in 2023 is $1,306.57 per month or $15,678.84 per year.
If you take CPP at age 60, you get a 36% reduction and will receive $836.20 per month or $10,034.40 per year.
This calculation assumes you qualify for maximum CPP benefits.
In many cases, seniors are not eligible for maximum CPP and receive a much lower amount.
As of this writing, the average monthly CPP paid in 2023 is $717.15.
CPP Breakeven Chart
Let us look at potential break-even points when you take CPP at age 60 or wait until age 70.
Example: Using a hypothetical maximum monthly CPP benefit of $1,000 at age 65. If you decide to collect your pension at age 60, you will get $640/month (calculated as $1,000 x 64% → reflects the full 36% reduction in benefits).
If you decide to collect CPP benefits at age 70, you will get $1,420/month (calculated as $1,000 x 142% – reflects the full 42% increase in benefits).
The other ages are calculated by considering a cumulative 7.2% reduction each year (60-64 years) and an 8.4% increase each year (66-70 years).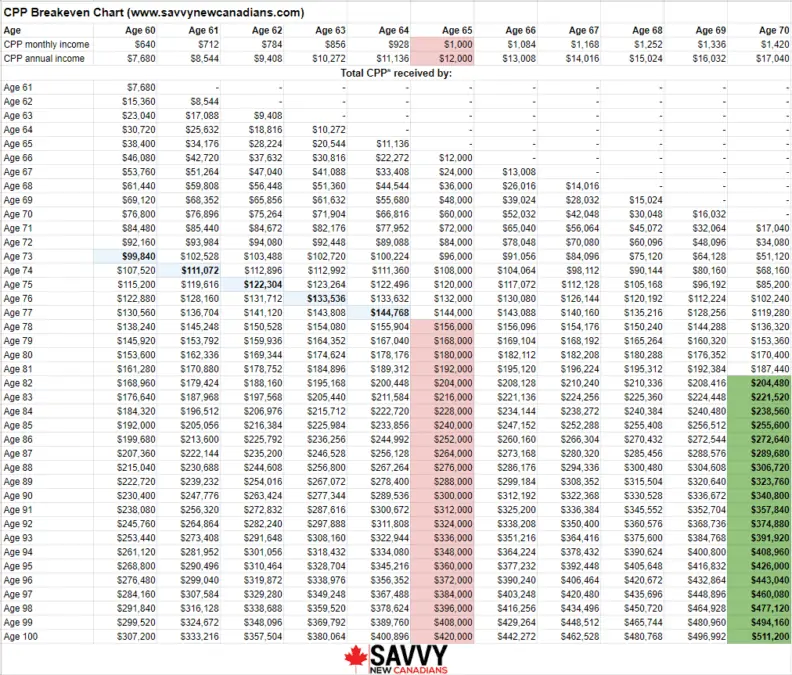 * These figures do not account for inflation and the $1,000 CPP amount is hypothetical.
You can also download a copy of this chart in PDF format here to get a better view.
Colour Legend:
Light Blue: Shows the age range and cumulative amounts at which you break even when you collect CPP earlier than the standard retirement age.
Light Red: This shows the ages at which collecting CPP at 65 results in a higher total benefit.
Light Green: Shows ages at which you receive a higher total amount if CPP benefits commence at age 70.
Summary: The breakeven point when you take CPP at age 60 is between age 73 and 74. If you live past 74 years, you may lose out on benefits if you take CPP earlier at age 60.
| | |
| --- | --- |
| CPP Starting Age | Breakeven Age (approx.) |
| 60 years | 74 years |
| 61 years | 75 years |
| 62 years | 76 years |
| 63 years | 77 years |
| 64 years | 78 years |
A retiree who collects CPP at 60 will have already received $38,400 by age 65 and $76,800 by age 70.
If you live past age 78, you will maximize lifetime pension income by collecting CPP starting at age 65
Seniors who start taking CPP at age 70 receive $110,400 more if they live until age 90 (compared to starting at age 60). If they start taking CPP at age 65 and live until age 90, they will collect $69,600 more (compared to starting at age 60).
Again, it is worth noting that these figures are based on a $1,000 monthly CPP at age 65. The current maximum figure for 2023 is higher at $1,306.57/month, but the average senior receives only $717.15/month.
How To Apply For CPP at Age 60
If you are at least 60 years old and have contributed to the CPP during your working years, you can apply to start receiving your pension.
Apply online via your MSCA or complete the paper application and mail it to a Service Canada office.
Online applications are processed faster, and you receive a decision between 7 and 14 days.
Paper applications can take up to 120 days.
Collecting CPP at Age 60 While Working
You can continue to work past age 60 while getting your CPP retirement pension.
Between ages 60-65, you must continue contributing to the CPP. These contributions make you eligible for post-retirement benefits. The current maximum post-retirement at age 65 is $36.26 per month.
If you continue to work between the ages of 65-70, CPP contributions are voluntary. After age 70, CPP contributions stop even if you keep working.
Is It Better To Take CPP at 60 or 65?
The best age to start taking CPP benefits depends on many factors.
To get the most out of your retirement benefits, you should consider working with a licensed financial planner.
Take CPP at Age 65 or 70?
While most Canadian retirees take CPP early, you may consider delaying until after 65 to get the maximum possible.
Going back to the scenario I used earlier, and the chart, the breakeven points after age 65 are as follows:
| | |
| --- | --- |
| CPP Starting Age | Breakeven Age (approx.) |
| 66 years | 78 years |
| 67 years | 79 years |
| 68 years | 80 years |
| 69 years | 81 years |
| 70 years | 82 years |
Related: