The Plastk Secured Credit Card is designed to help you rebuild your credit score and earn rewards while doing so.
A secured credit card functions like a regular credit card for the most part. However, after opening an account, you pay a cash or security deposit equivalent to your credit limit, and this serves as collateral to limit the risk faced by the lender.
If you have a bad or no credit score and are having difficulties qualifying for credit, a secured credit card could work for you.
Your transactions activity is reported to the credit bureaus, which helps you build or rebuild your credit as long as you make payments on time.
Also, when you close your account, your security deposit is refunded if your account is in good standing.
This review of the Plastk Secured Visa* Card covers its benefits, fees, welcome offer, and why it is one of the best secured credit cards in Canada.
Plastk Secured Credit Card – At a Glance
6,250 bonus points ($25 value)
Annual fee: $48
Monthly maintenance fee: $6
Purchase Interest: 17.99%
Cash advance APR: 21.99%
Free monthly credit score
Minimum security deposit: $300
Maximum security deposit: $10,000
Offers rewards points on everyday purchases
Grace period: 25 days for purchases; 3 days for cash advances
The mobile app is available on the App Store and Google Play
Who is Plastk Financial?
Plastk Financial Inc. is a financial technology company founded by Motola (Mo) Omobamiduro in 2019.
The company aims to revolutionize the credit card rewards market and recently launched Canada's first and only secured credit card with a rewards program.
Plastk is a preferred partner of the Vancouver Canucks.
Plastk Secured Visa* Credit Card Benefits
Build Credit Score: With the Plastk Secured Credit Card, you can build or rebuild your credit score and improve your finances simultaneously. A very good to excellent credit score enables you to qualify for lower interest rates when you apply for a personal loan, mortgage, and other credit facilities.
Free Credit Score: As part of your Plastk package, you get a free credit score check every month. This makes it easy to track your progress.
Earn Plastk Rewards Points: Users earn rewards points on purchases made using this card. You can redeem your points for merchandise, hotel and travel purchases, gift cards, charitable donations, or as a statement credit to pay your balance.
Welcome Bonus and Offer: You receive 6,250 bonus points after being approved for a Plastk Secured Visa* Card (limited-time offer). Since 2,500 points are equivalent to $10, the sign-up offer is worth $25. You can redeem the bonus after 3 months if your account remains in good standing. Also, new cardholders enjoy 0% APR on purchases for the first 3 months.
Acceptable Worldwide: The card is accepted anywhere Visa is accepted worldwide – at more than 200 million merchants and retailers.
Mobile Convenience: The Plastk App makes using your card, earning rewards, and monitoring your credit score a breeze.
Easy Approvals: Bad credit score? No problem. This secured card caters to all types of credit profiles.
How It Works
After you apply for a Plastk Secured Visa* Card and are approved, you will need to provide a security deposit.
The minimum security deposit is $300; however, you can request a credit limit of up to $10,000. You can easily send your security funds using Interac e-Transfer.
After meeting all the requirements, you can expect to receive your card within 10-15 business days.
Your payment history is reported to the credit reporting agencies every month.
Downsides of the Plastk Secured Visa Card
Some things to note when applying for this card include:
The fees. It has a $48 annual fee, and $6 monthly maintenance fees also apply. In total, you will pay $120 in standard fees for 1 year.
While you will get your security deposit back when you close an account that is in good standing, it usually takes between 7-10 business days or longer if a foreign transaction has not been settled.
If you are planning on using this card to make purchases abroad, its foreign transaction fee is 3.50% which is a bit higher than the average 2.50%.
Lastly, this card is not currently available in Quebec.
Is The Plastk Secured Credit Card For You?
The Plastk Secured Credit Card is on my list of the best bad credit score card offers available right now in Canada.
If your credit score needs a tune-up and you are having difficulties qualifying for an unsecured credit card, this card could be useful.
Add on its rewards program, access to free credit scores, and a versatile mobile app, and this card is worth checking out.
Alternatives to the Plastk Secured Card
The Neo Secured Card is a good alternative to the Plastk Secured Visa Card. Here's what it offers:
Neo Secured Credit
Best secured credit card for bad credit
Annual fee: $0
Rewards: Earn up to 15% cashback on first purchases at eligible partners, 5% cash back at partner stores, and 0.5% unlimited cashback on everything else.
Welcome offer: $25 bonus
Interest rates: 19.99%-22.99% for purchases, 22.99%-28.99% for cash advances.
Minimum income requirement: None
Recommended credit score: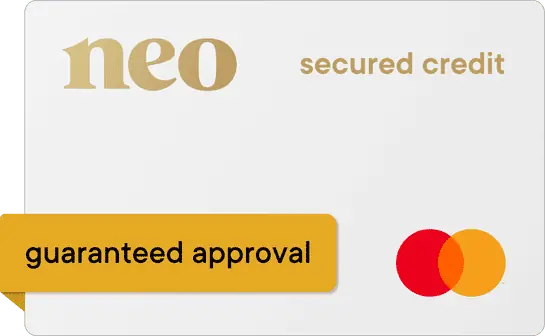 On Neo Financial's website
*Visa International and Digital Commerce Bank do not provide any of the services or benefits related to the Plastk rewards program. The terms and conditions applicable to these services or benefits are contained in the agreement between you and Plastk Financial & Rewards Inc. All credit Issued by Plastk Financial & Rewards Inc. This card is owned and issued by Digital Commerce Bank, pursuant to license from Visa International. Use of the card is governed by the agreement under which it is issued. The Visa Brand is a registered trademark of *Visa International.