Paymi is a Canadian cash back app that puts money back into your pocket when you shop online or in-store. The Paymi app is similar to the Drop Rewards app, which is available in Canada and the United States.
When you sign up for a new account and link in your debit and credit cards, cash back is automatically credited to your account when you purchase at participating retailers. There's no need to upload your receipt, track your spending, or clip coupons.
You also receive a $5 bonus on sign-up.
Paymi is simple to use, and you get paid without much effort. This Paymi review covers what you need to know about the rewards app.
What is Paymi?
Paymi is a "Shopper marketing program" that rewards you when you shop at select retailers. The app came onto the loyalty rewards scene in 2018 and has since partnered with CIBC and many other brands and retail stores.
Paymi is free to join (https://app.paymi.com) and is available in the App Store and Play Store.
How Does The Paymi App Work?
If you have used Drop, then using Paymi will be familiar as it is very similar in operation other than a few differences.
When you sign up, you will be asked to connect your bank cards. This process is seamless and involves signing in using your online banking details. All the main banks are supported.
The app tracks your transactions and will credit you automatically when you shop. The cash back you earn via Paymi is in addition to whatever cash back or points rewards your credit/debit card is already paying you.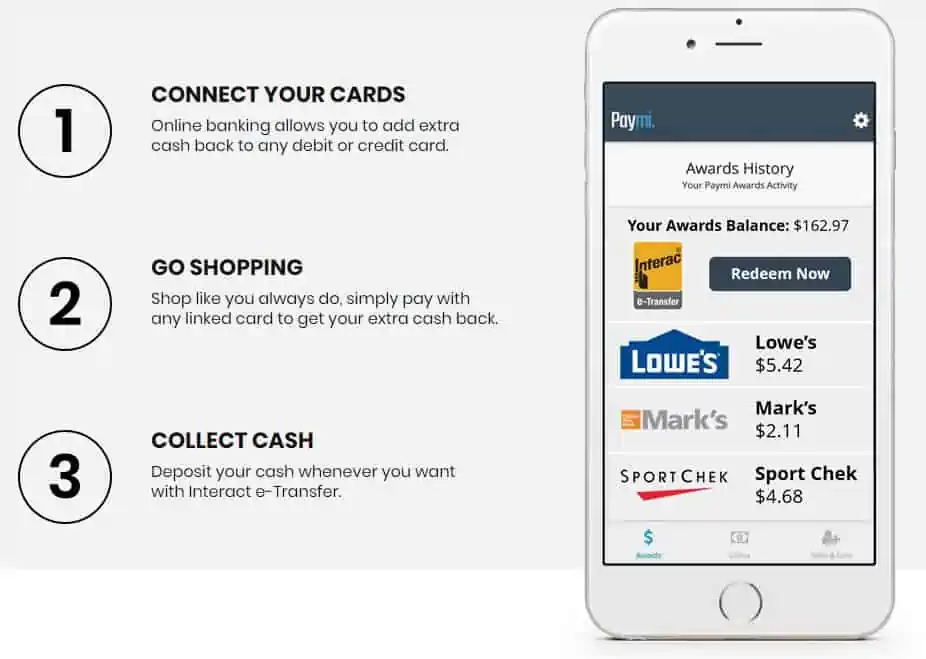 Paymi Partner Brands and Retailers
Paymi has partnered with various brands and retailers so that you earn whenever you shop at these places.
CIBC: You get double the cash back when you make your purchase using a CIBC debit or credit card. CIBC's business and U.S. dollar accounts or cards are not eligible for this offer.
Retailers: Paymi has partnered (currently or in the past) with retailers, including Burger King, Lululemon, Zara, Lowe's, Swiss Chalet, Mark's, Leon's, SportChek, Aldo, Walmart, Starbucks, Sobey's, Contiki, Lion World Travel, Insight Vacations, Milestones, Winners, Netflix, Spotify, Hudson's Bay, Trafalgar, Ren's Pets, Old Navy, Sephora, WineOnline.ca, Indochino, Inabuggy, etc.
How To Redeem Your Paymi Cash Back
Generally, cash back rewards appear in your account within 1-2 business days. You can withdraw funds and deposit them in your bank account using Interac e-Transfer.
For withdrawals of $25 or more, there is no fee. However, if you want to cash out before your account reaches a $25 balance, a $1.50 fee is applicable.
Is Paymi Safe?
When an app connects to my bank account, I'm concerned about what they have access to and if the rewards being offered are worth giving up my private information.
Using CIBC as an example, when you log in to the Paymi app, they share your name, year of birth, postal code, gender, email address, and transaction history.
Your transaction history helps inform Paymi so they can send you relevant cashback offers and also award you cash back when you make an eligible purchase.
That said, Paymi does not get access to your bank account or login credentials and cannot withdraw money from your account. They also say they are committed to protecting your personal information.
I like that CIBC has a partnership with the company, which to me, means that they are a legit business. However, at the end of the day, you have to decide how comfortable you are with sharing information, how much information, and to whom.
Is Paymi Worth It?
In addition to Paymi, I use many other cash back apps to save money when I shop with either debit or cash. Some of the benefits of Paymi include:
Free cash back: The app is free to join, and the 1% to 30% (Lowe's had a 30% one recently) money back is free money on purchases you will make anyway.
Easy to use: You do not need to keep your receipts. The cash back is automatically tracked and credited.
Paymi referral code: When your friends sign up using your unique Paymi referral code or link, you receive a $5 bonus per referral.
Double up rewards: You can double up on cash back rewards by combining Paymi with another app (such as Drop and Caddle), while also earning whatever rewards are offered through your credit card loyalty program.
Downsides of Paymi
One downside of the app is that there are limited cash back options.
The participating retailers and offers change, and unless you shop the available offers, you will not earn cash back.
If you are spending cash (debit), the KOHO app pays you cash back on all purchases and is a better option.
Paymi vs. Rakuten
Rakuten (formerly eBates) automatically tracks your online purchases and credits your balance with cash back earned through offers and discounts.
It is a lot more popular than Paymi and has partnerships with more than 750 retailers in Canada and 3,000+ in the U.S.
To earn with Rakuten, sign up for a free account and visit the site before shopping at your favourite retailer's online store.
New Rakuten users get a $30 bonus after completing their first online purchase of $30 or more via the site. Your earnings are paid out quarterly through PayPal, cheque, or Amazon gift cards.

$30 sign-up bonus when you spend at least $30
Earn up to 40% cashback
Features 3,000 stores and retailers
Redeem earnings by PayPal & check
Paymi vs. KOHO
Paymi and KOHO are similar in that you earn rewards automatically when you spend. And, for KOHO, cash back is up to 5%.
In addition to offering cash back, KOHO users can earn interest on their balance and get access to a free budgeting app.
Get a $20 bonus when you open a free KOHO account and make your first purchase.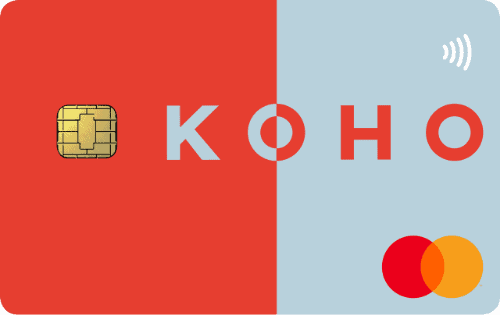 $20 sign up bonus after first purchase (use promo code CASHBACK)
Earn up to 5% cash back
Up to 2.00% savings interest on your balance
Unlimited Interac e-Transfers
Overall, my review of the Paymi app is a positive one. If you shop regularly at the retailers featured on the app, your savings may be worthwhile.
Related Cash Back Apps in Canada
Summary
The Paymi app is a cash back app that pays you when you shop, similar to Drop and Rakuten. This Paymi review covers what you need to know.