If you've just arrived in Canada or been here for a few years, you may be ready to buy your first home. But how can you get a mortgage if you don't have a credit history?
The answer comes in the form of new-to-Canada mortgage programs.
Several large banks offer these in Canada, and they provide a way to get on the housing ladder without needing a long credit history.
However, there are several eligibility requirements, and you will still want to look around to find the best option.
In this guide, we look at several of the best programs available to you and cover what new-to-Canada mortgage programs are, the pros and cons, eligibility requirements and more.
What is a New-to-Canada Program Mortgage?
New-to-Canada mortgages are sometimes called newcomer mortgages. They are all slightly different depending on the lender, but the basic concept is the same.
They provide immigrants with a way to access a mortgage, even if they have just arrived in the country and have no credit history.
Most people need a mortgage to buy a property. But when you have only just arrived in a country, applying for credit can be difficult. Lenders typically want to see your credit history to better understand your creditworthiness.
But newcomer mortgages are here to make things easier because they don't have the same eligibility requirements.
Banks know that new arrivals will want mortgages, so they are more lenient in some situations. There will always be eligibility criteria, but as long as you meet these, you can get a mortgage and buy your first home in Canada.
Without these special mortgage programs, you may find it difficult to access a mortgage or other types of credit.
Eligibility for New Immigrant Mortgage Programs in Canada
What makes you eligible for a new-to-Canada mortgage?
Firstly, the amount of time you have lived in Canada is important. For all the mortgages we cover in this guide, you must have lived in Canada for no more than five years.
Once you have lived in the country for over five years, you are no longer a newcomer, and you can only apply to standard mortgages.
Often, the lender will have requirements around your employment. For example, sometimes you must have been employed full-time for three months.
You will also need a down payment, and the minimum is 5%. It could be more if you buy a more expensive property over $500,000.
This may need to come from your resources rather than receiving help from someone else. This down payment requirement may be higher, depending on the lender.
Even though you don't need a credit history, it won't hurt to start building one as soon as you arrive. Most of the banks in this guide provide bank accounts and credit cards for newcomers to help you do this.
Finally, while some lenders state on their websites that they can provide mortgages to non-permanent residents, the Prohibition on the Purchase of Residential Property by Non-Canadians Act has changed this.
As of January 1st, 2023, only citizens and permanent residents of Canada can buy properties. You may want to talk to your lawyer if this affects you.
Top New-to-Canada Program Mortgages
Here are some of the best newcomer mortgages in Canada you may want to consider:
1. RBC Mortgages for Newcomers to Canada
With RBC Mortgages for Newcomers to Canada, you do not need Canadian credit history to get approved for a mortgage.
You can take up to 30 years to pay off your mortgage, but you will need a down payment of 20% or more.
The bank also provides a 120-day rate guarantee. So if you get a quoted rate, they will honour this for 120 days.
You can get help from a mortgage specialist, no matter what stage you are at, whether you are saving up for a down payment or you're ready to buy.
They can advise you on saving up, completing the mortgage pre-approval, and providing you with all the details you need to know about the process. They can even meet you at your home or office if you don't want to meet at the branch.
You'll also find several useful tools and resources like a home-buying checklist, a mortgage calculator, etc.
Before you apply, you should start the process by talking with a mortgage specialist and then take it from there.
You can also get other products for newcomers, like a bank account, credit card, safe deposit box and more.
2. CIBC Newcomer to Canada Program Mortgage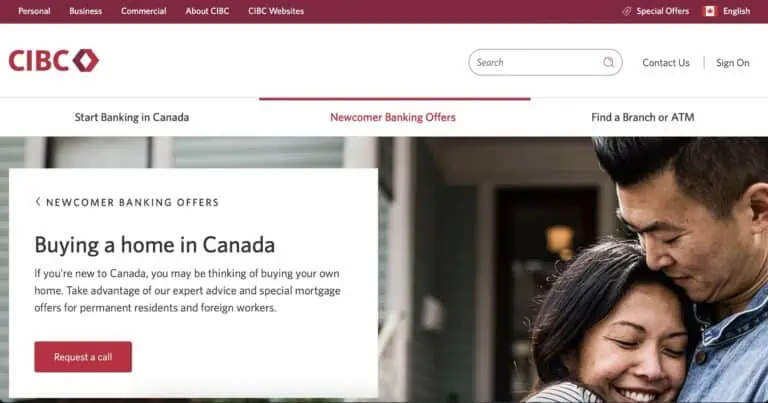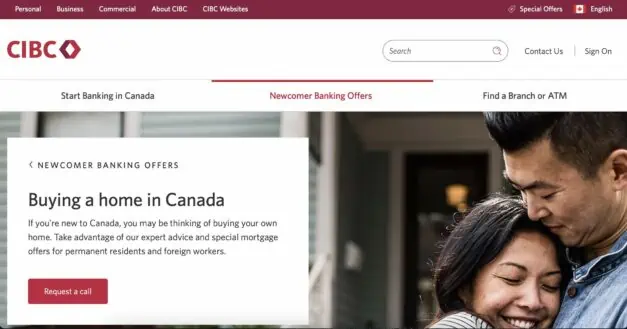 You can get a mortgage from CIBC even with no credit history using the CIBC Newcomer to Canada Program.
It provides a few mortgage products:
The CIBC Newcomer to Canada Program Mortgage – For people with limited credit history in Canada but with the required income to make mortgage payments.
The CIBC Newcomer to Canada PLUS Program Mortgage – For new residents or Canadian citizens who have been living abroad but now live in Canada.
You cannot apply directly online, and you must either call to speak with a mortgage advisor or request a call.
You will need to prove your employment and income, and you must have a large enough income to make regular payments and provide a down payment.
3. Scotiabank StartRight Mortgage Program for Permanent Residents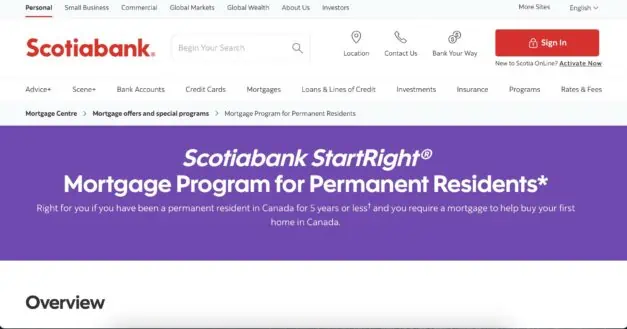 Scotiabank StartRight mortgages are for permanent residents in Canada. You must have been a permanent resident of Canada for a maximum of five years to apply.
Fixed-rate mortgages are available from six months up to 10 years. Alternatively, you can opt for the Scotia Flex Value mortgage. In addition, there are several payment options going from weekly to monthly.
The mortgage is only available for owner-occupied properties and not for commercial properties.
You'll find many tools to help you on the website, including a mortgage payment calculator and a comparison calculator.
You can apply online and get pre-approved, or visit your local branch and call in. You can also apply for a Canadian credit card and bank account for newcomers.
4. HSBC New-to-Canada Mortgage
HSBC is one of the largest banks in the world, with a presence in many countries. It is also a great choice for getting a mortgage in Canada if you are new in the country with its New-to-Canada Mortgage.
It offers fixed-rate mortgages from six months to 10 years and three-year and five-year variable closed mortgages. You can find out about the latest HSBC rates here.
HSBC states that you can use your existing credit history if you are still planning to move to Canada, and it can also set up your accounts before you arrive.
To get started, you can speak to one of the HSBC Mortgage Specialists to find out about the whole process, gather the necessary information, and take the next steps. Alternatively, you can start the pre-approval process online.
Related: Learn more about HSBC Canada newcomers offers.
5. TD New-to-Canada Mortgage
TD provides several banking options for newcomers, including chequing accounts, savings accounts, credit cards, money transfers and mortgages.
The mortgage is available even to people with no credit history in Canada, but you must be a permanent resident or have applied to become one.
You must also have been in Canada for a maximum of five years, be able to prove your status and be the age of majority in your province or territory. You must also prove your ID using a passport, driving licence or Government of Canada identification card.
Talk with a TD Mortgage Specialist to find out whether you qualify. If so, they will guide you through the process of applying.
You can call or book an appointment at your nearest branch or apply for pre-approval online.
Visit the first-time home buyer section for tools, calculators and further mortgage information.
Mortgage Default Insurance Programs for Newcomer Mortgages
As well as mortgages, there are also several mortgage default insurance programs targeted at new immigrants in Canada.
Mortgage default insurance is a requirement when you pay a down payment of less than 20%. There are three insurers for newcomer mortgages, and they have different premium rates and guidelines.
1. CMHC Newcomers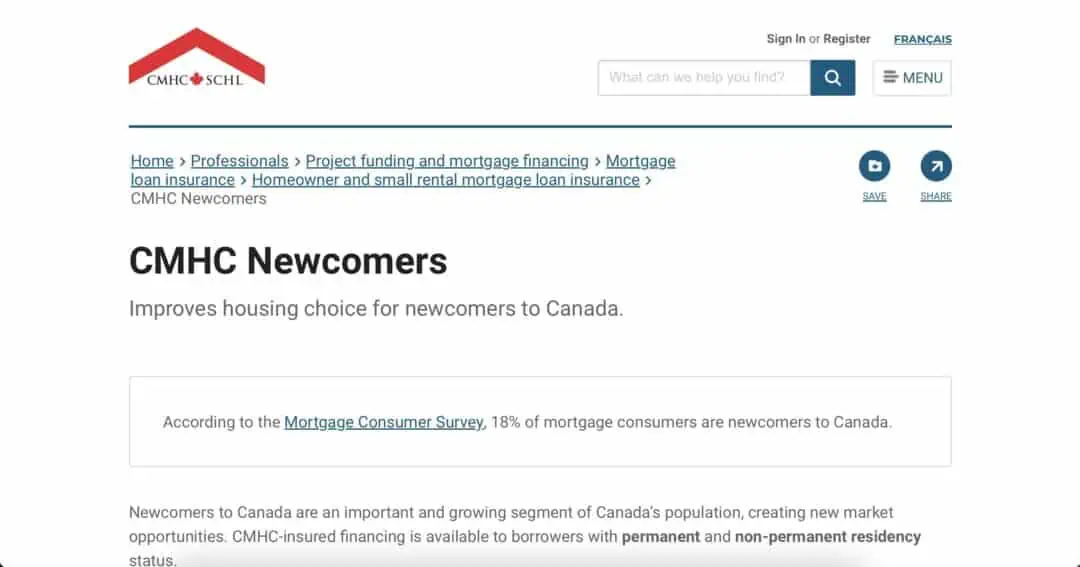 Government-owned CMHC provides mortgage insurance for newcomers as one of its products.
Most of its eligibility requirements are the same for newcomers as they are for other homebuyers. This means there is a maximum property price of $1 million, a minimum down payment of 5% for the first $500,000, and a maximum amortization period of 25 years.
While you will need a minimum credit score of 600 if you are a permanent resident, this may not be possible if you have not been in the country long enough. If you don't have a credit history, it will consider alternatives like your rental payment history.
If you are a non-permanent resident on a work permit, CMHC may need to check your international credit report or ask for a reference letter.
You can find full details of its current insurance premiums on the website.
2. Sagen New-to-Canada Program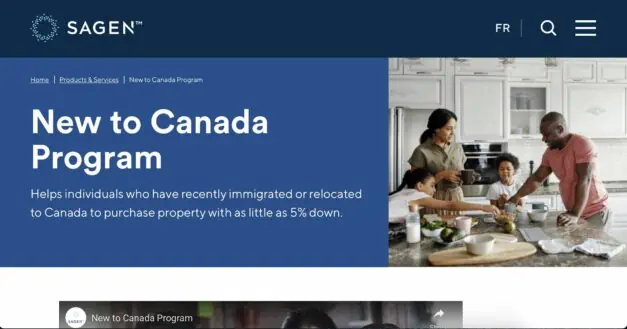 Sagen is one of the private mortgage insurers in Canada that provides insurance to newcomers in its New-to-Canada Program.
Like CMHC, it helps immigrants buy a home with a minimum 5% down payment for properties of $500,000 or less. The maximum property value it will insure is $1 million, and a down payment of 10% is required for anything over $500,000.
It will check your international credit report if you are providing a down payment of under 10%. If this is not possible, it will check alternative sources like bank statements or rental payments, or it will ask for a letter of reference.
You can see all its current premium rates on the website.
3. Canada Guaranty Maple Leaf Advantage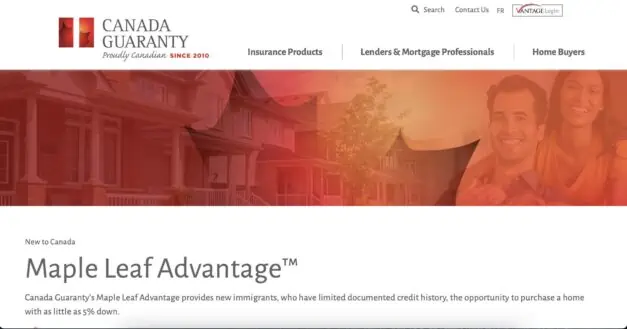 Canada Guaranty also provides mortgage insurance, and its Maple Leaf Advantage product is targeted at new immigrants.
Insurance is available for mortgages with a maximum amortization of 25 years and with a minimum down payment of 5% from your own resources.
It's available for properties up to $1,000,000, and the borrower must have immigrated within five years. You cannot get mortgage insurance for rental properties unless they are owner-occupied.
Check the website for full details of its insurance premium rates.
Pros and Cons of New-to-Canada Mortgage Programs
Pros:
Newcomer mortgages make it easier for new residents to get a mortgage due to more lenient requirements.
You can apply for a mortgage even without a credit history in Canada.
Most lenders provide access to mortgage specialists to help you through the process.
Cons:
Fewer lenders provide newcomer mortgages, meaning there is less choice than with standard mortgages.
Eligibility requirements like the need to be in regular employment may still apply and depend on the lender.
Featured Mortgage Offers
Neo Mortgage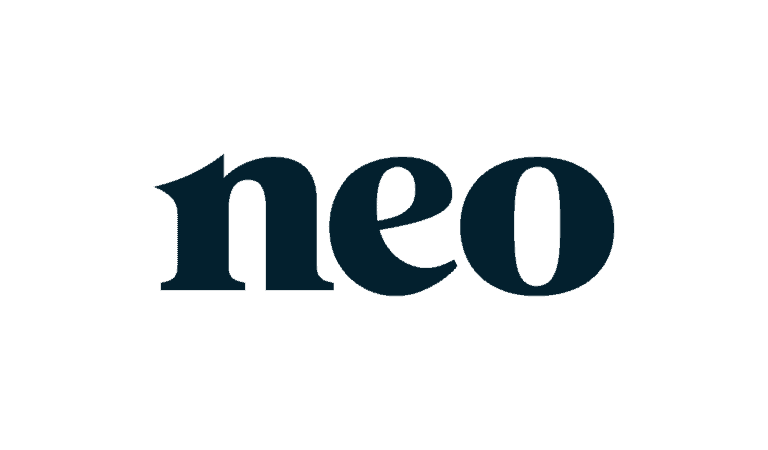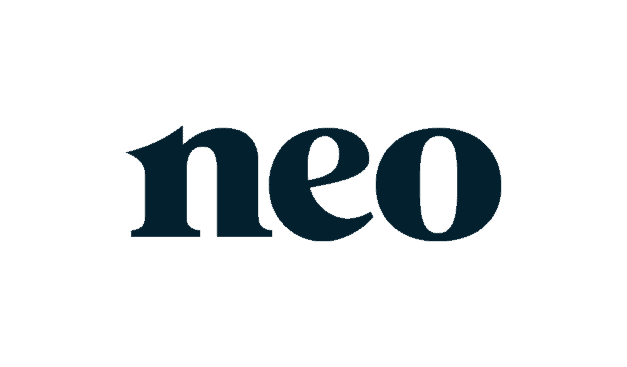 Apply Now
On Neo Financial's website
Compare mortgage rates across several lenders
Access to competitive rates and online applications.
Available Canada-wide
Accepts a wide range of credit scores
BMO Mortgage
Apply Now
On BMO's website
Mortgages from one of Canada's top banks
Competitive rates with flexible features
Offers fixed and variable rates + HELOC
130-day rate guarantee
Nesto Mortgage
Apply Now
On Nesto's website
Flexible terms for fixed and variable-rate mortgages
Online mortgage rate application & no broker fees
650 minimum credit score
150-day rate guarantee on pre-approval
How to Apply for a Newcomer to Canada Mortgage Program
If you want to apply for a newcomer to Canada mortgage, there are a few steps to take.
First, explore the options available to you, starting with the lenders in this guide. Visit the websites and find out whether you meet the requirements.
Check the interest rates and the mortgages available, including fixed-rate and variable-rate mortgages, and find a mortgage that looks suitable.
Work out how much you can afford to borrow. Can you afford to make your mortgage payments? Create a budget to help you.
If you don't have a credit history, start building one. A good history can only help when you apply for a mortgage, so start building a history as soon as possible, especially if you're not planning to apply for a mortgage for another year or more.
Next, the options differ depending on the lender.
Some lenders allow you to apply for pre-approval directly via the website. They will ask for your personal details as well as information about your employment, down payment, how much you want to borrow and more to determine whether you can get approved or not.
If you cannot apply for pre-approval, you will need to contact the bank directly. You can usually call directly or book an appointment at your nearest branch to discuss your options with a mortgage advisor.
They will then talk you through the process and tell you what you need to provide in terms of documentation, and you can then continue the process to get pre-approved.
When you are pre-approved, you can start looking for a property and then apply for the full mortgage. Remember, pre-approval does not guarantee you will be approved for the mortgage. Your situation may change, and the property must meet certain conditions determined by the lender.
FAQs
How long do you have to live in Canada to get a mortgage?
You can apply for a newcomer mortgage in Canada if you are a permanent resident who has lived in the country for under five years. Even if you have only just become a resident, you can still apply for new-to-Canada mortgages.
Can foreigners get a mortgage in Canada?
Yes, but only if they are permanent residents.
Is it hard to get a mortgage in Canada?
It depends on your situation. If you have a good credit history, you have saved up a down payment, and you are in regular employment, it may not be too difficult. Even if you have recently arrived in Canada and do not have a credit history, newcomer mortgages may be an option.
Who qualifies as a first-time home buyer in Canada?
You are usually considered a first-time home buyer in Canada if you have never owned a property before.
Which is the best bank for newcomers to Canada?
Several banks provide services to newcomers to Canada. However, Scotiabank is often considered one of the best banks for new residents.
Related: