Netcoins Pay, aka Netcoins Visa Prepaid Card, is one of the few bitcoin rewards cards available in Canada.
Others include the Shakepay Card and Mogo Prepaid Visa.
Technically speaking, none of these cards are crypto credit cards. Instead, they are bitcoin rewards payment cards that double up as prepaid cards.
You can also view them as crypto debit cards since you can only spend money you have loaded into your account.
This Netcoins Card review covers how it works, its fees, pros and cons, and everything else you need to know.
Netcoins Card Features
1% cash back converted to bitcoin
No annual fees
Physical and virtual card
Compatible with Apple Pay, Google Pay, and Samsung Pay
Spend Canadian dollars
What is Netcoins Pay?
Netcoins Pay is another name for the Netcoins Visa Prepaid Card. It is a crypto rewards card offered by Netcoin, a cryptocurrency exchange that supports several crypto assets.
Netcoins is operated by BIGG Digital Assets, a publicly-traded company on the Canadian Securities Exchange.
Netcoins users can get on a waitlist to get the Netcoins Card.
The Netcoins Prepaid Card is powered by KOHO, which offers Canada's best-prepaid card.
Netcoins Card Rewards and Benefits
Earn Cash back: Using the Netcoins Visa Card, you earn 1% cash back on all purchases. This cash back is paid in Canadian dollars and is converted to bitcoin on a set date each month.
Netcoins app: Cardholders can use the Netcoins app to manage their card's transactions, load fiat, trade cryptocurrency, and more.
No annual fees: This card does not have an annual fee.
Widely available: You can use the Netcoins Visa Card at any location where Visa is accepted worldwide. It is also open to all Canadian residents except for Quebec.
No credit check: As a prepaid card, you don't need to have an excellent credit score to qualify for Netcoins Pay.
Convenience: The card can be added to your mobile wallet, including Apple Pay, Samsung Pay, and Google Pay, making payments easy while on the go.
Virtual and physical cards: The Netcoins Pay Card is available as a virtual and physical card.
Related: Netcoins Review.
How To Apply For The Netcoins Card
To apply for Netcoins Pay, you need to open an account ($25 bonus when you trade $100).
When you become eligible, you will receive an email notification with details on how to get your Netcoins Card.
You must be the age of the majority in your province or territory. And you can choose to get the virtual and/or the physical cards.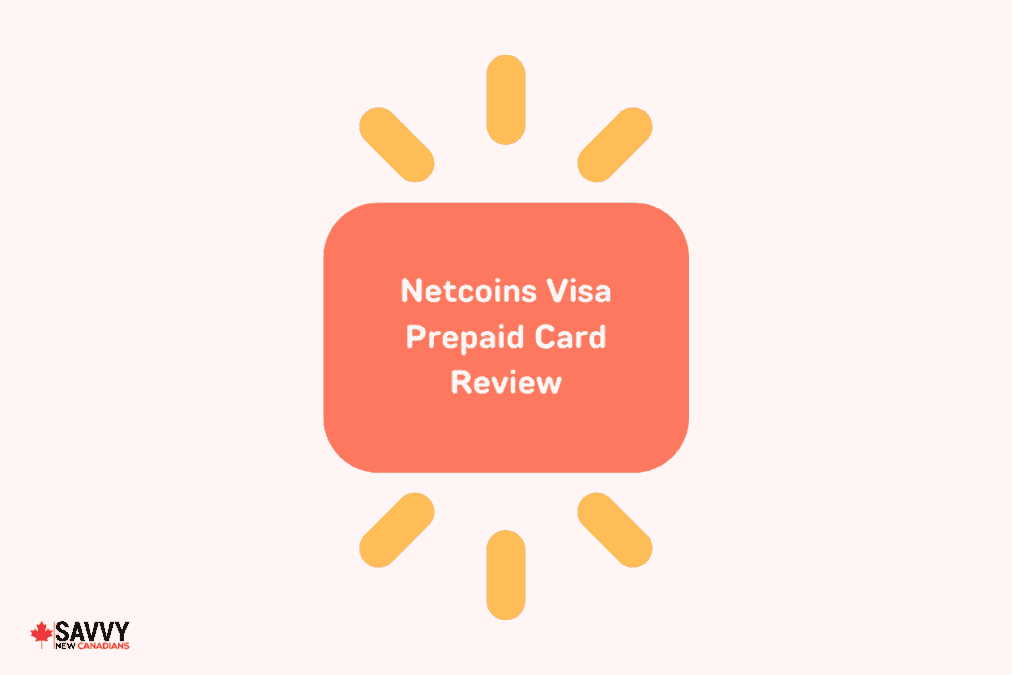 Netcoins Card Fees
While the Netcoins Visa Prepaid Card is free, you will be charged a 1.5% fee when you make payments in a foreign currency.
There is also a $1 monthly inactivity fee starting after 13 months of activation if your account has had no transactions for 90 days.
Netcoins Card Limits
The following transaction limits apply:
| | |
| --- | --- |
| Netcoins Visa Prepaid Card | Limits |
| Maximum amount per POS transaction | $8,000 |
| Maximum daily POS transaction | $8,000 |
| Maximum monthly POS transaction | $30,000 |
| Maximum daily POS transactions | 15 |
| Maximum amount per ATM transaction | $2,000 |
| Maximum daily ATM transaction | $2,000 |
| Maximum monthly ATM transactions | $10,000 |
| Maximum daily ATM transactions | 5 |
| Total daily limit (POS and ATM) | $10,000 |
Pros of the Netcoins Card
Earn free bitcoins
Free prepaid card
No annual fee
Worldwide acceptance
A credit check is not required
Physical and virtual cards
Cons of the Netcoins Card
You don't earn bitcoin immediately (CAD is converted to BTC on the 10th day of each month by Netcoins)
Not available in Quebec
Cannot be used to improve your credit score
Is Netcoins Legit?
Yes, Netcoins is a legitimate company that is traded on a North American stock exchange.
The company was founded in 2014 and is registered with FINTRAC with registration number M15560893.
The Netcoins Card is issued by Peoples Trust Company, a federally regulated bank in Canada.
Netcoins Card FAQs
How do I fund my Netcoins Card?
You can add Canadian dollars to the Netcoins Visa Card using Interac e-Transfers, bank wire, or by selling crypto for CAD.
Is Netcoins Safe?
Netcoins secures your crypto using 2-Factor Authentication (2FA), encryption, and cold storage.
Does Netcoins Pay work like a credit card?
Yes, you should choose Visa or credit card when making a payment using the Netcoins Card.
What is the Netcoins referral bonus?
When you open a Netcoins account and trade $100 worth of cryptocurrencies, you get a $10 to $60 bonus, depending on the offer available at the time.
What coins are on Netcoins?
You can trade Bitcoin, Bitcoin Cash, Stellar, Ethereum, EOS, Ripple, Avalanche, Litecoin, Algorand, Ethereum Classic, and many others.
Related:
Disclaimer: Cryptocurrency is a volatile and speculative investment. If you decide to invest, we recommend you do your own research and only commit funds you can afford to lose. The author may own one or more of the crypto assets mentioned in this article.