The last few years have seen a significant increase in the average net worth for people living in Canada.
A study by Statistics Canada found out that the typical Canadian household now has a median net worth of $329,900.
This is an all-time high and an improvement over 2016's figure of $312,500 and far higher than the $153,100 recorded in 1999.
If you are planning on building wealth and earning more in the future, it would be great to figure out how much your net worth compares to people aged 20, 30, 40, 50, 60, and so forth.
By doing so, you will undoubtedly get a better idea of where you stand and what you should aim for in the future.
This article will look into the net worth by age in Canada based on different sources and parameters.
What Does Net Worth Mean?
First, let's define what net worth is. Your net worth is essentially the difference between your assets and your liabilities.
What Are Assets and Liabilities?
Assets include everything of value that you own, such as:
Cash in bank accounts
Investments like stocks, bonds, mutual funds, and real estate
Registered accounts like RRSPs and TFSAs
Liabilities include everything from mortgage payments and credit card debt to car loans and taxes that you owe. More examples include:
Student loan debt
Mortgages
Outstanding expenses
Your net worth is essentially a snapshot of your financial health. If you own more than you owe, you have a positive net worth.
If you owe more than you own, you have a negative net worth.
How To Calculate Your Net Worth in Canada
Your net worth is the value of all your assets, minus the total of all your liabilities.
The simple formula for net worth is Net Worth = Total Assets – Total Liabilities.
To calculate your net worth, add up our assets, then subtract your liabilities.
Tallying up assets is pretty straightforward. An investment can be anything that has a monetary value, including cash, stocks, real estate, etc.
If you want to be really precise, you can also list the market value of any collectibles or items that have value such as rare coins, art, and more.
The liabilities section gets a little tricky because you have to know what qualifies as a liability.
The standard definition of liability is any debt that you have an obligation to pay back.
Don't make the mistake of thinking only credit cards and car loans count toward this number; everything from borrowed money to mortgage payments falls into this category.
Even if you have enough money in your savings account to cover these payments now, they still count as liabilities in the calculation because you are making future payments with those funds.
You can simplify this process of calculating your net worth by using an online net worth calculator.
The online calculator from Sun Life is a powerful tool you can use to calculate your net worth quickly – simply plug in your numbers, and the software will take care of the rest.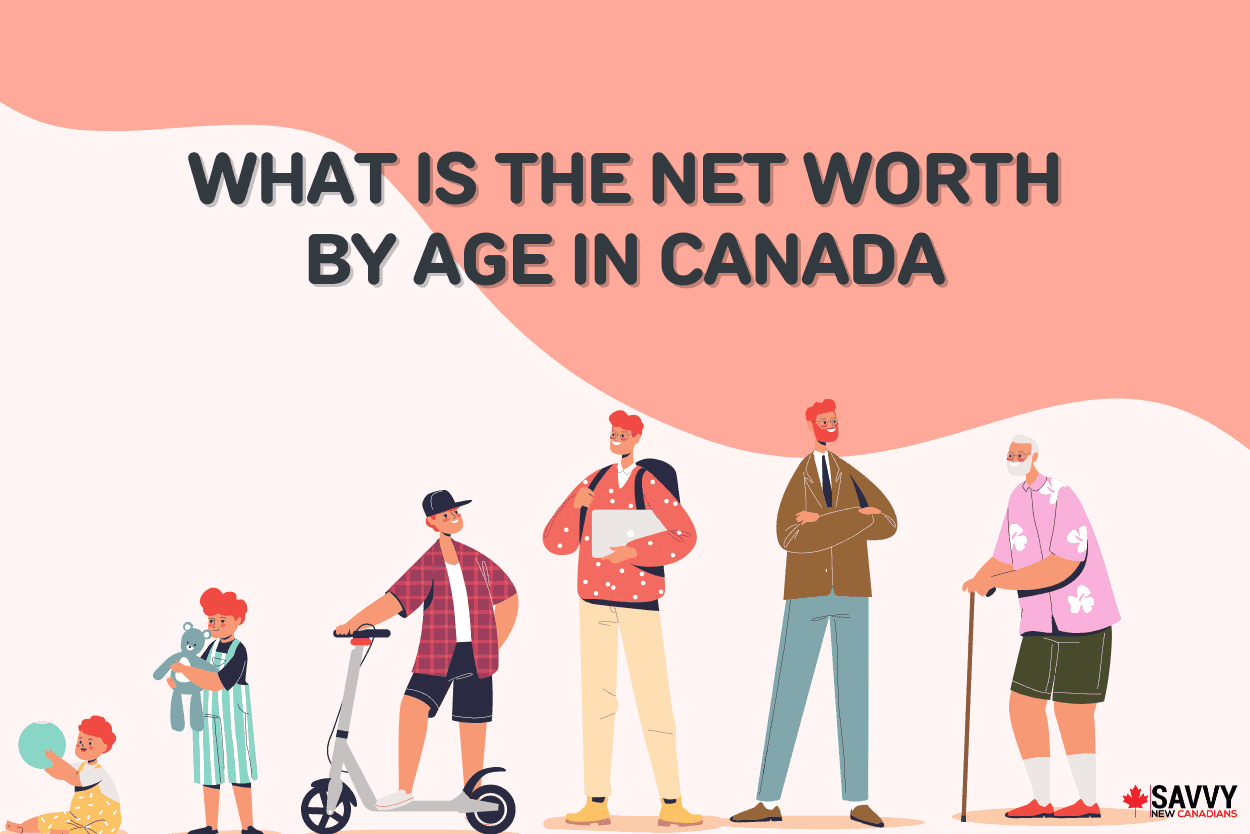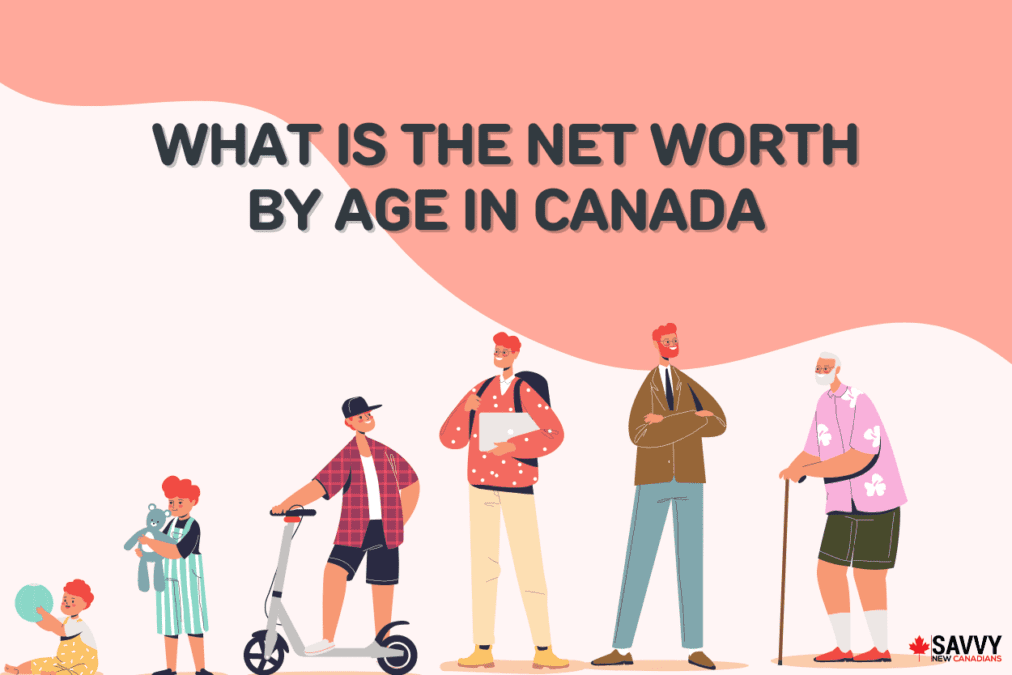 Net Worth by Age in Canada
Now that you have a better understanding of what net worth is and how it's calculated let's take a closer look at the average net worth of Canadians for different age groups.
We looked at net worth statistics for each age group in the Canadian population to figure out the median net worth and how Canadians stack up, with data pulled from Statistics Canada:
| | | | |
| --- | --- | --- | --- |
| Age | Median Net Worth (1999) – CAD | Median Net Worth (2016) – CAD | Median Net Worth (2019) – CAD |
| Under 35 | 26,000 | 37,200 | 48,800 |
| 35 to 44 | 139,500 | 232,600 | 234,400 |
| 45 to 54 | 272,800 | 457,700 | 521,100 |
| 55 to 64 | 395,800 | 709,200 | 690,000 |
| 65 and older | 302,500 | 547,700 | 543,200 |
On average, Canadians between 35 and 44 had a net worth of $243,400, while those between 45 and 54 had an average net worth of $521,100. The net worth for those aged 55 to 64 was higher at $690,000.
The most dramatic increase can be seen from the age category of 35 to 44, increasing by $185,600 from the previous age group.
This trend can probably be explained by the massive amounts of student debt that many Canadian students tend to hold in their 20s, as well as this being their lower-earning years.
However, most people tend to raise their net worth with age as they advance in their careers, gain more experience, and receive higher pay rates.
As you might have seen from this data, age significantly impacts the net worth.
Most people start with little or no money in their 20s, but the typical Canadian will have accumulated significant wealth by the time they hit retirement age.
For the average Canadian, net worth climbs steadily with age until retirement (usually around 65) and gradually falls as individuals eat away into their savings.
Something else you might have noticed is that Statistics Canada used median net worth instead of the average. It's essential to know the difference between the two.
The primary difference between average and median is that "average" net worth accounts for all data values and therefore includes extreme values such as millionaires and those with negative net worths.
On the other hand, "median" net worth only looks at the median value and discards higher and lower values.
Average net worth can be skewed by values that lie on the extreme side. Suppose you were to average the net worth of every individual in Canada, in that case, you'd have to include that of Changpeng Zhao, a billionaire with a net worth of over 88 billion dollars.
That's probably going to skew the numbers for a college student who's 29 and struggling to pay off his or her student debt.
Therefore, median net worth gives a more accurate representation of the average person – the net worth values for people in the middle who typically represent what the majority of Canadians make.
Related: Best Stock Trading Apps in Canada.
Net Worth in Canada by Province
So how is the median net worth matching up across the country? According to Stats Canada, here's a breakdown of the numbers:
| | | | |
| --- | --- | --- | --- |
| Province | Median Net Worth (1999) – CAD | Median Net Worth (2016) – CAD | Median Net Worth (2019) – CAD |
| Newfoundland and Labrador | 94,400 | 224,300 | 247,300 |
| Prince Edward Island | 120,500 | 216,100 | 211,400 |
| Nova Scotia | 140,300 | 238,600 | 257,900 |
| New Brunswick | 118,700 | 167,800 | 185,000 |
| Quebec | 112,000 | 221,300 | 237,800 |
| Ontario | 187,500 | 387,300 | 434,500 |
| Manitoba | 151,800 | 339,800 | 295,700 |
| Saskatchewan | 188,100 | 310,900 | 330,500 |
| Alberta | 174,400 | 307,700 | 317,300 |
| British Columbia | 168,400 | 454,800 | 423,700 |
So who is more affluent, the average person in Quebec or Manitoba? The average person in B.C. or Saskatchewan?
The same report from StatsCan has the answers, and the results are not too surprising.
It turns out that people in Ontario have the overall highest net worth in Canada, followed by those in British Columbia.
For a long time, these two provinces have had strong economies and surging house prices, significantly raising their market value.
Saskatchewan comes in third place, followed closely by those in Alberta.
People in these two provinces tend to have more debt than other Canadians, although Saskatchewan also has one of the lowest property values across the country.
Manitoba residents round out the top five wealthiest provinces per median net worth.
To sum it up, the statistics reveal the net worth of Canadians by the province has continued to increase steadily since 1999 and is projected to continue on the same trajectory for the coming years.
Here's a quick breakdown of the statistics:
The average Ontario household has the highest median net worth in Canada, with $434,500.
The median New Brunswick household comes in last, with $185,000.
British Columbia had the highest increase in median net worth since 1999, up by $255,300
Households in Ontario have two times more than those in New Brunswick.
Average Net Worth per Household in Canada
Statistics Canada released a report in 2021 which provided data on the distribution by a household of the net worth of Canadians in 2020.
The data offered essential insights into the distribution of wealth across individuals living in Canada.
Statistics Canada reported that the average household wealth among Canadians reached $817,378 in the fourth quarter of 2020 and up by $69,741 from the end of 2019.
The wealthiest households in Canada were in the age group of 55-64 with an average net worth of $1,335,146.
Households under the age of 35 had the least wealth, with an average household net worth of $231,036 at the end of quarter four in 2020.
Although the total net worth owned by the lower-income households was relatively small, their average wealth grew faster than other households in Canada at a rate of 23 percent.
Meanwhile, wealthier households increased their mortgage debt in 2020 to buy more real estate.
Furthermore, the household net for the highest earners was two times higher than the average earners for the fourth quarter of 2020.
It's also good to know that the distribution of household net worth varies by region. Households with the highest earners across most provinces decreased their share of wealth over time.
For example, homes in Ontario increased their household net worth from 20.4% in 2010 to 21.5% in 2020.
Related: Best Investment Accounts in Canada.
What Are the Average and Median Net Worth for Seniors?
Many seniors look forward to retirement, but how much money will they have to enjoy their golden years?
According to the most recent data available from Stats Canada, the average net worth of a senior (aged 65+) in Canada was around $976,099.
Meanwhile, the median net worth of seniors came in at approximately $543,200 in 2019.
The median is the mid-point between high and low numbers – so half of the Canadian seniors had a higher net worth than $543,200 while half had a lower net worth.
It's also important to note that these numbers include people who have zero or negative net worths – so it's not necessarily representative of average or middle-class Canadians.
To put that in perspective, the average net worth of a senior is about two times larger than the median net worth.
This suggests that a relatively small number of seniors have very high net worths, while many have much lower ones – hence the wide gap between average and median.
Canada has a vast senior population, and many of these individuals are still working well into their mid-60's as they transition from their careers to retirement.
This transition period can be pretty stressful for many Canadians. Having a plan to grow your wealth is essential to avoid financial hardship during this time.
If you're a Canadian retiree or soon-to-be retiree, it's essential to take stock of your financial situation. It can be helpful to compare your net worth against that of other Canadians.
You can review the average and median net worth figures we mentioned earlier for Canadian seniors, then consider how these numbers may compare to your own.
Related: Best Seniors Bank Accounts in Canada.
What Is the Average Savings by Age in Canada?
Canadians' average net savings has been trending upwards since the mid-2000s. In general, the older we get, the higher the savings we should have.
So what is the average savings by age in Canada more recently?
One way to look at this is to consider the average savings per household using the age group of the primary income earner.
By focusing on savings or investments held in RRSP, TFSA, private pensions, and deposit accounts from this 2019 report, we have:
| | | | | | |
| --- | --- | --- | --- | --- | --- |
| | RRSP | TFSA | Deposits | Private Pensions | Total |
| Under 35 | $41,000 | $17,300 | $11,300 | $73,800 | $143,400 |
| 35-44 years | $82,100 | $20,800 | $14,900 | $192,600 | $310,400 |
| 45-54 years | $150,300 | $27,400 | $19,800 | $406,700 | $604,200 |
| 55-64 years | $216,900 | $43,500 | $32,700 | $567,500 | $860,600 |
| 65 years + | $224,000 | $51,300 | $43,000 | $405,600 | $723,900 |
These numbers are not representative of the net worth of these households as it doesn't include non-registered investment accounts, other financial assets (like RESPs), some employer-sponsored pension plans, non-financial assets (e.g. real estate), etc.
It also does not take into consideration the liabilities held by these households which we need to deduct in order to calculate their net worth.
As expected, total average savings increase as Canadians get older and start to drop again when they retire and begin withdrawing funds.
For insight into how much Canadians are savings annually
For insight into the average net savings for Canadians by age group, this report provides some answers:
| | | | | |
| --- | --- | --- | --- | --- |
| Age | Average Savings (2019) | Average Savings Quarter 1 (2020) | Average Savings Quarter 2 (2020) | Average Savings Quarter 3 (2020) |
| Under 35 | 7,220 | 10,628 | 32,480 | 20,072 |
| 35 to 44 | 14,963 | 20,428 | 40,708 | 28,216 |
| 45 to 54 | 11,324 | 16,552 | 43,056 | 29,092 |
| 55 to 64 | 668 | 3,060 | 23,868 | 15,728 |
| 65 and over | -16,918 | -15,184 | -5,016 | -10,356 |
This table shows that Canadians are putting away money while in their accumulation years and in retirement, they are spending more than they save…which is to be expected.
Related: Cheapest Places To Live in Canada.
Average Net Worth by Age in Canada: Conclusion
In general, we can see that the median net worth by age in Canada increases with age. The only exception is in the age group under 35, where there are the lowest numbers, but there is a significant increase straight after.
This can be explained by the student debt that many young Canadian hold and the fact that younger people are just starting out in the workforce.
While the average Canadian will undoubtedly have a hard time making ends meet when they are still in their 20's, they can rest assured that things will get much easier as they grow older and can increase their wealth by managing their money responsibly.
And the best way to build your net worth is to begin investing early.
We all know that time is money, and if you wait too long, you will miss out on valuable years of earnings that could have been used for investment.
Hopefully, this blog has helped you get an idea of what the average net worth of Canadians looks like by age.
FAQs
What Net Worth Is Considered Rich in Canada?
Anyone with a net worth of more than $1 million can be considered rich in Canada. 764,033 people, or 2% of the population, have a net worth between $1million and $5 million.
How Many Millionaires Are in Canada?
According to the Global Wealth Databook by Credit Suisse, there were 1,681,969 millionaires in Canada at the end of 2021. 2020 alone saw about 246,000 new entrants to this list, and the same was projected for 2021 and 2022.
What Is the Richest Province in Canada?
By median family income, Alberta is the wealthiest province in Canada. The average annual family income in Alberta was $103,720 Canadian dollars in 2019.
What Is the Net Worth of the Top 1% in Canada?
The wealthiest Canadians in the top 1% have a net worth of $9,263,011.45 CAD as per The Kickass Entrepreneur.
How Much Do You Need To Retire in Canada?
How much you need to retire comfortably in Canada depends on where you live and how much you earn each year.

A rule of thumb is you will need about 70 percent of your current salary to spend after your retirement. That means you would need about $70,000 per year after retirement if your salary were $100,000 a year.
What Is the Average Canadian Net Worth?
The average Canadian household had a net worth of $817,378 in the last quarter of 2020.
Related: