A cheque is a paper document that orders a bank to pay a specific sum of money to an individual organization whose name is written on it.
While paper cheques are no longer as common, you may still need to write a cheque every now and then. For example, a sample cheque may be needed to set up a direct deposit for your salary.
This guide details how National Bank void cheques work, how to read a National Bank specimen cheque, and how to print a void cheque sample online.
How To Get a National Bank Void Cheque (Specimen Cheque)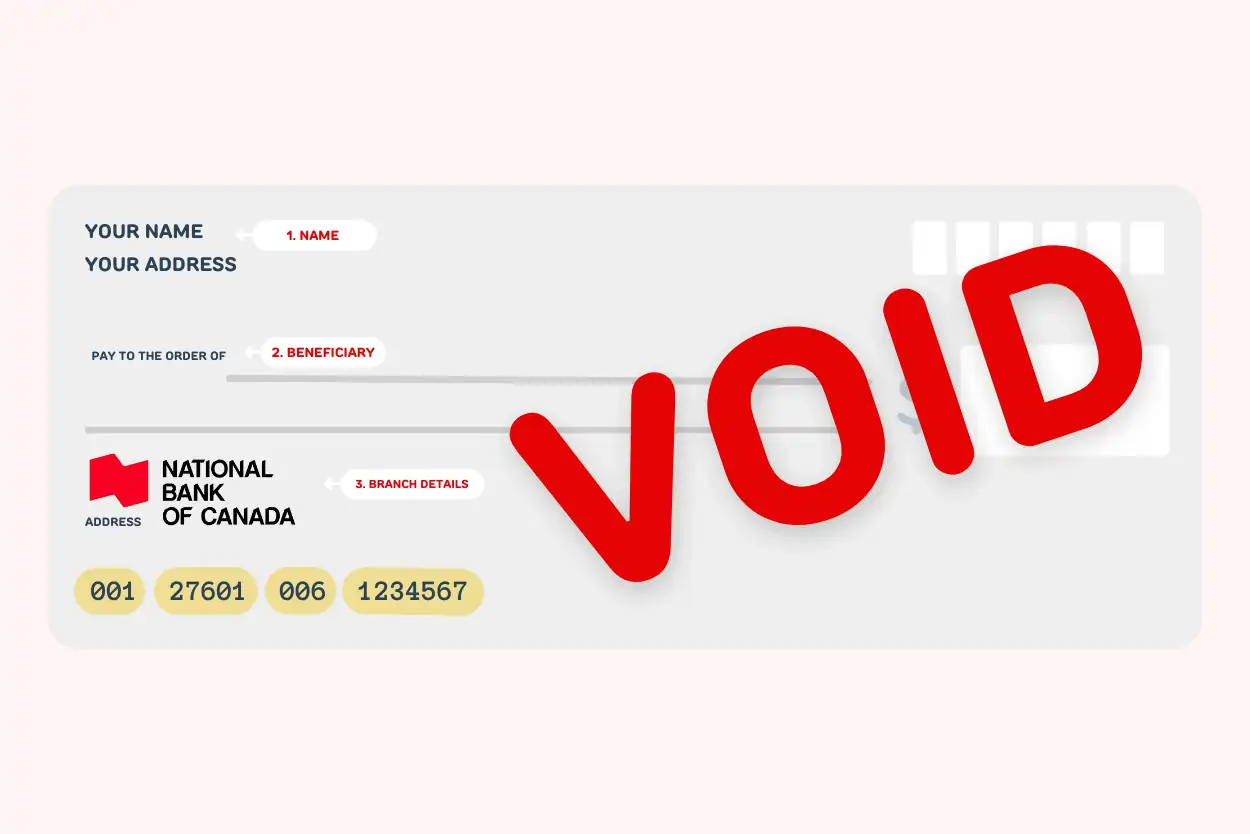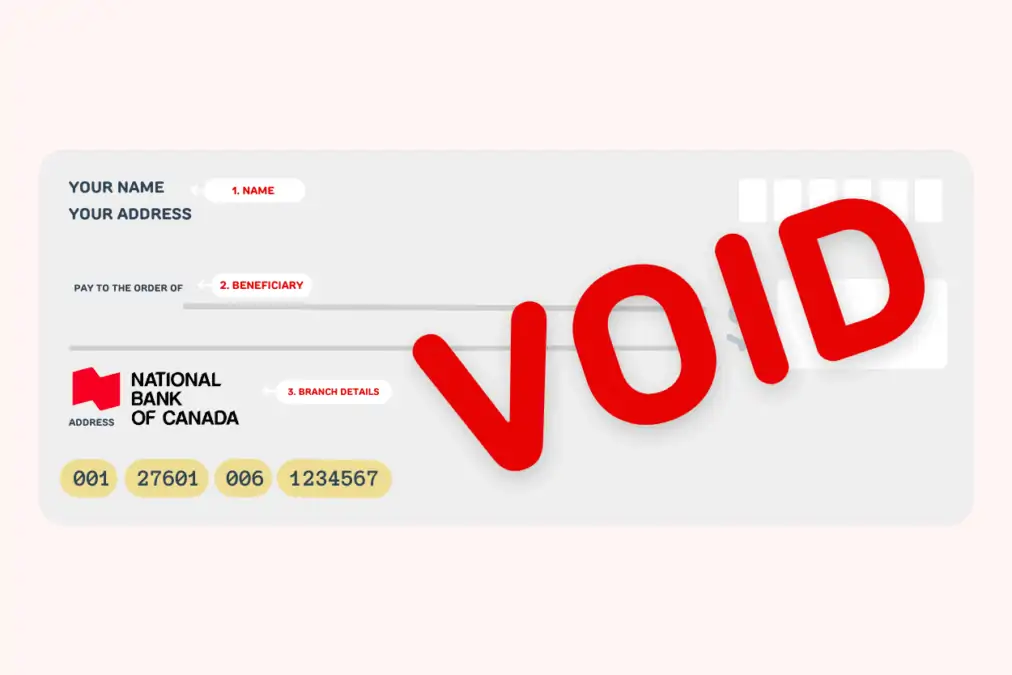 If you have a National Bank chequebook, you can write "VOID" across the front of it using a pen to void it.
If you don't have a chequebook, you can order one from National Bank by following one of these steps:
Sign in to Online Banking to order cheques
Call 1-888-835-6281 (option 4-1-1)
Visit your branch to order cheques at the counter
Alternatively, you can get a National Bank sample cheque by downloading it online.
Get a PDF copy of a National Bank void cheque using these steps:
Sign into your National Bank online banking account
Select the chequing account you need a specimen cheque for
Select the "Options" tab
Click on "Download a cheque specimen" to get a PDF copy
You can also download specimen cheques using the National Bank Mobile App.
How To Read a National Bank Void Cheque
The contents of a cheque are similar across Canadian financial institutions.
A sample cheque is often required when setting up direct deposits to your bank account or pre-authorized debits (such as loan repayments).
Since cheques contain your main bank account information, a recipient can easily use the numbers on them to set up a connection to your bank account – for both deposits and withdrawals.
A National Bank void cheque sample is also referred to as a National Bank "specimen" or "void" cheque.
So, what information does a National Bank sample cheque provide? The most important information to note are: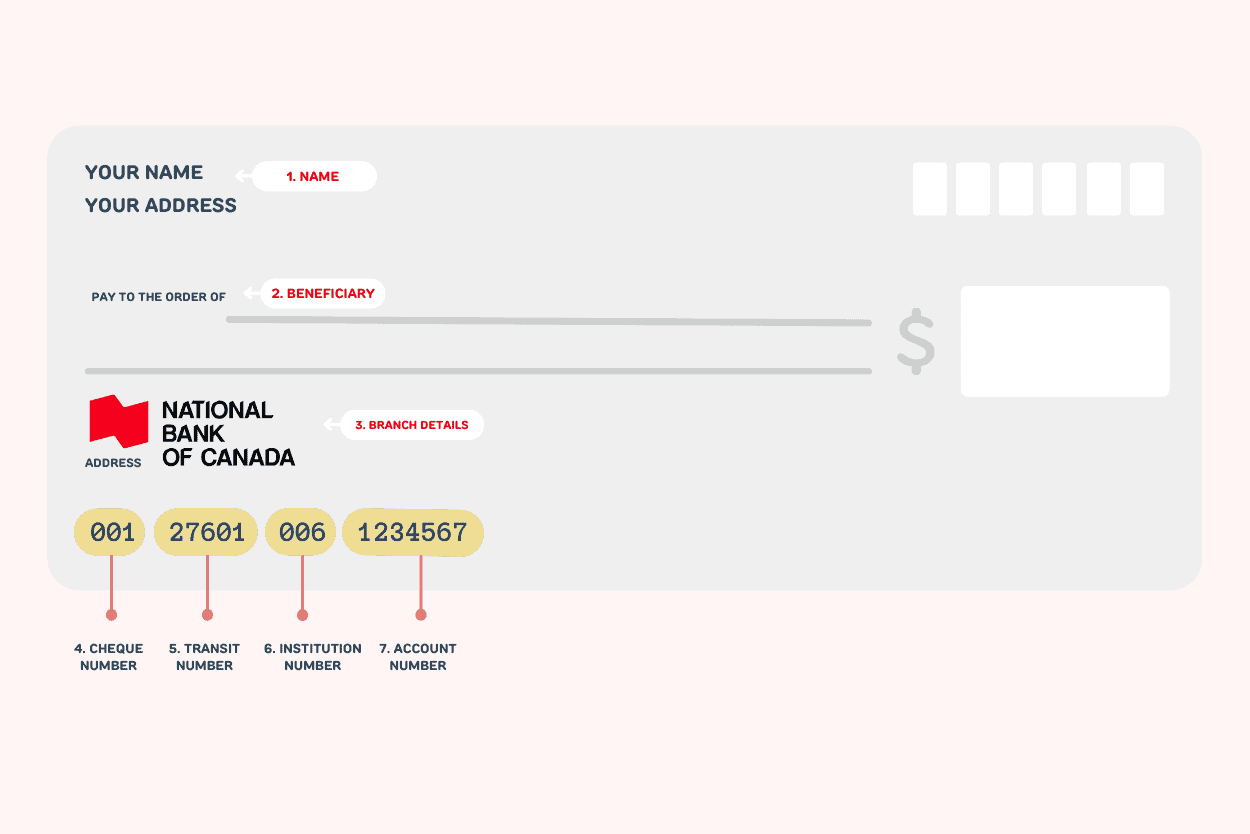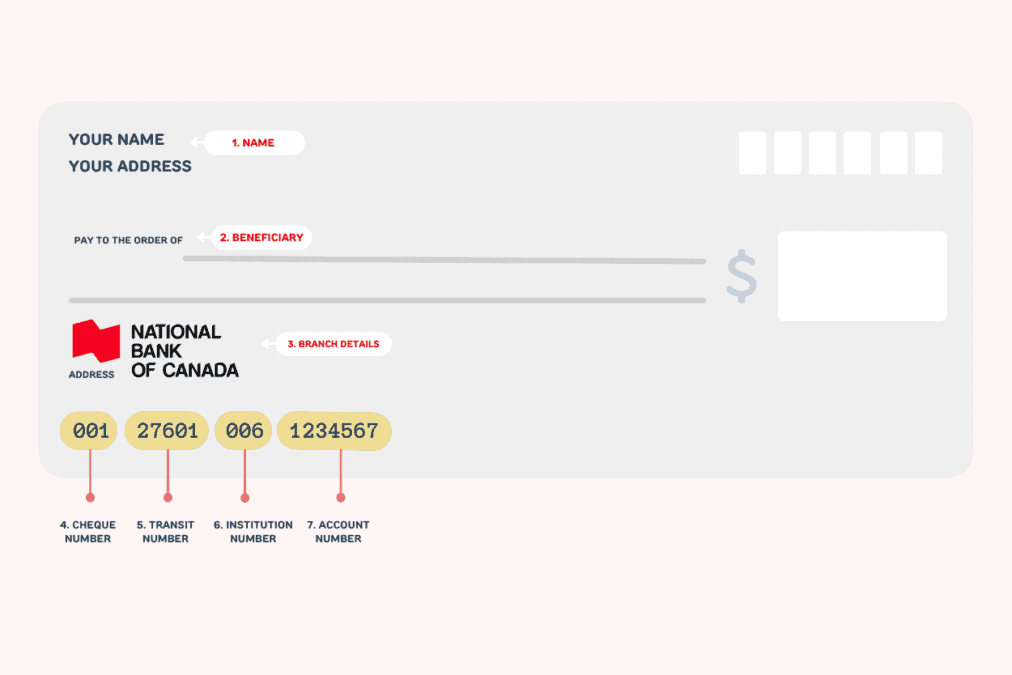 1. Your Name: This is printed at the top of the cheque and refers to you (the "drawer") who owns the bank account from which funds are being withdrawn. Your home or business address is also printed under your name.
2. Beneficiary (payee): This section is where you write the name of the individual or organization to whom you are making a payment. For a void or sample National Bank, this section is left blank.
3. Bank account and branch details: This section includes the bank name and the address of the bank branch where your account is held. Simplii's bank address is 305 Milner Avenue, 5th floor Scarborough, ON M1B 3V4, Canada.
4. Cheque number: This 3-digit number is what the bank uses to identify the cheque transaction in your bank statement. On your National Bank cheque, it is the first set of numbers on the MICR (Magnetic Image Character Recognition) encoding line as well as on the top right corner of the cheque.
5. Transit (branch) number: This 5-digit number refers to the specific bank branch where you initially opened your bank account. Bank transit numbers are maintained by Payments Canada, and you can view the entire list via its Financial Institutions Branch Directory (FIBD).
6. Financial institution number: This 3-digit number is also referred to as the bank code. National Bank's institution code is 006 (it is also the sixth-largest bank in Canada).
7. Account number: This 7-12 digit number identifies your bank account. National Bank's bank account numbers are 7-digits long.
8. Signature: The cheque is not valid until it has been signed. For a void or sample National Bank, your signature is not required.
When you combine the institution number and transit number for National Bank and add a leading zero "0", you get your routing number.
How To Write a National Bank Cheque
On every cheque, you want to properly identify who is making a payment (i.e. yourself- known as "drawer"), the beneficiary (payee), and the amount.
Follow these steps to write a National Bank cheque:
Write the date on the right-hand corner where you have "DATE".
Write the name of the person you are paying on the line where you have "pay to the order of".
Write the amount of the cheque in dollars and cents in the line below "Pay to the order of". For example, if you are paying them $105.70, you can write "One hundred and five dollars and 70/100". You should also write the amount in figures in the box where you have the $ sign.
Include the reason for the cheque in the "MEMO" line.
Finalize your cheque by signing it on the line in the bottom right corner.
Your National Bank cheque is now ready to be cashed by the bearer.
National Bank Void Cheque FAQ
How do I get a void cheque from National Bank?
You can print off a National Bank void cheque sample from your National Bank online banking account.
What is the cost of a National Bank cheque?
The cost of a National Bank cheque is dependent on the supplier's fees. If you have "The Total" account, 100 personalized cheques are included in your package for free.
Can I print a National Bank cheque online?
You can only print void National Bank cheques online. For a valid cheque, you will need to place an order for cheques to be delivered to you by mail (for a fee).
Related: