I was in graduate school in Winnipeg when I first heard about mystery shopping. At the time, a fellow graduate student and friend was about to undertake a secret shopping mission at Earl's Restaurant and he invited me to come along.
Enticed with the promise of "free" food, I was all-in.
Mystery shopping is one way to earn extra cash in your spare time. That said, it is no easy money.
The application process is often rigorous and you should be prepared to put in a decent amount of work in writing up reports if you want to get paid for your efforts.
Also, the industry is rife with scammers who are looking to dupe applicants by asking them to pay a registration fee or by using some other tricks.
In order to find a legitimate mystery shopping company, do your research, read reviews, and never send them money.
For other opportunities to make money in Canada, check out the resources listed below:
What is Mystery Shopping?
Mystery shopping involves the use of "secret" or anonymous shoppers who pose as regular customers so they can assess the service provided by unsuspecting staff at a store, retailer, restaurant, car dealership, gas station, hotel, etc.
Companies pay mystery shopping companies for this service so they can measure the quality of service their customers are receiving and use the results to boost customer loyalty.
The qualities that mystery shoppers are asked to evaluate may vary from mission to mission depending on the insight being sought by a client, the kind of service or product being offered, and the type of assessment being applied (e.g. telephone vs. in-person mystery shops).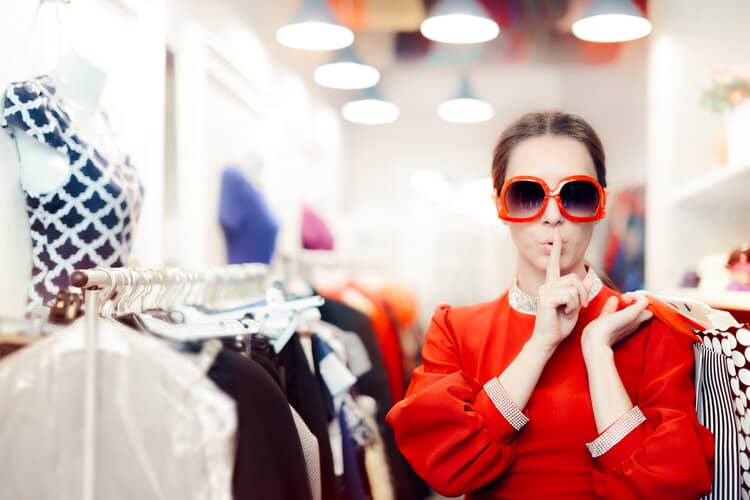 Top Mystery Shopping Companies and Jobs in Canada
We have listed some of the popular mystery shopping companies that recruit shoppers in Canada.
One way to identify if a mystery shopping company is legit is to check whether it is a member of the Mystery Shopping Providers Association (MSPA).
You can also see if it is accredited by the Better Business Bureau (BB) and read the reviews left by other shoppers.
In addition, some of these companies are members of the Retail Council of Canada (RCC).
1. Premier Service
Premier Service has been shopping services to Canadian businesses since 1991. It is a member of the MSPA, RCC, and the Marketing Research and Intelligence Association.
This company offers its services to businesses in various categories including retail (clothing, gas stations, furniture, stores, car dealerships), and service industries (restaurants, hotels, government agencies, and financial services).
It pays its mystery shoppers on the 18th of each month using PayPal.
2. Shoppers Confidential
Based in Toronto, Shoppers Confidential was founded in 2005. It holds an A+ rating with the BBB and is a member of MSPA, RCC, and Restaurants Canada.
The company serves several industries including restaurants, retail, hospitality, automotive, government, education, and travel.
Shoppers are paid on the 15th of the following month in which their mission was completed. You earn between $15 and $50 per assignment and payment is made using PayPal.
3. We Check
We Check has been around since 1997 and is based out of Ontario. The company is a member of MSPA, RCC, and holds an A+ rating with the BBB.
We Check provides customer experience and satisfaction measurement services to companies and businesses around the world including Health Canada, Ford, and the Liquor Control Board of Ontario (LCBO).
Shoppers are paid 30-45 days after a shop has been successfully completed, and the payment is sent using PayPal.
4. Lanla
Lanla is a market research company based in Quebec. It was founded in 2002 and has over 200,000 mystery shoppers in Canada.
Industries served by Lanla include transportation, real estate, finance, and retail.
Shoppers earn between $15 and $40 per mission completed and payments are processed every other week using direct deposit.
5. PerformaLogics (iSecretShop)
PerfomaLogics became a part of the Intouch Insight family in 2020 and its mystery shopping services are now operated under the iSecretShop brand.
Intouch Insight was founded in 1992 and its headquarters is in Ontario. It has an A+ rating on the BBB.
The company services various industries including retail, restaurant, grocery, and hospitality.
The payment schedule for shoppers on this platform varies depending on the client.
6. iShopFor Ipsos
Ipsos is a globally recognized leader in market research. Through its iShopFor Ipsos platform, the company offers mystery shopping services to a variety of clients.
The tasks shoppers may be required to complete include calls, visits, emails, chats, and audits.
You will need a PayPal account for payments and shoppers must be at least 18 years old.
7. Sensors Quality Management (SQM)
SQM Inc. was founded in 1993 and provides mystery shopping and market research services around the world, including Canada.
It has an A+ rating with the BBB.
The pay for SQM representatives varies with the assignment and may include a flat fee or fee plus benefits (e.g. meal at a restaurant).
8. Mystery Shopping Canada
Mystery Shopping Canada Inc. was founded in 1996 and has more than 58,000 mystery shoppers across the country.
The company is based in Vancouver and is not rated by the BBB.
Shoppers earn $15 on average per assignment.
9. Market Force
Market Force was founded in 2005 and operates in Canada, the United States, the United Kingdom, France, and Spain.
It holds an A+ rating with the BBB and is a member of MSPA.
Shoppers can use the mobile app to complete assignments and it is available on iOS and Android devices.
The company has over 300,000 mystery shoppers and completes more than 100,000 assignments each month.
10. BestMark
BestMark was founded in 1986. It holds an A+ rating with the BBB and is a member of the MSPA. It is based out of Minnesota and also hires shoppers in Canada.
BestMark's field representatives (shoppers) are paid using PayPal, gift cards, or direct deposit, and payments are processed twice each month.
How To Become a Mystery Shopper
The application requirements vary for each company and may include:
You must be at least 18 years of age
You should have access to a smartphone or computer and internet
You must be able to pay attention to detail and write timely, concise, and objective reports
You must be able to conduct yourself in a professional manner and be trustworthy
Mystery shoppers are independent contractors and you are responsible for filing any taxes you may owe from the payments you receive.
Mystery Shopping FAQs
Are mystery shopping jobs legitimate?
There are many legit mystery shopping companies in Canada. At the same time, a lot of scam operators also exist. Do your research and never pay to become a shopper.
How much do mystery shoppers get paid?
It appears that the pay per assignment ranges from $15 to $50 on average. Some assignments pay more, but they may be few and far between. Often, shoppers get paid by PayPal, although some companies offer direct deposits as well.
Do shoppers keep what they buy?
You often get to keep what you buy. In the case of a meal, you are reimbursed for the meal and may also receive a fixed payment.
Have you tried working as a mystery shopper or have you been mystery shopped? Let us know about your experience in the comments.