The Moka app (formerly Mylo app) is the Canadian answer to automated savings and investing apps such as Acorns and Digit in the U.S. and Moneybox in the U.K.
While we can all agree that saving money for the future is generally a good thing, many of us never get around to doing it.
Recent stats show that 32% of Canadians between the ages 45-64 have nothing (i.e. $0) saved for retirement. This is indeed alarming! At 64 years of age, you should either be retired or be planning to do so soon.
Simplifying the savings and investing process is what automated savings apps like Moka aim to accomplish. There is no drastic change to your daily lifestyle, and you do not need to understand the nitty-gritty details of portfolio management.
Simply set a savings goal, and the app does the rest by moving small amounts of money (spare change) from your bank account into a diversified portfolio that continues to grow and increase your net worth.
This Moka review covers what you need to know about the app.
Moka App Overview
Moka Financial Technologies Inc. is a Canadian fintech company launched in 2017 by Phil Barrar – you may have watched the Dragons' Den episode when he came on the show with Dr. Liam Cheung!
The Moka app was the first automated goal-based savings and investing app to allow Canadians to easily invest their spare change and grow their wealth.
In 2020, Mylo rebranded as Moka after expanding internationally to Europe and launching in France. More than 750,000 Canadians have downloaded the Moka app, which holds a 4.4/5 rating on the App store.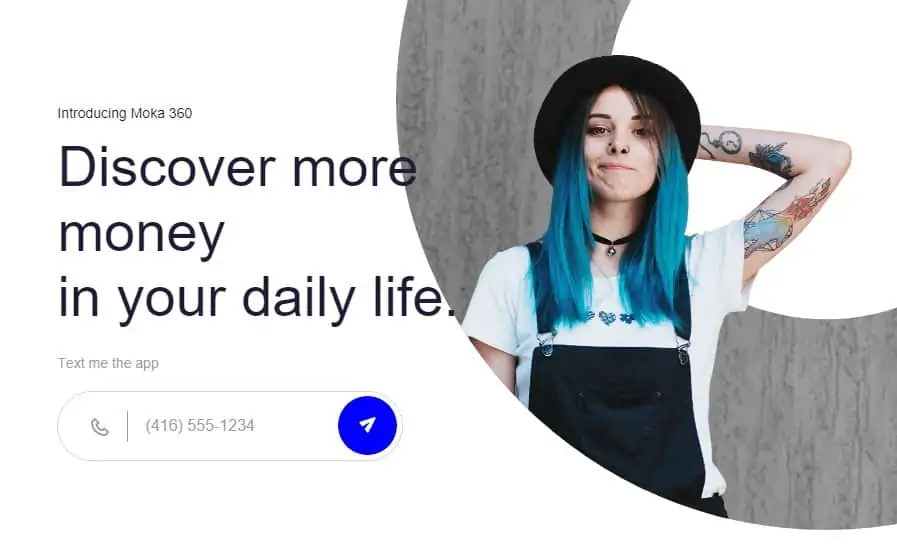 How Does the Moka App Work?
When I first heard of Moka, my reaction was: "Spare change? How does that work?"
The idea behind meeting your financial goals through micro-investing is actually pretty smart. Do you remember how often you have given up on a savings endeavour simply because you could not afford to set aside enough funds?
What automated savings apps like Moka do is help you save small amounts of money, which means you do not need to deprive yourself or radically change your lifestyle. They simply round up your purchases to the nearest dollar and save the difference.
For example, let's say you buy a cup of coffee at the cost of $3.25 using your credit card. The Mylo app rounds up your purchase to $4.00 and puts the extra 75 cents into your Moka account.
This goes on throughout the week. Every Monday, roundups from the previous week are withdrawn from your chequing account and invested into a Moka investment account on your behalf. You can withdraw your funds at any time.
In addition to roundup savings, you can also accelerate the growth of your investment account or meet your financial goal faster by using:
Recurring Investments: You can choose to deposit a fixed amount every week in addition to the usual roundups.
Roundup Multiplier: You can set up your account to multiply your roundups by up to multiples of 10. For example, if you want a 5x multiple on the loose change you invest, a 75 cents savings becomes $3.75 (75 cents x 5).
One-Time Investments: You can make lump-sum deposits to your account whenever you want to quickly reach your savings goals.
How To Open a Moka Account
Opening a new Moka account is easy-peasy and should take you about 3 minutes. The onboarding process includes the following:
1. Visit Moka via this link ($5 welcome bonus).
2. Create an account and answer a few questions to build your investor profile and determine your financial goals and risk tolerance.
3. Link your bank account to the app.
4. That's it! You are on your way to meeting your money goals.
Whenever you refer friends to the app, Moka rewards both of you with $5. This means you can reach your financial goals even faster!
How To Invest Your Money Using Moka
The funds saved in your Moka account are managed by a registered Canadian portfolio manager at Tactex Asset Management, a subsidiary of Moka Financial Technologies Inc.
The portfolio manager invests your money using a diversified portfolio of low-cost ETFs that is modelled after the Modern Portfolio Theory.
You can invest your money with Moka using registered investment accounts (TFSA and RRSP) or a personal non-registered taxable account.
The five basic types of portfolios offered by Moka include:
Conservative: 100% savings
Conservative-Moderate: 40% savings and 60% Bonds
Moderate: 60% Bonds and 40% Stocks
Moderate-Aggressive: 40% Bonds and 60% Stocks
Aggressive: 20% Bonds and 80% Stocks
They also offer a socially responsible investing portfolio, the Moka SRI Fund, which invests in companies building a better world.
Your portfolio type is based on your investor profile, investment horizon, risk tolerance, and financial goals.
If you have any questions regarding your account, you can always reach out to your dedicated portfolio manager and/or customer support through the app to ask them questions.
The ETFs employed to build your portfolio include:

Other Moka App Benefits
In addition to offering hassle-free investing in tax-free and taxable accounts, Moka also offers:
Cash back opportunities through Moka Perks. Users enjoy exclusive discounts and cashback offers from popular brands like Uber Eats, Apple Music, HelloFresh, Staples, and more.
Moka 360: This premium plan gives users access to the original Moka features plus personalized financial coaching, access to customized debt repayment plans and double cashback Perks.
What Fees Does Moka Charge?
I am always interested in what I pay for investment fees and their impact on my long-term returns. You should know that while some level of fees is inevitable, it always cut into your overall investment returns.
Moka charges a flat $3.99 fee per month to use its financial savings platform. This fee does not vary with your account size – whether small or large. Let's dig into the numbers:
Scenario 1: Assuming you invest your spare change of about $20 per month on the basic plan. At the end of one year,
Total savings for the year: $240 ($20 x 12 months)
Total fees paid to Moka: $47.88 ($3.99 x 12 months)
Annual Moka management fee = 47.88/240 = 19.95% (This is high!)
Scenario 2: Let's assume you invest $300 per month (spare change plus an occasional lump sum or recurring payments). At the end of the year,
Total savings for the year: $3,600 ($300 x 12 months)
Total fees paid to Moka: $47.88 ($3.99 x 12 months)
Annual Moka management fee = 47.88/3,600 = 1.33% of your assets. This is lower than many comparable mutual funds, which can easily charge you as much as 1.98% in MER for equity funds!
What the examples above show is that Moka is good on fees if you plan to use it smartly. The more you save/invest, the less you pay in fees because their fees are flat.
In addition to the $3.99 per month charged by Moka, your investments will generally pay management fees (MER) to the individual ETFs in your portfolio.
This is normal and occurs with Robo-Advisors as well. MERs charged by the low-cost ETFs that Moka utilizes are in the 0.06% to 0.38% range.
Is The Moka App Safe?
As per the company, they employ the same security and encryption measures that your bank uses. They also indicate that your data is never for sale.
In addition, your funds are insured by the Canadian Investor Protection Fund (CIPF), which means that if the custodian for your funds goes bankrupt, your investments are protected by up to $1 million.
Is the Moka App Right For You?
The Moka App is great for those who want to invest effortlessly without having to think or stress about it. Anyone can benefit from using the app as a savings/investing strategy.
For example, you can have your registered investment portfolios (e.g. RRSP and TFSA) and employ index funds, ETFs, or mutual funds in those accounts.
At the same time, you can use Moka to set up a savings/investing account for your emergency funds, travel or vacation fund, home down payment, Christmas gifts fund, and more.
The Moka app is especially great for you if you find it difficult to put down significant sums of money at once to invest or save. The app is easy to use as there are no minimum amounts you can invest, and by taking your spare change, you can reach your financial goals without feeling the pinch in your pockets.
Investment knowledge is not required on your part, given that your portfolio manager does all the asset allocation and re-balancing for you.
If you plan to save very small amounts per month (like the $20 per month example I used above) or infrequently, the $3.99 per month fee is comparatively steep.
However, many still find Moka useful even with this cost, especially when the automated savings process is the only way they can save anything at all.
If you are looking for other opportunities to invest using automation and low-cost ETFs inside a registered account, robo-advisors like Wealthsimple are worth checking out.
You can compare all the major robo-advisors by reading my Complete Guide To Robo-Advisors in Canada.
Moka App Review
Ease of Use

Account Minimum

Investment Options

Management Fees

Referral Program
Summary
Moka (formerly Mylo App) is an automated investing app like Acorns in the U.S. This Mylo review covers all you need to know.