A high-interest savings account is important if you want to earn a reasonable return on the money sitting in your savings account.
The rates available on traditional savings accounts are so bad that if you are not using an online bank, you are likely losing spending power for each day that passes by.
LBC Digital offers one of the highest savings rates in Canada, and this review covers what you need to know about the bank.
Who is Laurentian Bank?
Laurentian Bank of Canada was founded in 1846 in Montreal, Quebec, and was initially established as the Montreal City and District Savings Bank.
Today, Laurentian Bank Financial Group (LBCFG) has corporate offices in Montreal and Toronto and consists of several subsidiaries, including Laurentian Bank of Canada, B2B Bank, Laurentian Bank Securities Inc., LBC Capital Inc., and several others.
LBCFG has more than 3,600 employees and $44 billion in assets.
Laurentian Bank of Canada is a Schedule 1 bank and its stock trades as "LB" on the Toronto Stock Exchange.
LBC Digital is the online banking arm of Laurentian Bank. This digital bank offers a:
High-interest savings accounts (HISA)
Guaranteed Investment Certificates (GIC)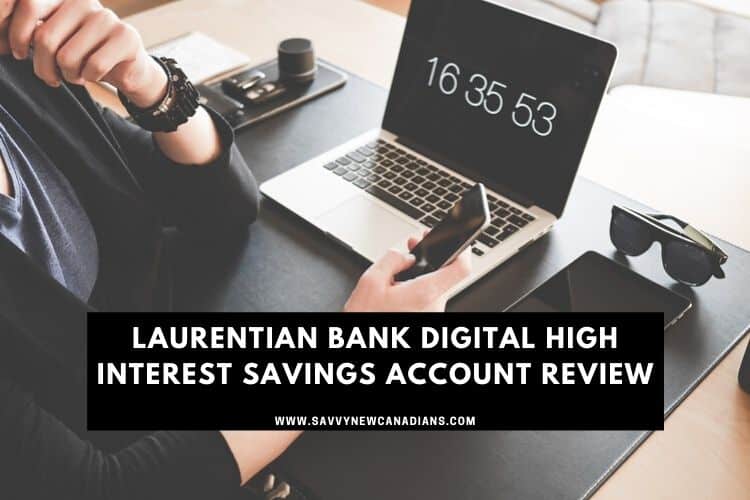 Related: Best High Interest Savings Accounts in Canada
LBC Digital High Interest Savings Account
This account offers a tiered interest rate of up to 3.00%. There is no monthly account fee, and no minimum balance is required.
The interest rate tier works as follows:
$1 to $500,000: 3.00%
$500,000.01 +: 3.00%
The interest rate is calculated daily on your closing balance and paid monthly.
Laurentian Bank is a member of the Canada Deposit Insurance Corporation (CDIC), which means your deposits at the bank are insured up to $100,000 per category.
LBC Digital is an online-only bank.
To deposit money into an LBC Digital HISA account, you must link your LBC account to a bank account at your other financial institution.
If you have funds in your LBC Digital Chequing account, you can easily transfer them to your savings.
The following fees may apply:
Non-Sufficient Funds (NSF): $50
Account closure within 90 days of opening: $25
Returned items: $5
Dormant account fees (2-9 years): $25 per year
Dormant account fee (10 years): $40
LBC Digital Chequing Account
This no-monthly-fee account offers free Interac e-Transfers and access to more than 3,500 free ATMs via THE EXCHANGE Network.
The LBC Digital Chequing Account is not currently paying interest on chequing account balances.
To deposit funds into the account, you can link to another bank account or deposit a cheque or cash at an ATM.
Some of the fees that apply to this account include:
Bank draft: $10
NSF: $50
Overdrawn interest rate: 21% per annum
Dormant account fees: similar to the savings account
Interac ATM transaction: $1.50
LBC Digital GICs
1-5 year non-registered and non-redeemable GICs are available with a minimum deposit of $100.
LBC GIC rates as of December 26, 2022, are:
1-year term: 5.10%
2-year term: 5.10%
3-year term: 5.00%
4-year term: 4.75%
5-year term: 4.75%
The application process for LBC Digital accounts is all completed online. You can reach their customer service at 1-866-249-1489 or 1-416-216-5384 from Monday to Friday (8am – 10pm ET) or on weekends from 9am – 5pm ET.
Related: Best GIC Rates in Canada
Is Laurentian Bank Bank (LBC Digital) Safe?
Laurentian Bank is a CDIC member institution, and eligible deposits at the bank are insured for up to $100,000 per insured category.
Deposits covered by the CDIC guarantee include savings, chequing, and GICs with a maturity of 5 years or less.
As per their website, LBC Digital "adheres to the principles adopted by the Canadian Bankers Association with respect to the protection of personal information."
Pros and Cons of LBC Digital Savings and Chequing Accounts
Pros
Access to 3,500 free ATMs in Canada
Free Interac e-TRansfers (chequing account only)
No monthly account maintenance fee
Cons
The account opening process can be a real pain
Mobile cheque deposits and Interac e-Transfers are not available for the savings account.
The online platform is not very user-friendly. It looks outdated, and some users report that it suffers downtime regularly.
LBC Digital vs. Other Online Banks
LBC Digital compares favourably with other digital banks offering good HISA rates in Canada.
EQ Bank offers a high-interest rate on its hybrid Savings Plus Account. This account offers free unlimited transactions (including e-Transfers), mobile cheque deposits, cheap international money transfers, and access to one of the best mobile banking apps I have come across.
Unlike LBC Digital, EQ Bank does not offer a traditional chequing account. You can read my EQ Bank review for more details.
EQ Bank Savings Plus Account
2.50%* non-promotional interest rate
Unlimited debits and bill payments
Unlimited Interac e-Transfers
No monthly account fees
KOHO offers a very competitive interest rate on your balance. You also get a reloadable prepaid Visa card that pays up to 5% cash back on your purchases, plus free Interac e-Transfers.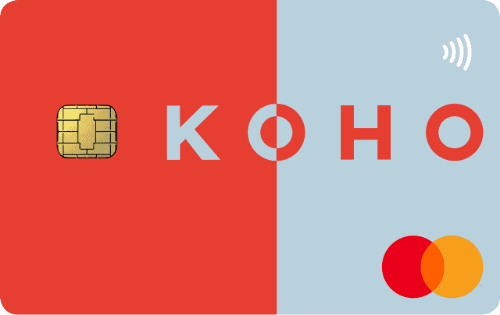 $20 sign up bonus after first purchase (use promo code CASHBACK)
Earn up to 5% cash back
Up to 2.00% savings interest on your balance
Unlimited Interac e-Transfers
Tangerine Bank's savings account has a 1.00% interest rate. It also offers a free chequing account, investments in registered and non-registered accounts, credit cards, loans, and business accounts.
Motive Financial is another virtual bank with one of the best HISA rates. In addition to savings, it also offers a chequing account and GICs. This Motive Financial review covers all the basics.