Ipsos i-Say is a legitimate paid survey site available to residents of Canada and the United States. Its close competitors include Swagbucks, Toluna, Branded Surveys, and Pinecone Research.
Survey sites are one of many ways to earn extra cash from home. No survey site will make you rich, however, if you are looking for opportunities to make a few bucks in your free time, taking surveys on i-Say can be one of them.
This Ipsos i-Say review covers how it works, how to sign up and earn rewards, and whether it is legit.
What is Ipsos i-Say?
i-Say is managed by Ipsos, a global market research company that was founded in 1975. Its headquarters is in Paris, France, and the company is present in 88 countries where it employs more than 16,000 people.
Market research companies use surveys to aggregate consumer opinions which brands use to inform their marketing strategies.
When you give your opinions on products and services as an i-Say panel member, you earn i-Say points which you can redeem for various i-Say rewards including cash through PayPal, popular gift cards, and Virtual Visa Prepaid cards.
How Do Ipsos i-Say Surveys Work?
Taking surveys is the principal way to earn rewards with i-Say. In addition to surveys, you can also earn rewards when you refer friends, participate in i-Say contests, and through their loyalty program.
Ipsos i-Say Login
You can sign up for Ipsos i-Say if you are 18 years or older and reside in Canada or the United States.
Join Ipsos i-Say (Canada link)

Join Ipsos i-Say (United States link)
Verify your email address by clicking on the confirmation email sent to your inbox and fill out your profile.
This step is very important as it determines which survey invites you will get and whether you are likely to qualify for them.
Ipsos i-Say has a mobile app (i-Say app) that is available on both Google Play and the App Store.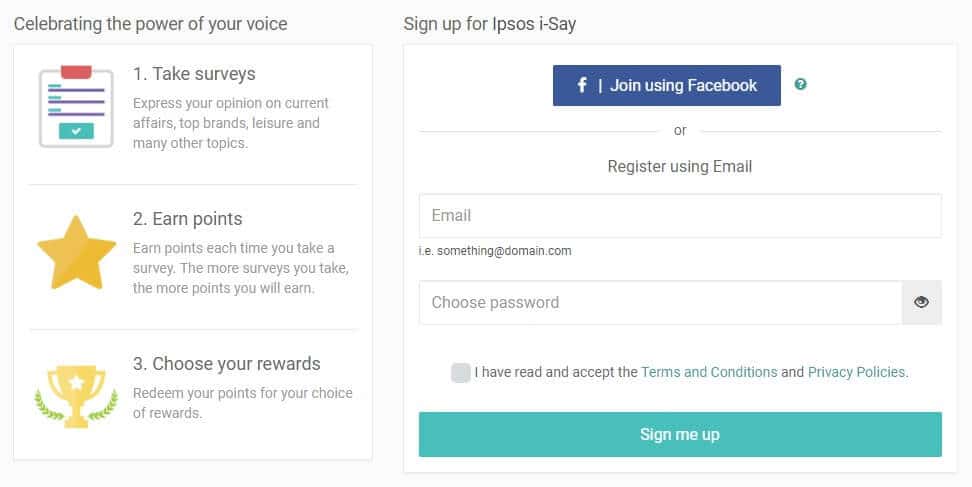 How To Earn Rewards With Ipsos i-Say
As I mentioned earlier, the main avenue for earning rewards on i-Say is through their surveys.
1. Surveys: Members receive up to 8 surveys or more per month. These surveys are sent to your email and you can also view them on your account dashboard. Surveys pay anywhere from $0.45 to $1.50 each. In cases where you do not qualify for a survey, they give you 5 points.
2. Loyalty program: Ipsos i-Say will reward you with additional i-Say points when you complete a certain number of surveys. For example, after taking 5 surveys, you earn 25 bonus loyalty points; 200 bonus points after completing 50 surveys, etc.
3. Polls: When you complete a survey, you get an invite to participate in a poll predictor and get a chance to win various prizes.
4. Draw: A draw is held every 4 months in which 10 lucky panel members win 5,000 i-Say points each.
5. Refer friends: You get 100 points for every friend who signs up for i-Say using your referral link.

How To Redeem Ipsos i-Say Rewards
Once you have accumulated 500 points or more, you can redeem them for a variety of rewards including:
PayPal cash
Amazon gift cards
Starbucks eGift Cards
Tim Hortons card
iTunes
Virtual Visa Prepaid cards
Other popular gift cards
100 i-Say points are generally equivalent to $1, except for PayPal funds.
For example, 500 points will get you a $5 Starbucks, Amazon, or iTunes gift card. If you prefer to redeem your rewards for cash, the minimum payout for PayPal funds is 1,530 i-Say points which are equivalent to $15. Virtual Visa Prepaid cards can be redeemed starting at 1,000 points for $10.
E-gift cards arrive in your email instantly after redemption, while PayPal cash may take 3-4 weeks to process.
Join Ipsos i-Say (Canada)

Join Ipsos i-Say (United States)

Is Ipsos i-Say a Scam?
Ipsos is a well-known market research company with clients in more than 100 countries. It is ranked among the top 5 market research companies globally by revenue.
As of this update in 2022, i-Say had a 4.2/5 rating on Trustpilot. That said, it is not without its downsides and some of the complaints on Trustpilot had to do with:
Errors on surveys
Cancellation of membership without warning
Slow site
Pros and Cons of Ipsos i-Say
From my perspective, these are some of the pros and cons you can expect when you become an i-Say panel member:
Pros
The site is free to join
Low cashout threshold of $5
Same-day redemption for e-gift cards
Mobile-friendly surveys
Legit survey site
Earn points even when you are disqualified for surveys
Cons
Surveys are not plentiful
Surveys won't make you rich
You may not qualify for surveys
Cash payouts via PayPal take 3-4 weeks to process
Top Survey Sites To Make Money
My pro tip for making some money from surveys is to register for several and then focus on the 5 or so that are working for you. Some of the best paid survey sites available include:
1. Swagbucks ($5 bonus): This 'get paid to' site offers multiple ways to make money, including when you take surveys, shop online, browse the internet, watch videos, and play games. Join Swagbucks and get a $5 bonus.
2. Survey Junkie: You will have access to multiple surveys giving you a greater chance to qualify for and earn cash. Join Survey Junkie.
3. Pinecone Research: This is one of the best survey sites on the internet with each survey paying $3 to $5. Join Pinecone Research.
4. LifePoints Canada: This rewards site offers surveys that pay well compared to their competition. Join LifePoints.
Related Posts
Is Ipsos i-Say Worth It?
If you intend to use survey sites to earn a bit of extra income during your leisure time, i-Say surveys may be worth your while.
Ipsos i-Say is not a get-rich-quick scheme. You will not make enough money to quit your day job!
So, are i-Say surveys worth it? The answer is, "it depends."
Ipsos i-Say Canada Review
Summary
i-Say is a legitimate paid survey site that is owned by Ipsos, a global market research company. It is available in Canada and the United States. You earn i-Say points when you complete surveys and can redeem your accumulated points for PayPal cash, gift cards, and as a Virtual Visa Prepaid card.
Pros
The site is free to join
Low cashout threshold of $5
Same-day redemption for e-gift cards
Mobile-friendly surveys
Legit survey site
Cons
Surveys won't make you rich
You may not qualify for surveys
Cash payouts via PayPal take 3-4 weeks to process