There's a lot to know about transferring money between banks in Canada.
This article will explain the different ways to transfer money in Canada, how much time and money it takes to complete a transfer, how to transfer internationally, and more.
It will also address some of the most commonly asked questions about transferring money between banks in Canada.
How to Transfer Money From One Bank to Another Online
There are several ways to transfer money between banks online in Canada. Online options include Interac E-Transfer, bank-to-bank transfer, wire transfer, and mobile apps. Cheques and drafts are manual transferral methods.
This section will discuss each of these transfer methods along with the steps needed to complete each.
Interac E-Transfer
Interac E-Transfer is one of the best ways to transfer money between banks in Canada. It is quick, straightforward, and inexpensive.
In fact, many Canadian banks offer Interac E-Transfer to their clients for free or at a very low fee, often around $1. The steps to complete a transaction are simple:
Log into your bank's app or mobile site.
Select the account you want to transfer from.
Enter the recipient's email or mobile number.
Enter the amount of money you would like to transfer.
If the recipient account is not registered for e-Transfer Autodeposit, you will need to enter a security question and share the answer with the recipient.
If you are sending money to your own account, you will need to check your email or log into your banking site or app, then answer the security question to accept the transfer.
Bank-to-Bank Transfer
If you want to transfer money between two of your accounts at different banks, you can directly link the accounts.
This can usually be completed through your bank's website by following these steps:
Log into your account through the bank's website and select "Add Account" or "Link Account."
Enter the details about the account you want to transfer to.
Verify the account according to your bank's instructions.
Wire Transfer
You can complete a wire transfer to send money between bank accounts, domestically or internationally. The transaction may take several days to complete and generally costs more than the other transfer methods.
For transfers of small amounts, wire transfers are not usually the best way to go, but for large transfers, they can be a good option.
Fees usually remain the same regardless of the transfer amount, and you can transfer larger sums than many other methods allow.
Some banks in Canada, like Scotiabank, offer you the ability to send a wire transfer online. But with most others, like TD, RBC, and CIBC, you'll need to go into a physical branch of your bank.
Mobile Apps
Another option for completing money transfers in Canada is to move money between mobile apps, such as PayPal, Wise, or XE.
Transfers are quick, often instantaneous, fees are low, and security is high. Each app has its own specific transfer process but will require that both the sender and recipient have accounts.
XE is used for international transfers, while PayPal and Wise can be used to send money within or outside of Canada.
Deciding which app to use will likely come down to determining which one both you and the recipient already have accounts with.
Here are the basic instructions for sending money through PayPal, Wise, and XE.
To send money through PayPal, just follow these steps:
Sign up online
Download the app
Click "Send and Request"
Enter the amount to transfer and the recipient's email or mobile number
Hit send
To send through Wise:
Sign up online
Download the app
Go to the home screen and choose "Send Money"
Type in how much you want to send OR how much you want the recipient to receive
Choose the type of transfer
Fill in your personal details
Enter the recipient's bank information OR email address
Review details and choose how to pay
To send money through XE:
Sign up online, through the app, or by phone
Enter the currency you are starting with, the currency to convert to, and the amount of the transfer
Enter the recipient's name and banking details
Pay for the transfer
Review details and hit "Confirm money transfer"
Cheque
One of the oldest methods of transferring money is by cheque.
This can be done easily by writing a cheque to the recipient, which they then deposit into their own account.
There are no fees associated with writing or depositing a cheque, but it usually takes several days for it to clear before the money becomes available in the recipient's account.
Cheques can be deposited by the recipient at their bank, by ATM, or in their mobile app.
If you are transferring money between your own accounts, you can do so right through your phone using your bank's mobile app.
Related: What is a certified cheque?
Bank Draft
Transferring money by bank draft is similar to transferring by cheque, except that the draft is issued directly by the bank, and the funds are guaranteed. There is also a fee for issuing a draft, which will vary by bank.
Drafts are most often used to transfer large sums of money, as there is no maximum limit. They can be made out in foreign currency for international transfers.
To transfer money using a bank draft, you'll need to obtain one from your bank by visiting a physical branch.
You will then be responsible for delivering the bank draft to its intended recipient, who can cash it in at their bank.
For some banks, it's also possible to request a bank draft through your online banking account.
What Information Do You Need to Transfer Money?
The information you will need to transfer money between accounts in Canada will depend on which method you use to transfer.
If you are transferring using mobile apps or Interac E-Transfer, you will only need the recipient's email address or mobile number.
If you are writing a check or draft, you only need their name. Wire transfers and bank-to-bank transfers will require more information about the recipient's account, such as:
Recipient's name and address
Bank name
Whether it is a chequing or savings account
Account number
Routing number
Confirming that you have all of the information, you may need ahead of time will prevent any possible delays.
How Much Does it Cost to Transfer Money Between Banks?
The cost to transfer money is dependent on many factors. While exact fees may vary, here is a look at the average fee you can expect to pay, per transaction, for each of the transfer methods discussed above:
Interac E-Transfer: $0-$1.50
Bank-to-Bank: $0-$3
Wire Transfer: $14-$45
Mobile Apps: $0-$3
Cheque: the cost of the cheque itself, most often pennies
Draft: $5-$10
How Long Does it Take to Transfer Money in Canada
Like the cost of transferring money in Canada, the time for each method will vary. These are the average amounts of time you could expect for each type of transfer to complete:
Interac E-Transfer: 1-30 minutes
Bank-to-Bank: 2 hour-2 days
Wire Transfer: 1-3 days
Mobile Apps: 0-24 hours
Cheque: 1-7 business days
Draft: 2 business days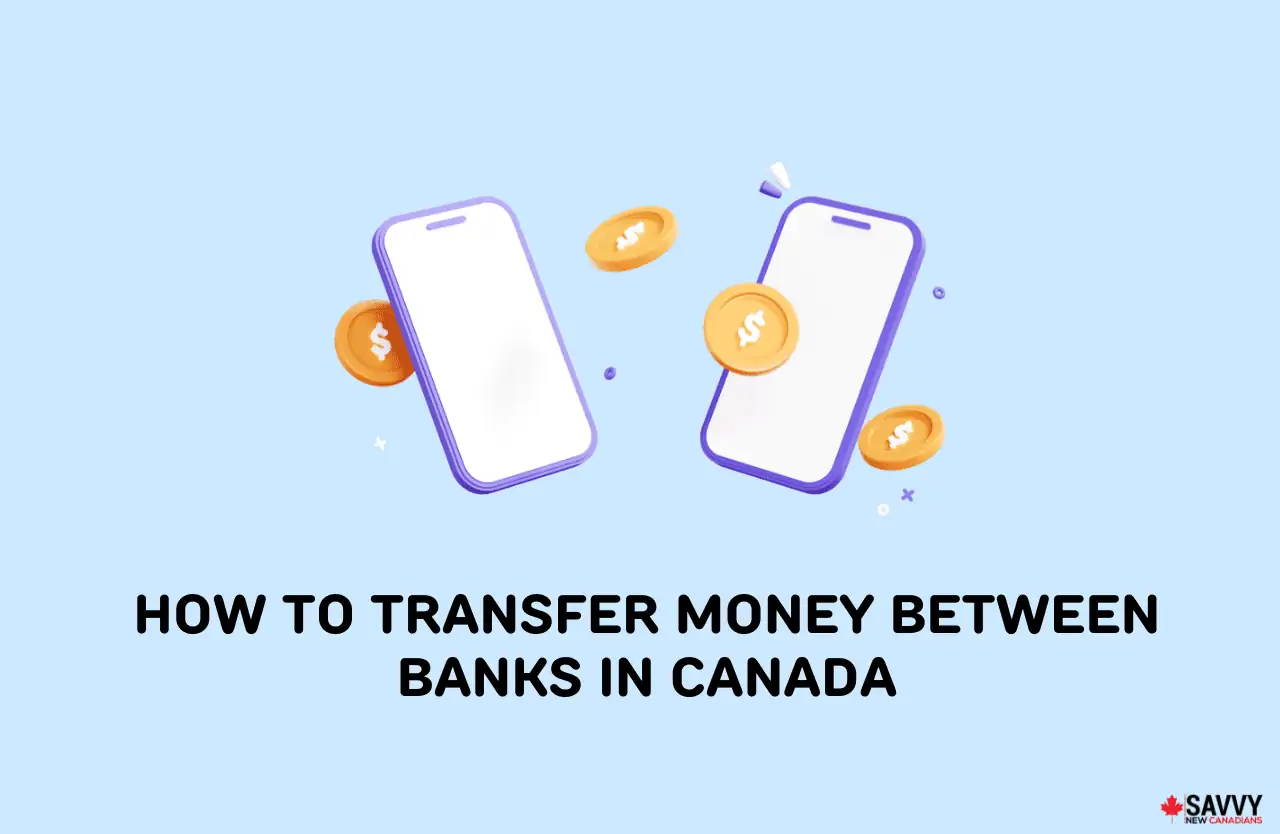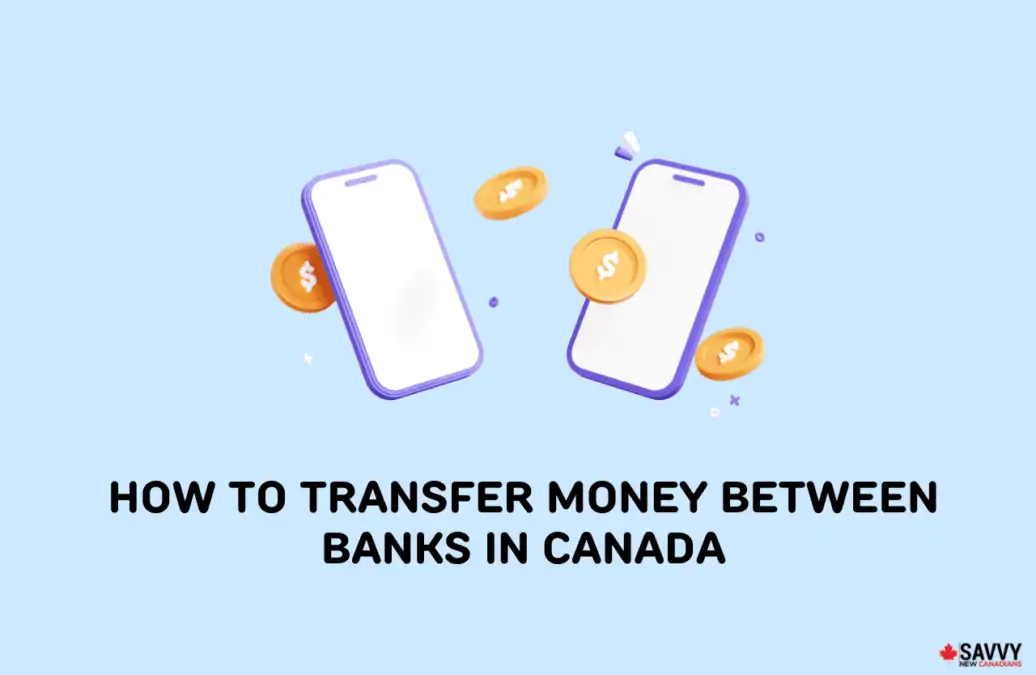 How to Transfer Money with the Big 5 Banks
This section will discuss transferring money in Canada when your account is with TD Bank, BMO, RBC, CIBC, and Scotiabank. Each has slightly different options available that you should be aware of when sending money.
You can learn more about the big five (5) banks here.
TD
If you have an account with TD, the best way to transfer small to moderate sums is through Interac E-Transfer.
Most TD personal chequing accounts can use Interac with no fees.
TD Minimum Chequing Account holders will be charged $.50 for transfers up to $100 and $1.00 for transfers above $100.
The following limits apply to Interac transfers initiated through TD:
Per Transaction: $3,000
In a 24-hour period: $3,000
In a 7-day period: $10,000
In a 30-day period: $30,000
BMO
BMO offers three ways to send money to other banks. Interac E-Transfers, wire transfers, and BMO Global Money Transfer for international transfers. BMO sets the following limits on Interac E-Transfers:
In a 24-hour period: $2,500-$3,000, depending on which debit card you have
In a 7-day period: $10,000
In a 30-day period: $20,000
RBC Royal Bank
Using Interac is free for all RBC chequing account members. Transfer limits depend on the limits set by the bank for your particular debit card.
RBC also offers an International Money Transfer service, which costs $6 for transfers up to $1,000 and $10 for transfers above this amount. You can use this service to send up to $2,500 per day.
Larger transfers can be completed in person at an RBC branch via wire transfer. Fees start at $45 for both domestic and international transfers.
CIBC
Transferring money using Interac E-Transfer through CIBC is fast and simple but may cost up to $1.50, depending on the terms of your account. Maximum transfer limits are:
In a 24-hour period: $3,000
In a 7-day period: $10,000
In a 30-day period: $30,000
For international money transfers, you can utilize CIBC Global Money Transfer. You can send between $100 and $50,000 with no transfer fees.
Transfers can be done through the website or mobile app, and the recipient will receive the money in 1-3 business days. Wire transfers are also available.
Scotiabank
Scotiabank offers Interac E-Transfer services with fees and limits dependent on the terms of your debit card, which can be found through the accounts page on the website or mobile app.
Scotiabank clients can also send money internationally through Scotia International Money Transfer.
Money is transferred directly from your account to the recipient's bank account. Individual transfers cost $1.99, and funds are received within 5 days.
Related: Here are Canada's best banks.
How to Send International Money Transfers
As discussed above, many banks offer their own international money transfer services.
Fees, limits, and transfer times vary by bank. You could also get a draft from your bank written out in the currency of your choice.
Another good option for transferring money internationally is to use Wise. Registration is free and easy. Fees vary depending on the amount transferred, the payment method used, and the currency it is being converted to.
XE is another online service that is popularly used to transfer money internationally from Canada. Transfers usually take about one business day but can take up to 4 in some cases.
There are no upfront transfer fees, but conversion fees might be slightly higher than average. You can send up to $500,000 at a time with this service.
Final Thoughts
There are a lot of options if you are wondering how to transfer money between banks in Canada.
The method you ultimately choose to use will depend on the amount you want to transfer, where it is being transferred to, and how quickly you need the transfer completed.
Cost can also be a factor when selecting the right transfer method for your needs.
FAQs
What is the best way to transfer money between banks in Canada?
The best way to transfer money will depend on your specific needs and preferences. One major consideration is whether cost or speed is of more importance. If you have a Canadian bank account and want to transfer an amount under $3,000, Interac E-Transfer will usually be the best choice for speed, cost, and convenience.
How do I transfer a large sum of money?
Large sums of money can be transferred safely by wire transfer. Limits are usually about $500,000. XE also has a $500,000 transfer limit, making it a good choice for large transfers. Bank drafts have no limit, as the funds are immediately withdrawn from your account to cover the transfer sum.
What happens if you transfer more than $10,000?
If you transfer more than $10,000 within a 24-hour period, it will be reported by your bank to the Canada Revenue Agency. This is done to protect against tax evasion. It applies whether the money is moved domestically or internationally and whether it is sent in one payment or multiple.
How much can you transfer in one day?
The amount that can be transferred in one day will depend on the transfer servicer's policy, as there is no legal limit in Canada. Each bank, mobile service, and wire transfer service has its own rules in place regarding transfer limits.
Related: