This step-by-step guide will show you how to buy stocks in Canada using the Wealthsimple Trade brokerage platform.
Wealthsimple Trade is one of a few trading platforms that offer commission-free stock trading to Canadians.
This online brokerage is great for beginners and simplifies the investment process.
It can also save you a tonne in trading fees compared to a traditional brokerage platform.
Wealthsimple Stock Trading
Wealthsimple offers various products and services, and it is important to differentiate between them.
Wealthsimple Trade is a self-directed investment platform you can use to buy and sell stocks and ETFs by yourself. This trading platform also supports cryptocurrencies via its Wealthsimple Crypto offering.
Wealthsimple Invest is the automated investing platform, aka robo-advisor, where your money is invested on your behalf using sophisticated algorithms.
You can learn about how the Invest service differs from Trade.
This guide shows how you can buy stocks directly using Wealthsimple Trade. For ETF trading, you can follow this guide.
How To Buy Stocks Using Wealthsimple Trade
To get started, visit Wealthsimple Trade to open an account. Our referral link includes a $25 cash bonus that is paid out after you deposit $150 or more within 45 days of opening your account.
Enter your email address and password, and click on the "Get Started" button.
Follow the onscreen prompts to get the app, complete your profile questionnaire, and fund your account using an Electronic Funds Transfer.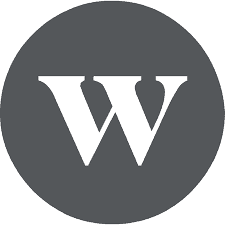 Trade stocks and ETFs for free
Great trading platform for beginners
$25 cash bonus when you deposit $200+
Transfer fees waived up to $150
Step 1: Search for the Stock
Assuming you have done your research and know which stock(s) you want to buy. You can enter its ticker symbol in the search or type in the name, and a drop-down list of stocks will appear.

For this example, I want to buy Tesla Inc (TSLA). It is listed on NASDAQ and is available for fractional trading.
The price chart for TSLA shows its price history over various timeframes, including 1 day, 1 week, 1 month, 3 months, 1 year, and 5 years.
You can hover your mouse over the chart to see the prices (or just use your finger on the app).
Step 2: Place your Stock Order
When using the web app on your computer, the price chart and the order box are on the same page.
Decide on which account you want to trade with. For example, you may have a TFSA, RRSP, and non-registered personal account.
Choose the order type, whether market order, limit order, fractional shares, or stop limit order.
A market order is filled at the best price available on the market at that point in time. For example, I want to buy 1 Tesla unit at its market price of $801.22 USD.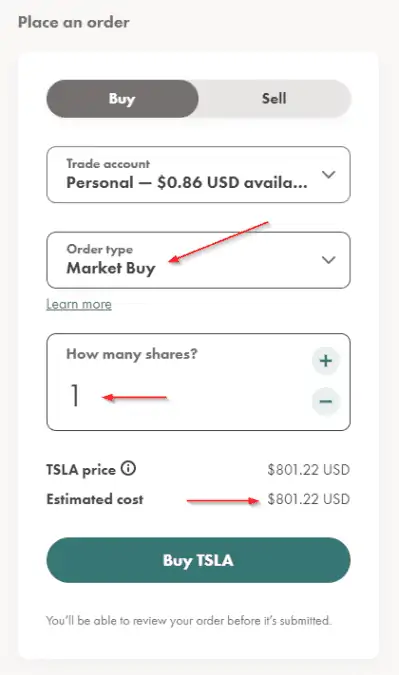 A limit order allows you to specify the highest price you want to pay per share when buying or the lowest price you want to sell your stocks when selling.
For example, I want to buy Tesla shares at $795 per share.
Fractional share trading allows you to buy a fraction of a stock instead of placing an order in whole units.
For example, I want to buy $1 USD worth of Tesla shares. As you can see from the image below, I can buy as little as 0.0012 shares of TSLA using fractional buy.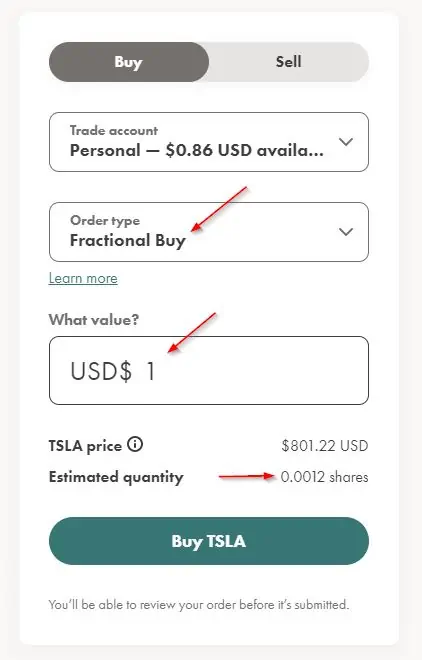 Lastly, a stop limit order is slightly more advanced and combines a stop order and a limit order.
Market and limit orders are the most common order types.
Step 3: Review your Stock Order and Place Trade
Click on "Buy TSLA" to be taken to a review page where you can view your order summary:
Number of shares
Total cost
Conditions
If everything looks okay, click on "Confirm order" to complete the transaction.
You can view pending orders by clicking on the "Activity" item.
Wealthsimple Trade Stock Trading Fees
Wealthsimple Trade has become one of the most popular stock trading apps due to its commission-free trading services.
You can buy and sell thousands of stocks and ETFs without paying trading commissions that typically range from $5 to $10 per trade.
If you are buying a U.S.-denominated stock, such as the TSLA example in this guide, a 1.5% currency conversion fee applies for the CAD to USD conversion for each trade.
FX fees typically apply when currency exchange is required to facilitate a trade. This fee can be as high as 2% on some exchanges if you don't have a USD balance.
You can waive the FX fees per trade on Wealthsimple Trade by upgrading with a Plus subscription (costs $10/month). This subscription may make sense if you place multiple U.S. trades each month.
Wealthsimple Trade Promotions
Get a $25 cash bonus when you open a new Wealthsimple Trade account and fund it with at least $150 within 45 days of opening the account.
As a client, you can also refer friends using your custom referral link and earn free stock rewards.
Best Stocks To Buy in Canada
The assets you hold in your portfolio should be determined by your risk tolerance, investment objectives, and time horizon.
You should also always consider diversifying your portfolio to mitigate risks.
Some of the stocks we have picked for various categories include: