This step-by-step guide will show you how to buy Exchange-Traded Funds (ETFs) on Wealthsimple Trade from start to finish.
Buying and selling ETFs or individual stocks in Canada can easily cost you $10 per trade, with most brokerages charging you fees on your roundtrips.
With Wealthsimple Trade, these pesky trading fees are waived, and you also get a platform that's user-friendly for beginners.
You can open an RRSP, TFSA, and non-registered investment account, and trade many of the best Canadian ETFs.
Wealthsimple ETF Trading
Wealthsimple offers two main ways to buy ETFs. You can choose its automated investment platform, Wealthsimple Invest, and have a portfolio manager buy and sell ETFs on your behalf.
Alternatively, you can go the 'self-directed' route and use Wealthsimple Trade to buy and sell ETFs by yourself.
Thousands of Canadian and U.S. stocks and ETFs are available on this platform, and Wealthsimple even has its own ETFs.
Wondering how automated investing compares to self-directed investing? Read our Wealthsimple Invest vs. Wealthsimple Trade review.
How To Buy ETFs with Wealthsimple Trade
To get started, visit Wealthsimple Trade to open an account. This link includes a cash bonus that is paid out when you trade $300+ worth of ETFs or stocks within 45 days of account opening.
Enter your email address, create a password, and click on the "Get Started" button.
Follow the onscreen prompts to download the app, complete your profile questionnaire, and fund your account.
Wealthsimple Trade is available on all devices, including web interfaces (on a computer), tablets, and smartphones.
For this guide, I will use the web-based platform. You can follow similar steps to buy ETFs on the app.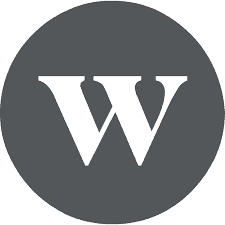 Trade stocks and ETFs for free
Available on all devices & legit
Great trading platform for beginners
$150 cash bonus when you trade $300
Step 1: Search for the ETF
Use the search box to fund the ETF you want to buy. You can either enter its ticker symbol or start typing its name and you will see suggestions in a drop-down list.
For this example, I want to buy units of the Vanguard Growth ETF Portfolio (VGRO).

This all-in-one ETF comprises thousands of stocks and bonds in an 80/20 allocation respectively.
I can use the price chart to see how it has performed over different timeframes, such as 1 day, 1 week, 1 month, 3 months, and longer.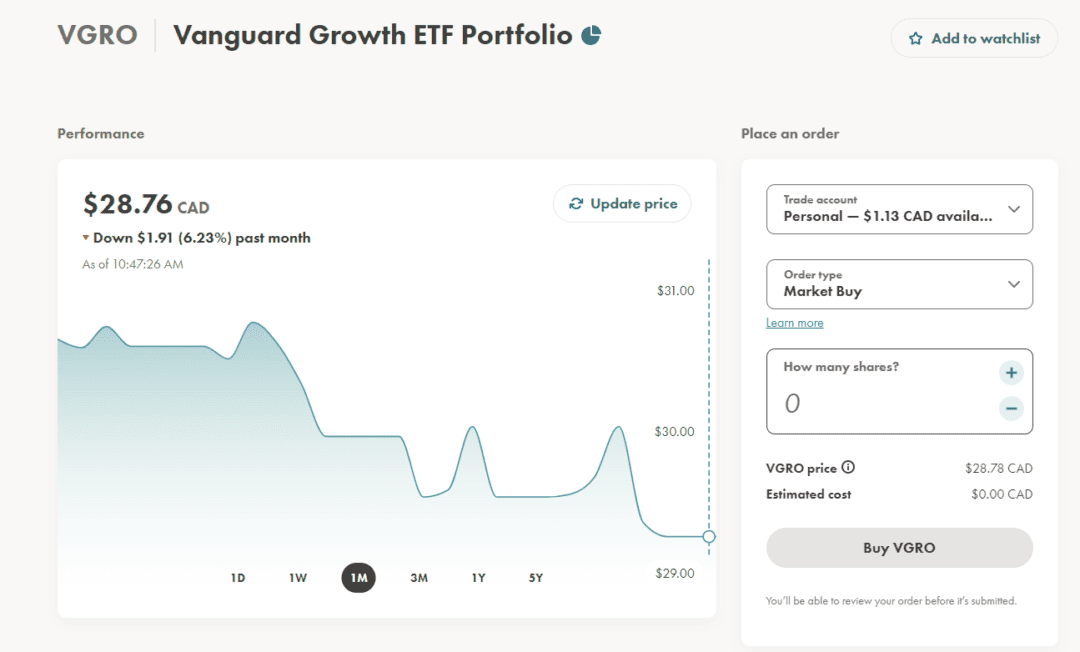 Step 2: Place Your ETF Order
If you are on a computer, the ETF page also has the "Place an order" box where you can enter your order details.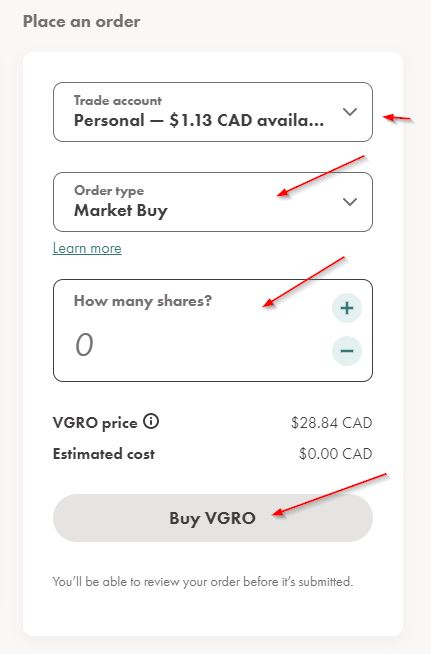 Trade account: Choose the account you want to trade with e.g. Personal, TFSA, or RRSP.
Order type: You can place a market order, limit order, fractional share order, or stop-limit order. The most common order types are the market and limit order.
A market order buys or sells an ETF at the best price that is currently available. It is the best way to buy an asset immediately.
A limit order specifies the maximum price you want to pay when buying or the minimum price you are willing to accept when selling. If this price or better is not reached, a limit order will not be executed.
Assuming we are going with a market order so this trade is completed right away, we select "market order", enter the number of shares of VGRO, and click on the "Buy VGRO" button.
As you can see, this trade will cost me $1,442 CAD at the current price of $26.84 CAD per unit of VGRO.
What about Limit Orders on Wealthsimple Trade?
If you prefer to set a specific price at which your ETF order is filled, a "Limit Buy" order does the job.
Assuming that I want to buy VGRO when its price falls to $28.50, this is what the setup looks like:
I choose "Limit Buy" from the Order type drop-down and enter the highest price per share I'm willing to pay.
If the price of VGRO falls to $28.50 or lower this order will be filled.
A limit order can be open for up to 90 days before it expires.
What about Fractional Shares on Wealthsimple Trade?
Some assets are available for fractional buys on Wealthsimple Trade. What this means is that you can buy a fraction of one share instead of a full unit(s).
Fractional trades are great for expensive stocks. For example, instead of shelling out a thousand bucks for Tesla, you could buy a few dollars worth of the stock. The same applies to ETFs.
Using VGRO, we can buy $1 worth of the ETF.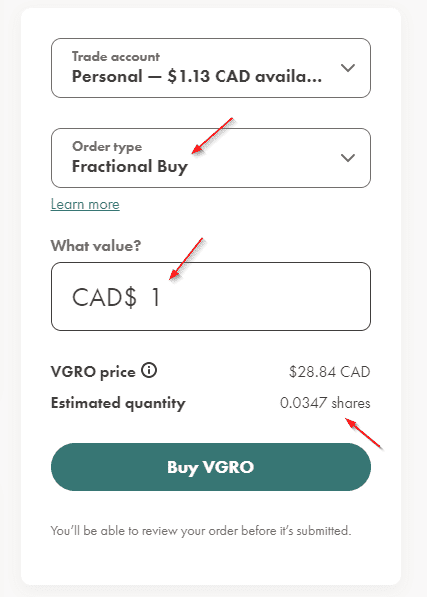 Step 3: Review your ETF Order
Review your order before finalizing the trade. This is important because it summarizes how many shares you are buying, at what price, and other conditions.
For a limit order, use this page to choose how long your order stays open before it expires.
Step 4: Complete your ETF Purchase
Simply click on the "Confirm Order" button to complete the process.
You can view pending orders by clicking on the "Activity" menu item.
Wealthsimple Trade ETF Trading Fees
There is no trading fee to buy and sell ETFs on Wealthsimple Trade. This is easily a $10 savings each time you place an order.
If you are buying a US-listed or denominated ETF, a 1.5% currency conversion fee is incurred each time (buy or sell).
If you routinely buy U.S. assets, you can subscribe to Wealthsimple Trade Plus Subscription for $10 per month.
With Plus, you only pay the 1.5% conversion fee when converting CAD to USD. With the USD funds in your account, you don't pay FX fees per trade.
There are no commission fees on Wealthsimple Trade, and as per its website, it does not receive "payment or incentives to route our orders in a particular way".
Wealthsimple Trade Promotions
Get a $150 cash bonus when you sign up for Wealthsimple Trade using our exclusive referral link.
The bonus is applied to your account if you trade $300 worth of stocks and/or ETFs in your new account within 45 days of registration.
Best ETFs to Buy in Canada
The best ETFs for you will depend on your risk tolerance, investment objectives, and investment timeframe.
We have covered some of the top ETFs you can consider.