This step-by-step guide will show you how to buy Exchange-Trade Funds (ETFs) using Questrade from start to finish.
Perhaps you have been reading all about Canadian investment accounts and the joys and pitfalls of self-directed portfolio management.
To save on investment fees when trading individual stocks and ETFs, you have decided to go with Questrade, Canada's most popular brokerage platform.
Open a Questrade Account
To get started, visit Questrade to open an account. This link includes $50 in free trade credits that are available when you have funded your new account with at least $1,000.

Click on the "Open an account" button to proceed. You will be required to choose from one of the account types.
As shown in the image, the offer code for $50 is automatically applied when you sign up using a valid referral link.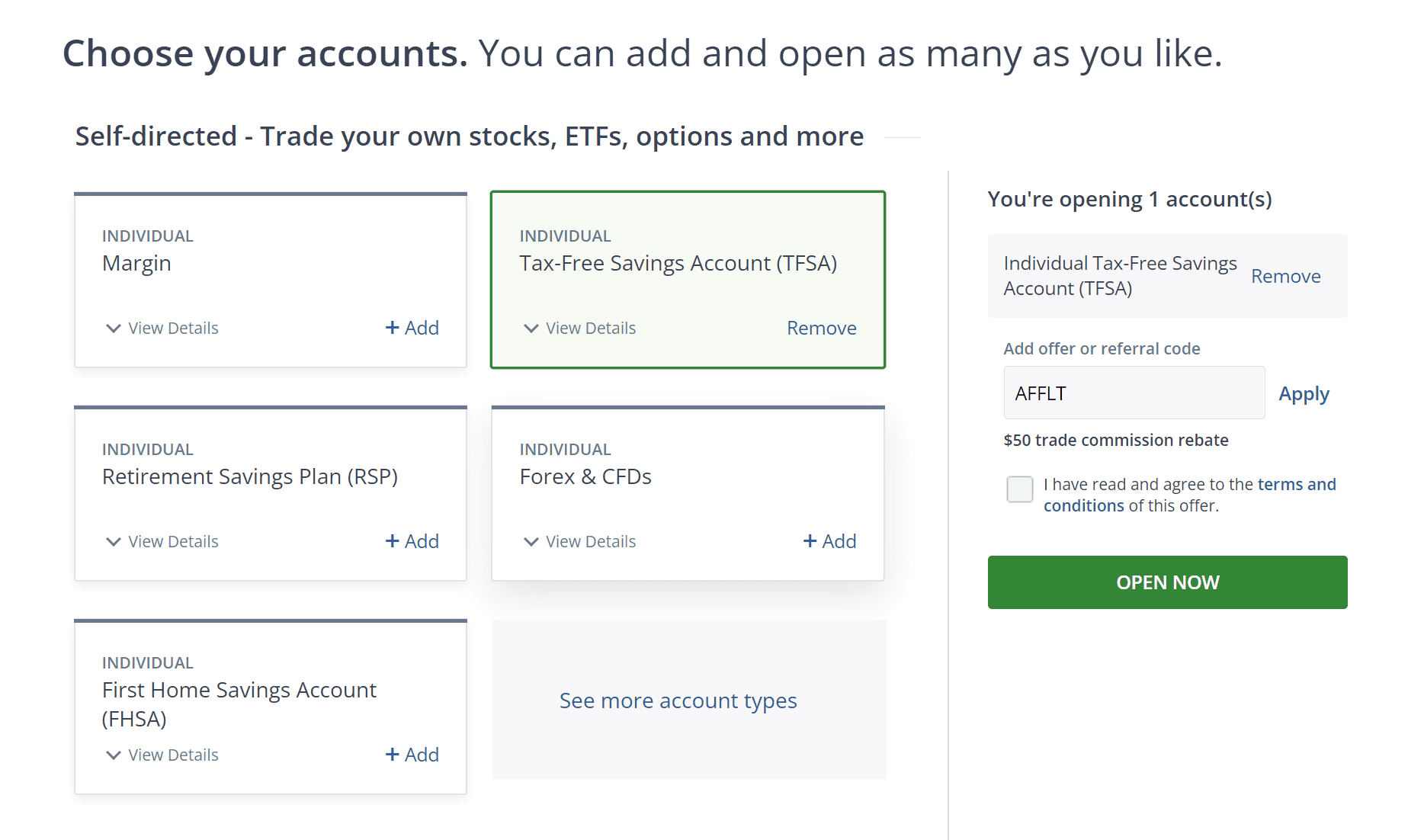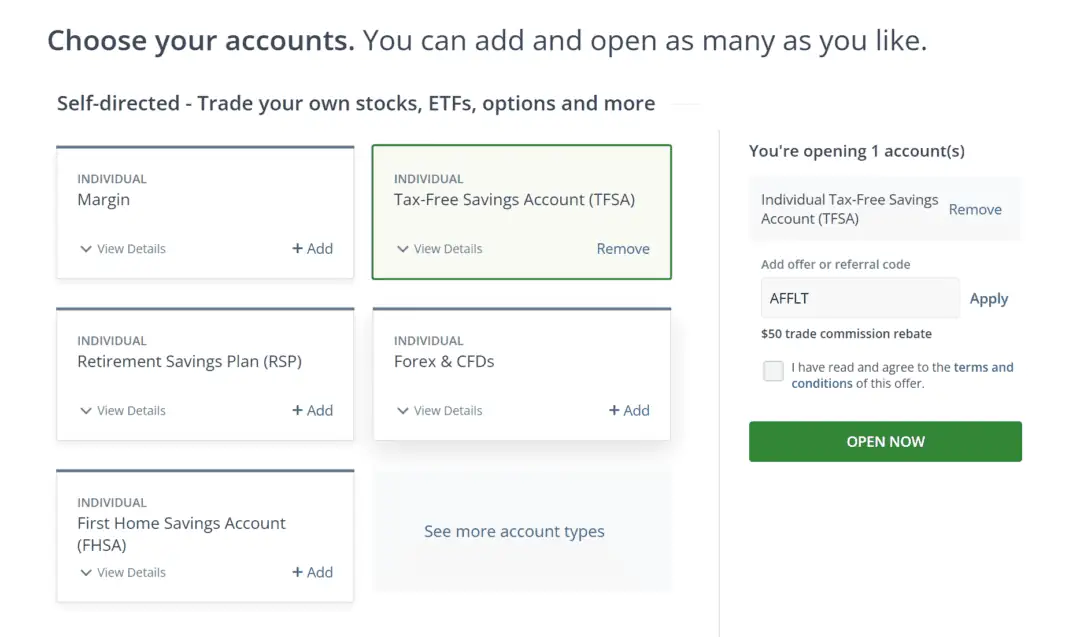 Read and agree to the terms and conditions, and then click on the "Open Now" button to proceed.
Create your user ID and password, and proceed to complete your profile, including personal, employment, financial, and tax residency details.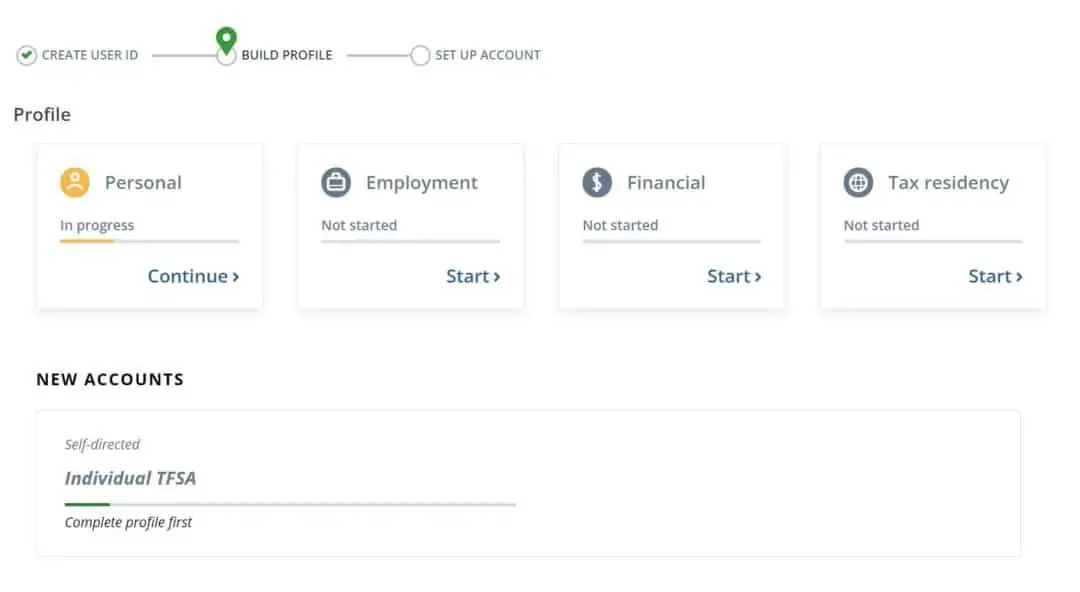 Fund your new account, and you are now ready to begin investing in ETFs on Questrade.
How To Buy ETFs with Questrade
Questrade clients can choose from several trading platforms depending on their needs.
For this guide, I will use the standard Questrade web-based platform.
If you are using the recently introduced QuestMobile app, the steps are going to be fairly similar.
Step 1: Search for the ETF
There are thousands of investment products available on Questrade.
Enter the name of the ETF you want to buy in the search box, or even better, use its ticker symbol.
I prefer to use All-in-one ETFs as they are excellent for a "hands-free" investment strategy, i.e. no need to rebalance individual ETFs inside your portfolio.
All-in-one ETFs (or one-ticket ETFs as they are also called) are offered by Vanguard, BMO, Horizons, iShares, and Fidelity.
I want to buy the Vanguard Balanced ETF Portfolio (VBAL), so I search for it.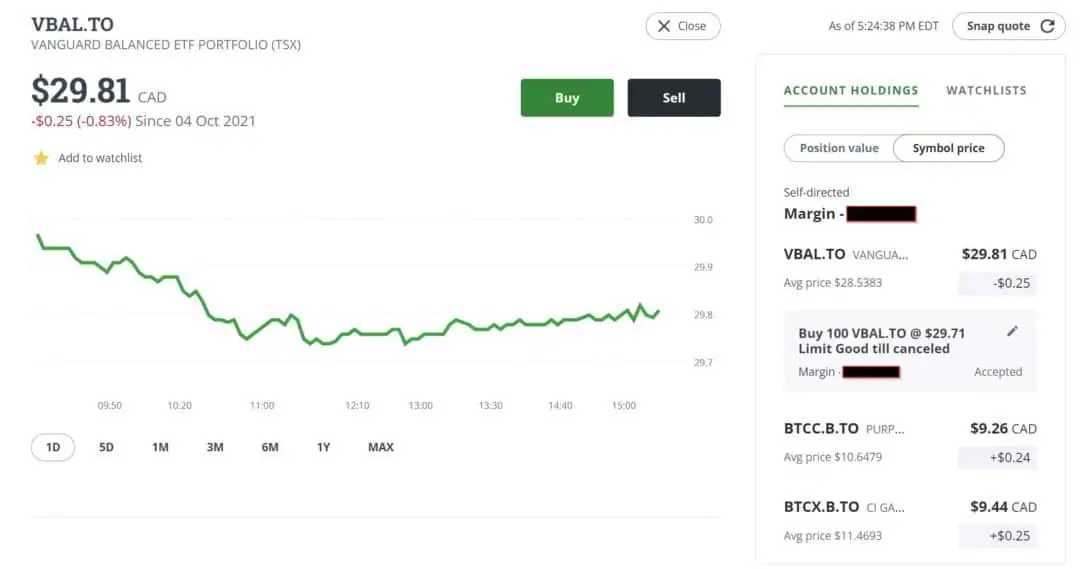 The price chart shows how VBAL has performed over the last day. You can select different timeframes, e.g. 5 days, 1 month, 3 months, 6 months, 1 year, or longer to see how its price has trended over time.
Step 2: Click on Buy and Choose Account
This step is crucial if you have more than one investment in your Questrade profile.
For example, I have a margin account and an RRSP account. After clicking on the "buy" button, I select one of the accounts.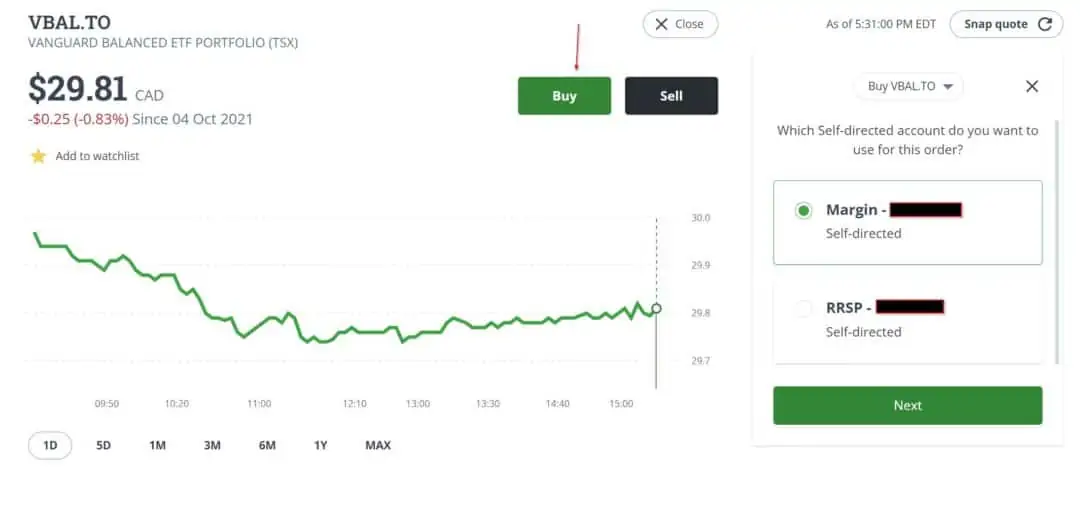 Step 3: Choose an Order Type
You can place various types of orders. The most common types are market order and limit order.
A market order is an order to buy or sell an ETF (or stock) at the best price currently available. If you want to get into the market immediately, this order type gets priority as it pays or accepts the current market prices.
A limit order specifies a maximum price at which your 'buy' order is completed or the minimum price at which your 'sell' order is filled. If the prices you have specified (or better) are not reached, your limit order is not executed.
I often use limit orders to set up multiple trades in a market that is trading sideways and place market orders when I need my order executed ASAP.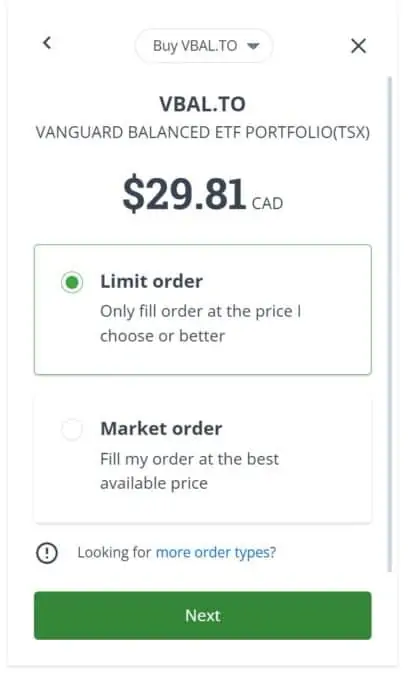 More experienced traders can use the Questrade Edge platform to access other order types, including stop, stop limit, trailing stop, trailing stop limit, limit on close, bracket, conditional, and others.
After selecting the order type, click on 'Next.'
Step 4: Enter the Number of ETFs
Enter the number of ETF units or shares you want to buy. I'm interested in buying 50 shares of VBAL.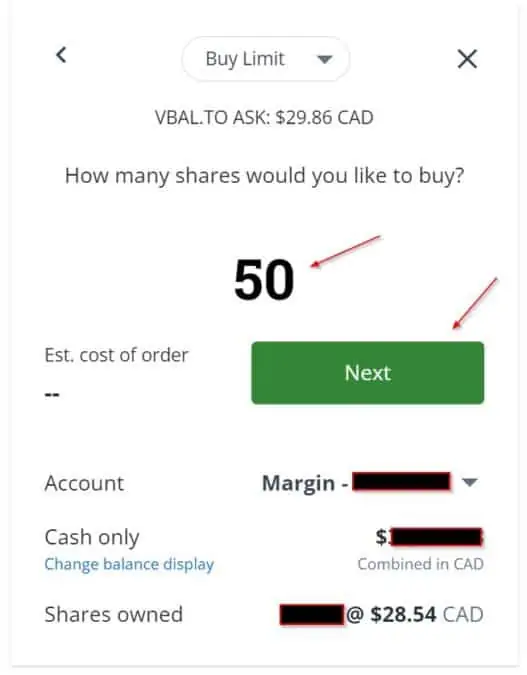 This window also shows the account you are investing in, how much cash you have available, and how many shares of the ETF you already own (if applicable).
Click on 'Next' to see how much your order will cost.
Since I'm placing a 'limit order,' I edit the default market price because I want the trade to execute at a lower price.
Instead of the $29.86 market price, I want to buy VBAL at $29.79.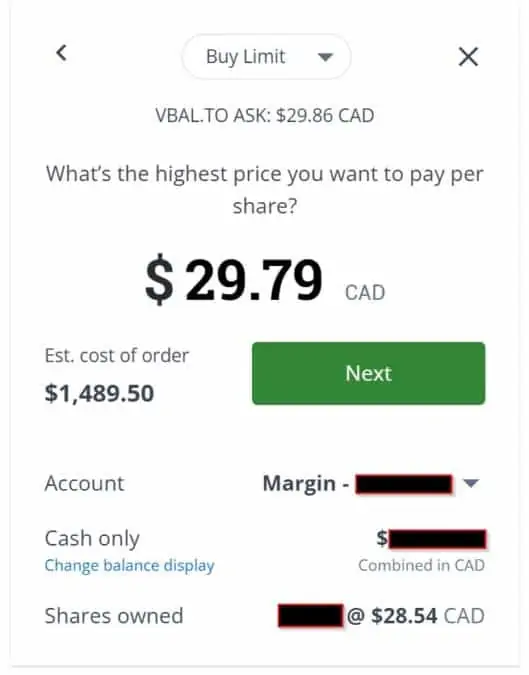 The total order will cost me $1,489.50 if executed.
Note that while limit orders can help you buy assets at great prices, they can also cause you to miss out if prices continue to rise and your orders are not filled.
Step 5: Review your ETF Order
Review your order before it is finalized.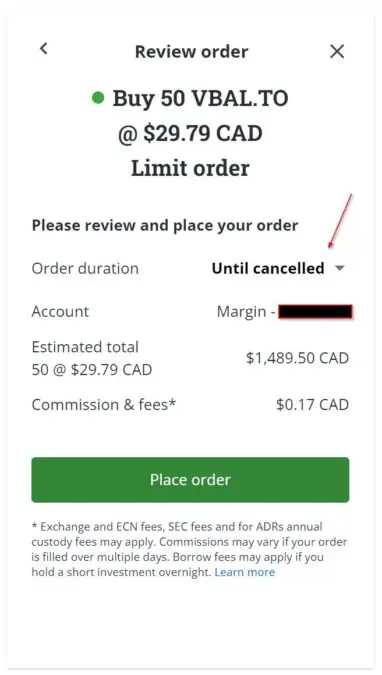 As shown in the image above, I want to buy 50 units of VBAL at $29.79.
Under "Order duration," I chose "Until cancelled," which means the order remains alive until it is either filled or I cancel it.
Alternatively, you can choose an order duration of one "Day," and the order is cancelled if unfilled at the end of that day's trading session.
Step 6: Place your ETF Order
Simply click on 'place order' to complete the process.
You can view your current holdings and outstanding orders under the "Account Holding" section of your dashboard.
Questrade ETF Trading Fees
ETF purchases are free on Questrade.
When you sell ETFs, you pay 1 cent per share. The minimum trading commission per ETF trade is $4.95, and the maximum is $9.95.
For the VBAL limit order we placed, there was a $0.17 fee.
Since we are buying ETFs, the trading commission is nil; however, other fees may apply, including:
Electronic communication networks (ECN)
SEC fees
If you are buying an ETF denominated in U.S. dollars and don't have USD in your account, a currency exchange fee is charged (175 basis points).
Questrade Promotions
Get $50 in trading commission rebates when you sign up using a valid Questrade referral link.
This promotion has no end date. However, note that you won't see the credit until your new account is funded with at least $1,000.
Buying ETFs in Canada
Questrade is one of a few brokerage platforms offering commission-free ETFs in Canada. Others include Wealthsimple Trade, National Bank Direct Brokerage, Qtrade, and Disnat.
For the big bank brokerages, you can read my comparisons and reviews of them below: