Following the economic devastation caused by the COVID-19 pandemic, the federal government introduced the Canada Emergency Response Benefit (CERB) which offers $2,000 every month to eligible workers. As of last week, more than 7 million Canadians have applied for this emergency relief.
Many students who are currently enrolled in a post-secondary program are unable to qualify for the CERB, and, with summer on the horizon and very little to no summer job prospects, something had to be done about the situation.
On April 22, 2020, Trudeau announced the Canada Emergency Student Benefit (CESB) which will provide $1,250 a month to post-secondary students and recent graduates.
Related: Canada Workers Lockdown Benefit
What is the Canada Emergency Student Benefit?
The CESB is a $5.2 billion financial support plan for post-secondary and recent graduates. It is expected to help at least one million students.
It will provide a flat-rate benefit of $1,250 a month ($312.50 per week) for up to four months between May and August 2020.
Eligible students who have dependents and those with disabilities will receive $750 in additional benefits for a total of $2,000 per month to match the CERB.
Who Qualifies For the CESB Benefit?
The CESB applies to students who are ineligible for the CERB benefit or EI and who are unable to work full-time due to COVID-19.
Based on currently available information, the benefit will apply to students who meet the following criteria:
Post-secondary students who are currently enrolled in a program leading to a degree, diploma, or certificate. The program must have a duration of at least 12 weeks
High school graduates who have applied for and will be starting post-secondary education in the coming months (before February 1, 2021)
Recent graduates who graduated no earlier than December 2019 and are unable to find work due to COVID-19
Canadian students who are studying abroad and meet one of the above criteria
The student must be a Canadian citizen, registered Indian, permanent resident or protected person. International students do not qualify for the program.
Students who apply for the CESB can continue to find work and earn up to $1,000 while receiving the CESB.
Students who have already qualified for the CERB or who are receiving employment insurance are not eligible for the CESB.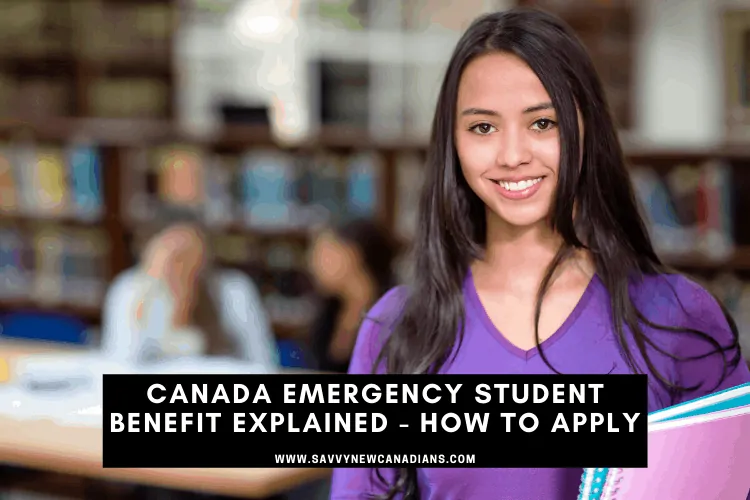 How Much Will I Get From The CESB?
You will receive $1,250 every month for up to 4 months (May to August) if you remain eligible. Students who have dependents (e.g. kids under 12 years old) or who are disabled will receive $2,000 a month.
A disability is defined as "any impairment, including a physical, mental, intellectual, cognitive, learning, communication or sensory impairment — or a functional limitation — whether permanent or episodic in nature, or evident or not, that, in interaction with a barrier, hinders a person's full and equal participation in society."
The first CESB payment period will start from May 10, 2020, to June 6, 2020. Eligible students can apply for up to a total of 16 weeks of benefits if eligible.
You will need to apply for each 4-week period. The eligibility periods until the end of August are:
May 10 to June 6, 2020
June 7 to July 4, 2020
July 5 to August 1, 2020
August 2 to August 29, 2020
High-school students who are just graduating and meet the eligibility requirements can only apply for an eligibility period that falls after the date of their graduation.
While on CESB, you can work and earn up to $1,000. Essentially, you can potentially "earn" up to $3,000 if you are able to find part-time work over the summer.
A second initiative, the Canada Student Service Grant (CSSG), will provide up to $5,000 to students who volunteer in their communities under a new National Service initiative.
How To Apply For The CESB
As per currently available information, you will be able to apply for the benefit via CRA MyAccount starting on May 15, 2020, at 6 a.m. ET.
If you do not have a CRA MyAccount, learn how to create one here.
Payments will be sent out via direct deposit or cheque by the Canada Revenue Agency. Direct deposit payments are processed within 3 business days, while cheques may take up 10 business days.
If you do not have a CRA MyAccount, you can also apply using the automated phone service by calling
or . You will need to provide your SIN and postal code.
The CRA phone service will be available from Monday to Sunday between the hours of 6 a.m. and 3 a.m.
Is The CESB Benefit Taxable?
Similar to the CERB, the CESB is considered to be taxable income.
Most students won't have to worry about paying taxes on the benefit, however, considering that the 2020 federal basic personal tax credit cancels out taxes on the first $13,229 you earn in income this year.
Add in the tax credits from your tuition payments and you can probably earn close to $20,000 without paying taxes.
Related: Free Tax Software in Canada
CESB Eligibility Work Requirements
To remain eligible for payments in subsequent payment periods, you will need to show that you have been actively looking for work.
You should document the efforts you put into searching for work. For example, register on job banks to see what jobs are available in your area. And, you should prepare a resume to use for your job hunting.
How To Pay Back CESB Payments
CRA may require you to pay back the CESB you received during a payment eligibility period if:
You were ineligible
You earned more than $1,000
You applied and received both the CERB and CESB benefits
If you need to repay the CESB, you can either send back the original cheque or draw up a new one and make it payable to the "Receiver General for Canada."
Mail your cheque to "Revenue Processing – Repayment of CESB, Sudbury Tax Centre, 1050 Notre Dame Avenue, Sudbury, ON P3A 0C3." Don't forget to include your SIN for identification purposes.
CESB repayments to the CRA that are completed before December 31, 2020, will not be reflected on your T4A tax slip and you won't have to pay taxes on the amount.
CRA recently added a link to their Leads Program for reporting suspected CESB fraud.
CERB vs. CESB
The CERB provides $2,000 per month to workers who are unable to work due to COVID-19.
To be eligible for the CERB, you must have earned at least $5,000 in 2019 or in the 12 months before your application. This is not so for the CESB.
Some students will qualify for the CERB and should not apply for the CESB.
The CERB pays $750 more compared to the $1,250 base benefit offered by the CESB.
Do International Students Qualify For CESB?
International students do not qualify for the CESB.
That being said, international students who meet the eligibility criteria can apply for the CERB benefit.
Also, the 20-hour rule that restricts how many hours international students can work per week has been lifted if they are working in an essential service e.g. healthcare and food supply.
This change is in place until August 31, 2020.
Other Financial Assistance Programs for Students
In addition to the Canada Emergency Student Benefit, the federal government is also providing the following financial assistance benefits to students and recent graduates:
Canada Student Service Grant: This program will offer up to $5,000 in educational support to students who volunteer and assist with the COVID-19 national response in their communities.
Canada Student Grants: These grants are being doubled for eligible full-time students to up to $6,000 and up to $3,600 for part-time students.
Canada Summer Jobs Program: Employers will receive up to 100% of the minimum hourly wage for each youth employee – an increase from the regular 50%. This program is expected to support up to $70,000 job placements in 2020-21.
Canada Student Loans Program: Changes are being made to raise the maximum weekly amount that can be provided to a student from $210 to $350.
Student Loan repayments: Student loan repayments and interest have been suspended until September 30, 2020.
In addition to the above, millions of dollars are being allocated to support student researchers and post-doctoral fellows.