How many toonies are in a roll? Read on to find out.
The Canadian toonie is a coin in Canada. You can put it in a roll and use it to buy things or deposit it into your bank account.
Coin wrappers are easy to find, and it's far simpler to manage your loose change this way. There's a specific amount in each roll, depending on the denomination.
For instance, a roll of toonies is worth more than a roll of dimes, a roll of quarters, and a roll of loonies.
You can use your roll of coins to pay for items at a cash register or give them to your bank. However, one of the strange laws in Canada restricts how many coins you can use in a single transaction.
You can only give the bank or cashier one roll of toonies at a time.
If you happen to have a lot of loose change, this means multiple trips to get rid of it. However, they have other uses, and when it comes down to it, it's still hard to cash.
How Many Toonies are in a Roll?
If you're curious about how many toonies fill up a roll, it's exactly 25. This is the same as a roll of loonies, but it's worth double.
If you happen to use cash and have a lot of change, it can add up fairly quickly. Once you've accumulated enough toonies to fit in coin wrappers, you can roll them up.
What is a Toonie?
The toonie is Canada's two-dollar coin, which was introduced in 1996. It replaced the two-dollar note and is the highest Canadian coin value.
It has two different metals and is multi-toned. On one side is a portrait of Queen Elizabeth, just like every other Canadian currency bears. On the other side is the polar bear, designed by artist Brent Townsend.
In 2012, the design was changed on both the loonie and toonie to add new security features.
The coins before 2012 had aluminum bronze inside with pure nickel on the outside with multi-plated brass. The 1996 design weighed 7.30g, and when they revamped it, it went down to 6.92g.
The loonie predated the toonie, and both are nicknames Canadians created. The loonie, of course, was named after the loon on the coin and the toonie picked up with a rhyming nickname.
The Royal Canadian Mint came out with various collectible commemorative coins, as the editions were limited.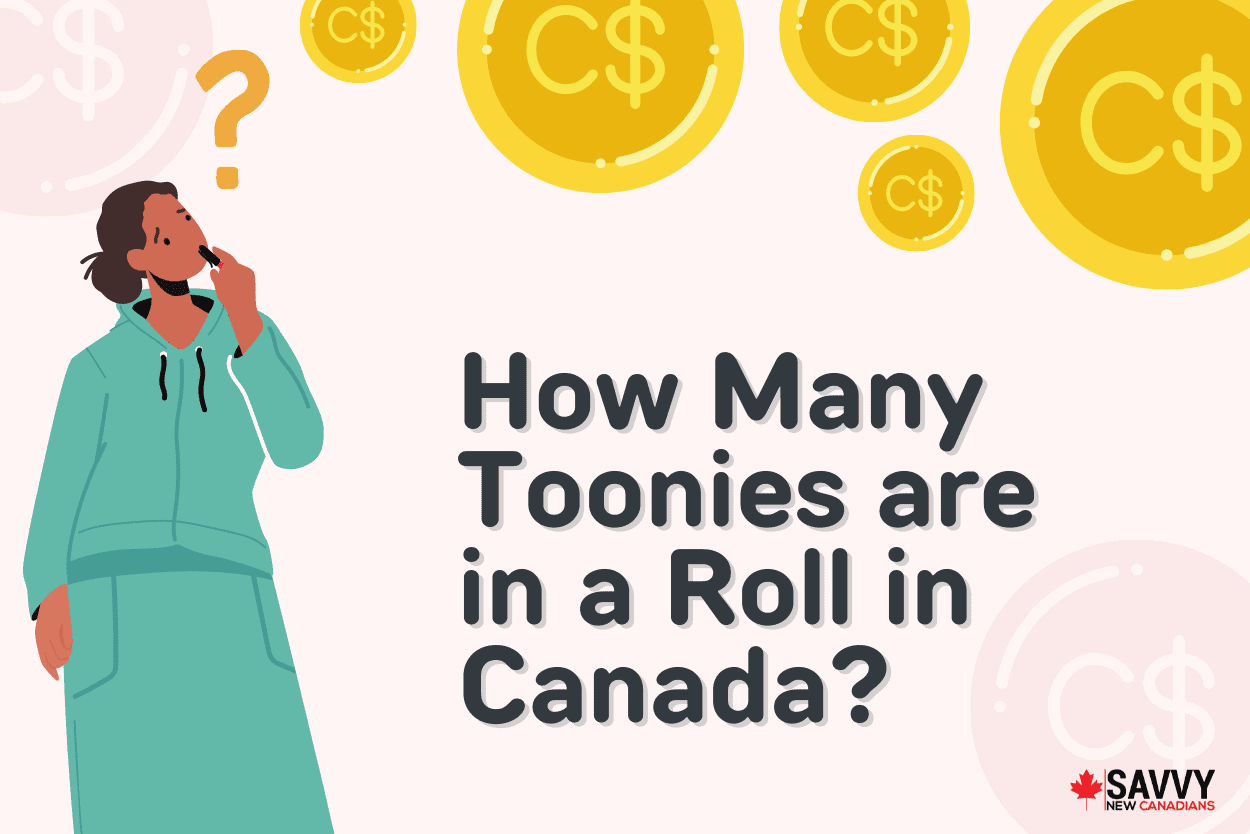 Canadian Coin Rolls, Denominations & Face Value
Canadian coins include nickel, dime, quarter, loonie, and toonie. Canadian coin roll values differ, with the toonie being worth the most.
Here is a table of the value of each Canadian coin.
| | | | | | | |
| --- | --- | --- | --- | --- | --- | --- |
| Coin | Denomination | How many coins fit in a roll | Total worth per roll | Colour | Diameter | Thickness |
| Toonie | $2.00 | 25 | $50 | Purple | 28mm | 1.75mm |
| Loonie | $1.00 | 25 | $25 | Black | 25.5mm | 1.95mm |
| Quarter | .25 cents | 40 | $10 | Orange | 23.88mm | 1.95mm |
| Dime | .10 cents | 50 | $5 | Green | 18.03mm | 1.22mm |
| Nickel | 0.05 cents | 40 | $2 | Blue | 21.2mm | 1.76mm |
Where Can I Get a Roll of Toonies in Canada?
The best place to get a roll of toonies is at your bank. They always have rolls available as they're given to businesses that use cash exchanges.
The rolls of toonies are worth $25, and you can buy as many rolls as you want at a bank. You can use your bank card or cash to purchase them.
In addition to toonies, you can also purchase a roll of loonies, a roll of quarters, dimes, and nickels.
Toonies can be used as cold hard cash when you're paying for things. They are also a convenient way to pay for items in a vending machine or for your bus fare.
What is The Use of a Coin Roll?
Canadian coin rolls allow you to conveniently wrap up your coins to count them. If you have a lot of change, counting it out takes time.
When you put them in a coin roll, you know exactly how much is there, and it's far easier to transport and dispense.
Businesses that use cash transactions also utilize coin rolls. They purchase the Canadian coin rolls from their bank to use in cash registers.
When a register is low on a certain denomination, they can easily take out the cash they need to exchange it for a coin roll. This keeps the cash register in balance, making end-of-day accounting much easier.
Related: Cheapest Places To Live in Canada.
How Do You Pack Coin Rolls?
Coin wrappers tell you what the Canadian coin roll values are and how many coins you need to fill it up. There are different types of wrappers, but generally, it's all the same.
You drop the coin through the open end of the wrapper. Sometimes they fall in sideways, so you must manipulate the coin wrapper to straighten them out.
Be sure to count how many coins you're putting in there. In fact, you may want to count out the coins first and make a few piles of 10 coins.
Once you've filled it up, you close the top by folding the paper. There are also deluxe plastic coin wrappers, where you can open it up, place the coins inside, then lock them in.
What is Coin Roll Hunting?
Coin roll hunting is a hobby that involves people seeking out and sorting coins to see if there are any collectible coins in a roll.
They purchase Canadian coin rolls of all denominations to find precious collector coins. They may also purchase boxed coins or bagged coins from a bank.
A roll of toonies may reveal some limited-edition coins that are no longer circulated.
How To Collect Special Coins in Canada
You can find special coins in Canada in a few different ways. Canada Post often has brand-new collector coins and full limited edition collections.
Having access to brand-new coin collections from the Royal Canadian Mint that have never been opened can become valuable later.
There is only a certain number of these coins made, and you may have to sit on them for many years to see their worth.
There are also stores that specialize in rare Canadian coins. They may have collections that have never been opened or loose coins that are old or collectible because they're special editions.
The Royal Canadian Mint has five steps to follow to begin collecting coins in Canada.
Conclusion: How Many Toonies Are in a Roll?
In conclusion, a roll of toonies includes 25 coins worth $50.
This is the most valuable roll of Canadian coins to date. Though it's much shorter than a roll of dimes, it's worth much more.
A roll of nickels is worth $2, and a roll of dimes is worth $5. Loonies are worth $25, and quarters are worth $10.
It's worth noting that you can still use a roll of pennies despite the fact they have been discontinued. However, this won't last forever, so if you have thousands of pennies, you may want to roll them up and start getting rid of them.
If you have a bunch of Canadian toonies lying around, you can cash it in and get $50. You can also take in your other Canadian coins to get rid of them.
There is a maximum the bank will accept, but you can take a roll in whenever you happen to be going to your bank. You can also use a roll of Canadian coins to buy things at a store.
Rolling up your coins makes it easier to move them and deposit them elsewhere.
FAQ
How many coins are in a roll of toonies?
There are exactly 25 coins in a roll of toonies. With so many coins, we suggest you count them out and pile them up before putting them into the roll.
How many toonies are in a 50-dollar roll?
As the toonie is worth $2, there are 25 coins in a 50-dollar roll. It is quite heavy but compact and easy to transport.
How much is a roll of toonies?
If you want to purchase a roll of toonies, you'll have to pay $50. That is how much they're worth with 25 coins inside.
How many nickels are in a roll?
There are a total of 40 nickels in a roll. They are worth 5 cents each, and a roll of nickels has a worth of $2.
How many dimes are in a roll?
There are 50 dimes in a roll. These slim coins are worth 10 cents each, and when you fill up your roll, it's worth $5.
What is a roll of quarters worth in Canada?
The total worth of a roll of quarters in Canada is $10. There are 40 coins in a roll, and each coin is worth 25 cents.
Related: