Are you wondering about how many quarters are in a roll? Read on to find out.
When you fill-up your coin wrappers with quarters, you can easily transport your loose change to the nearest bank and have them deposited.
Each Canadian coin roll value differs, and there is a limit on how many Canadian coin rolls you can use at one place and per time.
In fact, there's a law in Canada on how many coin rolls you can use at any one time.
If you still happen to have pennies, you can use coin wrappers to put them together and give them to your bank.
As the one-cent coin stopped being in circulation a while ago, they will stop honouring them as legit currency soon. It might be worth rolling them up and taking them to your bank as soon as possible.
As for the other Canadian coin rolls, your bank will always accept them, but only up to a certain amount of value. For example, they may only accept one roll of quarters at a time.
How Many Quarters Are in a Roll?
There are exactly 40 quarters in a roll, so it's easier to keep track of your coins using coin wrappers.
You may have a bunch of loose change from spending cash, and when the time comes, the best way to keep track of how much your change is worth would be to roll them up.
It's also much easier to transport when you have rolls of quarters or other coin rolls like toonies.
How Much is a Roll of Quarters Worth?
A quarter is valued at .25 cents, and with 40 quarters in a roll, it makes your roll of quarters worth $10.
These coins can add up to a lot, and when you roll them up, you know exactly how much your change is worth. It also keeps your change more organized, and you can use it easily.
Generally, your grocery store or other convenience stores will accept one or two rolls of quarters at a time.
What is a Canadian Quarter?
You might be wondering why this silver coin is called the quarter.
It is called a quarter as it is worth ¼ of a dollar. The Canadian quarter is smaller than the loonie and toonie, but it is larger than the other coins.
The official name, according to the Royal Canadian Mint, is the 25-cent piece. It is very much like the American quarter, although its value is different when rolled up into coin wrappers.
Sometimes you can get away with using your dimes, nickels, and quarters in the US as a Canadian, as they look very similar. They are both silver and about the same size.
Of course, there are differences when you look at the details. The quarter has the Queen of England on one side, as with all Canadian currencies.
On the other side, you'll see a caribou. There are also commemorative coins for Remembrance Day with a bright red poppy on the quarter.
There are also limited edition quarters that are Olympic-themed or pay homage to past Canadian heritage.
Another mentionable collection is the beloved hockey collection and millennial quarters.
The quarter has been a part of the Canadian currency for a long time, so it has had a lot of changes. When the quarter was first in circulation, it had a mass of 5.81g and a diameter of 23.62mm.
It was 92.5% silver and 7.5% copper. Today, it has been reduced to a mass of 4.40g but has a larger diameter of 23.88mm. It comprises 94.0% steel, 3.8% copper, and 2.2% nickel plating.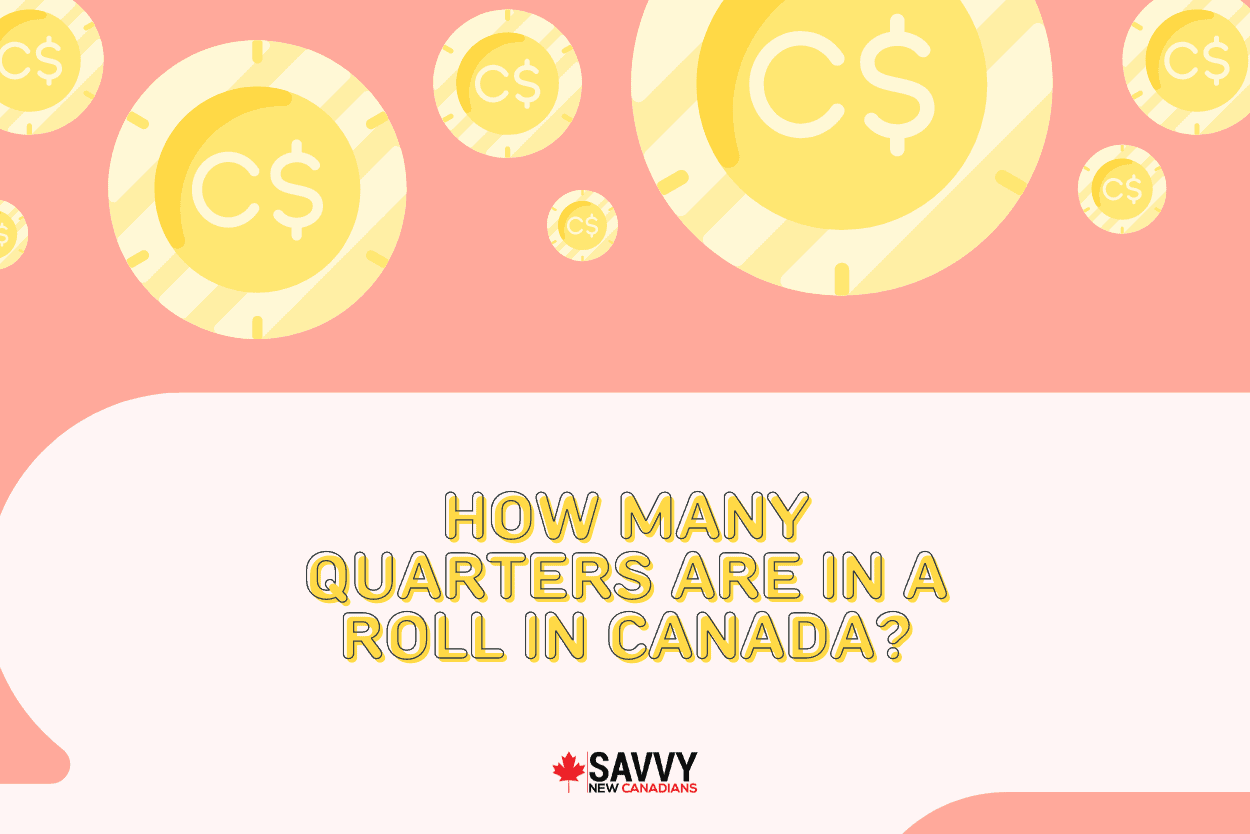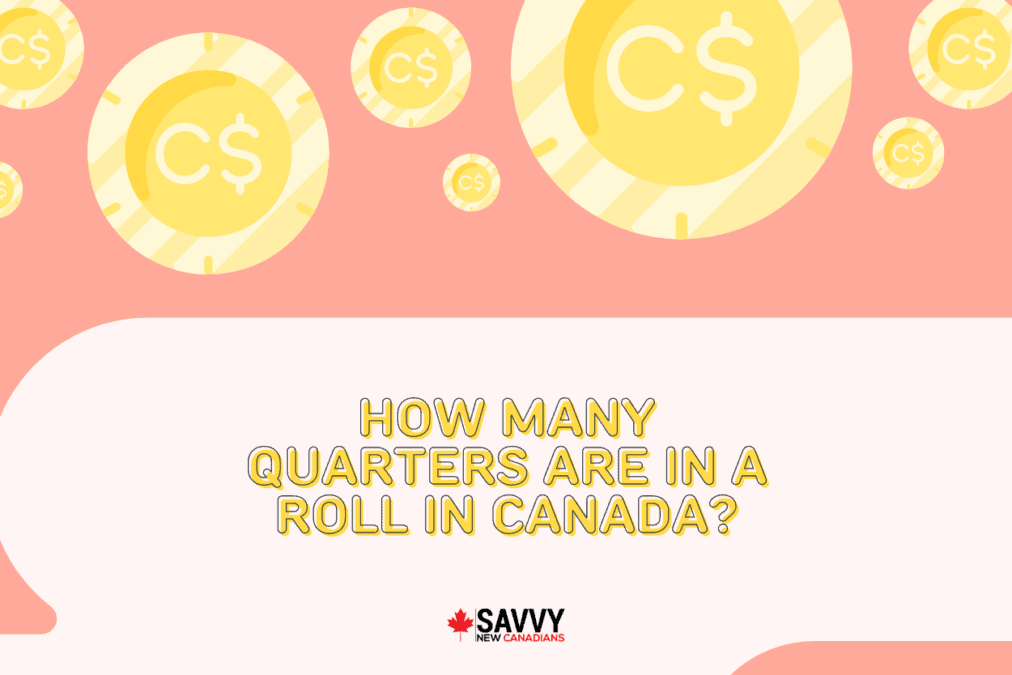 Related: Statutory Holidays in Canada.
How Many Quarters Make $10, $20, $50, and $100?
How much is a roll of quarters worth? Exactly $10, and in the roll, you have 40 coins. You'd need 80 quarters to have a $20 value. This would equate to two rolls of quarters.
To have $50 worth of quarters, you'd need to have 200 quarters. Double that to get $100 worth of quarters, which would be 400 quarters in total.
It might be nice to have 40 quarters rolled up, but it's likely your bank won't accept all of those rolls at one time.
The Number of Coins in a Standard Canadian Coin Roll
There are a few different denominations of Canadian coins in circulation.
Check out our table from information collected by Wikipedia to find out how much your Canadian coin roll values are worth.
| | | | | | | | |
| --- | --- | --- | --- | --- | --- | --- | --- |
| Roll colour | Coin type | Value of coin | Coins per roll | Value of coin roll | Diameter | Thickness | Coin colour |
| Purple | Toonie | $2.00 | 25 | $50.00 | 28mm | 1.75mm | Multi-toned |
| Black | Loonie | $1.00 | 25 | $25.00 | 25.5mm | 1.95mm | Gold |
| Orange | Quarter | .25 cents | 40 | $10.00 | 23.88 mm | 1.95mm | Silver |
| Green | Dime | .10 cents | 50 | $5.00 | 18.03mm | 1.22mm | Silver |
| Blue | Nickel | .05 cents | 40 | $2.00 | 21.2mm | 1.76mm | Silver |
Where Can I Get a Roll of Quarters in Canada?
You can easily go to your bank to get a roll of Canadian quarters. You'll have to pay $10 for each roll, but they'll have them ready and rolled at the bank.
When dealing with cash, you'll always need Canadian coins to be able to give people the right change. If you're looking to just get a few quarters, you can easily do this by spending cash for products.
Ask to get a few quarters back in lieu of loonies and toonies.
Related: Free Streaming TV Services in Canada.
Why Are Coins Rolled?
There are quite a few reasons that Canadian coins are rolled up. Imagine carrying all your quarters to a bank or a store and then having to painfully count them out while you have a lineup behind you.
This is exactly what you can avoid by using coin wrappers to accumulate all your coins in one place. It's easy enough to do, as well.
Use the colour-coded plastic coin holder for the denomination you want to roll. For example, quarters are blue coin wrappers.
It shows you exactly how many coins you need to put in the wrapper to make $10.
Before you start putting the quarters in the roll, count them out and put them in stacks of 10. Then you know for sure that you have 40 quarters with four equal stacks.
Rolled coins are also far easier to transport from one place to the next. Putting them in a plastic Ziploc bag could cause problems as the heavy quarters could tear the bag, leaving you with loose change falling everywhere.
Where Can I Get Coin Roll Wrappers in Canada?
Your bank may have a few free coin wrappers to give away. However, if you have a lot of coin rolling to do, you can buy them at your local dollar store.
You may also find them in office supplies stores. Places like Canadian Tire that seem to sell everything will also likely have a few options for coin rolls you can buy.
FAQs
How many quarters make $10?
There are different values for each Canadian coin. A roll of quarters is worth $10, and to achieve a full roll; you need to add 40 quarters to it.
What is a roll of quarters worth?
A roll of quarters is worth $10. There are 40 quarters in a roll, and they're worth .25 cents each, equalling $10.
How much does a roll of quarters weigh?
A roll of quarters weighs about half a pound. If you have $20 worth of quarters, it equals one pound. 
How much are 40 quarters?
The value of 40 quarters equals exactly $10. This is how many you'll fit into a coin wrapper to be able to use it as cash currency.
How many rolls of quarters make $20?
As each roll of quarters is worth $10, you'd need to have two rolls of quarters to have $20. This equates to exactly 80 quarters.
How many rolls of quarters is $100?
To make up $100 in quarters, you'd need to have 10 rolls of quarters. Each roll of quarters is worth $10 and has 40 quarters contained.
How many quarters are in circulation in Canada?
With billions of coins being circulated by the Royal Canadian Mint every year, there is no specific data related to the number of Canadian quarters in circulation. They've been in circulation since the beginning of the 1900s.
Related: