How many loonies go into each roll in Canada?
When it comes to coin rolls in Canada, there is a specific amount that fits in each roll. This includes rolls of quarters, rolls of dimes, rolls of nickels, toonies, and rolls of loonies.
Each set of denominations has its own value when they're rolled up.
While you can use these to pay for things at a cash register and bring them to your bank, there is a maximum threshold for spending coins.
A random fact about Canada is that it's actually illegal to use too many coins for a single transaction, according to Canada's Currency Act.
For example, if you're paying with nickels, you can't make a purchase over $5. The maximum amount you're allowed to pay with loonies is $25, equivalent to one roll of loonies.
So, if you're looking to roll up your Canadian coins and spend them, you may need to make multiple trips depending on how many coins you have.
How Much is a Roll of Loonies Worth?
Each Canadian loonie is worth $1.00, and 25 loonies fit into a roll. Each roll gives you $25 in your pocket.
If you've been putting your loonies and other loose change in a jar for a while, you might be surprised at how much you've saved up.
You can put that change in rolls and take it to the bank. You can roll up your loonies, toonies, a roll of quarters, a roll of dimes, or nickels, and they can add up quickly.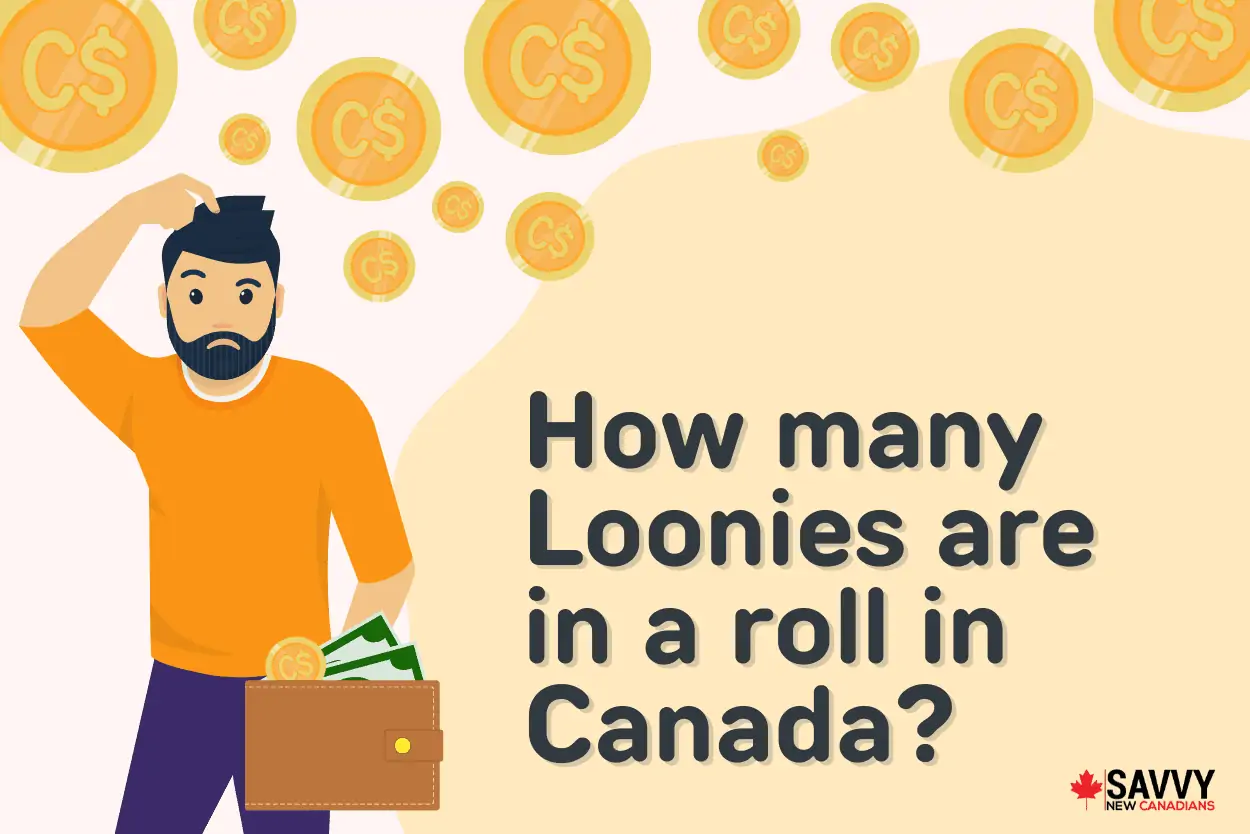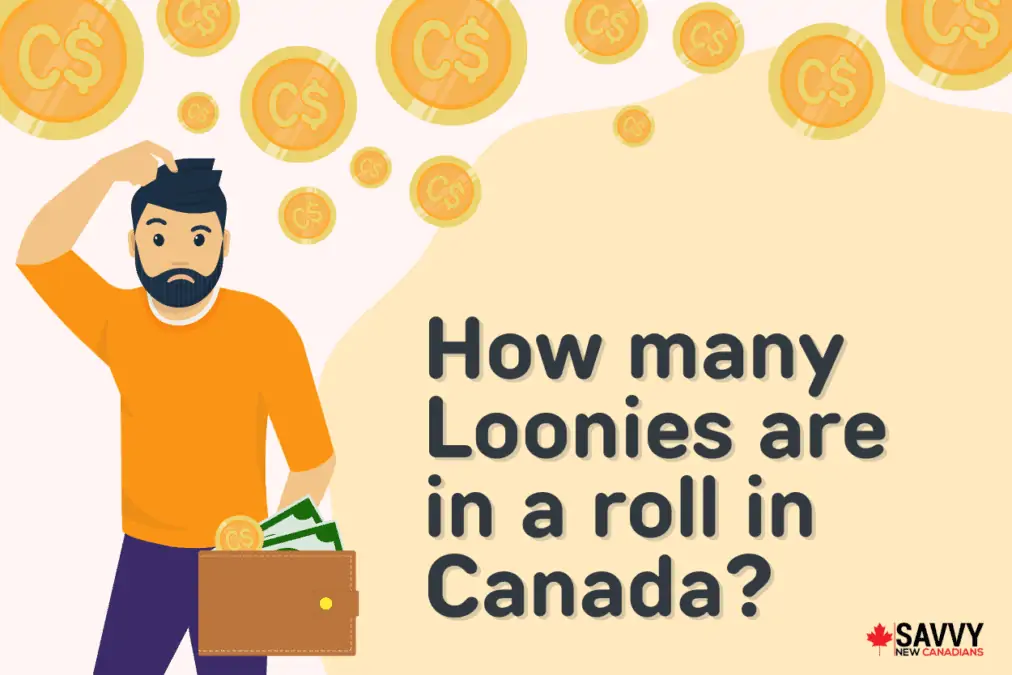 What is a Loonie?
As with all Canadian currency changes, the Canadian loonie is made at the Royal Canadian Mint in Winnipeg. It is a gold-coloured coin that was first introduced in 1987 and was designed by Robert-Ralph Carmichael.
The $1.00 coin has eleven sides and is made from aureate bronze.
Canada once had a silver dollar coin minted in 1935, commemorating George V's reign as king. The coin wasn't widely circulated as it was quite large and heavy.
In 1982, the Royal Canadian Mint changed the composition of the new dollar coin for large circulation. This was happening at the same time vending machine operators and transit systems were asking the government to switch the one-dollar banknote with a coin.
On one side is the Queen of England, which is seen on all Canadian currencies. On the other side, the loon is featured.
A loon is a bird in Canada that is often heard at night making calls on any given lake. In true Canadian style, the coin was nicknamed the "loonie" after the beloved bird imprinted on it.
In terms of size, the loonie is 26.5 mm in diameter with a weight of 6.27 g and is 1.95 mm thick.
Just a note here that the Royal Canadian Mint has come out with many commemorative editions of the loonie. For instance, during the 2010 Olympics in Vancouver, there was a collection of Olympic-themed loonies that were in circulation.
These are still found today, but the fundamental variant of the coin is and will always be the solitary loon.
Related: Best Prepaid Cards in Canada.
Canadian Coin Rolls in Circulation
This table represents the parameters of each Canadian coin in circulation today.
| | | | | |
| --- | --- | --- | --- | --- |
| Colour | Coin/Denomination | Coins per roll | Worth of roll | Diameter/thickness |
| Black | Loonie ($1) | 25 | $25 | 25.5mm/1.95mm |
| Purple | Toonie ($2) | 25 | $50 | 28mm/1.75mm |
| Blue | Nickel (0.05 cents) | 40 | $2 | 21.2mm/1.76mm |
| Green | Dime (.10 cents) | 50 | $5 | 18.03mm/1.22mm |
| Orange | Quarter (.25 cents) | 40 | $10 | 23.88 mm/1.95mm |
Where to Buy Loonies in Canada
Firstly, you can use Canadian cash to receive loonies. This entails either making a purchase or exchanging your cash for loonies.
You can buy loonies at a variety of places, like the bank. For those who collect coins, you can get limited-edition loonies from Canada Post. They come straight from the Royal Canadian Mint as just one or a collection.
For loonies that have been in circulation, you can purchase them at the bank in rolls. You can also go to coin dealers in Canada if you're looking for old loonies.
For those collecting the many variations of the loonie, going to a coin dealer is your best bet.
Loonies can be used as cash currency and are handy if you're taking a bus in a small town. You can use loonies in various vending machines as well.
Why Do We Use Canadian Coin Rolls?
When you have a lot of change from cash transactions, there's a variety of reasons you may want to put them in Canadian coin rolls.
Banks aren't going to accept a bunch of loose change. They'd much rather you roll it up.
When a coin roll is totally full, you know exactly what it's worth without having to count a bunch of coins. This essentially helps you to organize it better and have a faster reference to how much money you have in coins.
How to Get Coin Roll Wrappers in Canada
You can go to many different spots to get Canadian coin rolls. If you want to buy some, many dollar stores around Canada have them.
Canadian Tire and other similar chains also sell coin rolls.
If you want to find them for free, your bank often has a few to spare. They give rolls of loonies, toonies, dimes, quarters, and nickels out to store owners and other businesses.
Related: Minimum Wage in Canada in 2023.
KOHO Easy Prepaid Mastercard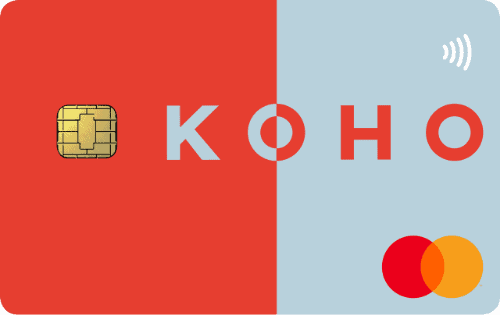 $20 sign-up bonus after first purchase
Earn up to 5% cash back
0.50% savings interest on your balance
$0 monthly fee
Conclusion: How Many Loonies Are in a Roll?
If you're looking to roll up your loonies, know that you must put exactly 25 coins in the roll. This makes it worth $25 Canadian dollars. There are coin rolls available for every domination in Canada.
As some coins are thicker than others, each roll has a different amount of coins in it. You're going to find that some rolls are longer than others.
For example, nickels are thicker than dimes, but the rolls each hold 40 coins. A roll of nickels (5-cent coins) is worth $2, while a roll of dimes (10-cent coins) is worth $10.
A quick note about the forgotten coin – the penny. While pennies in Canada have been phased out and are no longer in circulation, you can still cash them in if you roll them up and take them to the bank.
Each roll of pennies is valued at 50 cents per roll. Save up your loonies, and you get a lot more when you cash in a roll.
The loonie has iconic status in Canada and is now looked at as a national symbol. It's even been coined the Lucky Loonie.
FAQ
How many loonies fit in a roll of coins?
Are you wondering how many loonies are in a roll? There are exactly 25 loonies that fit into a coin roll.
How many dimes are in a roll of coins in Canada?
There are a total of 50 dimes that can fit in a roll. Dimes are worth 10 cents, and when you fill up a roll, it's $5.00 worth of dimes.
How many nickels are in a roll of coins?
There are 40 nickels in the Canadian roll of coins. As nickels have a worth of 5 cents, your roll of nickels is worth a total of $2.00.
How many dollars is a roll of loonies?
There is a total of $25.00 worth of loonies in a roll. Loonies are worth a dollar each, and you can fit 25 into a coin roll.
How much is a roll of quarters?
Quarters are worth 25 cents each, and you can fit 40 into a roll. This makes a roll of quarters worth $10.
How many cents is a dollar?
There are 100 cents in a dollar. Although there are no longer 1 cent coins in circulation in Canada, you can still convert how many cents are in one dollar.
Related: