How many dimes are in a roll? Read on to find out.
While we don't seem to rely on cash as much anymore, the Canadian dime and other denominations still have value. If you happen to have quarters, nickels, dimes, toonies, and loonies in a bowl, you may want to get some coin wrappers.
So, how much is a roll of dimes worth? In total, you can cash it in for $5.00.
A roll of quarters or loonies is worth even more. As each Canadian roll values are different, the coin wrappers have information posted on them, so you know how much you have.
When businesses with tills run out of change, someone has to go to the bank to buy a roll of quarters, loonies, or whatever they've run out of.
You'll usually have to pay for coin rollers, but they're not that expensive. Rollers make it easy to count up your change and transport it.
How Many Dimes Are in a Roll?
You can fit 50 dimes in a roll, which makes it worth $5.00 when full. The easiest way to fill up your roll of dimes is to first count out the dimes and put them in small piles of 5-10.
Some coin wrappers are so well designed that you don't need to do this. There are sections within the coin roll, so you can simply place your dimes in without unnecessary counting.
If you have an old-school paper coin roll, you must count out 50 dimes to make the roll full.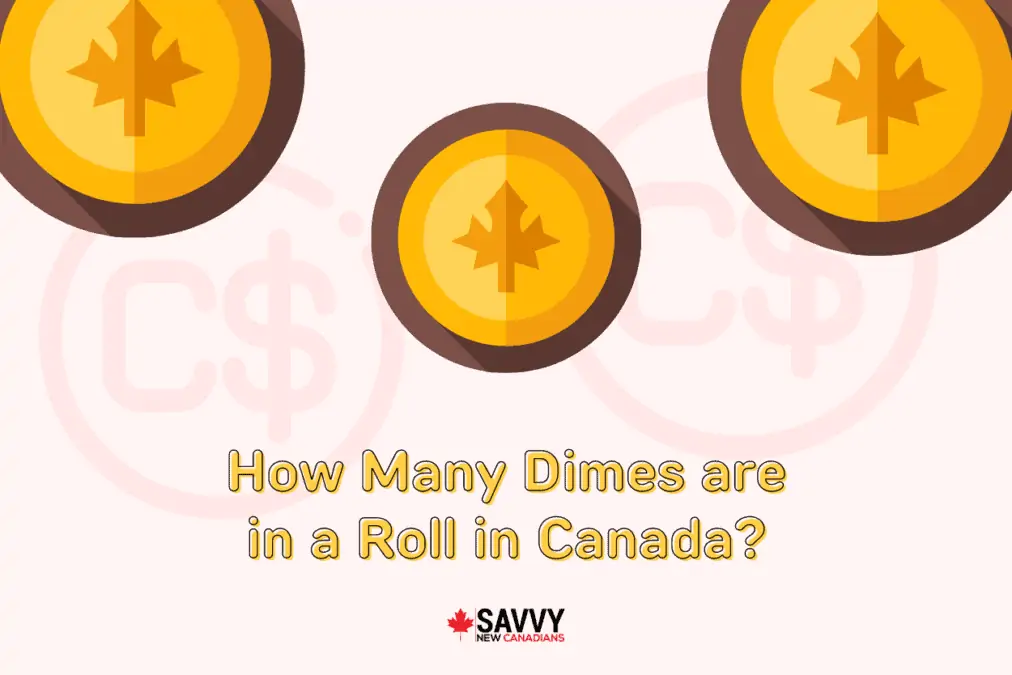 What is the Canadian Dime?
The Canadian dime is worth ten cents and weighs 1.75g with a diameter of 18.03mm. It is the smallest coin in Canada but is, of course, worth more than the nickel, the five-cent coin.
The dime has been in circulation since 1922 and is made by the Royal Canadian Mint in Winnipeg, Manitoba, as all Canadian coins are.
It is also exactly the same as the American dime. However, it has a distinct difference: the Canadian dime is magnetic. It is composed of various metals, which ultimately makes it magnetic.
From 1968 to 1999, the dime was composed of nickel. The Royal Canadian Mint changed its composition in 2000. It now has a steel core with nickel and copper plating.
The dime has Queen Elizabeth II on one side. On the other side is the famous Bluenose schooner, a tall ship. This was designed by Emmanuel Hahn.
The word dime derives from the French word dîme, which means tithe or a tenth of a part (Latin). This makes a great deal of sense because the dime is one-tenth of one hundred or a tenth of a dollar.
There were not many commemorative Canadian dimes made, so they're quite precious when you see them.
There were four commemorative coins, including:
1967 – Canadian Centennial – a mackerel design.
2001 – International Year of the Volunteer – In honour of the United Nations' International Year of the Volunteer.
2017 – Canada's 150-year anniversary – Maple leaf (titled "Wings of Peace") that forms the wings and tail of a dove.
2021 – 100th Anniversary of Bluenose – Bluenose in an angled view in full sail
How Many Dimes Do You Need For $2, $5, $10, or $20?
There are varying Canadian coin roll values, each requiring a certain amount of coins.
As dimes are so thin, more of them fit into a roll than any other coin. While nickels have 40 coins in a roll, dimes have 50. You will need 20 dimes for $2, but there are no coin rolls for this amount.
A full roll of dimes is worth $5.00, which is 50 dimes. For $10, you'll need two coin wrappers full of dimes, equal to 100. You would need 200 dimes for a value of $20, which would be four rolls of dimes.
How Many Coins Are in Each Coin Wrapper?
If you look at the table of coins and their distinctions, you'll see that the Canadian dime has the third-highest value despite being the smallest coin.
Each coin wrapper has a distinguished colour, which makes it easier when you're rolling coins. The smallest roll in circumference is the dime roll, which is green. You can fit a total of 50 dimes in a roll, and it's valued at $5.00.
Take a look at the other denominations in the table as a guide for Canadian coin roll values.
| | | | | | | |
| --- | --- | --- | --- | --- | --- | --- |
| Roll colour | Coin type | Value of coin | Coins per roll | Value of coin roll | Diameter | Thickness |
| Purple | Toonie | $2.00 | 25 | $50.00 | 28mm | 1.75mm |
| Black | Loonie | $1.00 | 25 | $25.00 | 25.5mm | 1.95mm |
| Orange | Quarter | .25 cents | 40 | $10.00 | 23.88 mm | 1.95mm |
| Green | Dime | .10 cents | 50 | $5.00 | 18.03mm | 1.22mm |
| Blue | Nickel | .05 cents | 40 | $2.00 | 21.2mm | 1.76mm |
Why Do We Roll Coins?
If you've ever tried to take out a few dollars worth of coins from your wallet, pocket, or purse, you'll know it can be frustrating. Trying to count out your change while people are waiting in line is stressful.
If you happen to have a lot of change, you don't want to carry it around as it's heavy.
There are a few reasons other than convenience that you'll want to roll up your coins. The bank is not likely to accept a bunch of loose nickels, dimes, quarters, loonies, and toonies.
However, they will accept Canadian coin rolls. Stores will also accept coins up to a certain amount in value.
A business will purchase rolls of coins at the bank with cash because they need it for their tills. Banks also have hundreds of dollars of coin rolls ready. This is the easiest way for them to keep track of how much change they have.
This is the same for everyone. By rolling your dimes and other denominations, you will know exactly how much change you have.
You can transport it easily to the bank, and the transaction will be quick and easy because there's no major counting involved. Coin rolls transform unorganized, loose change so it's easy to count and easy to move around.
How Many Rolls of Dimes Can You Cash In At Once?
Under Canada's Currency Act, you can only use a certain amount of Canadian coin rolls at once.
You can only use one roll of loonies, one roll of toonies, one roll of quarters, two rolls of dimes, and three rolls of nickels at one time. The bank or a store can legally deny you if you try to use more than these amounts.
Chances are, a clerk at a store may not even be aware that there is a limit on how many coins you can use as legal tender. However, a bank teller will likely be knowledgeable about this.
If you have a lot of coin wrappers full of coins, the best option is to go to the bank or a store multiple times to get rid of your change.
Who Sells a Roll of Dimes in Canada?
You can buy rolls of dimes in a few places. The best place to purchase them is through the bank. You can even use your debit card at your bank to make the purchase.
Each roll of dimes is worth $5.00, and while there is a limit on how many rolls you can sell back to the bank, you can buy as many as you want at one time.
For those who collect Canadian coins, there are many different coin collector stores. You can buy a roll of dimes through them and see if there is any value.
These rolls will often cost more than when you buy them at a bank, so if you're not purchasing them for collector's purposes, it's better you go through your bank.
If you're looking to buy coin rolls, you can find them at the bank, Canadian Tire, or other small stores that sell everything under the sun. In Canada, most dollar stores sell some form of coin wrapper.
KOHO Easy Prepaid Mastercard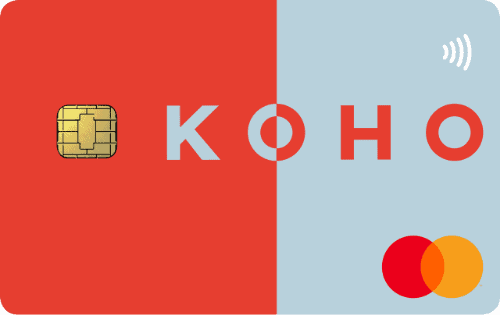 $20 sign-up bonus after first purchase
Earn up to 5% cash back
0.50% savings interest on your balance
$0 monthly fee
FAQs
How many dimes go in a roll?
A roll of dimes includes 50 coins. Dimes have a value of 10 cents each, and with 50 coins in a roll, the roll is worth $5.00.
How many dimes are in a roll of $5?
There are 50 dimes in a roll. With each dime worth 10 cents, when you have 50 dimes in a roll, it is worth $5.00.
How many dimes are in a roll of $10?
You would need two rolls of dimes to have $10 worth of this ten-cent coin.
How many dimes are worth $2?
You would need 20 dimes for a worth of $2.00. Each dime is worth 10 cents, so if you have 20 dimes, it's valued at $2.00.
How many dimes are in circulation in Canada?
The Royal Canadian Mint puts billions of coins in circulation every year. The dime has been in circulation since 1968. There are likely millions of dimes in circulation at the moment.
Related: How Many Nickels in a Roll?