The human brain is designed to want to get something valuable for nothing. This is the reason why everybody loves free — whether it's food, clothes, books, or furniture. Anything with a "free" tag is an irresistible offer that people just can't say "no" to.
If you're consistently looking for free stuff in Canada, let this article be your guide. We'll present some of the best sources of free stuff, so you can get your hands on various items without spending a lot of money!
Top Sources of Free Stuff in Canada
Facebook Marketplace
Besides being an online platform for selling and buying items, you can also use Facebook Marketplace to find freebies. People who want to get rid of items fast will tag their valuables as "free stuff," so type in those keywords the next time you're looking for free items.
Freecycle
Want to score totally free stuff online? Make it a habit to check Freecycle. The site might have a minimalist vibe, but it's one of the best places to search for free items. Here, you can find various items given by owners for free — from assorted glass jars to hardly used pillows.
Craigslist
Craigslist is no longer new, but using the site to find free stuff in Canada might be new to some. This site is commonly used for finding roommates or buying and selling different items.
To find free stuff on Craigslist, go to the page for your city, browse under the "for sale" section, and click "free." You'll be surprised to find different free items here!
Free Samples Sites
Many websites offer free samples in Canada. These websites will ask you to sign up, and then products will be delivered to your address. You'll be asked to complete a questionnaire about your experience with the product (what you like and dislike about it), and in exchange, you get to keep the product sent.
Here are some of the most popular sites that offer totally free stuff:
Samples and Giveaways by Retailers
Make a list of companies you love to receive freebies from and check their website. Find their contact form and then provide thoughts and feedback about their products. Let them know that your love for their products has made you one of their loyal customers.
Next, ask the company if being a loyal customer would qualify you to receive free samples and giveaways. Don't forget to include your address in the form!
Here's a list of retailers offering free items and promotions:
Johnson's Baby: Gives free baby stuff in Canada, like baby wash and baby lotion samples
Chobani: Offers coupons for free stuff
Science Diet Dog Food: Gives one coupon for a free bag of dog food
Blue Diamond Almonds: Gives free stuff in Canada by mail, specifically two bags of almonds delivered to your home
Colonial Candles: Receive two small candle holders for free
Manufacturer Promotions
To generate buzz and pique interest, manufacturers often give out promotional products for free to their target audience. Manufacturers also use this strategy to stand out from the competition, generate sales, and increase leads.
Some of the most common promotional products manufacturers give out are pens, drink bottles, tote bags, shirts, apparel, and hats. Some manufacturers also offer coupons for free stuff, usually for one of their products.
Store Returns
This hack isn't common to everyone, but it's surely worth trying. If you want to return a bulky or inexpensive item to a big store, say Amazon or Walmart, contact their customer support via phone. They may tell you to just keep the item.
Top Sources to Save Money
Kijiji
Kijiji is a Canadian online classified advertising website where users can buy, sell, and trade items. The website offers an extensive selection of products, such as automobiles and auto parts, furniture, lawn equipment, tools, and even properties for rent and sale.
Here, you can find ways to save money, as the website has categories for free stuff and items for trade. If you have a limited budget, look for freebies or swap some of your unused items into things you actually need.
End-Of-Season Clearance Sales
Although not totally free, end-of-season clearance sales are still one of the best ways to save money. This is when products relating to a particular season are sold at a lower price than usual. For instance, you'll get 50% off swimwear during the Holidays or discounted Christmas decor during summer.
To save more money on end-of-season-clearance sales, use the right coupons, read product reviews, and visit different stores before buying. These tips guarantee that you're getting the best bang for your buck!
Garage Sales
If you don't mind using or wearing secondhand, buy items from garage sales. The items sold here are cheaper than mall prices, allowing you to save more money. Garage sales are the best sources of household decorations, old clothing, lawn and garden tools, and board games.
Some garage sales also display a free box on-site. Take your time to check what's inside, as other people might give away items you want to buy.
Flea markets
Another great source of secondhand items is flea markets. If you look hard enough, you can score the best deals on antiques, home appliances, electronics, and even toddler clothing and toys at flea markets.
Church Rummage Sales
As the name suggests, you need to "rummage" or go through piles of items stacked on tabletops to find a bargain in church rummage sales. This is where you can usually find affordable deals on shirts, coffee mugs, and costume jewelry.
If you want to save more money, make sure to visit church rummage sales in the morning, as the "good stuff" is usually sold a few hours after the sale begins.
School Fundraisers
Because its main goal is to raise money, it's unlikely to find anything free on school fundraisers, but items here are incredibly cheap. Some of the most common items you can buy in school fundraisers are pastries, chilis, barbeque, soups, and crock-pots. Some schools also sell "experiences" like spa packages, restaurant vouchers, and airplane tickets.
Scratch and Dent Sales
Still finding ways to save money? Look for scratch and dent sales. Here, you can buy slightly damaged products with small dents caused by warehouse or shipping damages. These dents are often cosmetic and don't affect the product's functionality.
Scratch and dent sales are the best sources of affordable but still quality appliances and furniture. So if you want to buy these items, look for scratch and dent sales near your area.
Related: Ways to get free furniture in Canada.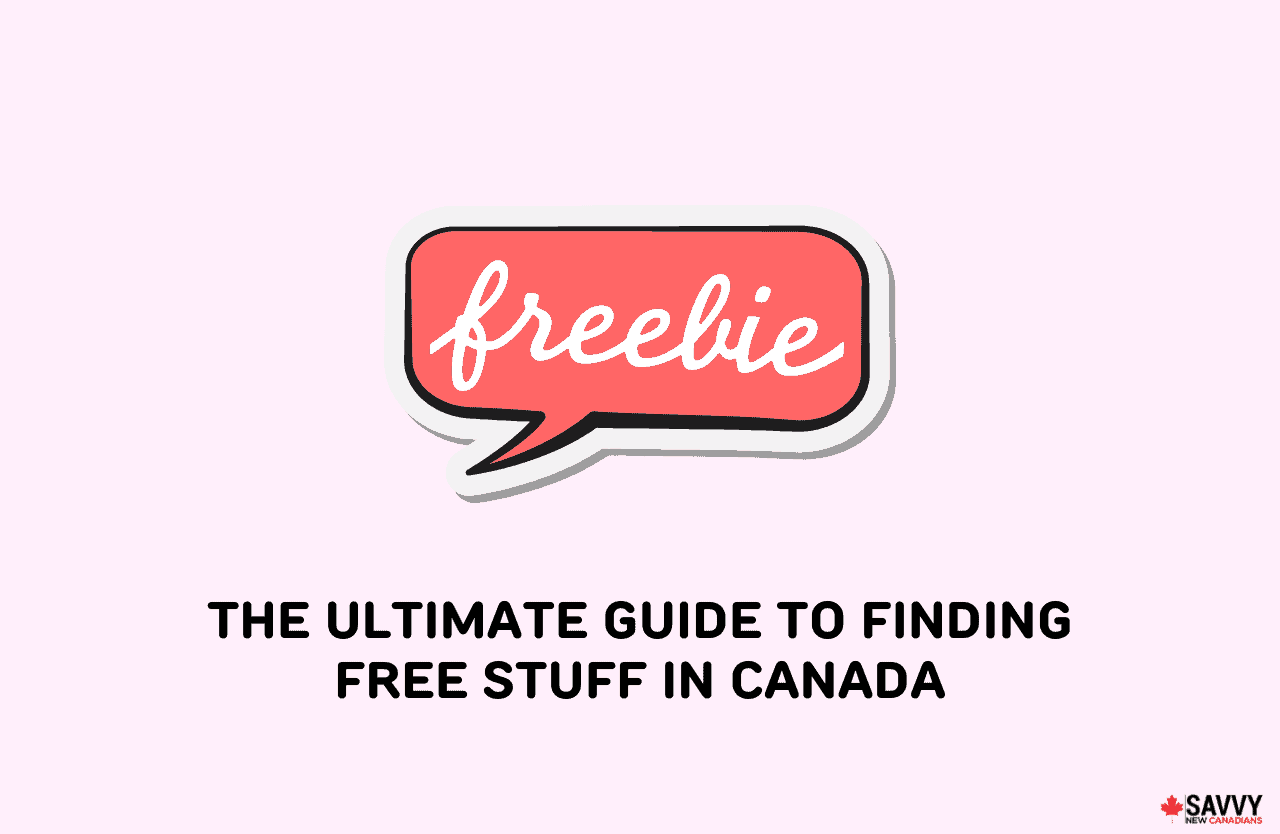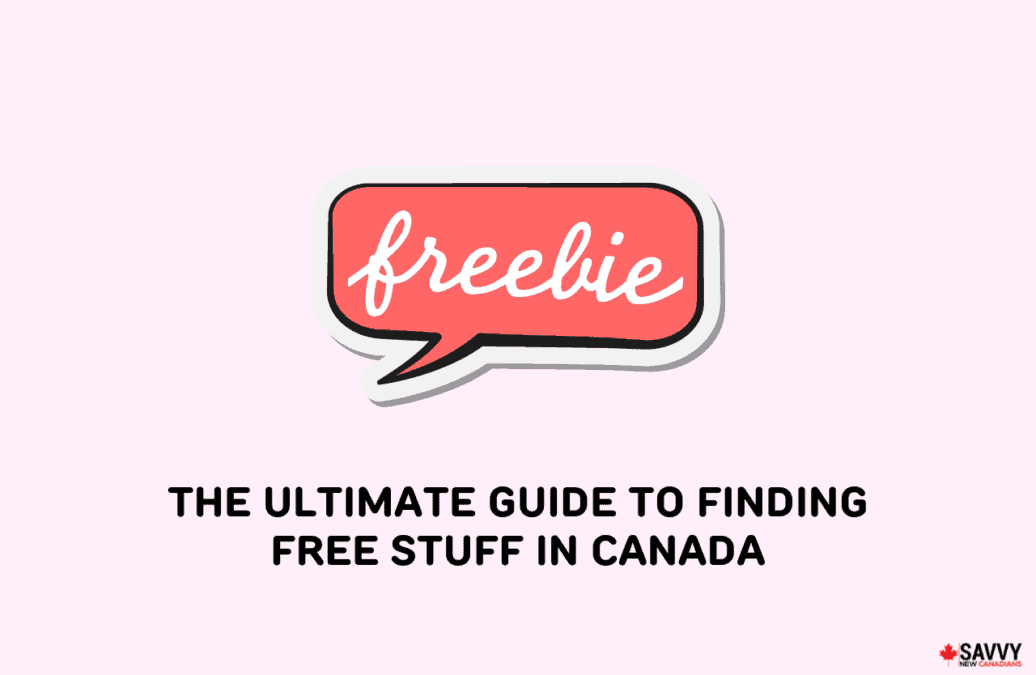 Benefits of Getting Free Stuff in Canada
Getting free stuff in Canada isn't only a fun experience. It also offers plenty of benefits that impact you, the local community, and the environment.
Cost Savings
One of the most obvious benefits of getting free stuff in Canada is being able to save money. For instance, instead of spending money on baby stuff, reach out to retailers that offer free items and promotions. This way, you can provide for your baby's needs while still having funds for other essentials, like groceries and rent.
Good for the Environment
Creating new products requires plenty of labour, energy, and natural resources. By getting free items, you're not contributing to the increase of demand for creating new products as you're going to use items that are already produced. Over time, this can help preserve natural resources.
Find Unique Items
Getting free items also lets you find unique items. For example, when you visit a garage sale, you can discover items you've never seen before.
Say, the person having the garage sale is a frequent traveller, and they decide to sell furniture or souvenirs they obtained from different parts of the globe.
These items aren't commonly available in most department stores, and buying them could definitely make your home décor more appealing. You could even snag an expensive item for cheap or free.
Support for Local Communities
Whether it's from a mom-and-pop shop or a local store in your city, getting free stuff is an excellent way to support local communities.
When you sign up for websites and try out products, you can help local brands improve their offerings. This will help them create better products that can fund their businesses.
How to Make the Most Out of Free Stuff in Canada
It's always a positive experience to receive anything that's free — whether it's free birthday stuff or coupons for free stuff. To make the most out of all the items you get for free, take note of the following:
Stay Proactive and Persistent
Be on the lookout for brands that give out free samples in Canada, and remain persistent to ensure that you get some. Heard your favourite brand of cereal is offering free items as part of their anniversary celebration?
Reach out to them using different communication channels. Read from a flyer that a new brand of bread is giving samples next week? Check their site to learn how you can qualify.
Network with Others
You can enjoy free stuff in Canada by mail all the time when you know how to network with others.
Reach out to individuals who exert time and effort to receive free items and ask them how they do it. Inquire about their source and the process they followed to get free stuff.
Take Advantage of Limited-Time Offers
Brands use limited-time offers as part of their marketing campaign. These offers usually include free shipping, a discount code, or a free gift, available for a limited time only.
Sign up for your favourite brand's newsletter and check their online platforms regularly to know if they have limited-time offers. Besides getting free stuff, limited-time offers also increase your purchasing power.
Take Safety Precautions
Pay attention to the information you submit to get free stuff. For instance, to receive free stuff from sample sites, ensure that the site is legit and secure before submitting any of your information online.
If this is your first time using these sites, read the reviews first. Let the experience of other people protect you from identity theft, fraud, and other online crimes.
Enjoy Free Stuff
Finding free stuff in Canada is easy, as there are plenty of sources to choose from. Take note of the information we've mentioned here and use them to get different free items. We guarantee you — everything you need to enjoy free stuff is covered here.