Float is a prepaid credit card for businesses in Canada that aims to simplify business spending.
It's available for businesses of all sizes and has some interesting features that could prove very useful.
But what exactly is it? What are the pros and cons? How does it work? This review covers everything you need to know about the Float Card in Canada.
What is Float?
Float Business Credit Card
Rewards: Earn 1% cash back on spending that exceeds $25,000 monthly; get access to multiple CAD and USD cards and pay no FX fees.
Welcome offer: Get $500 in cashback for becoming a Float customer and spending $25,000 within the first 90 days.
Interest rates: Not applicable (for refunded prepaid cards).
Annual fee: $0 for standard cards.
Float provides Canadian businesses with a prepaid corporate card without any need for a personal guarantee or a hard credit check.
The card is available for businesses of all sizes. It comes with some useful and innovative features that can help businesses manage their spending and get more control over it.
It is packed with spend management features to prevent the need to track down physical receipts and make dealing with expenses easier.
There is a free plan with no monthly fees and minimum balance requirements, and you can also earn 1% cash back on business spending that exceeds $25,000 monthly.
With Float, you can allocate funds to specific cards for your employees or teams and approve expenses before they make purchases.
How Does the Float Credit Card Work?
Getting started with the Float credit card is easy. First, sign up and go through the application process (this includes a $500 cash back bonus after spending at least $25,000 within the first 90 days), which takes about five minutes. Approval can be as quick as one business day, and you will then receive an email with instructions.
After registering, you can connect your business bank account, add funds to Float and use your cards.
You can get pre-funded cards in CAD and USD, and your limits are set by your bank balance. Then, you simply connect your bank accounts to your card and fund it. You can even set up top-ups automatically so you don't run out of funds.
The Charge card is available in CAD only. With this, you can apply for up to $500k 30-day credit terms that you can then pay down during the month.
When you open an account, you can apply for virtual cards, so you don't have to wait to start spending. Delivery of your first physical cards takes a few days.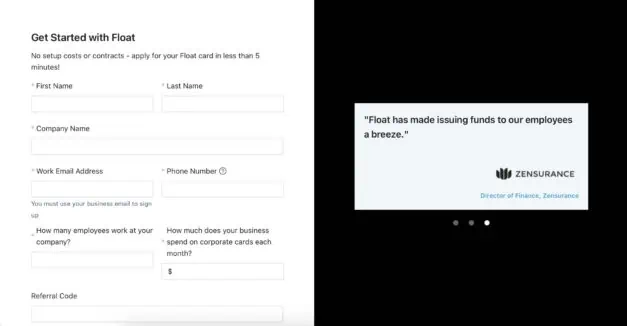 You will get access to a dashboard where you can manage your spending from anywhere. You can create new virtual cards for all your employees from here, setting limits for each card, including transaction and monthly limits.
You can also access your analytics and track the money going out and coming in.
You can issue new virtual cards whenever you want. These can be single-use cards, and you can set expiry dates. You enjoy full control and flexibility at all times.
Float Card Features
The Float Card comes with several useful features for businesses of all sizes:
Virtual and Physical Cards
With Float, you can create as many virtual cards as you want, even on the free plan. You can use these cards for online purchases and set them up for regular use or a one-off purchase.
You get up to five physical cards on the free plan or unlimited cards on the paid plan. You can control these in the same way as virtual cards and get full control over employee spending.
Spending Controls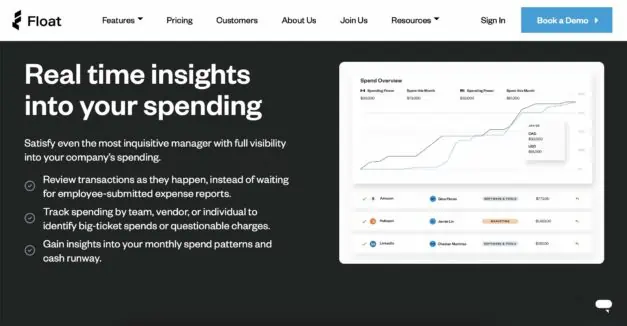 One of the most important features of Float is the ability to control spending in your business.
You can create budgets for every team member and department and then set limits on each card. You can even set limits on locations where purchases can be made, which can be useful for remote workers.
Employees get their own dashboards they can access, where they can submit spend requests, upload their receipts and see all their transactions.
You can set credit limits for every card individually and even make them single-use or recurring cards where you can set a monthly limit on spending.
You can even customize cards further by creating names and descriptions for them, setting purchase limits, limiting purchases to vendors, adding custom tags to cards, and more.
Expense Tracking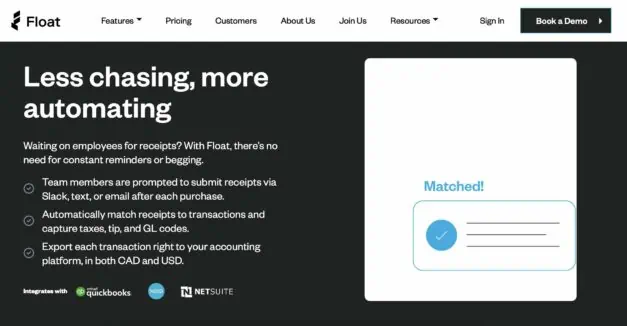 All transactions are organized into categories with Float, so you can easily track spending.
When purchases are made, SMS notifications with details are sent out, including the amount, location, merchant and more. Float makes it easy to monitor spending and ensure that only authorized people have access to funds.
You can require receipts from your employees with the receipt-upload feature. Simply decide whether a particular card user needs to upload a receipt after each transaction.
Cardholders can receive automated reminders via email, and you can set cards to auto-lock if receipts are not uploaded.
Accounting Software
The Float Card connects with Xero, Quickbooks, and Netsuite, so you can sync your spending with your accounting software.
Transactions are all logged and categorized, making it much easier to reconcile expenses.
Cashback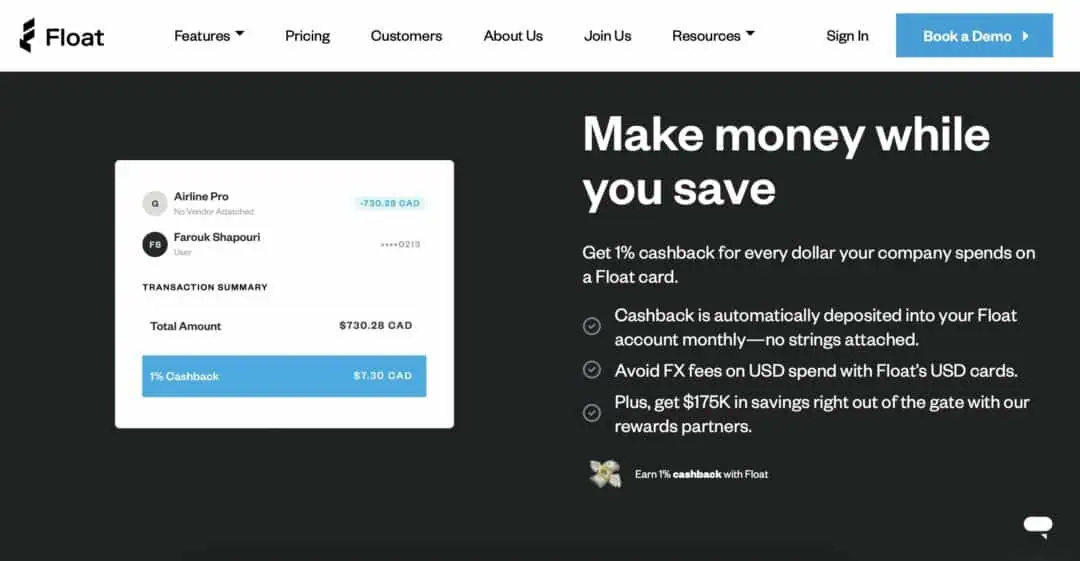 Float cash back rewards were recently downgraded. You now only earn 1% cashback on spending that exceeds $25,000 each month. The earnings are deposited automatically to your account each month, and there is no limit on how much you can earn.
Float Card Pricing and Plans
Float is available in two plans. This includes the free plan, Essential, and the paid plan, Professionals. The paid plan costs $99 per month plus tax.
The free plan is more limited and more suitable for smaller businesses.
It comes with a limit of five physical cards, fewer accounting integrations, no Netsuite, no Team Management and no Slack integration. It also has MFA security but not SAML or SSO.
Other than that, the two plans are very similar. You get unlimited virtual cards even on the free plan, but you'll need the pro plan if you want unlimited physical cards.
You can also get a free trial of the Professionals plan for 60 days.
Float USD Credit Card
Float also has a USD smart corporate card that was introduced in 2022. It's similar to the Canadian version but for all your USD spending.
The primary benefit of the Float USD Mastercard is that there are no foreign exchange fees. You just connect your USD bank account, transfer funds to the card, and start using it.
To apply for this card, go to your Float account, go to "Funding," and then click "Apply for USD."
Eligibility Requirements of the Float Card
Applying for the Float Card is easy. You will need to provide some information about your business, including your business name and address.
You'll also need to provide personal information like your date of birth and provide a government-issued ID.
There are no hard credit checks when you apply for the Float Card.
Advantages of the Float Card
There are several advantages of using the Float Card:
Issue unlimited virtual cards even on the free plan.
Get a $500 Amazon gift card for every business you successfully refer.
Get a huge amount of control over how your employees and departments make purchases.
Save time with the receipt reporting feature.
Accounting software integration makes bookkeeping even easier.
Access exclusive discounts from Amazon Web Services, QuickBooks and other services.
No hard credit check is carried out when you apply for a card.
There is no need for a personal guarantee.
Manage cards easily by giving them names, descriptions, tags and more.
Downsides of the Float Card
Keep in mind a few potential downsides of using the Float Card:
You only earn cash back on spending above $25K each month, which means most small businesses won't earn anything at all.
You only have as much credit limit as you have in your bank account unless you apply for the unsecured 30-day credit term.
Because it is a prepaid card, you don't build a credit history for your business.
Physical cards are restricted to five unless you pay for the Professionals plan.
It may not be the best option if you would prefer to borrow money using a more traditional business credit card.
Is Float Safe and Legit?
Float is a safe service to use. Float Financial is a startup based in Toronto and backed by top investors, including Tiger Global and Golden Ventures, and it is a real and legitimate company.
Float Card Promo Code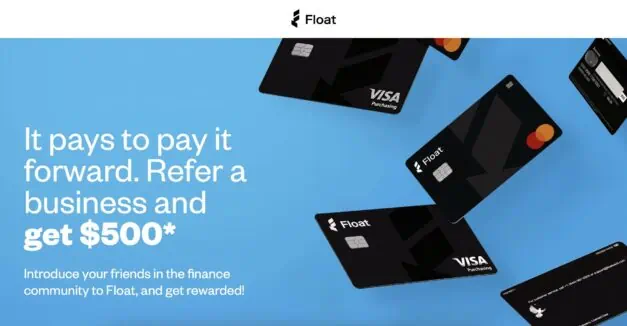 You can earn a bonus when you sign up for Float using our referral link or code enocho2287.
You also earn a bonus when you refer other businesses to Float. Simply introduce a business or friend by sharing your referral code. When they sign up for their business and spend $25,000, you will receive a $500 Amazon Gift Card.
Your friend's business will also receive $500 in cash back, and there are no limits to the number of referrals you can make.
Float Essentials vs Float Professional
| | | |
| --- | --- | --- |
| | Float Essentials | Float Professional |
| Virtual Cards | Unlimited | Unlimited |
| Physical cards | 5 | Unlimited |
| Accounting Software Integrations | QuickBooks, Xero | QuickBooks, Xero, Netsuite |
| Cashback | 1% on spending exceeding $25K monthly | 1% on spending exceeding $25K monthly |
| Receipt Capture | Yes | Yes |
| Team Management | No | Yes |
| Slack Integration | No | Yes |
| Expense Policies | Default | Unlimited |
| Security | MFA | MFA, SSO, SAML |
Float Card Alternatives
Caary Business Mastercard
Rewards and Features: Earn 1% cash back on all purchases, access to physical and virtual credit cards, no FX fees, no personal credit checks, easy integration with accounting software, receipt capture, and more.
Interest rates: Applicable after 21 day grace period.
Annual fee: $0.
Here's a detailed Caary Business Mastercard review.
Should You Get a Float Card for Your Business?
Getting a Float Card could be a great idea for your business. For a start, you don't have to pay a monthly fee if you sign up for the free plan. It also gives you a huge amount of control over your business spending, and it could save you a lot of time when it comes to doing your accounts.
It's packed with smart features, and even if you only need virtual cards, it's a great option for businesses of any size.
Look over the features and the benefits, and decide whether it's a suitable service for your business.
FAQs
Does Float affect your credit score?
No, Float does not carry out a hard credit check when you apply for an account, so it does not affect your credit score.
Is Float a credit card?
Float is a prepaid card available in both CAD and USD. However, the charge card is similar to the credit card because you can get unsecured 30-day credit terms.
Does Float offer a charge card?
The standard Float card is a prepaid card that you have to fund. However, it also provides a charge card with unsecured 30-day credit terms up to $500k in CAD.
How do you make money on Float?
Float provides you with a way to simplify and control your business spending by providing a wide range of smart features. These include spending control, expense tracking, receipt uploads, and more.
Does Float have a monthly fee?
Float has a free plan and a paid plan. If you choose the Professionals plan, the cost is currently $99 per month plus tax. This comes with unlimited physical cards and several other benefits for larger businesses.
Related: