Float is an excellent prepaid credit card for small businesses that want to maximize cash back and simplify their expense accounting reconciliations.
When you sign up using our unique Float referral code (enocho2287), you receive a $500 cash back bonus after spending your first $25,000.
Use the referral link when applying or manually enter the promotional code to take advantage of the Float sign-up bonus.
Float credit cards are some of Canada's best business credit cards for CAD and USD spending.
Read on to learn more about how it works.
Float Referral Code Summary
Float Business Credit Card
Rewards: Earn 1% cash back on spending that exceeds $25,000 monthly; get access to multiple CAD and USD cards and pay no FX fees.
Welcome offer: Get $500 in cashback for becoming a Float customer and spending $25,000 within the first 90 days.
Interest rates: Not applicable (for refunded prepaid cards).
Annual fee: $0 for standard cards.
Float Referral Code 2023
Small business owners can open a Float account and get smart corporate cards that make tracking and reconciling spending transactions for multiple employees easier.
It offers CAD and USD Visa credit cards that are available as virtual or physical cards.
To get started, sign up using this Float referral link or enter the promo code ENOCHO2287 during the sign-up process if it is not automatically applied.
This code gives you a $500 cash back bonus when your business spends its first $25,000 CAD using a Float card within 90 days of its first transaction. This welcome bonus is on top of the 1% cash back you earn on every dollar spent above $25K monthly.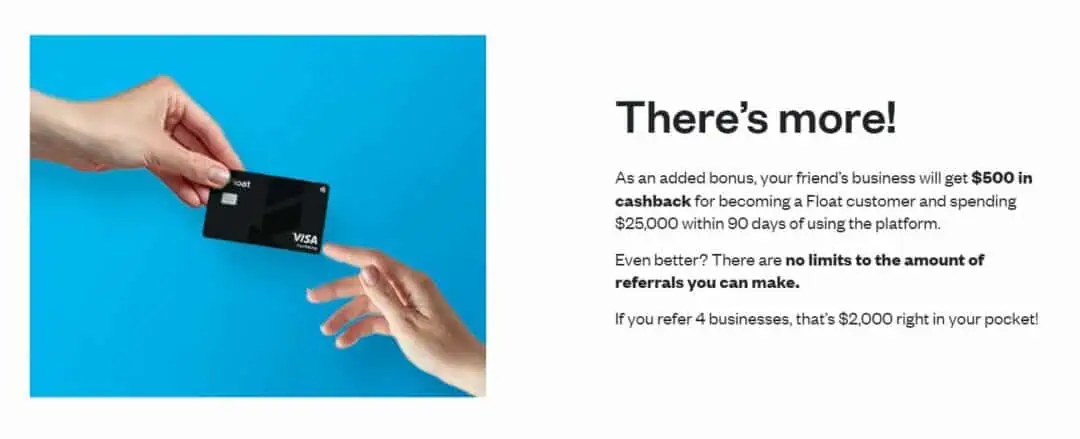 Float Referral Program
As a Float user, you can also share your referral code with other small business owners. When they sign up and spend $25,000, you get a $500 Amazon gift card.
It is a win-win for everyone. Your referral gets a $500 cash bonus, and you receive a $500 Amazon gift card.
You can find your unique referral code on your profile page; there is no limit to how many businesses you can refer.
Related: How To Incorporate Your Business in Canada.
How Does Float Work?
Float cards are prepaid Visa cards available in both Canadian and U.S. dollars.
After registering, you can create multiple cards for online use, as well as physical cards that are mailed to your address.
Float cards can be customized for multiple employees, with spend controls set by the administrator. You can easily set limits, track, approve, automate, and reconcile transactions.
To fund each card, easily connect to your bank account and transfer funds.
Float also offers unsecured 30-day credit terms for its Float Charge Card (CAD only) with a limit of up to $500,000.
Perhaps, the biggest advantage of using Float is the high unlimited cash back rate of 1% on all spending. The cash back earned is added to your Float balance at the end of each month.
Float Card Pricing
A standard Float account is free and includes unlimited virtual cards and up to 5 physical cards in CAD or USD.
The free account lets you sync Float with Xero or QuickBooks accounting software, simplifying your data entry.
Larger businesses can upgrade to a professional account for access to unlimited physical cards, real-time spend reports, and other perks.
| | |
| --- | --- |
| Float Essential | Float Professional |
| No monthly fee | $99/month |
| Unlimited virtual cards and users | Unlimited virtual cards and users |
| 1% cash back on monthly spending exceeding $25K | 1% cash back on monthly spending exceeding $25K |
| 5 physical cards (CAD or USD) | Unlimited physical cards (CAD or USD) |
| Accounting sync with Xero, QuickBooks, and CSV | Accounting sync with Xero, QuickBooks, NetSuite, and CSV |
| Custom card limits and controls | Advanced card limits and controls |
| Automatic receipt tracking | Automatic receipt tracking |
| – | Multi-level spend approvals |
| – | Card compliance rules for cardholders |
| – | Slack integration |
Pros and Cons of the Float Credit Card
The advantages and disadvantages of Float include the following:
Pros:
Easy sign-up and approval with a $500 bonus.
Access to virtual and physical credit cards.
Easily integrates with accounting software like Xero and QuickBooks.
Automates expense tracking and reconciliation.
Available in CAD and USD.
Does not involve a hard credit check on your personal credit history.
Visa cards are accepted at millions of locations worldwide.
Cons:
No cash back on spending under $25,000
Requires you to pre-fund a card unless you qualify for the charge card.
There is a fee if you need more than 5 physical cards.
Funding may take up to 5 business days to go through.
Float Credit Card Review
My review of Float is positive. I use the CAD and USD cards for my business, and they work like regular credit cards for simplified payments.
It was easy to connect the cards to my existing CAD and USD bank accounts to fund them.
You should note that it can take up to 5 business days for funds to transfer from your bank to the Float card. Keep this in mind to avoid payments that don't go through.
You can read our detailed Float review for more information on how it works.
Float vs. Caary Business Credit Cards
Caary is another business credit card that does not involve a personal credit check. It is available as a physical Mastercard, and users can set up unlimited virtual corporate cards.
The Caary Business Mastercard pays 1% cash back on purchases but does not offer a USD card.
Like Float, you can use Caary to simplify expense and spending management, and it also offers receipt capture.
To qualify for a Caary Card, your business needs to have an average of $35,000 in a business bank account.
Learn more in our detailed Caary review.